One of the things I love most about food and wine is their ability to transport one to a different place.  And a  place's people, culture, and customs are reflected in its food and wine.  In that sense, one can virtually travel the world through food and wine.  And that is exactly what we are doing through Italian Food Wine and Travel (#ItalianFWT).  We taking a virtual tour of Italy by exploring its food and wines.  This month we're exploring Lazio!
Lazio, which is also goes by it Latin name, Latium, is located central Italy.  Its neighbors include  Tuscany to the north, Campania to the south, Abruzzo to the east and Umbria to the northeast.
It's home to the ancient capital city of Rome with its art, historic sites, and of course, a plethora of gustatory delights.
Understandably, with Rome as the crown jewel of the region, it's easy to overlook other places to see, and things to do.  But, should you want to take the road less traveled, consider a visit to Tivoli, home to two Unesco World Heritage Sites: Villa Adriana, the sprawling country estate of Emperor Hadrian, and the 16th-century Villa d'Este, a Renaissance villa famous for its landscaped gardens and lavish fountains.  Or perhaps Viterbo, which despite sustaining heavy bomb damage in WWII, is the region's best preserved medieval town.
Both are easy day trips from Rome.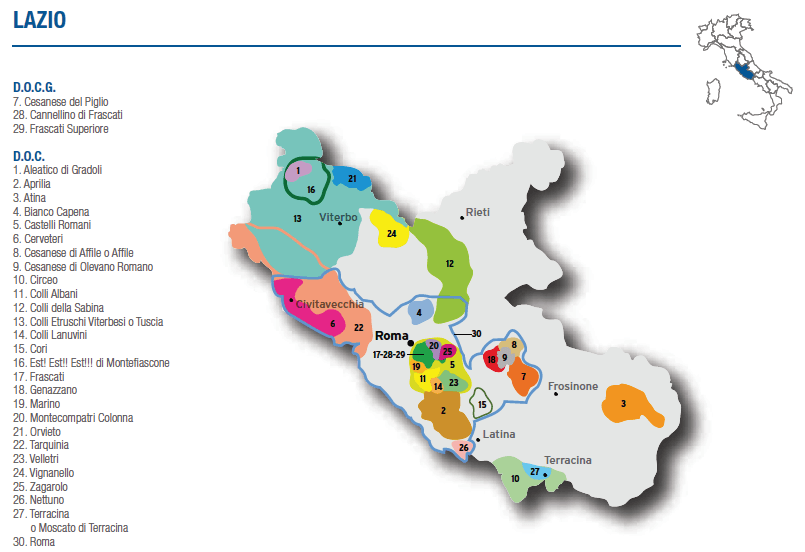 Lazio Wine
Before we received this month's theme, I'd never heard of Lazio. The region's vinous reputation is primarily based on its white wines.  Among the 30 DOCs, there are three white wine DOCs that stand out – Castelli Romani (the most important), Frascati (the more renowned and traditional) and Est! Est!! Est!!! di Montefiascone.  The region has three DOCGs –  Cannellino di Frascati,  Frascati Superiore and Cesanese del Piglio, which produce a dessert wine, a blended white wine and a red wine respectively.
In My Glass And On My Plate
I wanted to try both a white and a red wine from the region.  I was able to track down a couple of the DOCG wines – a Frascati Superiore (K&L Wine Merchants) for my white and Cesanese del Piglio (Beltramo's) for my red.
Let's begin with the white…
Frascati  is named after  a tiny, ancient town in the hills just south-east of Rome. Grapes have been cultivated for wine in the area since the 5th century B.C.!
Several grape varieties may be used to make Frascati wines, but the core is formed by the classic central Italian white-wine blend of Trebbiano and Malvasia.
The wine doesn't have the best reputation.  It's an easy-going, often the innocuous, dull wine that's served as "house wine" all across Rome.
Casale Marchese Frascati Superiore ($14, 13%) Imported by Oliver McCrum Wines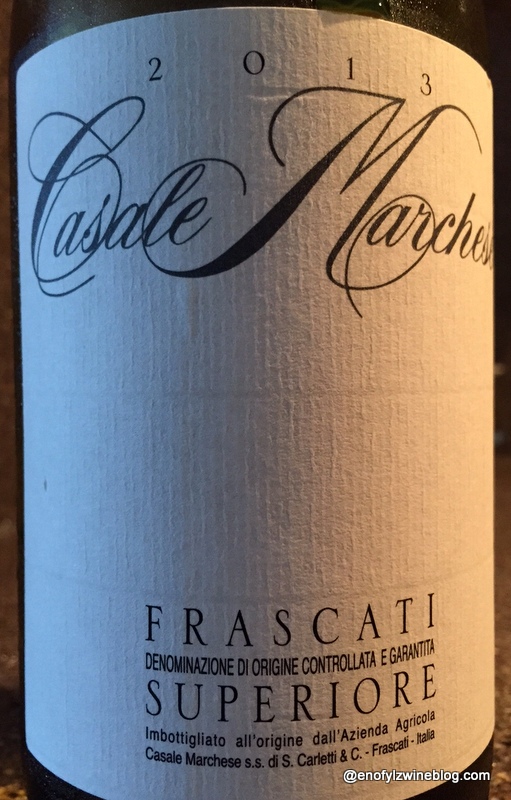 The Casale Marchese property dates back to the middle ages.  It's been owned by the Carlettie family since 1713.  The grapes for this wine are sourced from 40 year old vines.  It is a blend of Malvasia del Lazio, Trebbiano Toscano, Malvasia di Candia, Bonvino and Bellone.  The wine is raised in stainless steel and sees no malolactic fermentation.
The wine pours a very pale yellow color.  It shows aromas of peach, apple, dried herb, almond and a bit of lemon aromas.  On the palate it's medium-bodied and zesty with peach, green apple, nectarine, and lemon flavors underscored with an appealing vein of minerality
This is a delicious, delightful every day white wine that I'd buy again. Very Good (86-88 pts) >>Find this wine<<
I paired the wine with Spicy Linguine with Clams and Mussels.  It was a wonderful pairing. The shellfish seemed to bring out the lemony acidity of the wine, and the minerality of the wine was a satisfying complement to the dish.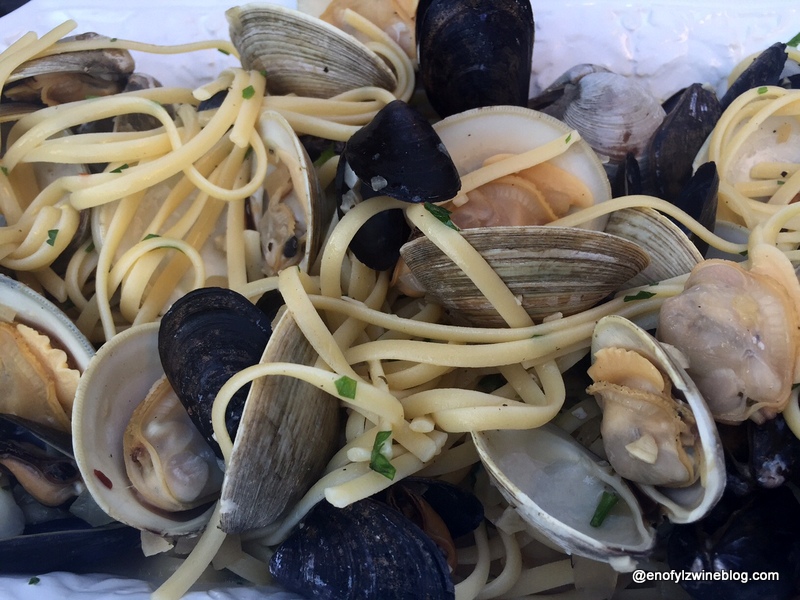 2013 Casale Della Ioria Cesanese del Piglio Tenuta Della Ioria  ($24.99, 14%) Imported by Oliver McCrum Wines
Cesanese ("chae-sah-NAE-say") is an ancient red wine grape indigenous to Lazio.  It's quite possible that Cesanse was local wine of ancient Rome because the grape existed in the region during pre-Roman times.
Cesanese gives credibility to Lazio's growing wine culture. Produced near the hilltop hamlet of Piglio, Cesanese del Piglio…boasts winemaking roots that date back to 133 B.C. and the ancient Romans who first recognized the favorable position…Soils are red and dark in color, and volcanic tufa stone is common in the Colli Albani area.- Wine Enthusiast
There are two different genetically unique Cesanese species. One is called "Cesanese Comune" or "Local Cesanese" and the other is called "Cesanese d'Affile. Cesanese d'Affile is considered the finer of the two grapes.
Cesanese del Piglio DOCG is considered the best Cesanese wine, made with 100% Cesanese grapes from the Frosinone Province.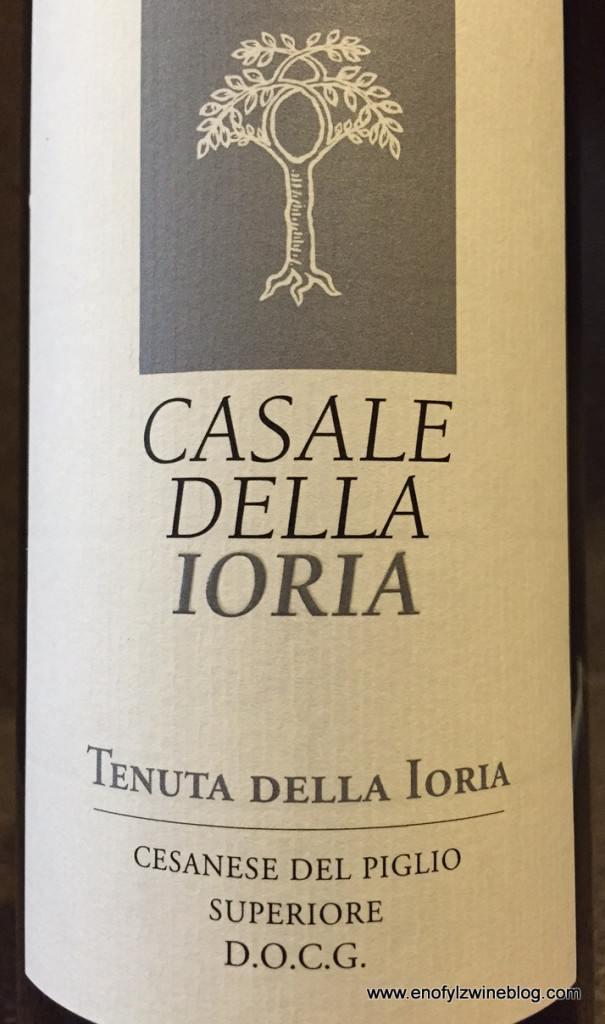 Casale della Ioria is 'Lazio's best producer of Cesanese' according to Italian wine expert Ian d'Agata.
Fruit for this wine is grown in Ciociaria.  The wine is made from Cesanse di Affile.  It is aged in French barriques.
The wine is a dark ruby color with promising red fruit, juniper, and forest floor aromas.  On the palate it's medium-bodied  and fresh with a very smooth texture, and a subtle savory character.  It shows distinctive Morello cherry, red mulberry, hints of red currant, black olive and vanilla flavors with an earthy undertone.  
The wine reminds me of a cross between Pinot Noir and Cabernet Franc.  Among the many things I enjoyed about this wine is that takes a chill quite well. I'll be adding it to my (short) list of chillable reds.  Very Good to Outstanding (89-91pts) >>Find this wine<<  
I paired this wine with Sausage, Pepper and Mushroom Spiedini with Grilled Truffled Polenta.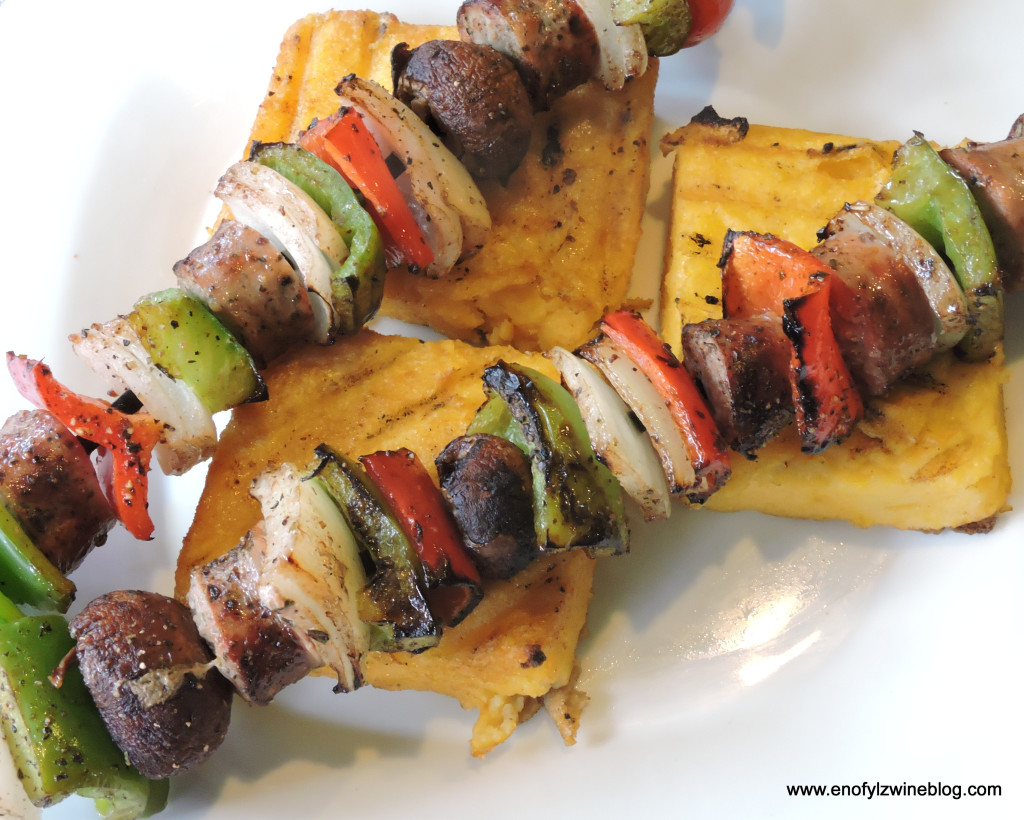 And what a  harmonious food and wine pairing it was!  Cesanese is a very versatile wine at the table. Will buy more!

Sausage, Pepper and Mushroom Spiedini with Grilled Truffled Polenta
Author:
Adapted from Sausage and Pepper Skewers with Grilled Polenta by Sandra Lee
Prep time:
Cook time:
Total time:
Ingredients
Nonstick cooking spray
6 cups water
2 teaspoons salt
1¾ cups yellow cornmeal
3 tablespoons unsalted butter
2 tsp of truffle oil
5 tablespoons canola oil
1 pound sweet Italian sausage
1 pound basil garlic sausage
1 red bell pepper
2 green bell peppers
1 large yellow onion
1 tablespoon balsamic vinegar
1 teaspoon Italian seasoning
1 teaspoon spicy brown mustard
Kosher salt and freshly ground black pepper
10 (10-inch) skewers
Instructions
Spray a 9 by 13-inch baking pan with nonstick cooking spray. Bring 6 cups of water to a boil in heavy large saucepan. Add 2 teaspoons of salt. Gradually whisk in the cornmeal. Reduce the heat to low and cook until the mixture thickens and the cornmeal is tender, stirring often, about 15 minutes. Turn off the heat. Add the butter, and truffle oil. Stir until butter melted.
Pour the cooked polenta into the baking pan and smooth the top. Let cool until firm, about 20 minutes.
Preheat a grill or grill pan over medium-high heat. When the polenta is cool, invert it onto a cutting board and slice it into 12 squares. Brush the squares with a little canola oil and grill until they are heated through and have nice grill marks, about 2 minutes per side.
Meanwhile, if you are using wooden skewers, soak them in water for at least 30 minutes or while you prepare the sausage and peppers.
Preheat a grill or grill pan over medium heat. Arrange the sausages on the grill and cook for 8 to 10 minutes giving them a ¼ turn every couple of minutes. Remove them to a cutting board and let rest for 5 minutes, then cut them into ½-inch thick pieces. The sausage will not be completely cooked through. It will finish cooking on the skewers with the peppers and onions.
While sausage is cooking, core and slice the peppers. Cut them and the onion into 1 by 1-inch pieces.
In a small bowl, whisk together 3 tablespoons canola oil, balsamic vinegar, Italian seasoning and mustard.
When you are ready, heat the grill or grill pan over medium heat. Thread each skewer with 3 pieces of the sausage, 4 pieces of onion and green pepper and 2 pieces of the red pepper making sure to alternate the ingredients. Brush them with the oil and vinegar mixture and season with salt and pepper, to taste. Grill the skewers on both sides until they are hot and sizzling, about 6 to 8 minutes. Arrange them on a serving platter and serve with the grilled polenta
I really enjoyed both these wines.  Both were wonderful expressions of the grapes and a taste of Lazio!
The first Saturday of each month, the #ItalianFWT bloggers visit a region of Italy. Check out the other posts about Lazio:
If you're seeing this early enough make sure to join us live on twitter at 8am PST. Follow #ItalianFWT. Tell us your food, wine or travel stories of Lazio. We look forward to chatting with you.  Next month on Saturday August 1st we'll feature the island of Sardegna in Italy. Feel free to join us! Ciao!
________________________________________________________________
Martin Redmond is a Financial Executive by day, and a certified wine geek with latent foodie tendencies the rest of the time. In addition to the wine lifestyle and food he enjoys family, fitness and traveling. He likes to get thoughts of wine off his mind by sharing experiences on his ENOFYLZ Wine blog, which features wine reviews, wine country travel, and wine and food pairings.
Follow me on Twitter @martindredmond for all things wine. Since I'm a wino with latent foodie tendencies, you'll also find food and wine pairings, and food related stuff! Become a fan and join ENOFYLZ Wine Blog on Facebook. Cheers! This article is original to ENOFYLZ Wine Blog.com. Copyright 2015 ENOFYLZ Wine Blog. All rights reserved.