This week's bubbly is a Champagne produced by Champagne Charles de Cazanove.  It's a brand with which I was not familiar.  They have a rich history.  The house was founded in 1811 by Charles Gabriel de Cazanove.  However it was his son Charles Nicolas de Cazanove that contributed most to the growth of the brand.  They are the #2 selling brand in France behind Nicolas Feuillate.  They offer a full range of Champagne.  This bottling is one of five in their entry-level "Tradition Père & Fil" range.  This bottling is labeled "Premier Cru", which is the second tier of Champagne classifications behind Grand Cru.  The classification system in Champagne is based on the what village the vineyards are located in, rather than the vineyard itself, or the estate as in Burgundy, and Bordeaux respectively.  You won't find much Champagne classified as "Premier Cru" for $35, as such it represents good value price-wise.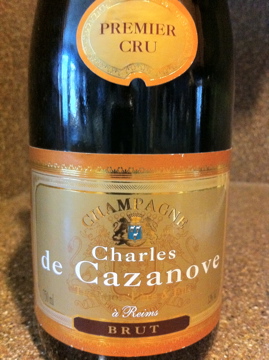 NV Charles de Cazanove Champagne Brut Premier Cru
Where it's from: France> Champagne
The grape(s) Chardonnay (50%), and Pinot Noir (50%)
Production method: Méthode Champenoise; Aged about 3 years on lees
Alcohol: 12%
Retail: $35 
My tasting notes follow:
Golden yellow color with persistent bead of pin prick bubbles, and fresh bread dough, floral, and fruity aromas. On the palate, it has a soft mousse, is light-bodied with apple, fresh apricot and mineral flavors. Medium finish Pinot Noir (50%), and Chardonnay (50%) – 87pts
Pair with: The beauty of sparkling wines is their versatility with food, because of their palate cleansing quality (think scrubbing bubbles;-). This one would make an excellent aperitif, but would also be a good match with lighter foods like seafood, or  pasta or risotto dishes, especially those creamy sauces rather than tomato sauce.
I really enjoyed this, but at $35, it won't be a repeat purchase for me. (Click here to find this wine)
Related articles