Have you ever wondered what's the best-selling brand of Champagne in France?  Sure, all the big names in Champagne are there, but I'm thinking the average middle-class French consumer doesn't have the coin for Moet and Mumm on a regular basis.   The answer is the maker of this week's bubbly, Champagne Nicolas Feuillatte.  Feuillatte hit my radar on the on the strength of favorable staff reviews at my favorite wine retailer K&L Wines Merchants.
Last year Feuillatte celebrated their 35th anniversary. That makes them a baby when compared to  brands such Moet & Chandon,or Veuve Clicquot, which are 200+ years old.  Not only is Feuillatte the best selling brand of Champagne in France, it is also the number three brand in world-wide sales behind Moet and Veuve Clicquot.
Surely some of their meteoric rise is due to savvy marketing, like their "One Fo(u)r Fun" mini bottles of Champagne with a wrist strap, or their iPhone App with a  virtual toast where the user can pop a bottle of Champagne Nicolas Feuillatte and pour it in to a friend's virtual flute, but make no mistake, they source high-quality fruit for their Champagne. Additionally, Feuillatte has been making quarter bottles of Champagne since 1990, and today is the market leader in the segment.
This week's Champagne a.k.a. Brut Resèrve Particulière  is their entry level offering.  In addition to this Champagne they offer six other in the "Essentials" line, four "Gourmet" Champagnes, and the aforementioned One Fo(u)r Fun mini bottles.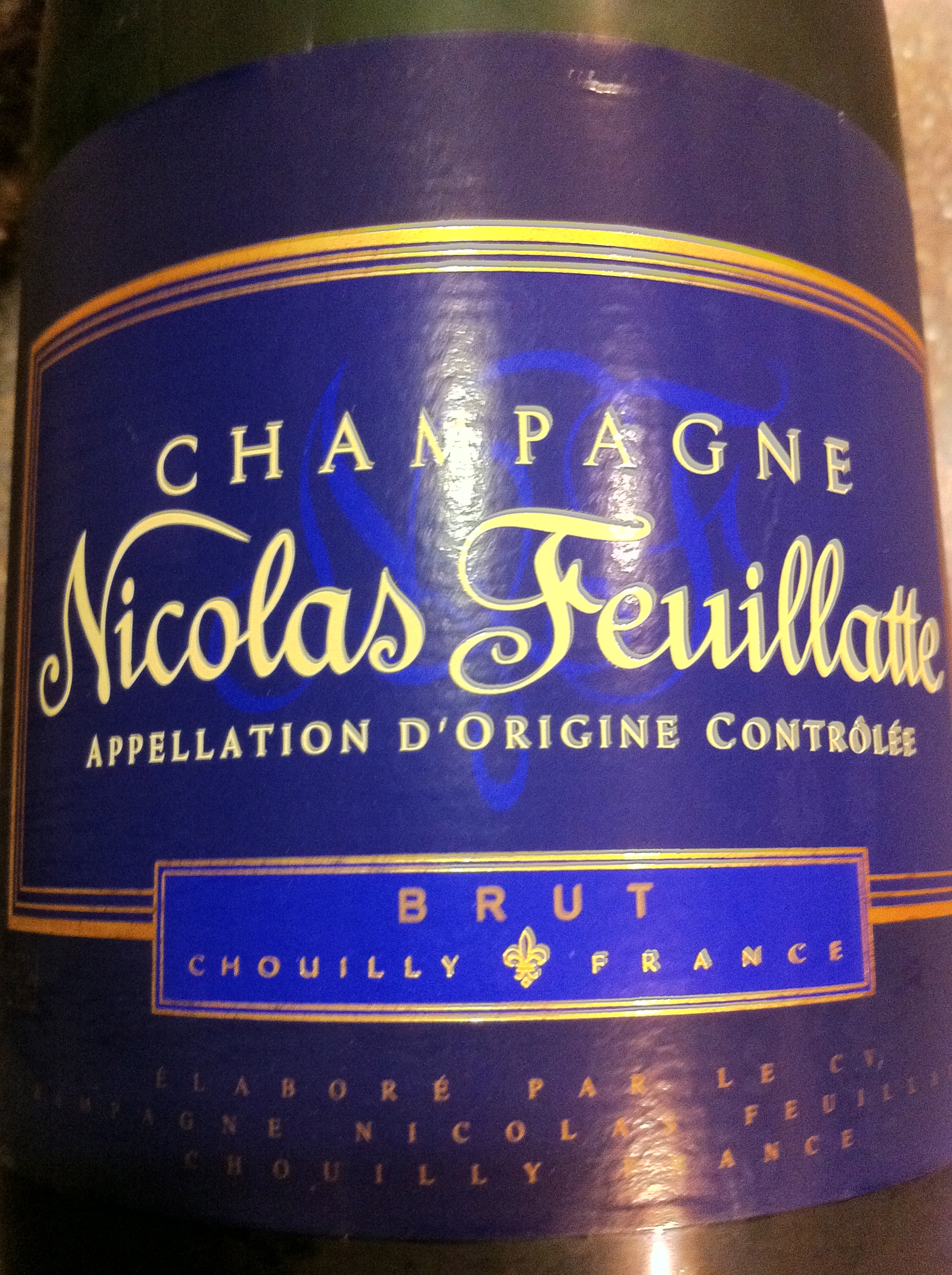 NV Nicolas Feuillatte "Blue Label" Brut Champagne
Where it from: France> Champagne
The grape(s)  40%Pinot Noir, 40% Pinot Meunier, 20% Chardonnay
Residual Sugar – Unknown
$25 – Retail , 12% a.b.v.
Production method: Méthode Champenoise;  Aged just under 3 years on lees
My tasting notes follow:
Pale gold color with brioche, spice, and dried fruit aromas. On the palate it is creamy, and light-medium bodied with apple, and pear flavors with a hint of honey. Medium finish
Pair with: The beauty of sparkling wines is their versatility with food, because of their palate cleansing quality (think scrubbing bubbles;-). This was very nice as an aperitif, and just as nice with food.  Pair with fish tacos, light pasta dishes, or just for fun popcorn!
This is a very good sparkler. I prefer it to the ubiquitous Veuve Clicquot  and it cost $20 less!  I recommend!  89pts   (Click here to find this wine) 
Other posts you might like: