When you travel, do you tend to visit and place once, and then want to try a new place?  Or are you more comfortable returning to a beloved destination again and again?  Of course, it likely depends on your experience with a place.
Well after making a virtual visit to Valtellina last year, I'm delighted the Italian Food, Wine and Travel group is making a virtual return to Valtellina this month.
Last year's visit left me thirsty for more of the wines of Valtellina!
About Valtellina
Valtellina, an alpine valley that is about a two-hour drive from Milan,  is one of the hidden gems of Northern Italy.  It is  about as far north as you can go in Lombardy region of Italy without crossing over into Switzerland.  The valley, crossed by the river Adda, is bordered to the west by Lake Como and to the east by the Bormio Mountains.
Wine has been produced there for over 2,000 years.   Until the the early 19th century, Valtellina, which was under Swiss influence, was exporting its wine to its northern neighbor.  The locals realized that the grapes thrived in the altitude and they decided to build terraces. Those terraces shape the landscape of the region today.   In fact , Valtellina is home to some of the most dramatic vineyard landscapes in the world.  And it is the largest terraced wine region in Italy.
The region is best known for its bright, cherry-scented wines made from the Nebbiolo grape variety, known locally as Chiavennasca.
As a big fan of Nebbiolo, what I appreciate about Valtellina is that they make lovely well structured, food-friendly wines that  are, generally a less expensive alternative to the Piemonte region's Barolo and Barberesco.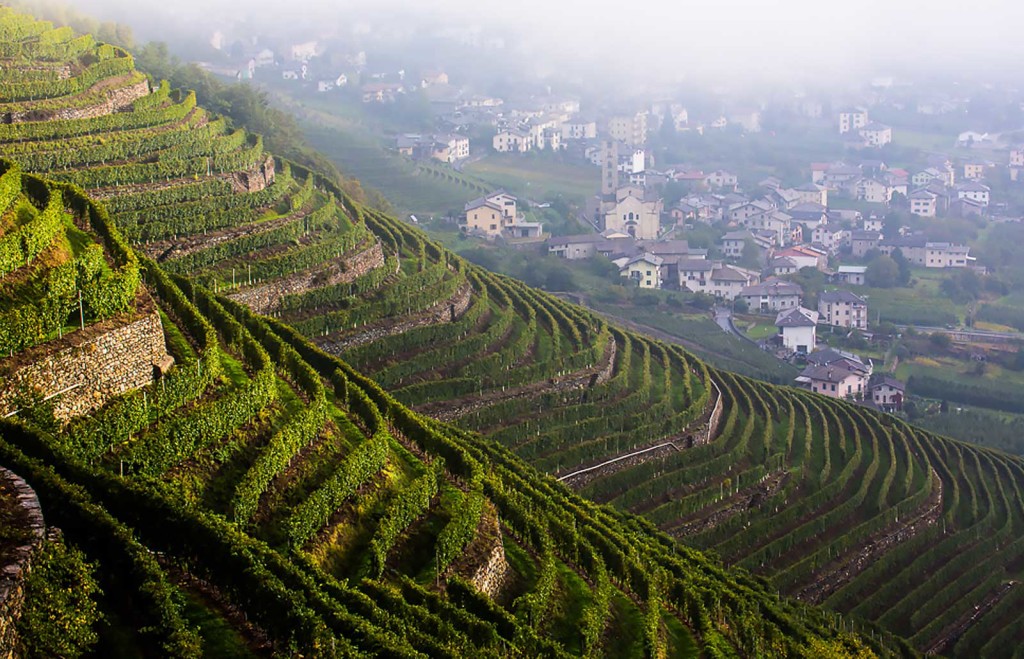 Within the Valtellina zone, the wines are defined by two basic quality levels. One is the DOC,  Rosso di Valtellina (made with at least 90% nebbiolo) or simply Valtellina, which tends to be light-bodied and tannic.   The other, a recognizable step up in quality, with richer textures and more complex aromas and  flavors, is Valtellina Superiore, which earned DOCG status in 1998.  There five  Superiore sub-regions:  Sassella, Grumello, Inferno, Valgella and Maroggia.
In My Glass
ARPEPE (an acronym which stands for ARturo PEllizzatti PErego, the full name of the winery's founder) was established in 1984.  For the first six years after the wine was founded, their vineyards were harvested for six times.  Wine was made for each vintage.  But not a single bottle was released to the market because of the lengthy bottle aging times prescribed by Arturo.
Ah, but upon release one of his top Crus, the Valtellina Superiore "Rocce Rosse" was met with critical acclaim, and ARPEPE quickly became one of the most respected and prestigious brands in the Valtellina.
…No Italian-accented wine list can be considered in vogue these days without at least one of the excellent Valtellinas from ArPePe…" Eric Asimov
Arturo passed away in 2004.  Today the business is  run by his three children who continue their father's work as the fifth generation of winemakers and growers. 
You might ask how is it they are fifth generation winemakers and growers if the winery was established in 1984?  It's an interesting story involving a family feud after the death of Arturo's father in 1973.  You can read more here, but suffice it to say the family had been in the wine industry since 1860! 
The family owns 13 hectares of vineyard all standing in grass, in the heart of the Valtellina Superiore DOCG area, dotted around Sassella, Grumello and Inferno.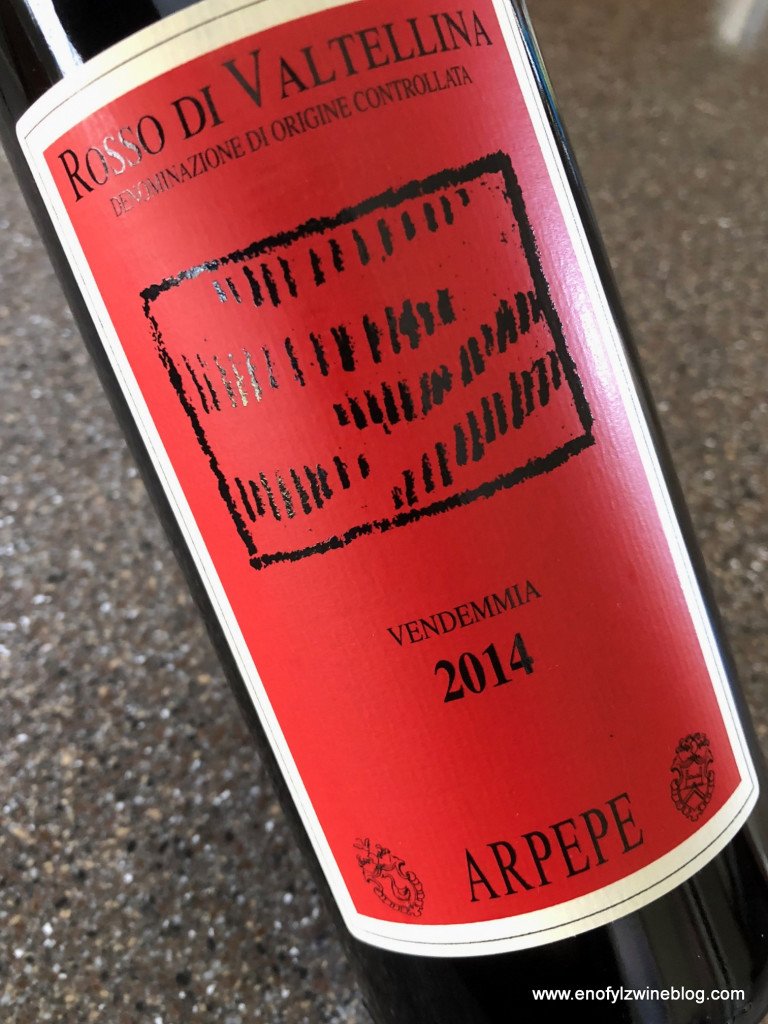 The 2014 Ar.Pe.Pe. Rosso di Valtellina is their entry-level wine. It is made from 100% Nebbiolo grapes harvested from their lower altitude vineyards (1,150/1,300 ft above sea level) in the Grumello and Sassella zones,  along with the municipalities of Sondrio and Montagna in Valtellina.  Grapes are hand-picked. After fermentation in stainless steel, the wine is raised for three months in large (50 HL)  oak barrels (50 HL),  and thereafter, at least three months in bottle.
My tasting notes follow:
Color – Ruby red
Aromas – Delicate forest berries, dried rose, dusty earth, mushroom, black tea and a hint of mint
Body – Light-bodied, and fresh with firm but well-integrated velvety tannins.
Taste – Tart dried cherry, tobacco, and subtle orange peel underpinned with a nice combination of earthy savoriness and wet stone minerality
Finish – Medium
87pts|SRP – $35| 12% abv
A very good and thoroughly enjoyable wine that felt a bit young,  but as intended it's approachable now (especially if you aerate it a bit).  It would be interesting to see how it evolves over the next 2-3 years!
On My Plate
Wild mushrooms are plentiful this time of year in California.   I recently discovered a 30 minute version of a rich and hearty mushroom ragù that I adore (I've made it at least 3 times in the last month sometimes with pasta, or as I did here with polenta)  There's a bit of sherry in the recipe for  Wild Mushroom Ragu I found on the Daily Meal that elevates the flavor of the  ragù.
It's a great weeknight meal!
Experience tells me that you can't go wrong pairing Nebbiolo based wines with mushrooms.  And that was certainly the case here.  It was a great pairing!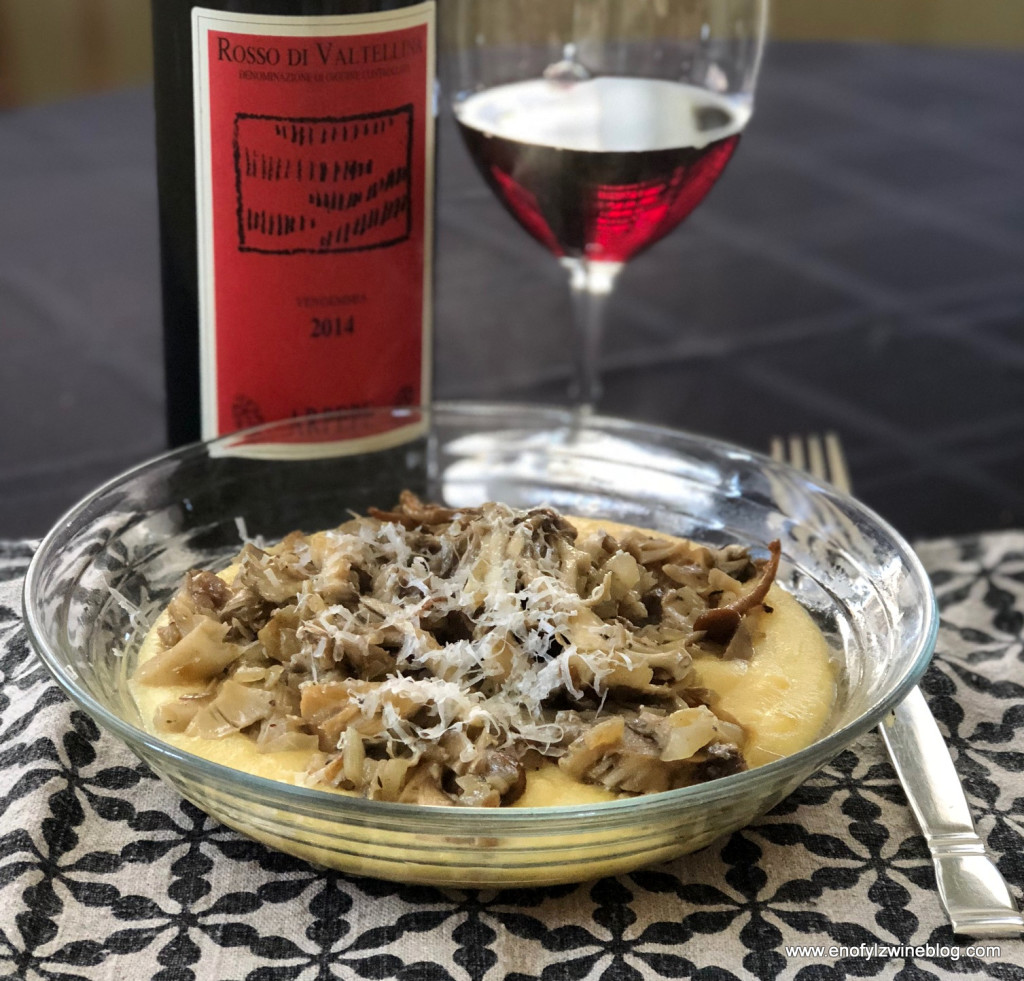 Be sure to check out what my fellow Italian Food, Wine and Travel writers have to say about their virtual visit to picturesque Valtellina!
JOIN US ON TWITTER FOR A LIVE CHAT THIS SATURDAY FEBRUARY 3RD AT 8AM PACIFIC – WE USE THE HASHTAG #ITALIANFWT AND WE'LL BE OPEN FOR QUESTIONS ABOUT VALTELLINA FOOD, WINE AND TRAVEL!
________________________________________________________________________
Follow me on Twitter, Facebook, Instagram, Vivino and Delectable, for all things wine.  As a wino with latent foodie tendencies, you'll also find food and wine pairings, and food related stuff! Become a fan and join ENOFYLZ Wine Blog on Facebook. Cheers!
Copyright Notice: This entire site is Copyrighted 2010-2018. All Rights Reserved. No unauthorized copying of any section of this site is permitted. If you wish to use any part of this site, contact me. For information on Copyright Law, see the official U.S. Copyright Office home page.