If you're a wine enthusiast you've heard it a thousand times – Great wines are made in the vineyard, or great wines are made in the field. 
What if that maxim applied not only to the fruit  used to make the wine, but also the process by which the wine is made?
When it comes to wines that a made from a blend of grape varieties rather than one grape variety, the reality is that the vast majority of those blends are made in the winery, not in the vineyard or the field.
That's because substantially all of today's blended wines are made by blending smaller, individual lots of  the grape varieties that were grown and fermented separately so that they can later be "back blended"  in the winery by the winemaker depending on how the different lots taste.
Field Blends
The exception to today's prevalent back blending practices are field blend wines.
A field blend is a wine that is produced from two or more different grape varieties (sometimes all red or all white, and sometimes both) inter-planted in the same vineyard, then crushed, macerated and fermented together.  In other words,  the wine is blended in "the field," (vineyard) as opposed to being blended in the winery.
Though it is now rare, winemakers the world over have been doing this for centuries.  In times gone by, before the laser focus on grape varieties and rigorous clonal selections, vineyards were planted to different grape varieties because there was little equipment to spare for the separate vinification.  Planting grape varieties provided an inexpensive way to blend wines.  Additionally, planting different grape varieties which ripened at different times, was a hedge against the vagaries of Mother Nature. It was a way to mitigate the risk of having no grapes to make wine.
With today's modern technology and extensive chemical analysis, we realize that mixing the grapes at crush means the fermenting grapes  that have different levels of acid, tannin and sugar.   The process of co-fermenting grapes also allows compounds in different grapes to interact and react to one another.  That in turn changes the rates and types of chemical reactions that take place during fermentation ultimately resulting in a more complex wine.  It's also worth noting that surviving field-blend vineyards are at least one hundred years old now.  That means you also get old-vine fruit complexity and intensity further complicating a field blend wine's character.
By contrast, since a single grape variety fermented by itself never gets exposure to another grape,  and it doesn't get the chance to broaden and deepen in flavor.  For example when you co-ferment "you get some added perfume characters that are sort of melange of those grapes together that you don't get in wines that are blended later," says Joel Peterson,  founder of Ravenswood, who has been making field blend wines for over 40 years.
The down-side to field blends is that caring for these ancient vineyards is very labor intensive.  Additionally, in today's market there is tremendous market pressure  for vintage-to-vintage consistency, and you just won't find that in field blend.  Mother Nature does not repeat herself, nor should her wines in my view.
Field Blends In California
When Europeans immigrated to California, they didn't bring grapes with them.  They worked with Zinfandel which already a firm footing in the vineyards.   The grape was valued for its large crops and resistance to heat, but other complementary grapes were also planted in the same vineyard for the aforementioned reasons.
Thus in California, Zinfandel is the predominant grape in old-vine field blend wines.
Two top of mind examples of the world-class quality of these anachronistic field-blend wines for me are two field blends from Ridge Vineyards. Though not labeled or necessarily promoted as field blends, the Ridge Geyserville and Lytton Springs bottlings, produced since 1966 and 1972 respectively,  have earned more than their fair share accolades from all corners of the critical world for decades.
In  My Glass
The Bedrock Heritage wine comes from an archetypal old-vine field blend vineyard.  It was planted in 1888 by George Hearst (father of publishing magnate William Randolph Hearst).   The vineyard is mostly composed of  Zinfandel sprinkled with as many as 30 other grape varieties including including Mondeuse, Peloursin, Serine, Tempranillo, Grand Noir de la Calmette and Negrette,  and Bordeaux varietals.  There are also small blocks of Mourvedre, Carignane and other mixed-black grapes like Petite Sirah, Barbera and Alicante Bouschet in the vineyard.
The 2012 Bedrock Heritage is composed of 19 inter-planted varieties from the  Bedrock Vineyard. It is roughly 55% Zinfandel, 20% Carignane, with the remainder being all the other co-fermented grape varieties (Petite Sirah, Alicante Bouschet, Mourvedre, Grand Noir, Trousseau Noir, Merlot, Cabernet, Syrah, Tempranillo, Castets, etc.).
The wine was fermented on native yeast, manually punched-down and basket pressed.  It was aged in 40% new new French oak.  The alcohol is 14.8%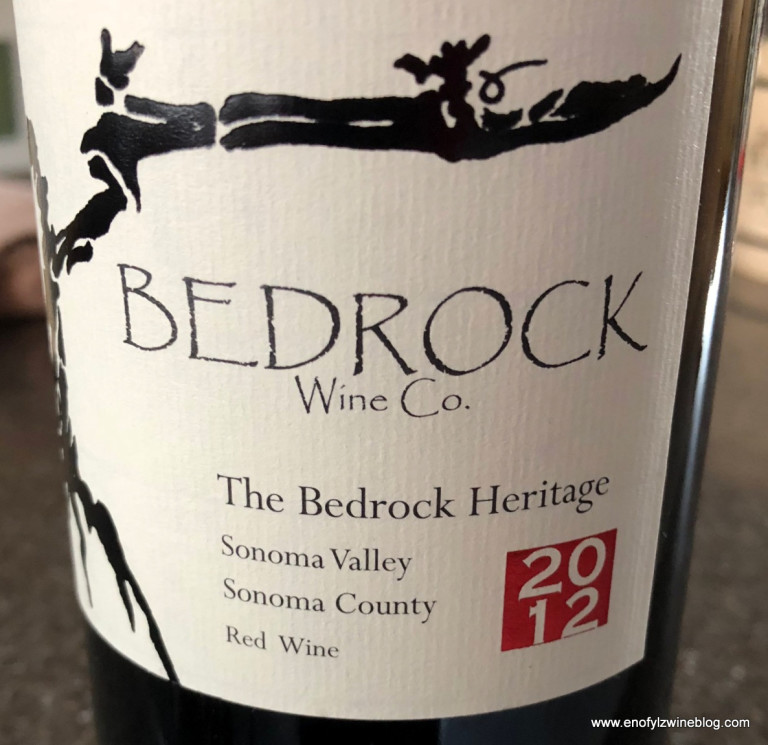 The wine pours translucent ruby color with expansive exotic aromas of kirsch, lavender, Asian spice, cracked pepper and anise. On the palate the wine is medium-to full-bodied with mouth-watering acidity and well-integrated tannins.  This rich, delicious wine shows swirling myriad of flavors including black cherry,  boysenberry, black raspberry, Asian spice, graphite, espresso and licorice with a long finish.  
Conclusion
Field blends historically… very much resemble California culture, and American culture in that they're a hodgepodge, a melting pot of Iberian grape varieties, French grape varieties, Italian grape varieties, Zinfandel itself is Crljenak Kaštelanski, it's Croatian,  grape varieties from the Savoie and the Jura…It's an interesting mix that is the only thing that is truly Californian…With the California field blends it's the one thing we have in California that is utterly, singular and no place else in the world makes…and that happens to come our oldest vines in the most interesting spots say Morgan Twain-Peterson, MW Owner/Winemaker Bedrock Wine Company.
But all that history doesn't mean a thing if California's old-vine field blends don't produce authentic world-class wines.
Fortunately for field blend libationists they do!
________________________________________________________________________
Follow me on Twitter, Facebook, Instagram,  and Vivino for all things wine.  As a wino with latent foodie tendencies, you'll also find food and wine pairings, and food related stuff! Become a fan and join ENOFYLZ Wine Blog on Facebook. Cheers!
Copyright Notice: This entire site is Copyrighted 2010-2017. All Rights Reserved. No unauthorized copying of any section of this site is permitted. If you wish to use any part of this site, contact me. For information on Copyright Law, see the official U.S. Copyright Office home page.