Sparkling wines are the ultimate wine of choice when it comes to celebrations of special occasions.  But sparkling wines are too often neglected,  and vastly underappreciated when it comes to pairing them with food throughout a meal – from appetizers to dessert.
I strongly believe that sparkling wine has a bigger role to play at the table than being sipped for a toast. Its brilliant combination of effervescence, ample acidity (tartness) and lighter weight (low alcohol) make for beautiful pairings – Evan Goldstein, Master Sommelier and author of Perfect Pairings
The fact is that sparkling wines are among the most food friendly wines. 
That's why we frequently pair sparkling wines with our main dish at home and occasionally, at restaurants  With that in mind, I'm looking forward to sharing with you sparkling wine and food pairing combinations that have delighted us.
This is the first of what will be many posts that I hope will inspire you to consider sparkling wine beyond sipping it for toasts, or with an appetizer or two.
It's time to open your mind and your palate to the wonders of sparkling wine at the table!
Ferrari Brut Paired with Creamy Seafood Risotto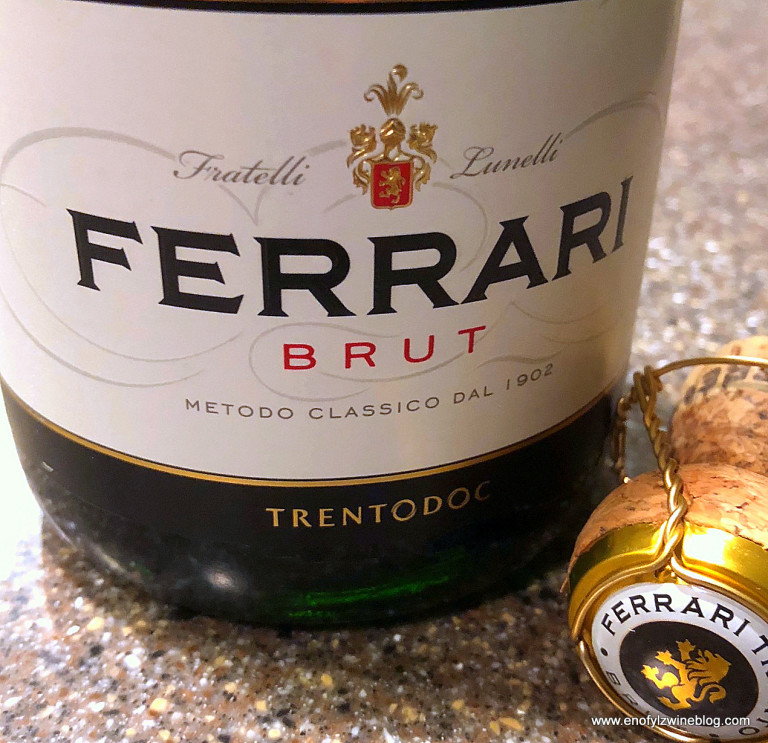 In My Glass
Ferrari Trento has been making this wine since 1902!  It's 100% hand-picked Chardonnay from vineyards located  on the slopes of the mountains of Trentino  within the various communes in Val d'Adige, Val di Cembra, and Val dei Laghi.  After fermentation, the wine was aged for at least 24 months in bottle on its lees.
The wine was produced according to the regulations of the Trento D.O.C using the "metodo classico" , the same process used by the finest Champagne houses whereby secondary fermentation takes place in the bottle.
My tasting notes follow:
Color – Vibrant straw yellow
Aromas – Orchard fruits, lemon zest, sourdough bread crust, chalk, wild flowers with a subtle herbal note
Body – Medium-bodied, dry and harmonious with a vibrant citrusy acidity and an abundance of energy
Taste – Mixed green apple and golden apple, ripe Asian pear, lemon cream, and grapefruit with hints of lime, peach and caramel.
Finish – Lingering with an alluring savory character
90-91pts| 12.5% abv | SRP – $25|Sample 
This is an appetizing and enchanting sparkling wine that offers plenty of value.  It's get bonus points in my book for the classy foil that incorporates perforations for easy opening!
On My Plate
I paired the wine with Creamy Seafood Risotto recipe from Epicurious.  I chose this dish for the wine because  the wine is a blanc-de-blanc  (100% chardonnay) style, which I thought it would be a good choice for the combination of the richness of the dish (the recipe includes a some marscapone) and its combination of scallops, mussels, shrimp and crab.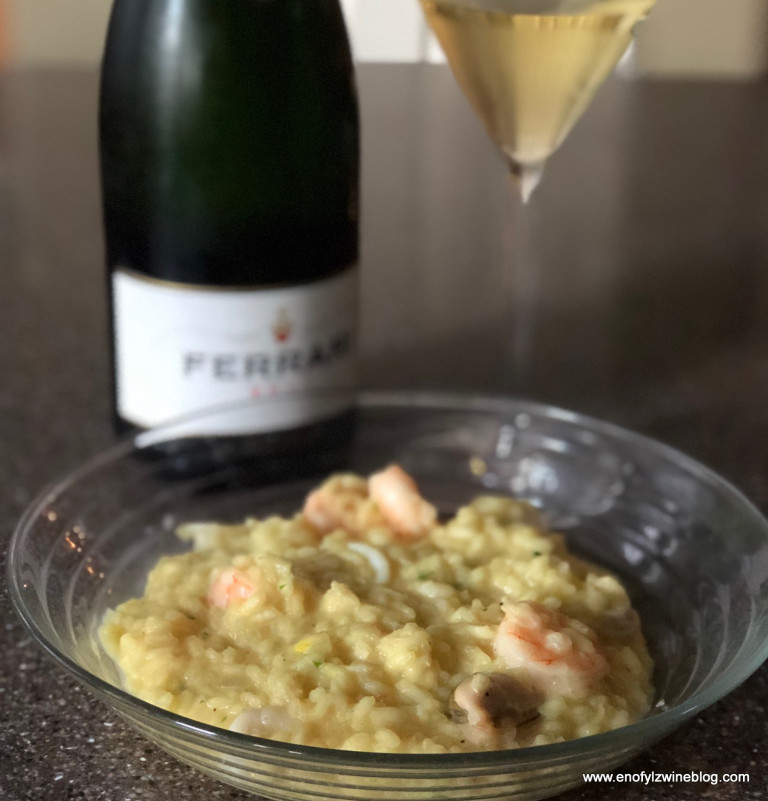 Why It Works
It was a fabulous combination. The wine's effervescence contrasted beautifully with the creamy texture of the risotto.  And the wine's  citrusy acidity was not only the perfect foil for the richness of the dish, it was like a squeeze of lemon that brightened and elevated the flavors of the seafood.
Related posts you might enjoy:
________________________________________________________________________
Follow me on Twitter, Facebook, Instagram,  and Vivino for all things wine.  As a wino with latent foodie tendencies, you'll also find food and wine pairings, and food related stuff! Become a fan and join ENOFYLZ Wine Blog on Facebook. Cheers!
Copyright Notice: This entire site is Copyrighted 2010-2017. All Rights Reserved. No unauthorized copying of any section of this site is permitted. If you wish to use any part of this site, contact me. For information on Copyright Law, see the official U.S. Copyright Office home page.