This wine shows an intensity and focus that is uncommon for Sauvignon Blanc in my experience.  The most memorable Sauvignon Blanc of 2017…!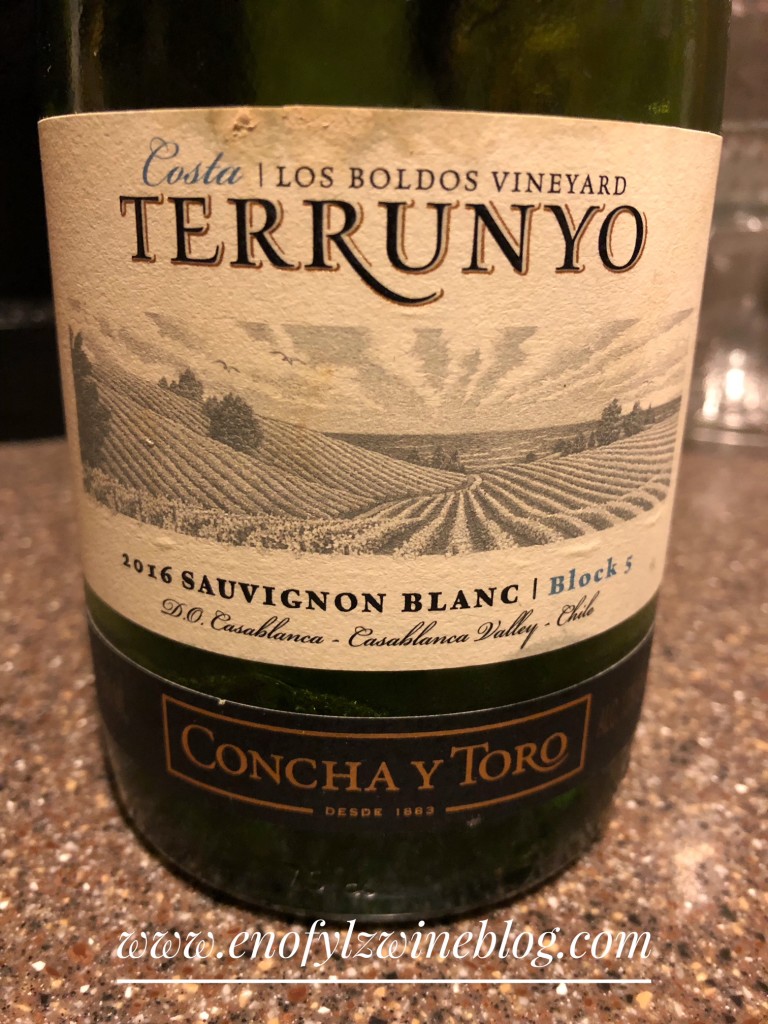 Terrunyo means 'terroir' in Spanish.  They are wines are made from very specific blocks within Concha y Toro's best single estate vineyards, in which they have identified a unique and complex character based on location, orientation, and soil structure.
This wine is 100% Sauvignon Blanc from Block 5, Los Boldos Vineyard, Casablanca Valley. The Los Boldos Vineyard is located 390 meters above sea level, just 15 kilometers from the Pacific Ocean in the coldest sector of the Casablanca Valley.  The vineyard is known for its morning fog and an abundance of cold and windy days, all of which causes the grapes to ripen slowly.   The granitic soils are of colluvial origin  and are a mixture of red clay,  for the weathered rock.
My tasting notes follow:
Color – Pale yellow with green highlights
Aromas – Aromatic gooseberries, fresh-cut jalapeno pepper, lime zest, grapefruit and a kiss of wet stones
Body – Medium to full-bodied with vibrant citrusy acidity and a supple, appealing mouth feel.
Taste – Tart gooseberries and citrus accented with hints of melon, saline and stony minerality.
Finish – Long
This wine shows an intensity and focus that is uncommon for Sauvignon Blanc in my experience.  The most memorable Sauvignon Blanc of 2017 for me!
90-91pts|13% abv| SRP – $26| Sample
Pair with:  This was fantastic paired with Cracked Dungeness Crab and drawn butter! Also consider pairing with raw oysters, goat cheese, sushi sashimi,  guacamole or mild grilled fish.
About Concha Y Toro
Founded in 1883, Vina Concha y Toro is Latin America's leading producer and occupies an outstanding position among the world's most important wine companies, currently exporting to 135 countries worldwide. Uniquely, it owns around 9,500 hectares of prime vineyards, which allows the company to secure the highest quality grapes for its wine production. Concha y Toro's portfolio includes a wide range of successful brands at every price point, from the top of the range Don Melchor and Almaviva to the flagship brand Casillero del Diablo and innovative stand-alone brands such as Palo Alto and Maycas del Limari. (Source – Wine.com)
________________________________________________________________________
Follow me on Twitter, Facebook, Instagram, Vivino and Delectable, for all things wine.  As a wino with latent foodie tendencies, you'll also find food and wine pairings, and food related stuff! Become a fan and join ENOFYLZ Wine Blog on Facebook. Cheers!
Copyright Notice: This entire site is Copyrighted 2010-2017. All Rights Reserved. No unauthorized copying of any section of this site is permitted. If you wish to use any part of this site, contact me. For information on Copyright Law, see the official U.S. Copyright Office home page.