As our last installment of 2017, the French Winophiles (#Winophiles)  will feature dessert wines from France. It seems a fitting end to a year in which we covered a wide scope of topics that took us around the country through food, travel and history as much as tasting wine.  Just as a dessert wine beautifies the winding-down of dinner, this experience eases us through the end of 2017 to a new and bright 2018 according to Jill Barth of L'Occasion, who is hosting our event.
I'm pairing the 2010 Cave de Rasteau "Signature" Vin Doux Naturel with a chocolatey twist on a classic Italian dessert – Brutti Ma Buoni.  Appropriately I think, I'll cover the details of the dessert at the end of this article.
About Rasteau Vin Doux Naturel Wines
Rasteau Vin Doux Naturel wines are sweet wines from the parish of Rasteau. It is a parish in the southern Rhone valley, located roughly 15 miles  northeast of the famous Chateauneuf-du-Pape.
The wines are made from Grenache  (Grenache Blanc, Grenache Gris or Grenache Noir) grapes.
Vins doux naturel (naturally sweet wine) is produced by using pure grape spirit to stop fermentation, while there is still a significant quantity of sugar remaining. This process results in a sweet wine with a higher alcohol level (around 16% in this case) according to winesearcher.com.
I was first introduced to Vin doux naturel not long after I seriously "got into" wine.  I went to a tasting a my favorite local wine shop K&L Wine Merchant, who was doing a tasting called "Unique Dessert Wines From Around The World."
Based on what I had learned about dessert wines at that point, I knew that (arguably) in the world of dessert wines (a.k.a. "stickies") Ports from Portugal, and Sauternes from Bordeaux rule.  I was eager to see what other regions of the world have to offer.
The tasting featured wines "stickies" from  Austria, Hungary, Canada, Greece, and lesser known regions of France – Loire, Languedoc-Roussillon, and Alsace.
One of the more memorable wines from that tasting for me was a vin doux naturel from the Maury region of France. It is essentially the same type of wine (fortified Grenache) produced in a different area of Southern France.
In My Glass
Founded in 1925, The Cave de Rasteau is one of the oldest cooperative wineries in the south Rhone Valley of France.  The 180 grower benefit from the exceptional terroir of Rasteau, where the vines grown in soils of large quartzite pebble washed down by the Rhone river and clay/chalk soil on the hillsides of the village of Rasteau.  The region earned independent AOC status in July 2010.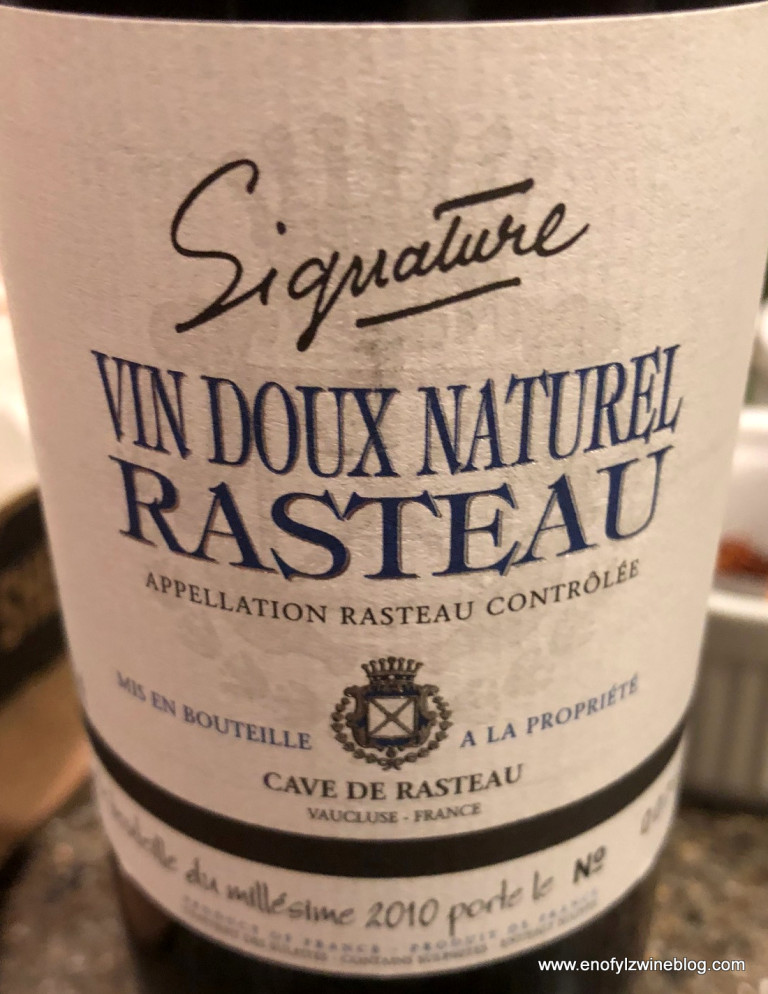 This wine is vinified only in exceptional vintages. The fruit for the wine is made from 50- to 90-year-old vines with a maximum yield of 30hl/hc–less than a bottle of wine per vine, according to the winery.  50% of the blend is  aged in barrels (20% new French) for 12 months before bottling.
My tasting notes follow:
Color – Ruby color with hints of mahogany
Aromas – Mixed dried cherries, kirsch, red currant, and red licorice
Body – Full bodied and rich, with a mellow sweetness that is not cloying thanks to a nice underpinning of acidity
Taste – Redolent of dried cherries and baked cherries with hints of cacao and red currants.
Finish – Clean and very satisfying
100% Grenache Noir; 16.5% abv; 500ml;  SRP = $20
If you're looking for a dessert wine to pair with something chocolate, there's nothing like a glass of Vin Doux Naturel – KL Wine Merchants. 
The Pairing
We're blessed to be close friends with a couple who are fellow wine enthusiasts. Not only that, she has mastered baking decadent and delectable desserts.
All we did was invite them by to taste some of the Beaujolais wines from last month's #Winophiles event.
Et viola!
They showed up with a bottle of the 2010 Cave de Rasteau "Signature" Vin Doux Naturel, and the  Brutti Ma Buoni. 
Brutti Ma Buoni, which literally means "Ugly but Good", are traditional Italian hazelnut meringue cookies from the Lombardy region.  They are considered to be part of the cucina povera (poor, simple, everyday cooking that aims to utilize whatever is found in the kitchen, farm to prepare meals)  because in the traditional recipe they are made with left over egg whites and hazelnuts.
I seriously doubt that any "leftovers" were utilized to make the Brutti Ma Buoni our friend made, and they were made with plenty of chocolate.  So they're definitely non-traditional in that way.
Nevertheless, they are totally seriously delectable!
As for the pairing?  A slice of heaven on earth!
Be sure to check out what other delicious French dessert wines and pairing my fellow #winophiles are serving up!
If you're up and at 'em, please join us on Saturday, December 16th at 8am PST on Twitter. Find the hashtag #Winophiles and explore our questions and answers, photos and articles, recipes and travel plans.
________________________________________________________________________
Follow me on Twitter, Facebook, Instagram, and  Vivino for all things wine.  As a wino with latent foodie tendencies, you'll also find food and wine pairings, and food related stuff! Become a fan and join ENOFYLZ Wine Blog on Facebook. Cheers!
Copyright Notice: This entire site is Copyrighted 2010-2017. All Rights Reserved. No unauthorized copying of any section of this site is permitted. If you wish to use any part of this site, contact me. For information on Copyright Law, see the official U.S. Copyright Office home page.