Last month, I attended the 10th Annual Wine Bloggers Conference, which was held in Santa Rosa, California.   The conference is a great opportunity to connect with my fellow wine writers, learn about ways to improve one's writing, social media influence, photography, etc.
Of course there is wine!  Lots and lots of wine!
As if we didn't have enough wine from the region hosting the dinners, conference attendees also have the opportunity to explore the wines of  the sponsors of the conference.  I attended three of these "exploration" sessions.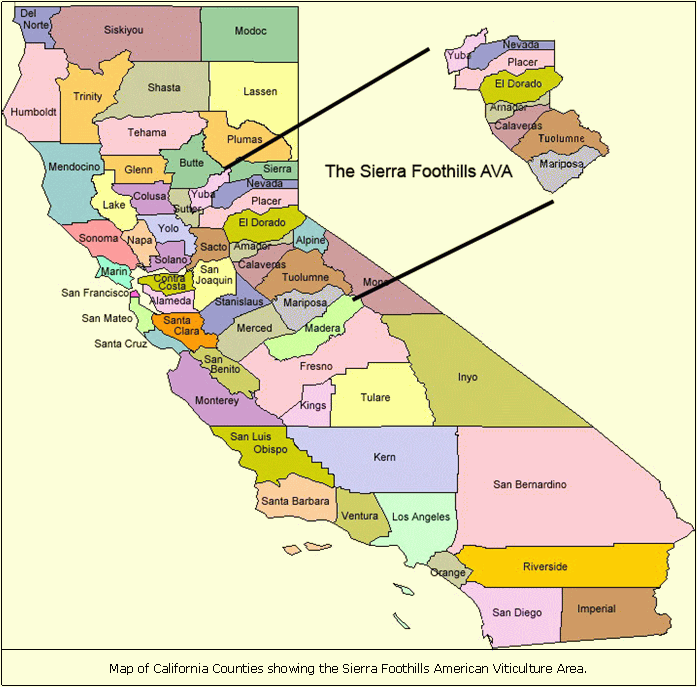 The first was a Lunch With El Dorado Wines. I visited and tasted wines from  the El Dorado several years ago. Since it had been a while I was looking forward to  tasting  the wide diversity of wines grown in the dramatic elevations of El Dorado AVA.    While we enjoyed lunch, 20 winemakers from the region circulated and poured their wines at assigned table.  One of the wineries assigned to my table was Bumgarner Winery.   I was impressed with their Cabernet Sauvignon, so after lunch I looked for one of the swag bags that included a bottle of Bumgarner.
For the uninitiated, the El Dorado AVA is composed of rugged, mountainous terroir. The thin, austere soils of the region are ideal for Zinfandel; but Syrah, Cabernet Sauvignon, Merlot, Barbera, Riesling and Sauvignon Blanc also thrive in the region.
The El Dorado AVA is a sub-region of the larger Sierra Foothills AVA which stretches from Yuba County in the north to Mariposa County in the south, along the western portion of the Sierra Nevada, with Amador, El Dorado and Calaveras counties in the center. Within the entire Sierra Foothills AVA, which totals 2,600,000 acres, there are four other AVAs: California Shenandoah Valley,  Fair Play, Fiddletown, and North Yuba according to the Sierra Foothills Wine Association.
Fruit  for this  wine, which is a blend  of 88% Cabernet Sauvignon,  and 12% Malbec was sourced from 2 high elevation vineyards in El Dorado. The Cabernet is from an old vine block in Pleasant Valley vineyards situated at just under 3,000 feet elevation. The Malbec is from a Camino Vineyard situated at 3,100 feet.   It was aged in 100% French oak, of which approximately 40% was new for 36 months.  The wine is unfiltered and unfined.
My tasting notes follow:
Color: Garnet
Aromas: Crushed violets, cassis, black cherry, blackberry compote, vanilla spice and cedar wood
Body: Medium-bodied with vibrant acidity and well-integrated, sweet velvety tannins. The wine is elegant and harmonious
Taste: Cassis, black cherry, blueberry compote, espresso, bittersweet chocolate, vanilla and a hint of graphite
Finish: Long
91pts| 14.5% abv| SRP – $35| 244 cases produced| Sample
About Bumgarner Winery
Bumgarner Winery began  in 2005 with a vision for a high quality Cabernet Sauvignon from the Sierra Foothills, El Dorado AVA.  Recognizing that El Dorado has many of the classic conditions for growing great Cabernet Sauvignon in common with Napa's mountain districts, yet not recognized for this particular grape variety, Brian Bumgarner launched his first wines producing only Cabernet Sauvignon.
Since then, the "Five Fingers" reserve line has expanded to include additional varieties such as, Tempranillo, Pinot Noir, Petite Sirah,and a Bordeaux-style blend called Many Hands.   Their "Silver Fork" label is host to three ciders as well as multiple red and white wines. Both the Silver Fork wines and ciders are sold in sustainable, returnable re-usable bottles.   At present, the winery sells 90% of its wine direct-to consumer with a case production of about 2,000 cases.
________________________________________________________________________
Follow me onTwitter, Facebook, Instagram, Vivino and Delectable, for all things wine.  As a wino with latent foodie tendencies, you'll also find food and wine pairings, and food related stuff! Become a fan and join ENOFYLZ Wine Blog on Facebook. Cheers!
Copyright Notice: This entire site is Copyrighted 2010-2017. All Rights Reserved. No unauthorized copying of any section of this site is permitted. If you wish to use any part of this site, contact me. For information on Copyright Law, see the official U.S. Copyright Office home page.