I recently attended the Family Winemakers of California ("FWC") Grand Tasting in San Francisco.  The FWC is the trade advocate for California's "small family" wineries (according to this year's program, case production ranged from 200 to 200,000! ).  A huge tasting like this brings in trade, media, and wine lovers from across the country.
There were 103 participating wineries from across California pouring over 350 different wines and 40 varietals and blends.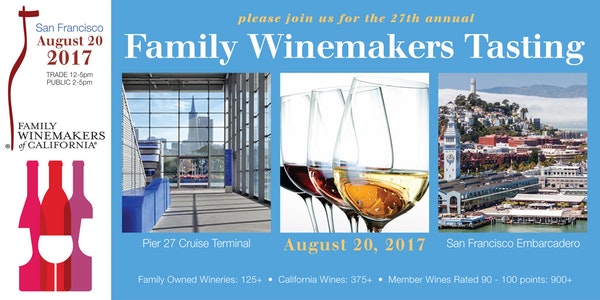 When I attend a big tasting like this, it's impossible for me to taste all the wines…so where to begin?
In years past, I chose to focus on either a specific grape variety (e.g. Grenache) or wineries that were new to the tasting.   This year, I decided to give "Taster's Choice" (which is pretty much what it sounds like) a try.
There were some wineries where I was able to taste through the lineup of wines being poured.  For others, I may have tried only one or two of the wines being poured.
I was there for three hours before tapping out after tasting 65 wines.  
You'll find a recap of my social media posts featuring my favorite wines/wineries below!
Click name of the winery for more information
Of the fourteen wineries featured in my social media posts, I managed to achieve a 50/50 split between new to me wineries and consistent favorites like Tablas Creek.
Perhaps the real takeaway for me from the tasting is that there are relative newcomers like Belden Barns which I "discovered" at this event a few years ago that are  better than ever.  
Related post you may be interested in:
________________________________________________________________________
Follow me on Twitter, Facebook, Instagram, Vivino and Delectable, for all things wine.  As a wino with latent foodie tendencies, you'll also find food and wine pairings, and food related stuff! Become a fan and join ENOFYLZ Wine Blog on Facebook. Cheers!
Copyright Notice: This entire site is Copyrighted 2010-2017. All Rights Reserved. No unauthorized copying of any section of this site is permitted. If you wish to use any part of this site, contact me. For information on Copyright Law, see the official U.S. Copyright Office home page.