Are you familiar with the Navarra wine region of Spain?  I wasn't, until I recently had an opportunity to sample a diverse selection of wines from the new to me region.  I received six sample wines that included a diverse selection of traditional Spanish grape varieties – Tempranillo, and Garnacha (a.k.a. Grenache), and  international varieties Cabernet Sauvignon and Chardonnay.
About Navarra
Situated in Northern Spain, it's vineyards can be found from the foothills of the Pyrenees Mountains to the Ebro River Valley (which it shares with its illustrious neighbor and Spain's  most powerful wine brand – Rioja) between Madrid and San Sebastian.
There is an interesting confluence of three climates in Navarra (Atlantic, Continental and Mediterranean from north to south).  The trio of climate types combined with a range of soils, altitude, sunshine and rainfall in an area that's only 120 miles north-south and 60 miles east-west, allows the region to produce a diverse variety of styles of wines from many different grape varieties.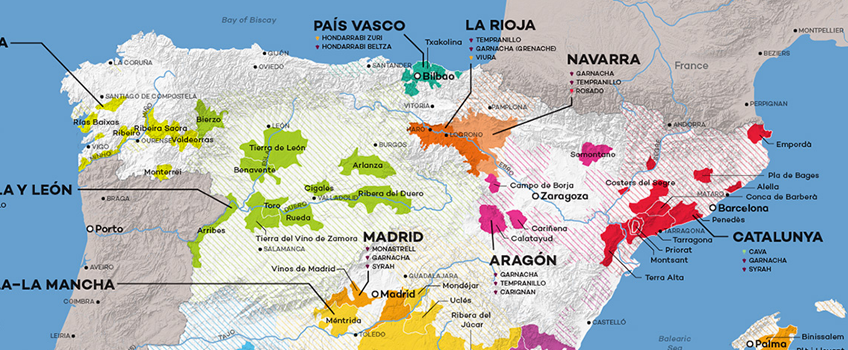 Winemaking in the region dates back to ancient Roman times, but grapes were almost certainly thriving here before that.  Prehistoric Vitis sylvestris species vines – predecessor of the cherished Vitis vinifera – have recently been discovered still growing in Navarra.
The 14th Century was a boom time for Navarra and the number of vineyards multiplied to the extent that land use restrictions had to be imposed to ensure farm land was dedicated to crops to feed the local population. Demand received an additional boost in the late 19th Century when France was hit by phylloxera.  But the rise in sales was short-lived because phylloxera arrived in Navarra a few months after it devastated France.   The sap-sucking  bug destroyed around 90% of the Navarra vineyards. They were replanted in the 20th century with vines that were resistant to the bug.
The DO was established in 1933, and its regulating body, the  "Consejo Regulador de la Denominacion de Origen Navarra" was established in 1958.
Navarra at a glance: (Source)
Area under vine: 11,500ha
Grapes planted:
Reds: 91%: Tempranillo 34%, Garnacha 23%, Cabernet Sauvignon 16%, Merlot 14%, Graciano & Mazuelo less than 2%, Syrah & Pinot Noir less than 1%
Whites: 9%: Chardonnay 5%, Viura 2%, Garnacha Blanca, Malvasia & Sauvignon Blanc less than 2%
Sub regions: Tierra Estella, Valdizarbe, Baja Montaña, Ribera Alta, Ribera Baja
Soils: The Tierra Estella hills have a high limestone content and can be extremely rocky; more chalkbased soils in Valdizarbe. Through Ribera Alta and into Ribera Baja, soils get poorer and sandier
Annual production: 60m litres of wine; 70% red, 5% white and 25% rosé
Navarra D.O.  wines are classified into six categories.  Each bottle of Navarra wine has a label on the back denoting its classification:
The Wines
The samples I received included four reds, one white and one rosado (rosé).  My tasting notes for each of the wines and a bit of background on each producer follows:  
Bodegas Ochoa
Bodegas Ochoa is one of Spain's most dynamic wineries. Family owned and run since 1845, it is based in Olite, a small town capital of Navarra wine.  Bodegas Ochoa has documents dated 1370 A.D. confirming that the bodega was the personal winemakers for the king of Navarra and his royal court, which continued for about another 400 years.  Their 145 hectares of vineyard are sustainably farmed and in the process of conversion to organic certification.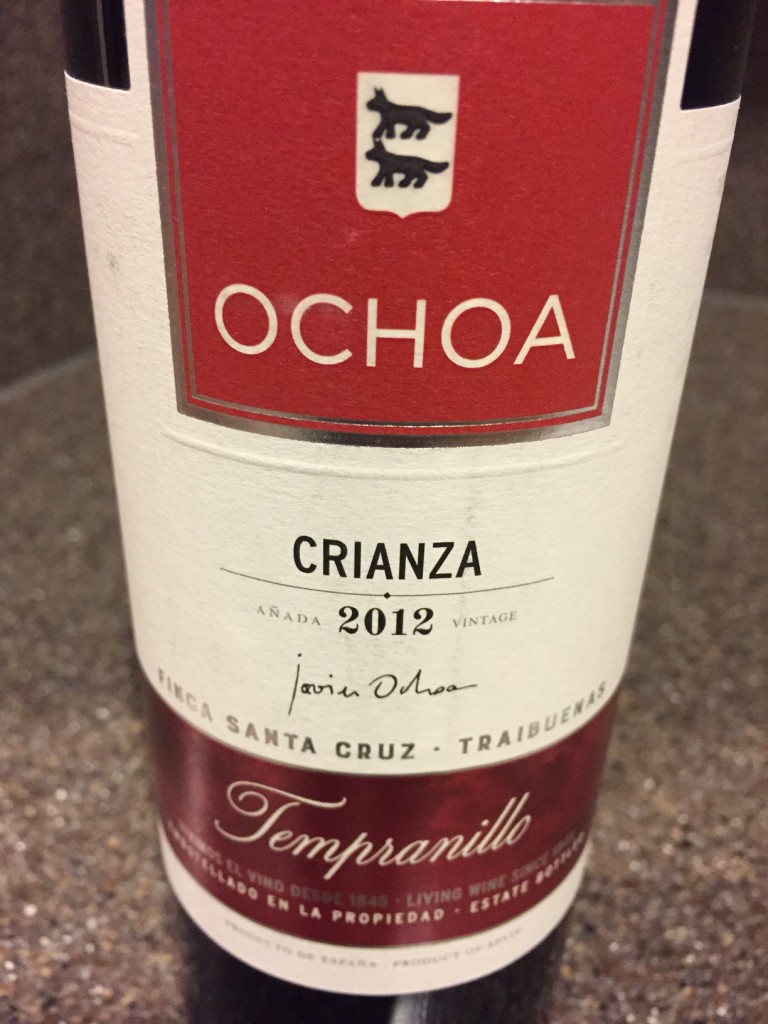 Ruby color with cherry, sandalwood, dried herbs and a hint of tobacco aromas. On the palate, it's medium-bodied and fresh with sour cherry, red plum, mocha and a bit of vanilla flavors with a soft giving finish. 100 % Tempranillo. Fermented in stainless with native yeast. Aged 12 months in 2 year old 225L American oak casks, then 1 year in the bottle 13.5% abv SRP -$23 (87pts)
Light cherry red color with strawberry, Rainier cherry, watermelon, black tea, dried rose petal and a hint of white pepper aromas. On the palate it's medium-bodied, fruit but dry and fresh with Rainier cherry compote, strawberry jam, raspberry, and spice flavors accented with an appealing mineral note on a satisfying finish. Blend of 70% Garnacha/30% Tempranillo. Saignee rose raised in stainless steel 13% abv. SRP = $15 (88pts).
Bodegas Principle de Viana
Bodegas Príncipe de Viana was created in 1983 as a banner project of Caja Rural de Navarra, an agricultural lending institution founded to provide financial assistance for the sustainable development of Navarra's important farming sector. Reflecting wine's nobility among agricultural products, the project takes its name from a historic Navarran title of Spanish royal succession dating to 1423.  They manage 1200 acres of old vines throughout the region.  Sustainably farmed grape varieties include Tempranillo, Chardonnay, Cabernet Sauvignon, Merlot, Graciano and Garnacha.

2015 Principe di Viana Chardonnay
Pale yellow color with tropical, stone fruit, lemon cream, and a  bit of oak aromas. On the palate, it's medium-bodied, and fresh with tangy acidity, and a supple mouth feel. It shows baked apple, lemon cream, apricot, and a hint of grilled pineapple flavors accented nicely with a bit of minerality. Medium finish.  Sourced from sustainably farmed grapes, night-harvested and rigorously selected. Fermented and aged for three months in a mixture of American and French oak.  $12.00 (average US retail)  (87-88 pts)  This wine reminded me a bit of an entry-level White Burgundy, but one of those would be 3x the cost.  Very good QPR!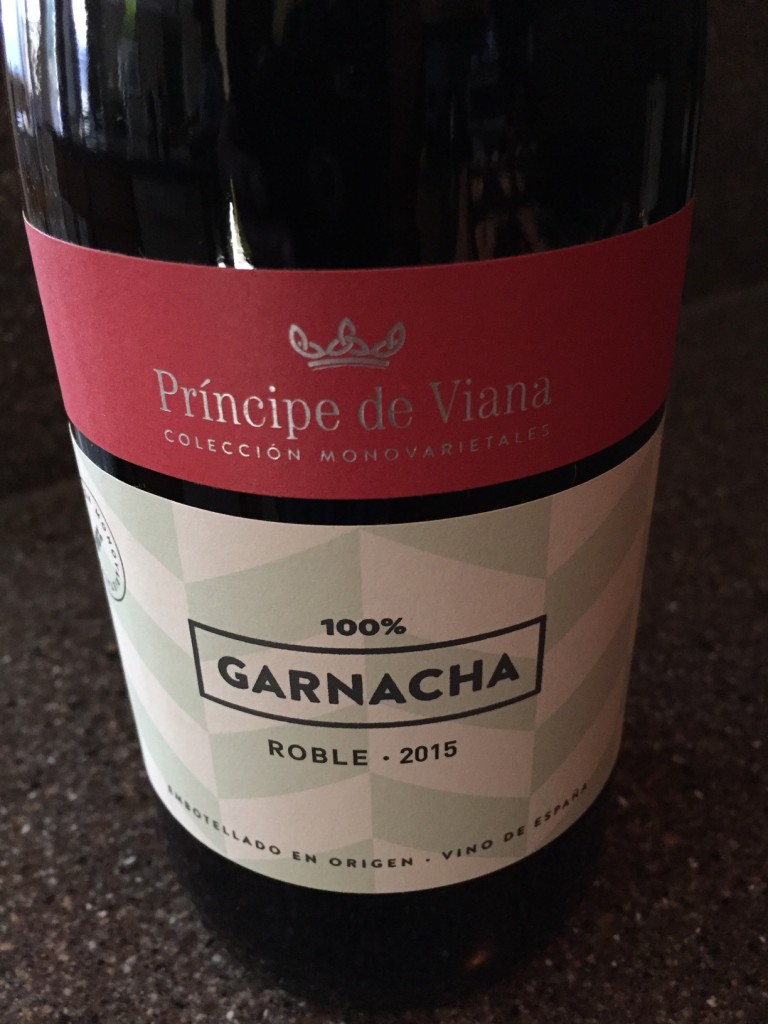 2015 Principe di Viana Garnacha
 Dark ruby color with  kirsch, pomegranate, red currant, wet clay and subtle spice aromas.  On the palate it's medium-bodied, juicy and delicious with medium acidity, showing kirsch, pomegranate, red currant flavors complicated by spice and a bit of vanilla.  Medium finish.  100% grenache from vines with an average age of 50 years.  Hand harvested.  Aged for 3 months in used oak barrels. 14% abv;  $11.00 (average US retail) (87-88pts)  A very nice summer wine that can take a chill.  Paired well with BBQ Chicken Slider w/Sweet Potato Fries!
Bodega Vega del Castillo
Bodegas Vega del Castillo was founded in 1910 when Don Victoriano Flamarique established the first cooperative winery in Spain named "Bodega Cooperativa Olitense". The winery changed its name to Vega del Castillo in 1999 after it merged with two other cooperatives. They are currently the fourth largest winery in terms of volume in the Navarra DO.  Their 400 acres of vineyards are primarily planted to old vine Garnacha (45%), Tempranillo (30%), Merlot (12%) and Cabernet Sauvignon.

2013 Vega de Castillo Capa Roja
Garnet color with cherry, earth and tobacco aromas.  On the palate it's medium-bodied, and fresh with firm integrated dusty tannins and with ample black cherry, tobacco and earthy flavors with a nice touch of sweet spice.  This is a easy-going, juicy wine that shows both Old and New World character.  It's  steal for $10!  100% Tempranillo aged 6 months in American oak.  13.5% abv; SRP – $10 (86-87pts)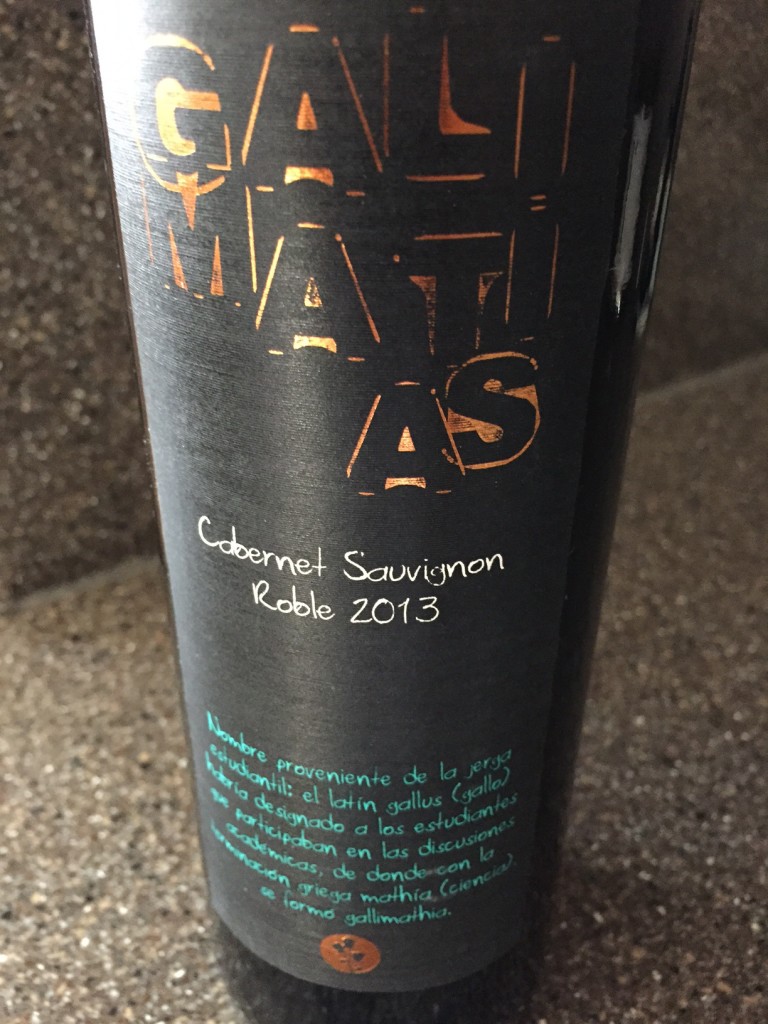 2013 Vega de Castillo Galimatias
Garnet color with cassis, black cherry, cedar wood and a bit of smoke aromas.  On the palate it medium-bodied with very good acidity and juicy cassis, blackberry, and black cherry flavors.  100 % Cabernet Sauvignon aged 6 months in American Oak.  It's a pleasure to enjoy a varietally correct wine at this price.  One of the best $10 Cabs I've had! Very much over delivers for the price! 13.5% abv; SRP – $10 (86-87pts)
My Takeaways
I get the sense that Navarra is still transitioning to excellence, but I really enjoyed these wines, which offer remarkable for quality for the price (all but one was under well under $20).  The Ochoa Rosado was my favorite and has definitely opened my eyes to Navarran  rosé.  If you're looking for well made, every day wines with a character the leans more toward the Old World, you need to explore the wines of Navarra!
To learn more about these wines and the Navarra DO please visit Vinos DO Navarra.
Disclosure: Sample wines from Vino Navarra D.O.  Opinions are my own
________________________________________________________________________
Follow me on Twitter, Facebook, Instagram, Vivino and Delectable, for all things wine.  As a wino with latent foodie tendencies, you'll also find food and wine pairings, and food related stuff! Become a fan and join ENOFYLZ Wine Blog on Facebook. Cheers!
Copyright Notice: This entire site is Copyrighted 2010-2017. All Rights Reserved. No unauthorized copying of any section of this site is permitted. If you wish to use any part of this site, contact me. For information on Copyright Law, see the official U.S. Copyright Office home page.