When I saw this month's theme for the Italian Food, Wine, and Travel Group (#ItalianFWT)  was Alpine Wine, I had flashbacks to the multitude of experiences my wife I had when we traveled to Italy last fall.  We were there for three glorious weeks.  After flying into  Milano in Lombardy region, we wound our way through a caboodle of cities and villages in the Trentino-Alto Adige, Veneto, Liguria (Cinque Terre) Tuscany, Umbria, Lazio (Rome) and Campania (Positano on the Amalfi Coast) regions.   We spent a few days in the Trentino-Alto Adige region that included hiking in Italy's Dolomite Alps and experiencing the unique blend of Italian and Austrian cultures, mostly via Tyrolean food and wine.  Ironically though, my most memorable "Alpine-ish" wine was from Lugana.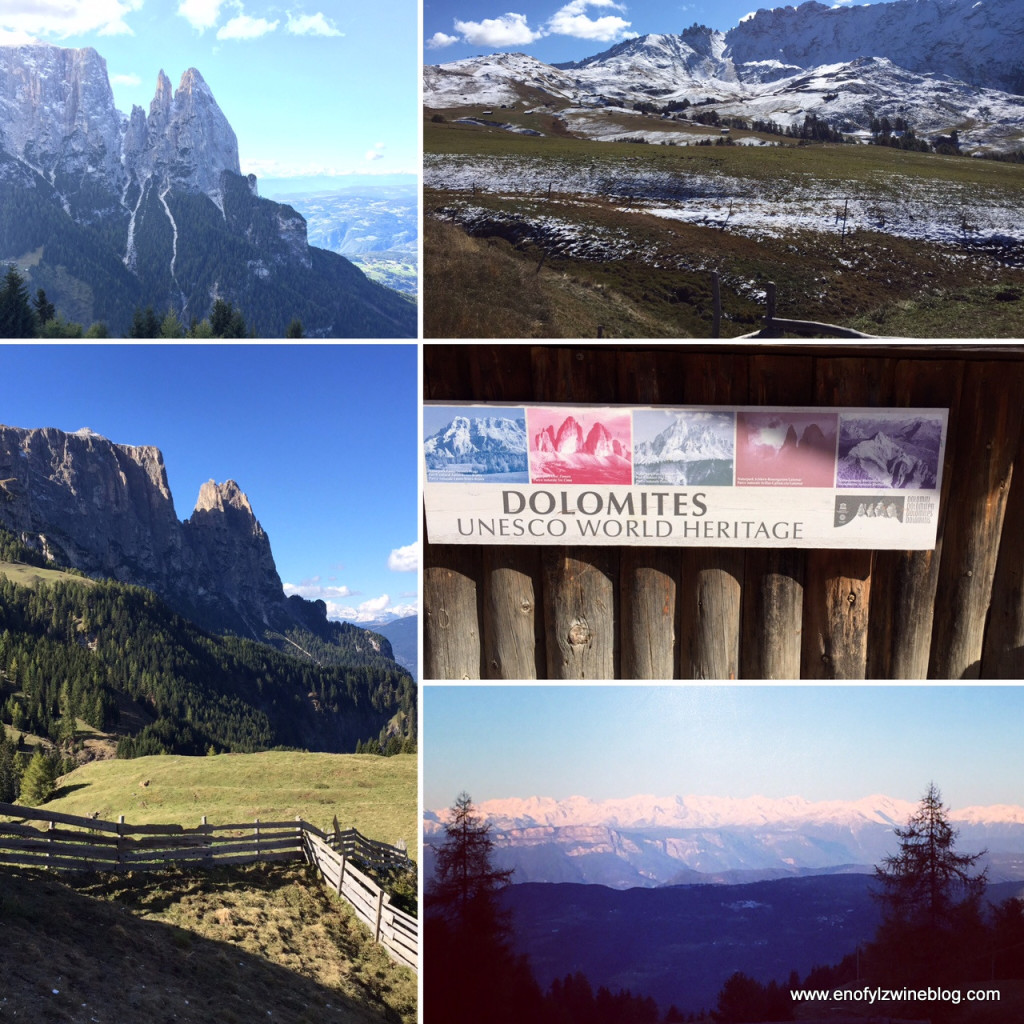 After a visit to see the 5,300-year-old, naturally preserved remains of Ötzi the Iceman, we took a stroll through the charming and narrow streets of Bolzano.  On a whim, we decided to tuck into Est!Est!! Est!!!, a quaint and funky little wine bar for a snack and a glass of wine.  I chose a glass of Lugana.
I'm so glad I did!  It was my introduction to this lesser known region.  And all that glass of Lugana did was intensify my love of Italian  white wines!
About Lugana
Lugana is a Northern Italian appellation on the border between the provinces of Lombardy and Veneto on the southern shores of Lake Garda, which is situated in the foothills of the Dolomites.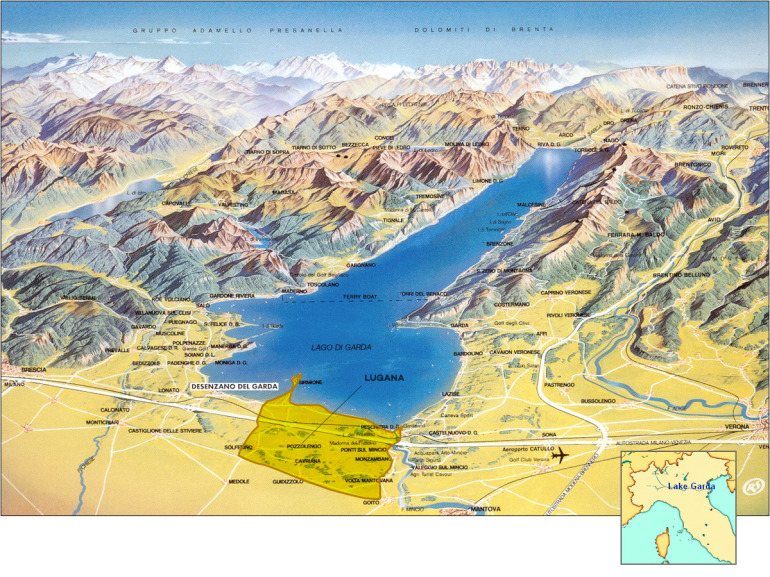 Here are some key facts and figures about the region (Source):
Region: Lombardia, Veneto
History: Established as a DOC in 1967
Vineyard Area: 1,800 ha / 4,400 acres (2016, C)
Production: 130,000 hl / 1,440,000 cases (2016, C)
The principal grape of the region is Trebbiano di Lugana (Turbiana in the local dialect).  But according to Wine Folly "…recent DNA studies have shown it to be a bio-type of Verdicchio".
Italian wine grape expert Ian d'Agata believes Verdicchio to be one of the great white wines of Italy.(Author of Native Wine Grapes of Italy)
There are 5 styles of Lugana wine (Source):
Lugana – Fresh, young, "standard" or "basic" Lugana is the driving force and foundation stone for the denomination as a whole: it accounts for almost 90% of the DOC's wines.
Lugana Superiore – Introduced into the production regulations in 1998, Lugana Superiore is a Lugana that has been aged for at least one year after harvesting.
Lugana Risverva – Lugana Riserva is a natural evolution of the Superiore type: it must mature for at least 24 months, 6 of which in bottle.
Lugana Spumante – Lugana Spumante is produced both by the Charmat (or Martinotti) method (prise de mousse in pressurized tanks) and the Classic Method (refermentation in bottle).
Vendemmia Tardiva (late harvest) – This type of wine is in fact made by over-ripening the grapes on the vine and then picking them later than usual – between the end of October.   Similar…to an Alsace Vendange Tardive or a German Spätlese
Terroir
The soil is mostly white clay and mineral rich limestone,  though in the hillier part of the D.O.C. the soil become more sandy.   It is not easy ground to work: just as it is compact and hard during times of drought, it becomes soft and muddy when it rains. However, it is these very chemical and physical features that make it the source of Lugana's organoleptic qualities, because they give the wine clean, powerful scents that combine hints of almonds and citrus fruits, as well as acidity, tanginess and a well-balanced structure.
In Lugana, the microclimate – influenced positively by the temperate breezes from Lake Garda – is mild and fairly constant, with little difference between day- and night-time temperatures. This is a "climatic cradle" that is perfect for highlighting the peculiarities of a special grape like Turbiana. (Source)
In My Glass – 2013 Tenuta Roveglia "Vigne di Catullo" Lugana Riserva
Tenuta Roveglia grew from the love for the Lugana area of a Swiss business man, Federico Zweifel, who had immigrated to Lombardy at the end of the 19th century.
Federico brought in the first vines. His son, Giusto Zweifel, continued the passion of his father with rigour, strengthening the production of wine. In the 1980′s, a new generation took over — Giusto's son-in-law Giovanni Felice Azzone, a member of Italy's Royal Society — the Lincean Academy.
He brought to bear the thoroughness of scientific research on the practice of winemaking. Giusto's daughter, Annarosa Zweifel, has dedicated herself for years now to uncovering traces of the estate's rustic past. Their daughters Sara, Vanessa and Babettli continue today with the family tradition.  It is  100-hectare (250-acre) estate that produces  about 700,000 bottles a year.
The grapes for this wine were sourced from 55 year-old vines.  The wine was fermented and aged in stainless steel allowing it to show the true character of the region while still bringing a beautiful weight and texture to this medium bodied wine.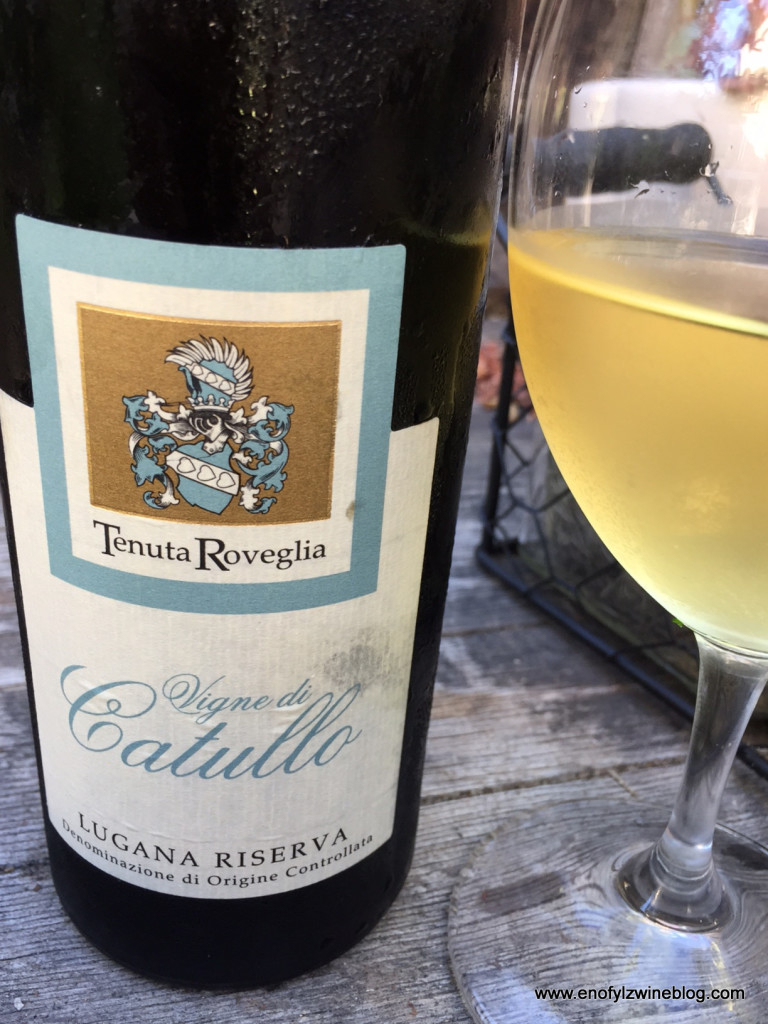 My tasting notes follow:
Pale straw yellow color with green highlight and exuberant almond, lemon, peel, apple blossom, dried orchard fruit aromas complicated with an appealing minerality. On the palate it's medium-bodied, fresh and focused with a supple texture. This is a harmonious wine with green apple, lemon cream, tangerine, white peach, almond and a nice bit of brown spice flavors with a lingering minerally finish. 91pts
On My Plate
We paired this wine with a quick summer meal of Pan-Seared Trout with Almond Brown Butter, Black Beans, and a Caprese Salad. I selected trout because it's lake fish, and given Lugana proximity to Lake Garda, I was counting on the "what grows together, goes together"  maxim for maximizing my opportunity for a harmonious pairing.  In a similar vein, the original recipe called for pecans rather than almonds, but once i tasted the wine I decided to use almonds instead to "bridge" a flavor in the wine to the main dish.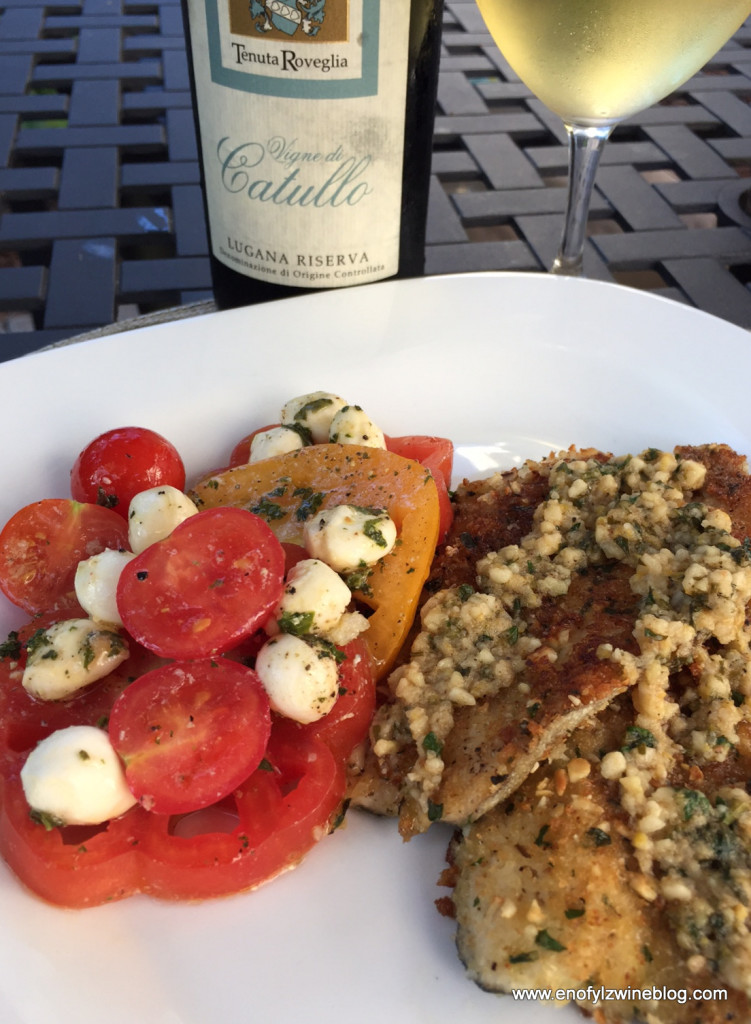 The result?  The wine paired beautifully with our meal!
As I'd  hoped, the subtle almond character of the wine was the perfect complement for the Almond crust on the trout and the nuttiness of the almond brown butter used to sauce the trout.  Additionally the acidity of the wine cut through the richness of the butter, and while simultaneously complementing the acidity of the Caprese Salad. Finally, the spice notes in the wine and the wine's weight played very well with the spicy black beans.
Be sure to check out what other delightful food, wine and travel experiences my fellow #ItalianFWT are covering this month!
If you're up early enough, we'll be chatting about Alpine food, wine and travel on Twitter on Saturday, August 5th 8-9am PST/11-12 EST.   Join us using the #ItalianFWT  hashtag!
________________________________________________________________________
Follow me onTwitter, Facebook, Instagram, Vivino and Delectable, for all things wine.  As a wino with latent foodie tendencies, you'll also find food and wine pairings, and food related stuff! Become a fan and join ENOFYLZ Wine Blog on Facebook. Cheers!
Copyright Notice: This entire site is Copyrighted 2010-2017. All Rights Reserved. No unauthorized copying of any section of this site is permitted. If you wish to use any part of this site, contact me. For information on Copyright Law, see the official U.S. Copyright Office home page.