2016 Ridge Rosé Lytton Estate…harmonious with racy acidity and ripe strawberry, raspberry, subtle Meyer lemon, nuanced spice and a hint of apricot flavors and a lingering savory finish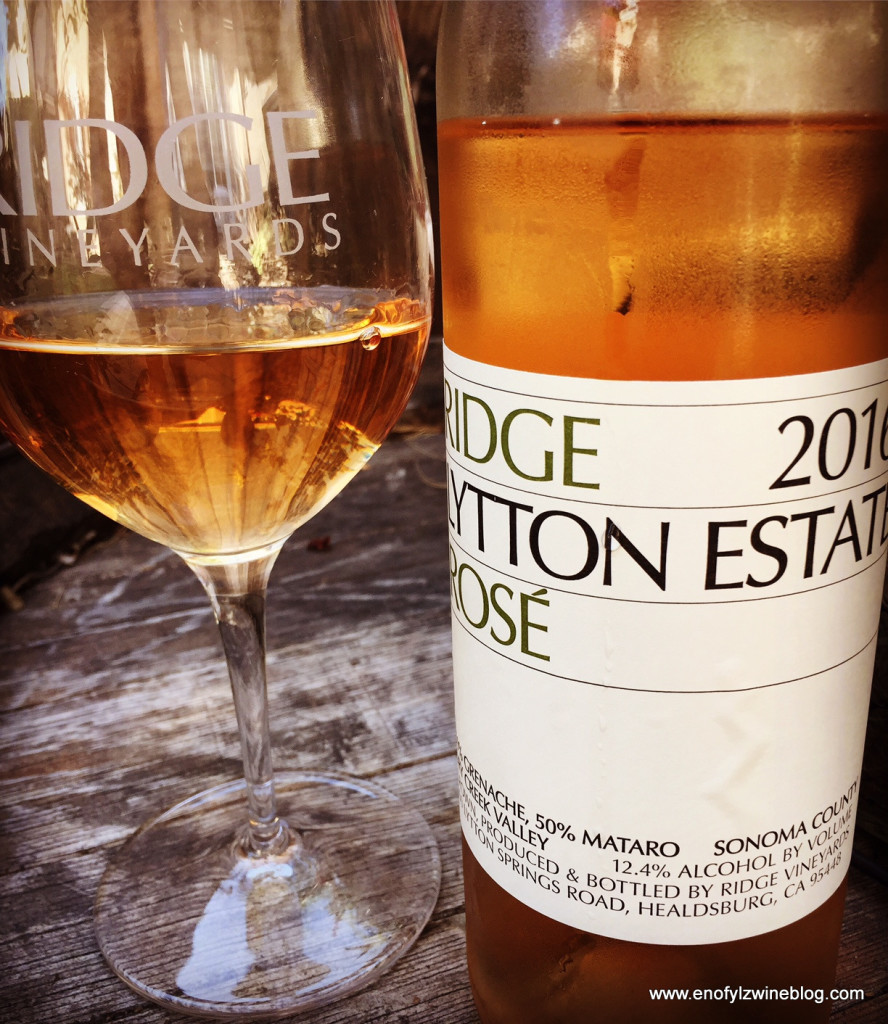 Ridge Vineyards is relatively new to the trend that is rosé (though they did make a White Zinfandel in the 70s!) in the US.  According to cellar tracker they produced a rosé from the Lytton Estate fruit in 2011, 2015, and 2016. I've been fortunate to taste all three.  The 2016 is the best so far for my palate.  It a 50/50 blend of hand harvested  Grenache/Mataro (the 2015 was 65/35 Grenache/Mataro) from Ridge's Lytton Estate in Dry Creek Valley.  It was fermented with indigenous yeast and minimal effective SO2.
Tasting Note
A very pale orange pink color with a copper hue and promising watermelon, wild strawberry and a hint of citrus aromas. On the palate it's light-bodied, dry, and harmonious with racy acidity and ripe strawberry, raspberry, subtle Meyer lemon, nuanced spice and a hint of apricot flavors  with a lingering  mineral driven and subtly savory finish. Outstanding ( 90pts).
12.4% abv| SRP – $28 |Sample purchased for review
Pair with: We paired this wine with Mixed Seafood Pasta (Shrimp, Scallops and Calamari) with Burst Cherry Tomato Sauce and Caprese Salad.  It was a fantastic pairing! But this is such a food friendly wine consider pairing with Baby Lettuce with Feta, Strawberries and Almonds, Fresh Pasta with Clams and Sausage, charcuterie or goat cheese.
About Ridge Vineyards
Ridge Vineyards  is a California winery with two estates, Monte Bello in Cupertino, and Lytton Springs in Healdsburg.  They are best known for producing single-vineyard premium Bordeaux style Cabernet Sauvignon Blend ("Monte Bello"), Zinfandels, and Chardonnay.  Ridge was established by three engineers from nearby Stanford Research Institute (SRI).  They produced its first commercial wine in 1962 after purchasing the winery in 1960.
Great wines have always been determined by their site – by nature, not by man – Paul Draper
It wasn't too long after that, that Ridge gained an international  rep when the  Ridge Monte Bello, under the direction of winemaker Paul Draper , took fifth place in the "Judgment of Paris" in 1976 against nine other French and California wines.  Here's what's really cool though, the 1976 Monte Bello unanimously took first place in The Judgment of Paris 30th Anniversary when it was tasted against the same wines thirty years later!
________________________________________________________________________
Follow me on Twitter, Facebook, Instagram, Vivino and Delectable, for all things wine.  As a wino with latent foodie tendencies, you'll also find food and wine pairings, and food related stuff! Become a fan and join ENOFYLZ Wine Blog on Facebook. Cheers!
Copyright Notice: This entire site is Copyrighted 2010-2017. All Rights Reserved. No unauthorized copying of any section of this site is permitted. If you wish to use any part of this site, contact me. For information on Copyright Law, see the official U.S. Copyright Office home page.