This month (and next!) the French Winophiles will be taking a virtual tour of Burgundy, the birthplace of two of the world's most revered grapes – Chardonnay and Pinot Noir!  For May , I'm focusing on Chablis and Côte de Beaune .  I've chosen to focus on white Burgundy, which for the uninitiated are wines crafted from 100% Chardonnay grapes.
By doing so, I hope to resolve, or at least find peace with my "White Burgundy" issue.
What is my "White Burgundy" issue you ask?
I have a bias against White Burgundy from Côte de Beaune. 
I don't have a lot of wine biases.  In fact, this is the only one that comes to mind.  But, I must admit that as a wine lover and wine geek, I'm troubled by my bias.
Sure, I've sampled white Burgundy from  Côte de Beaune, but my only purchase was for a blind tasting inspired by  the 40th anniversary of the Judgement of Paris by our wine tasting club last year.
What's up with that you ask?
By all accounts, Côte de Beaune produces some of the most remarkable, exquisite and intense expressions of the Chardonnay on the planet.
But, they're also the most pricey Chardonnay on the planet.
I suppose it comes down to quality to price ratio for me.  
A recent email blast from my favorite wine store touting the merits of the 2014 vintage, and offering  an array of top rated 2014s white Burgundy from Chablis and the Cote d'Or reinforced my value perception.
There were 21 wines listed under Cote d'Or.   The most expensive was $300. The average price was about $100.   There was 1 wine under $50!
On the other hand, there were 12 wines listed under Chablis.  The most expensive was $130, and had an average price of $70 .  There were 5 wines under $50.
Big difference!
On the other hand Chablis, which I adore, offers great quality-to-price ratio.   That's  why it has been white Burgundy of choice.
Having that, I did notice there was a $40 Chablis Grand Cru and a $40 Cote d'Or Premier Cru listed in that email.
Hmmm…Same region. Same vintage. Same price?
Time to taste them back to back and share my thoughts!
"White Burgundy is the crack cocaine of Chardonnay." – Wine Folly
About Chablis
Located to the north of the Côte d'Or, the Chablis AOP produces white wines from 100% Chardonnay. The classic style of the village is a bracing, steely, mineral, slightly oxidative white wine. Chablis wines are often very austere in their youth, and lighter in body than their counterparts from the Côte d'Or. The region's limestone soils are reflected in the chiseled, chalky character of the wines. New oak aging is an unusual sight in the cellars of Chablis. (Source)
There are 4 tiers of Chablis wines (in ascending order of quality)
Petit Chablis: Basic quality Chardonnay from lesser sites
Chablis: Village wines
Chablis "Premier Cru": 40 high quality sites of which 17 top names, such as Montée de Tonnerre, Montmains, or Vaillons, often appear on labels.
Chablis Grand Cru: There are 7 Grand Cru climat (sites) that run along the right bank of the Serein river, and enjoy southwestern exposure, just north of the town of Chablis itself. The best Grand Cru vineyards in Chablis are Les Clos, Valmur, and Vaudésir.
The wine
The 2014 La Chablisienne Chablis Grand Cru "Valmur"   was produced by La Chablisienne, a négociant,  that works with 300 winegrowers in Chablis.  Founded in 1923, they have a reputation for producing their wines in a way more typical of much smaller artisan producers.  For example, with an emphasis on terroir, their wines are produced climat by climat (carrying out fermentation in small lots, plot by plot).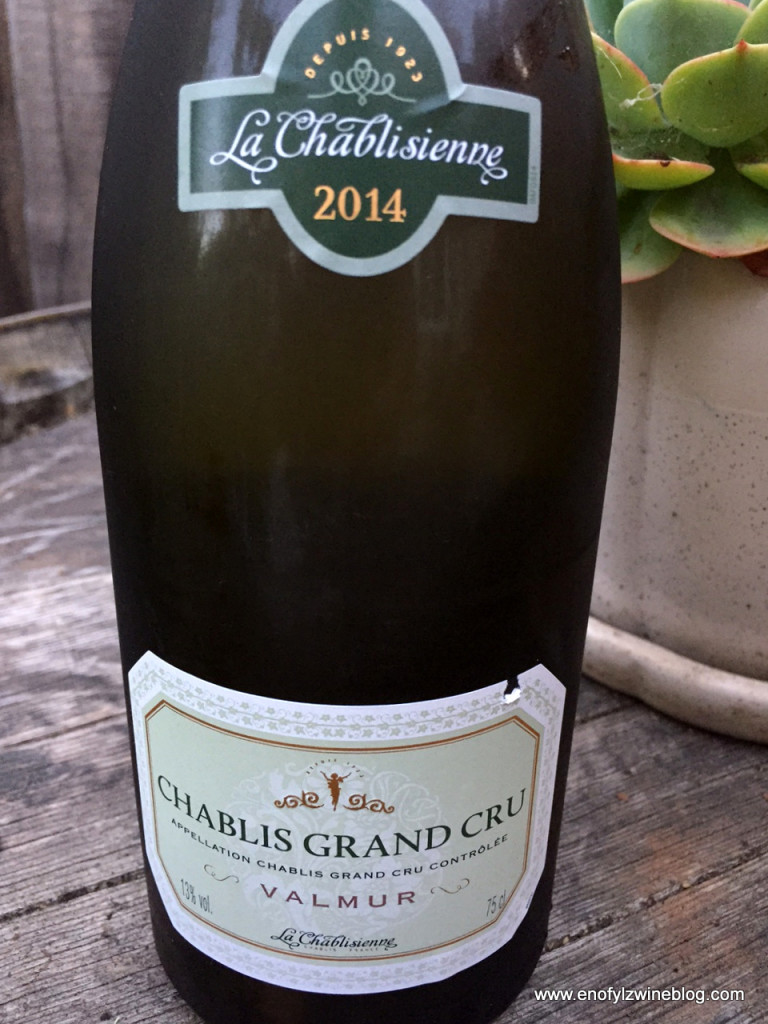 My tasting notes follow:
Pale yellow color with golden highlights. On the nose it shows baked apple, nectarine, white flower, lemon curd and wet stone aromas.  On the palate it's between medium and full-bodied, very fresh, balanced and intense with broad  baked apple, nectarine, and lemon flavors complicated by a very appealing salinity.  Long clean finish. 13% abv; SRP – $40; Outstanding -92pts
Pair with:  Pair this rich, medium/full-bodied Chablis Grand Cru  with foie gras,   roast veal fillet, grilled tuna with mango chutney,  steamed lobster with butter, halibut or other fish in cream sauce or poultry in a cream sauce.
Serving temperature: 53 to 55°F
About Côte de Beaune
South of Chablis is Cote d' Or, which is composed of both the Côte de Nuits (specializing in red wines made predominantly from Pinot Noir) and Côte de Beaune, which is named after the medieval village that is the heart of wine commerce in Burgundy.  Here Chardonnay is the dominant wine with 7 of its 8 Grand Cru vineyards producing white wine. The wines of Côte de Beaune are the most rich,  full-bodied and powerful of all French Chardonnay.
The Cote de Beaune's most favored vineyards are those on the slopes of the Cote d'Or. The limestone-rich soils and sunny exposure in these sites make for excellent 'terroir', the intricacies of which have been meticulously studied and detailed for many generations. It is the intimate knowledge of the land, and of the wine it can generate, which underpins the classification of the local land into premier cru and grand cru categories (Source)
The Wine
The 2014 Domaine Philippe Colin St-Aubin 1er Cru "Charmois" was produced  from grapes sourced from the premier cru village of St-Aubin, which borders  the village of Gamay – home of the distinctive wines of Beaujolais.   It's neighbors include Puligny-Montrachet and Chassagne-Montrachet.
Domaine Philippe Colin was established in 2004 after Philippe and his brother Bruno each established their own domaines after working along side their father at the family domaine, Michel Colin-Deleger.  Philippe has 11.5 hectares of vineyards in and around Chassagne-Montrachet.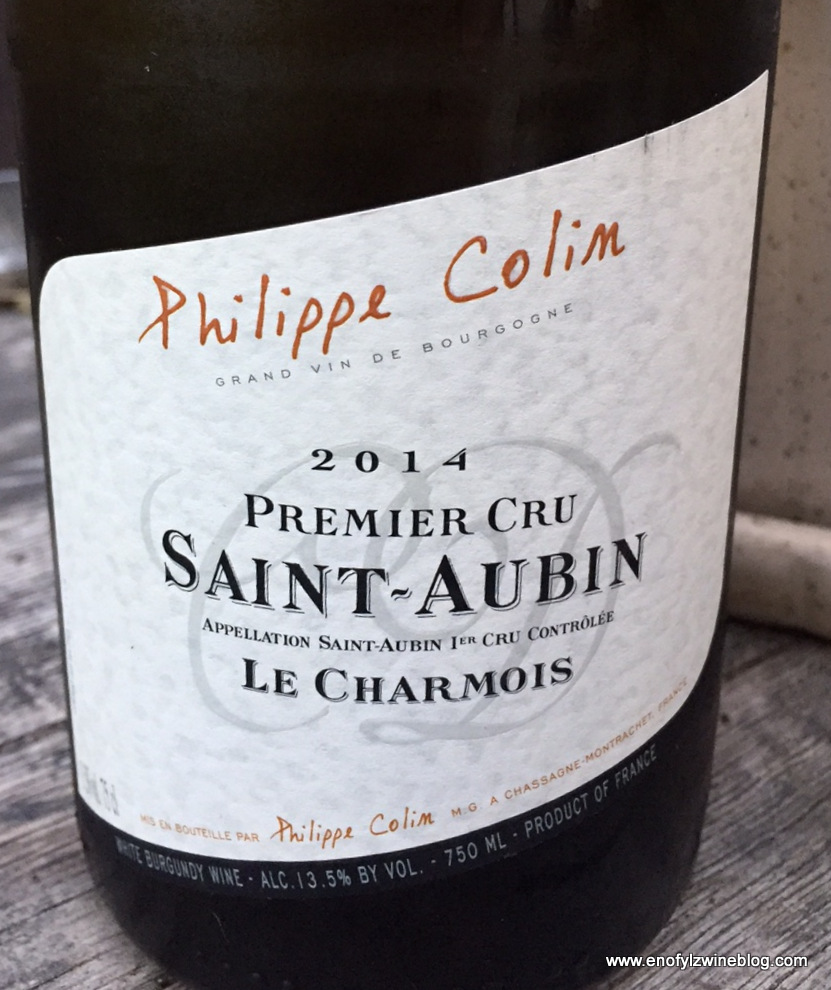 My tasting notes follow:
Pale yellow color with apple, peach, orange blossom with.  On the palate it's full-bodied,  harmonious and fresh with great texture and baked peach, apple, vanilla, mixed orange and lemon flavors with a hint of baking spice flavors.  Long finish complicated with an appealing minerality. 13.5% abv; SRP – $40;  Outstanding – 90pts
Pair with: Comté, Beaufort, Gruyère, or goat cheeses; Poultry, veal or pasta in cream sauces, risotto with shellfish, grilled shellfish, or almost any salt-water fish, poached or steamed.
Serving temperature: 53 to 55°F
The Verdict:
In order to mitigate the risk of my White Burgundy bias, my wife poured these wines without my knowing which was which.  I tasted both and wrote my tasting notes before she revealed which was the Chablis and which was the  Côte de Beaune .
As you can see from my tasting notes and scores I preferred the Chablis.  It was fresher, and bit more complex and had a clean finish.   I also thought the Côte de Beaune was outstanding.  I'd buy the Chablis again in a heartbeat, but I'd have to think twice about the Côte de Beaune.
The bottom line?  I'm a huge fan of Chablis and I believe I'd have to take a significant step up in price to find a Côte de Beaune I enjoy as much or more.  For me ,Chablis continues to deliver great QPR in a style that I prefer. 
Check out what my fellow #Winophiles are bringing to this month's Burgundy party!
If you're up early enough, please join us May 20th as we taste through Chablis and the fabled Cote d'Or from 8-9 a PST via Twitter using hashtag: #Winophiles.
________________________________________________________________________
Follow me onTwitter, Facebook, Instagram, Vivino and Delectable, for all things wine. As a wino with latent foodie tendencies, you'll also find food and wine pairings, and food related stuff! Become a fan and join ENOFYLZ Wine Blog on Facebook. Cheers!
Copyright Notice: This entire site is Copyrighted 2010-2017. All Rights Reserved. No unauthorized copying of any section of this site is permitted. If you wish to use any part of this site, contact me. For information on Copyright Law, see the official U.S. Copyright Office home page.