A harmonious, food friendly wine that's flat-out delicious!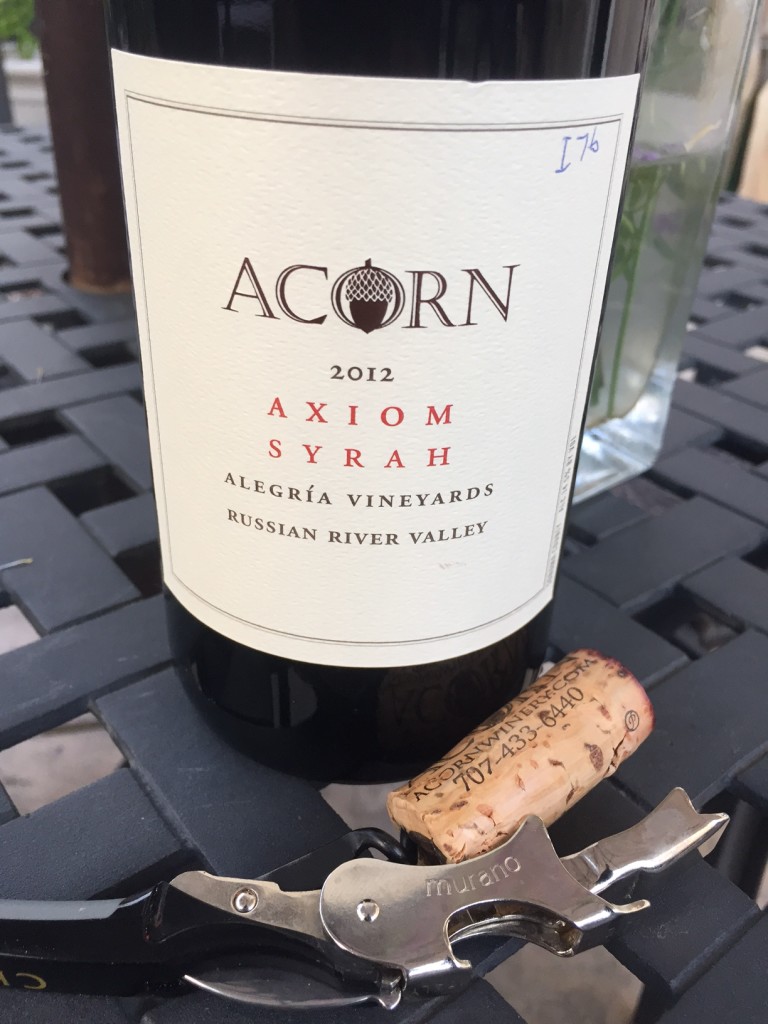 This wine is a field blend of 98% Syrah (3 clones) and 2% Viognier.  The wine was aged 16 months in a combination of French, American, Hungarian, and European barrels carefully selected to add structure and notes of vanilla and spice, while enhancing the spicy berry flavors typical of this Russian River Valley Syrah.
My tasting notes follow:
Opaque purple color with aromatic blackberry, plum skin, roasted meat, , savory spice and floral aromas. On the palate it's medium-bodied, with ample blackberry, black cherry, black currant, espresso flavors nicely balanced with mouth-watering acidity and well-integrated velvety tannins. Long finish.  Wish I had more!!
14.5% abv | $35 SRP|Sample
Pair with: We paired with Lamb Ragu Papparedelle; and it was a fabulous pairing! Of course, I'd pair with classics like Cassoulet or Braised Beef Short Ribs.  But don't stop there! This is such a food friendly wine, this time of year I'd consider it for BBQ Ribs, grilled lamb, or Ahi Tuna!
Acorn Vineyards – Estate-Grown, Sustainably-Farmed, Field-Blended Wines
Betsy & Bill Nachbaur founded Acorn Winery in 1990.   Their passion is growing and producing co-fermented field-blends (the grapes are interplanted, harvested, and fermented together) and creating balanced, food-friendly wines made in the old-world style.
We are tiny like an acorn. Our winery is framed by tall oak trees. Our wine is aged in oak barrels. So ACORN seemed the perfect name for our winery.
Bill traded in his law books for books on viticulture, pruning shears, and a tractor when we purchased Alegría Vineyards in 1990. In the early years, he was in the vineyards every day, and Betsy helped out on weekends, but within a few years she too was ready for a change and joined Bill full-time.
At first, we sold all of our grapes to other wineries, and they produced highly prized Alegría Vineyard-designated wines. Then in 1994, we decided to make some wine ourselves and established ACORN Winery. Our first release, in 1996, was our 1994 Sangiovese.
Gradually, we kept more grapes for ACORN and added other wines. Now we make seven different wines—Russian River Valley Heritage Vines™ Zinfandel from the original 1890s vineyard, Russian River Valley Axiom® Syrah, Russian River Valley Cabernet Franc, Russian River Valley Sangiovese, Russian River Valley Dolcetto, two proprietary blends—Medley® and Acorn Hill, and a flavorful Rosato (a dry Rosé). We still sell half our grapes to other wineries. Several of them vineyard-designate the wines. 
Our production remains small, at about 3,000 cases each year. All our wines are made from grapes we grow ourselves at Alegría. Every wine is a field blend, following the ancient tradition represented in the mixed planting that is our original 120-year old vineyard. Every wine is made by co-fermenting multiple varieties. We like to say that our wines are blended from the day they are picked. This is what sets ACORN wines apart.
Today, after 25 years, we continue to find Alegría living in the middle of our vineyards, enjoying the cool Russian River Valley climate, and continuing a long tradition by sustainably growing premium quality grapes and producing acclaimed award-winning wines. – Acorn Winery
In addition to this wine Acorn crafts  Cabernet Franc, Dolcetto, Sangiovese, Heritage Vines Zinfandel, Rosato, Medley, and Acorn Hill.
Find out more about Acorn's field blend tradition here.
_________________________________________________________________________________________________________________________________
Follow me onTwitter, Facebook, Instagram, Vivino and Delectable, for all things wine.  As a wino with latent foodie tendencies, you'll also find food and wine pairings, and food related stuff! Become a fan and join ENOFYLZ Wine Blog on Facebook. Cheers!
Copyright Notice: This entire site is Copyrighted 2010-2017. All Rights Reserved. No unauthorized copying of any section of this site is permitted. If you wish to use any part of this site, contact me. For information on Copyright Law, see the official U.S. Copyright Office home page.