If you've ever considered food and wine pairing principles, then you know the most tried, tested,  and found true principle of food and wine pairing is "What grows together, goes together".  In other words, match the food and the wine of a place together.  For example, pairing Italian food with Italian wines, or a pairing oysters with Muscadet, a crisp white wine from the Loire Valley in France.   That's all fine and well, but my reality (and I bet yours too) is that more oft than not, I don't have a wine on hand that will be a match for the place the food I'm enjoying originated.  Well this month, the French Winophiles (#Winophiles) will be utilizing our creativity and food and wine pairing experience to explore such situations.  We're offering cross-cultural pairings of non-French fare with our favorite French wines.  I'm pairing three Bordeaux wines with three Cajun and Italian classic dishes. 
Here's what's on my Bordeaux and Cross-Cultural Pairing Menu:
Seafood Gumbo and 2013 Château du Champ des Treilles "Vin Passion" Sainte-Foy
Venetian Calamari Linguine With Shrimp and Mussels and 2014 Château La Rame 
Spaghetti Bolognese with Butter Lettuce Salad and Creamy Italian Dressing and 2012 Château Fonbadet Pauillac
Before I get to the items on my menu, I know for many, food and wine and pairing can be daunting. That's because not only are we relatively inexperienced at food and wine pairing,  but also because the way we cook, eat and drink in the real world rarely features the flavors of a single food. Even a simple meal can present a kaleidoscope of flavors and textures.
Keep in mind that food and wine pairing isn't an exact science. Much of it falls within the realm of instinct. The good news is that instincts can be acquired by knowing some basic guidelines about how wine and food interact.  If you follow my guidelines  for food and wine pairing you'll not only dramatically increase your chances of creating magic from time to time, but more importantly create more pairings when the food and wine make each other better.
Here we go!
Seafood Gumbo and 2013 Château du Champ des Treilles "Vin Passion" Sainte-Foy
Gumbo is  a mash-up of three cultures—European, Native American, and West African—that created what we know today as Cajun cuisine.  The name derives from a West African word for okra, suggesting that gumbo was originally made with okra. The use of filé (dried and ground sassafras leaves) was a contribution of the Choctaws and, possibly, other local tribes. Roux has its origin in French cuisine, although the roux used in gumbos is much darker than its Gallic cousins.
My favorite style of gumbo is Seafood Gumbo (check out my recipe for Seafood Gumbo here).  We typically make it every year for New Year's Day (which explains the holiday tablecloth in the photo below).
I say "we" because it's a family affair.  My wife is in charge of the seafood stock.  I'm in charge of the rest (or at least that's what my wife let's me think).  For great gumbo, you need two things…great stock, and great roux!
I typically like to pair my gumbo with an off-dry white wine because it's a bit spicy.  But I decided to try it with the 2013 Château du Champ des Treilles "Vin Passion", mostly because I had it hand and was in the mood to experiment.
Château du Champ des Treilles, owned by Corinne and Jean-Michel Comme was one of first  organic properties the Sainte-Foy region of Bordeaux.  Jean-Michel had been working at Château Pontet-Canet in Pauillac and purchased 5 hectares of about 60 year-old vines buried across the river in fine clay-limestone soils. They subsequently replanted the vineyard to Merlot, Sauvignon and Petit Verdot, before eventually grafting over Muscadelle and Semillon
The grapes for this wine were handpicked, destemmed.  It was fermented on native yeast.  It was aged on its lees in vat for four months to better express the purity of the fruit. It was then fined using Bentonite and is mildly filtered.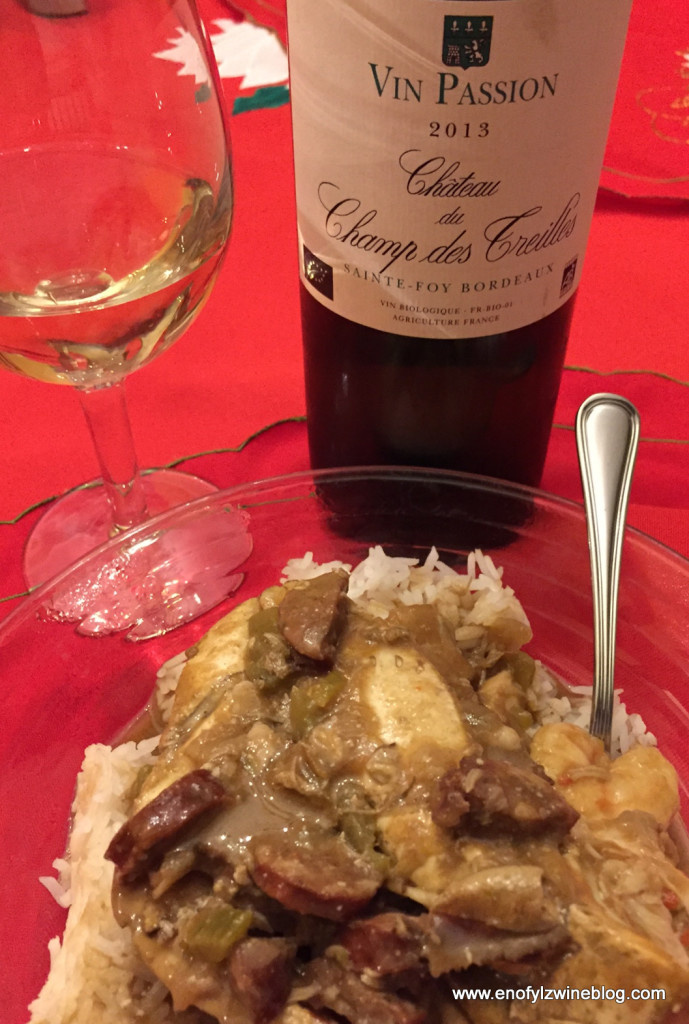 My tasting note follows:  Very pale green color with green apple, apricot, lemon blossom, and a hint of honeysuckle aromas with an appealing stony minerality in the background. On the palate it's between light and medium-bodied, very dry and fresh with an appealing minerality that lends a savory quality to the wine. It shows an alluring creaminess with green apple, key lime, and a bit of ginger flavors.  Short finish.   Blend of 34% Sauvignon Blanc, 33% Sémillon and 33% Muscadelle biodynamically farmed fruit.  12.5 % abv (SRP – $15) 86-87 pts (Very good)
The pairing:  The gumbo and the wine found "peaceful co-existence".  In other words it was a good pairing.  While an off-dry white would have been a better match for the spiciness of the gumbo, the wine's minerality, and texture were a very good match for the gumbo.  I also think a lighter colored roux would have worked better with the wine.  The pairing really sang when a spoonful of the gumbo deliciousness included oysters, for which the wine was perfect!
Venetian Calamari Linguine With Shrimp and Mussels and 2014 Château La Rame 
One of our favorite meals when we visited Italy last fall was a Black Pasta with Seafood we enjoyed in Cinque Terre.  Squid Ink or Calamari pasta has  been a staple in Italian cuisine since the 14th century.
When we recently visited a new local pasta  and gourmet food shop, not far from where we live, and spotted Pappardelle's Pasta Venetian Calamari Linguine, I knew we were going to make something similar.  My wife settled on Venetian Calamari Linguine With Shrimp and Mussels.
After trying the previous Bordeaux Blanc with Seafood Gumbo, I thought the 2014 Château La Rame Bordeaux Blanc would be a great match.
Chateau La Rame is among the oldest and most renowned properties in the Sainte Croix du Mont appellation.  The estate is composed of 20 hectares of  vineyards set on a clay-limestone soil blessed with an exceptional substratum marked by a bed of fossilized oysters dating from the Tertiary era. The hillside vineyards overlook the Garonne River and face full south as they slope down towards the river. The vineyards are planted 75% to Semillon and 25% to Sauvignon Blanc.
The grapes for this cuvée come from a four hectare hillside parcel of clay and limestone soil with a full southern exposure that overlooks the Garonne River.  The vines have an average age of 25 years. After a manual harvest, the grapes are fermented in temperature-controlled vats and left on the fine lees for six months prior to bottling.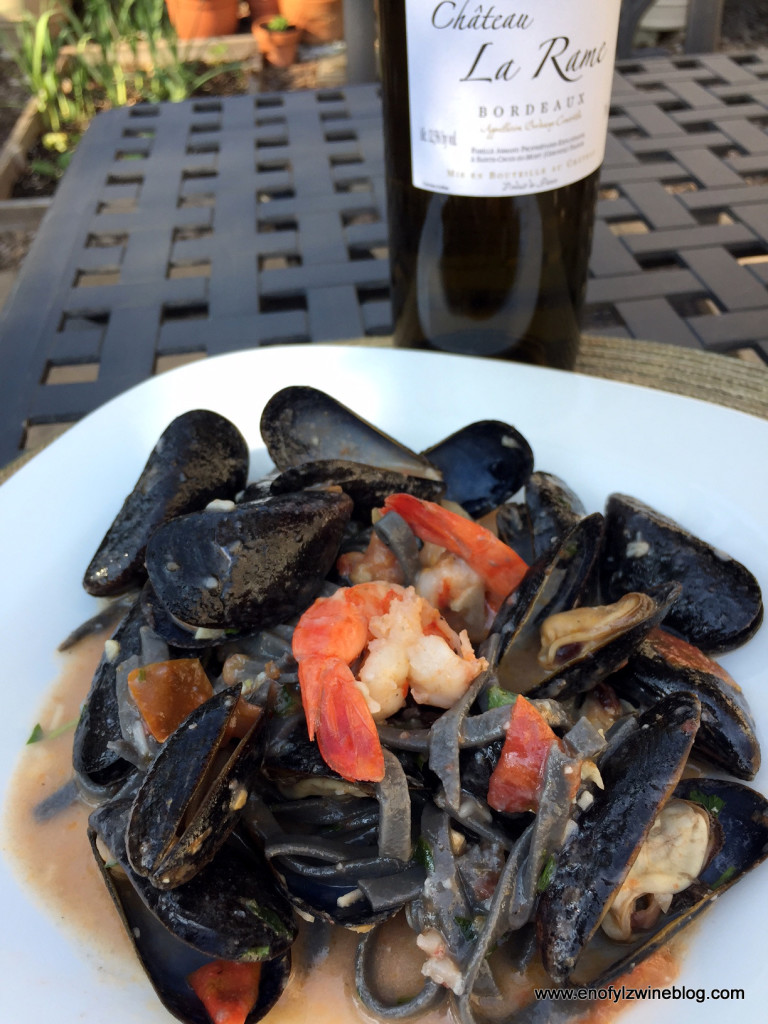 My tasting note follows:  Very pale straw color with green apple, wet stone, citrus, and a bit of white flower aromas. On the palate the wine is medium-bodied and fresh with creamy texture green apple, lime, and a bit of grapefruit flavors that are complicated by a very appealing wet stone minerality and a very giving finish. Blend of Semillon, Sauvignon Blanc, and Muscadelle. 12.5% abv (SRP: $17) 88-89 pts (Very Good To Outstanding)
The pairing:  It was an outstanding pairing!  The food and wine, each made the other taste better!
Spaghetti Bolognese with Butter Lettuce Salad and Creamy Italian Dressing and 2012 Château Fonbadet Pauillac
Spaghetti Bolognese, or Ragu alla Bolognese as it is known in Italy, is a classic Italian dish which originated in Bologna, a city in Northern Italy.
This week our Blue Apron box included Spaghetti Bolognese.  A bit to my surprise, the suggested wine pairing was a red Bordeaux!  Since I had a couple of red Bordeaux samples, I chose the 2012 Château Fonbadet to match with the dish.
Château Fonbadet
Château Fonbadet is located in the Pauillac region of Bordeaux.  It's located  estate vineyards are located in a prime locations surrounded by some world-famous neighbors (see below).
The 20-hectare vineyard of Château Fonbadet is planted with the traditional Médoc grape varieties: 60% Cabernet Sauvignon, 15% Cabernet Franc, 20% Merlot and an additional 5% Petit Verdot and Malbec.  The vineyards are in 3 distinct locations; 4 hectares are adjacent to Château Latour and Pichon Comtesse; 3 hectares in the center  of Pauillac border Lynch Bages, and 13 hectares are surrounded by the Mouton Rothschild vineyard. The wines are aged 18 months in barrels, with 30% new oak.
The 2012 cuvée is composed of 75% Cabernet Sauvignon and 25% Merlot.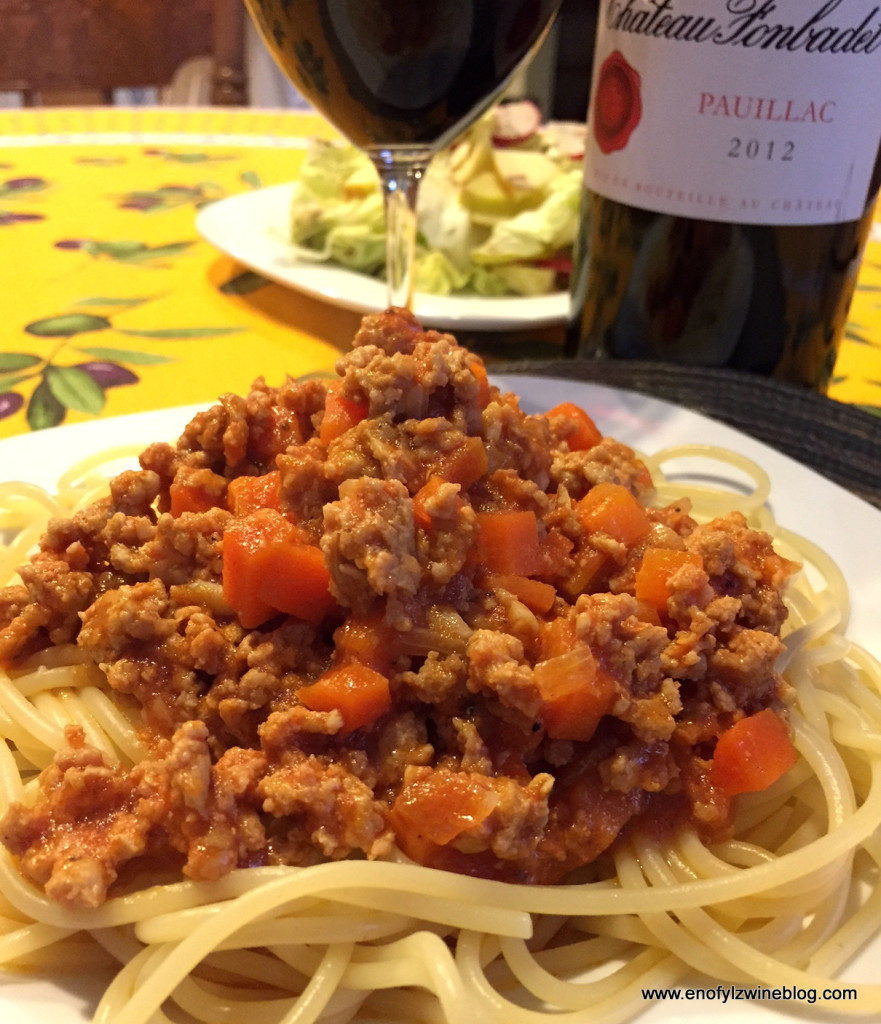 My tasting note follows: Garnet color with black fruits, graphite, damp earth, dried savory herbs and cedarwood aromas. On the palate medium-bodied, but feels lean. It's fresh and elegant with black currant, blackberry, and a bit of plum flavors with a bit of blueberry peaking through given some time in the glass. Very satisfying finish. Blend of 75% Cabernet Sauvignon/25% Merlot; 13% abv; SRP – $40;  89-90pts (Very Good to Outstanding)
The pairing: The wine paired very well with the food.  Each made the other taste better.  The wine even paired surprisingly well with the salad.  That's because the dressing including red wine vinegar and Italian seasoning which bridged nicely to the wine.
Check out what my fellow #Winophiles cross-cultural pairings!
Disclosure: Wine samples provided for review; opinions are my own
If you are reading this early enough, we'll be chatting on Saturday, April 15th at 8am PDT. Join us on Twitter using the hashtag #Winophiles. Or come check out the stream later and try to join us next month.
_____________________________________________________________________________________________________________
Follow me on Twitter, Facebook, Instagram, Vivino and Delectable, for all things wine.  As a wino with latent foodie tendencies, you'll also find food and wine pairings, and food related stuff! Become a fan and join ENOFYLZ Wine Blog on Facebook. Cheers!  Copyright Notice: This entire site is Copyrighted 2010-2017. All Rights Reserved. No unauthorized copying of any section of this site is permitted. If you wish to use any part of this site, contact me. For information on Copyright Law, see the official U.S. Copyright Office home page.