This month the French Winophiles are exploring the Champagne region of France.  I'll be tasting and pairing an under $30 Vintage Champagne!
The French #Winophiles are a group of wine writers and bloggers that love French wine. Each month we focus on an area or aspect of French wine. Topics include regions, routes, food, travel, history, profiles,  and tastings!
What you probably know about Champagne is that is the world's most popular celebratory wine.  But there may be some things you do not realize about champagne…
Do you know that:
True champagne can only come from Champagne region of France
Champagne may be the most food friendly wine
Champagne, both multi-vintage and vintage, ages better than you think
You're probably serving it too cold – I recommend serving Champagne between 47-50°.   Keep in mind a typical refrigerator is probably around 35 degree.  Serving champagne too cold mutes its aromas and flavors, while serving it too warm makes it feel "heavy" and less bright.
Champagne can be decanted (see the previous point, if you removed you bottle of champagne the refrigerator and it's too cold,  consider letting it warm up 10-15 minutes in a decanter to optimize your enjoyment – especially if you're enjoying with friends are will polish off the bottle in no time)
Champagne is wine.  Drink it all year round as you would other wines rather than only enjoying  it once or two a year for special occasions. 
Champagne's hillsides, houses and cellars are on the Unesco World Heritage list.
Of course, there are a few myths that surround champagne as well.  One of those myths is that vintage champagne is always more expensive than multi-vintage (a.k.a. "non-vintage")
Multi-Vintage versus Vintage Champagne – Facts and Myths
Facts:
Vintage champagne is (also known as millesime) is made from a blend of grapes harvested in a particular year, whereas multi-vintage (a.k.a. "non-vintage") champagne is a blend of different years' harvest. Vintage Champagne must be made 100% from the year indicated on the label.  Only certain years with a high quality harvest can be declared 'Vintage'  but this status is determined by the individual producer.
All Champagne wines must spend at least 15 months in the bottle before release, of which 12 months maturation on lees is required for non-vintage cuvees. The minimum for vintage cuvees is three years. In practice, most Champagne wines are cellared for much longer: 2-3 years for non-vintage wines and 4-10 years for vintage Champagne.
Myths:
Vintage Champagne is better quality than non-vintage Champagne.  In reality, a  "vintage" champagne is only as special as the vineyard, winery, winemaker, producer make it.
Vintage Champagne always tastes better than non-vintage Champagne.  Some multi-vintage Champagnes are much better to our palates than celebrated vintage versions of course, your mileage may vary.  A great (albeit expensive) example of this is Krug's Grand Reserve, a superb multi-vintage blend that Krug considers to be its Tête de Cuvée (for most Champagne house consider their vintage wine as such) 
For more information about Champagne, including serving it, storing it and pairing it with food, be sure to check out the exceptional Champagne Bureau website.  And if you'd like to have some fun while testing your knowledge of Champagne, check out the Champagne Campus online or download the app!
In My Glass
Champagne Louise Brison, located in the commune of Noé-les-Mallets in the heart of Côte des Bar region of Champagne.  For three generations, the family has farmed its 13 hectare estate located one of the best locations in the area – a slope 320 metres high facing south/southeast.   They sold their fruit to co-op until 1991 when they started to make champagne.  Since then they have crafted champagne on its own premises exclusively from grapes it has grown.   Yes – this is "grower champagne"
Their wines are vinified and matured in oak barrels.  The vineyards are sustainably farmed.  
The 
2009 Louise Brison Brut Champagne
is composed 50% Chardonnay, entirely barrel fermented, and 50% Pinot Noir that was fermented in two-thirds stainless and one-third barrel.  It underwent partial malolactic fermentation, and was aged for over four years on the lees.  Dosed at only 3g/L.  12.5% alcohol, SRP – $29.99 (K&L Wine Merchants exclusive)
About the 2009 vintage
…
Dry winter led to a deficit in the water table. Fresh showers in spring put the vegetative cycle to rights. Flowering was fine but a chaotic stormy July saw landfalls in Ay. August was warm and sunny, with cool nights. Not a drop of rain in the harvest from mid September. Generous elegant fruit expression in all three varieties. (Source)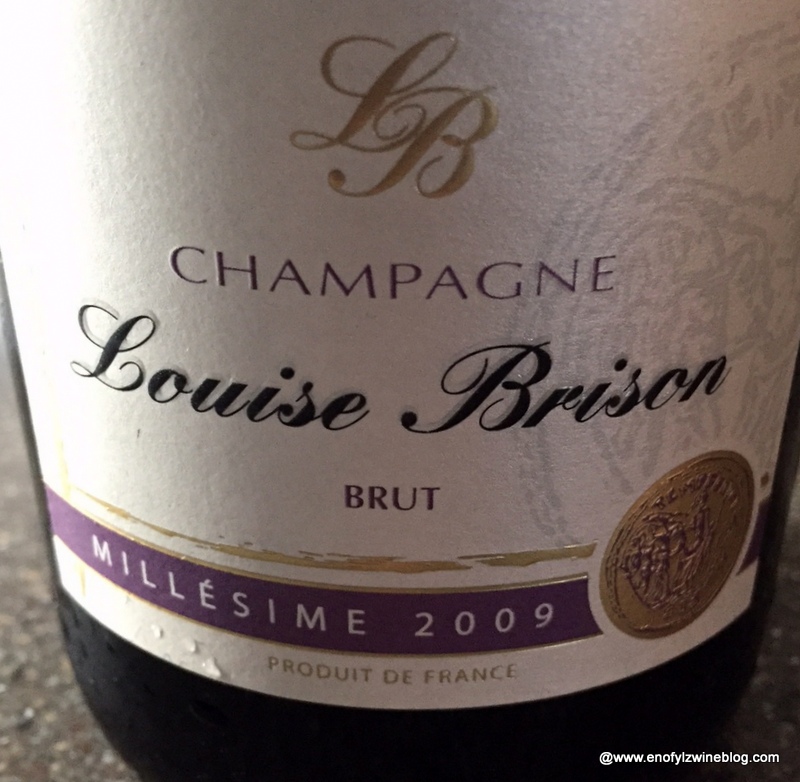 My tasting note follows:
The wine pours a brilliant pale golden-yellow color with a spectacular bead of compact streamers. It show white peach, yellow apple, lemon cream, brioche, and a bit of hazelnut aromas.  On the palate it's dry, medium-bodied and expressive with a delicate mousse and ripening (mostly ripe, but with bits of tart under ripeness) peach, white peach, golden raspberry flavors with very energetic lemony acidity and an appealing chalky minerality.
At the price it is simply untouchable… Everything has been done the hard way: all organic, all estate fruit, mostly barrel fermented and ! The Brison wines also age very well, over the past months I have enjoyed the 1999, 1996 and 1995- so make sure to get a few extras for the future. – Gary Westby, K&L Wine Merchants Champagne Buyer
What a delightful bottle of vintage champagne!  It drinks well above its price point, especially when you consider it is vintage champagne (I checked the K&L website, the next least expensive 2009 vintage champagne was $39.99 and most were over $50).  Simply an incredible value at $30!  It's definitely a bottle of champagne I would purchase again.  I'd love to see how it evolves over the next 5-10 years!
On My Plate
When I'm unsure of what to pair with a dish, I typically opt for sparkling wine, especially Champagne, which is a great way to elevate the dining experience any day of the week!
I paired this with Smoky Seared Cod with Roasted Potatoes  & Dates from Blue Apron.
The smokiness of the cod comes from smoked paprika to the mild cod, which tops a tasty roasted potato salad made with picked shallots and baby green. The seared cod was topped with a delicious Spanish-style pan sauce made with sweet dates, and butter.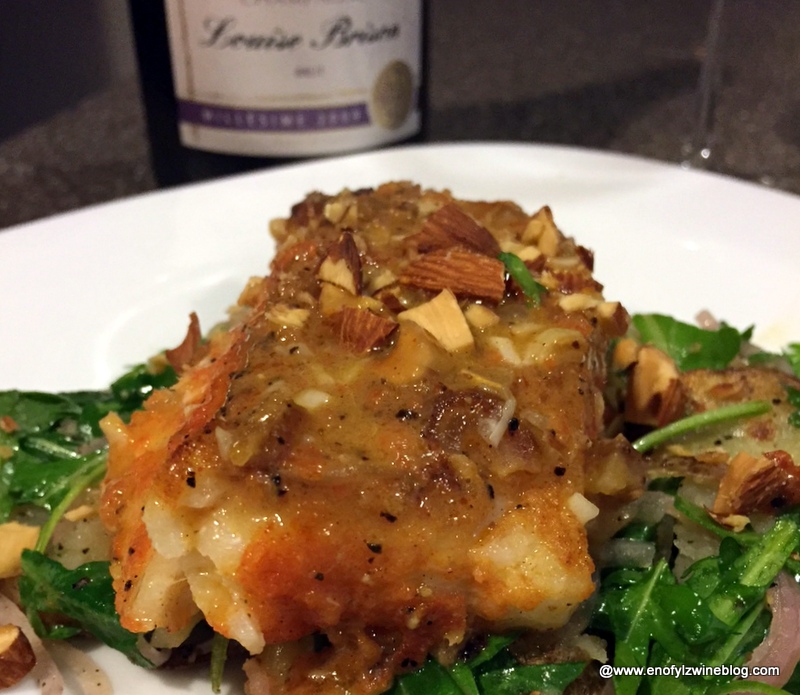 The Champagne was a great pairing partner for the dish (both were delicious)!
Check out what my fellow Champagne-loving French #Winophiles have to share with you!
If you're up early enough, please join us for a live twitter chat on Saturday morning, March 18th at 8:00am pacific (time conversion here). Your invitation is the hashtag #Winophiles. 
________________________________________________________________________
Follow me on Twitter, Facebook, Instagram, Vivino and Delectable, for all things wine.  As a wino with latent foodie tendencies, you'll also find food and wine pairings, and food related stuff! Become a fan and join ENOFYLZ Wine Blog on Facebook. Cheers!
Copyright Notice: This entire site is Copyrighted 2010-2017. All Rights Reserved. No unauthorized copying of any section of this site is permitted. If you wish to use any part of this site, contact me. For information on Copyright Law, see the official U.S. Copyright Office home page.