Seven bottles of wine for seven people…Twas a splendid OTBN17!
Of all the wine "holidays" (Cabernet Day, Chardonnay Day, etc), Open That Bottle Night ("OTBN") is my favorite.  That's because it's a great opportunity for fellowship around food and wine, and making memories with the special people in our lives.
OTBN was created by former Wall Street Journal wine columnists Dorothy Gaiter and John Brecher.  It's the one night a year that we are all encouraged to get out that bottle of wine that is so special that no occasion seems special enough to actually open it.
On OTBN, which is celebrated on the last Saturday of February every year, thousands of bottles all over the world are released from prison and enjoyed. …wine is more than the liquid in the bottle. It's about history, geography, relationships and all of the things that are really important in life" – Dorothy J. Gaiter and John Brecher
My wife and I have been celebrating (and hosting) OTBN since 2010.   So, this was our 8th OTBN!
A few years back after introducing it to our good (wine and food loving) friends, we've been alternating hosting the event.  Since we hosted last year,  it was their turn!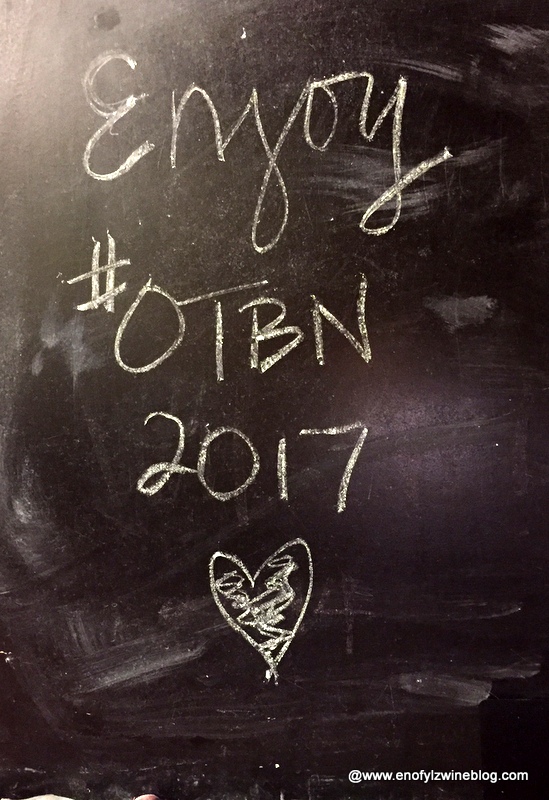 It's great to have close friends who appreciate good wine and food as much as we do!  And who are the consummate hosts for a party…OTBN or otherwise!  I'm always amazed by their attention to detail and doing those "little things" that heighten our experiences.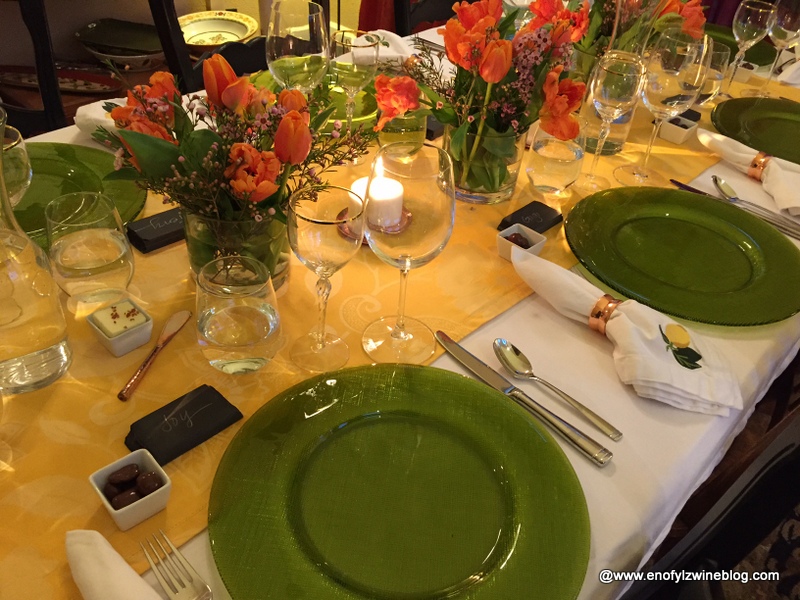 Whenever, we get together to party with friends, bubbly is order.   And for OTBN it was Champagne that slaked our thirst and offered an exemplary partner for the amazing apps at the table!
Champagne 
Veuve Clicquot Ponsardin Champagne Brut
2010 Louis Roederer Champagne Brut Rosé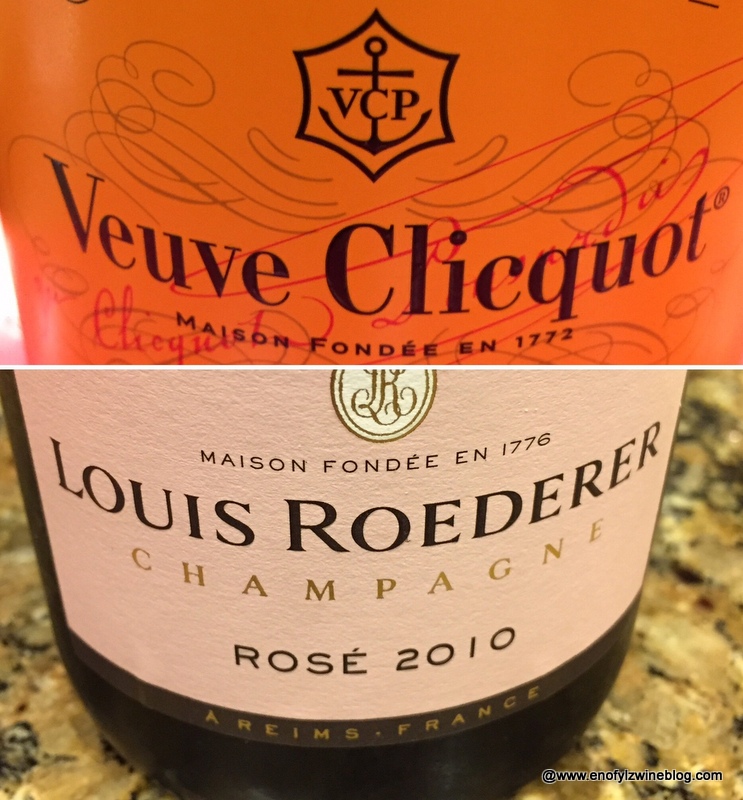 OMG…the Louis Roederer Vintage Brut Champagne was amazing!  It was my Wine of The Night! Easily in the conversation for the best Rose Champagne I've ever had. It's a beautiful pink color with vivacious, floral, red fruit (red currant and strawberry), citrus character that is impeccably balanced with a savory note that I'll not soon forget!
Appetizers (clockwise from far left)
Blackened Ahi Tuna over avocado with spicy mayo
Vegetarian dolmas with a lemon and mint yogurt dip
Spanish Chorizo over Lemon Hummus with Pita Chips/Bread
Bacon wrapped brussel sprouts with a lemon aioli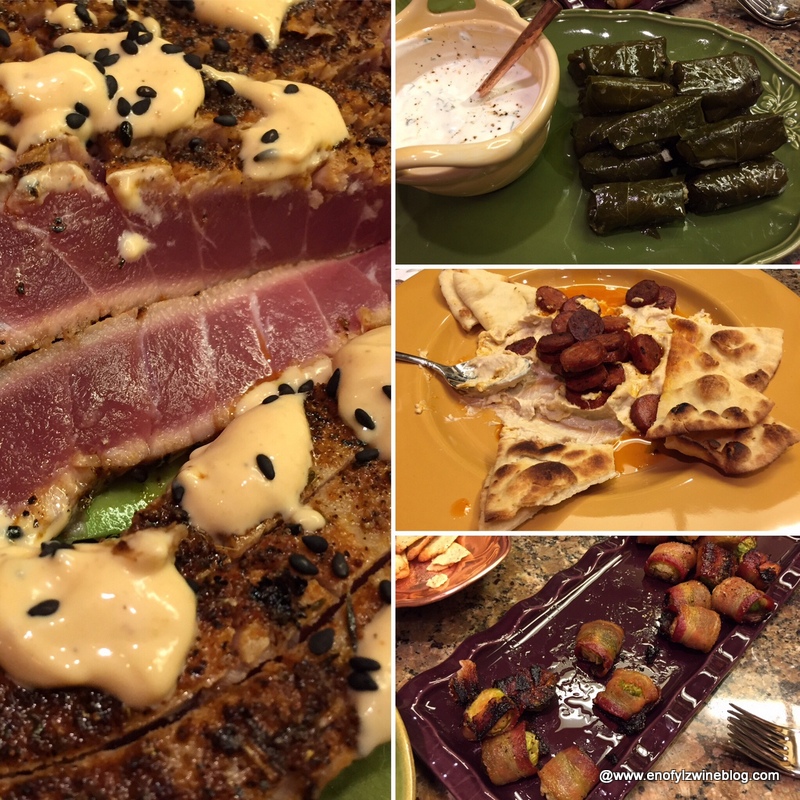 It's a challenge to pick a favorite among the apps, but I couldn't get enough of the Ahi Tuna and Bacon wrapped brussel sprouts.  The Roederer Brut paired wonderfully with all the apps!
Entrée
The Silver Palate's Chicken Marbella with Jasmine Rice and Roasted Carrots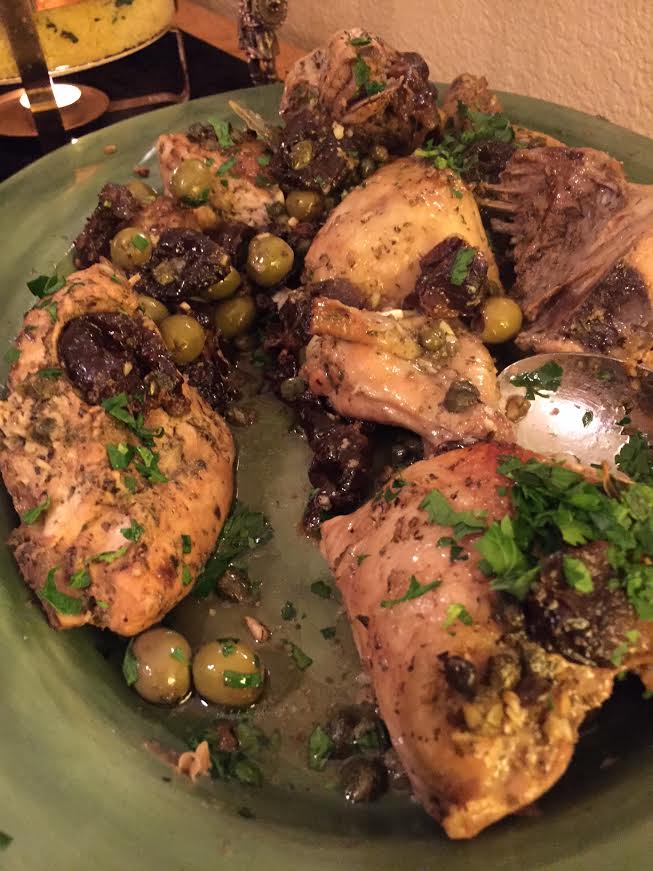 I'd never heard of Chicken Marbella before our friends suggested it for OTBN. It's an aromatic blend of prunes, olives, capers, white wine, brown sugar, and tons of oregano and garlic that first appeared in 1981.  The dish would appear to have Mediterranean roots, but it seems to be a Jewish-American dish created on Manhattan's Upper West Side in the late 1970s.
Regardless of its origins, it's definitely a great party dish in my book!
Entrée Wines
2009 Tablas Creek Esprit de Beaucastel Blanc
2012 Immich-Batterieberg Enkircher Steffensberg Riesling
2011 David Bruce Pinot Noir Reserve anniversary Russian River Valley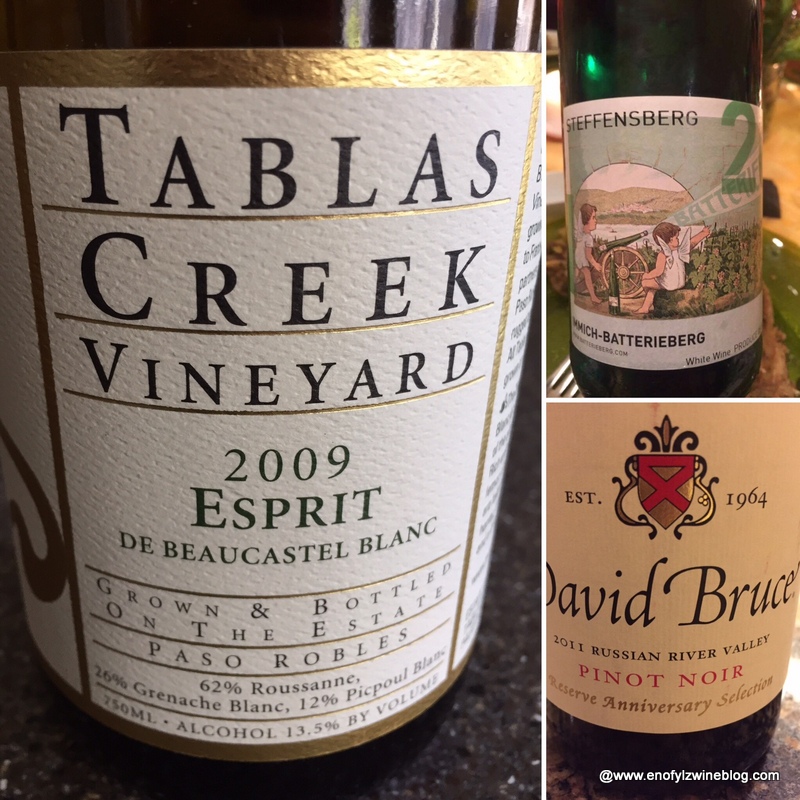 Our wine contribution to OTBN was the 2009 Tablas Creek Esprit de Beaucastel Blanc.  It's a wine that had been in our cellar for nearly six years!
It's Tablas Creek's top of the line white Rhone blend.
It's a blend of three estate-grown varietals (Roussanne, Grenache Blanc and Picpoul Blanc), propagated from budwood cuttings from the Château de Beaucastel estate in the Rhone Valley.  Roussanne provides the core richness, minerality, and flavors of honey and spice, while Grenache Blanc adds green apple and anise flavors, a lush mouthfeel and bright acids. Picpoul Blanc completes the blend, adding a saline minerality and tropical notes.  The wine has a harmonious, fresh, full-bodied Asian pear, lanolin, ginger, tangerine and honey character with a hint of tropical fruit and a long finish. 
Pairings:  Since I wasn't familiar Chicken Marbella, I did a bit of research to see which wine would pair best with it.  I found no consensus favorite, so I played a hunch with the TCV Esprit de Beaucastel Blanc.  I knew it was a full-bodied wine with vibrant acidity.
I hoped it would pair well with the Chicken Marbella.
It did!
In fact, it paired very well with the dish.  I'd say it was the consensus favorite wine with the dish.
There's a lot going on with Chicken Marbella in terms of tastes and flavors, and while the TCV had enough acidity to make it very food friendly, it was its weight and slightly saline and a very appealing savory quality that made it the best match for the dish for me.  The Riesling, which was off-dry was also quite good with the dish (especially if you had some prunes on your fork), but it was light-bodied and outmatched by the dish, which has substantial "weight"  The Pinot also found peaceful co-existence with the dish thanks to its acidity, but it was more fruit forward.  It also overwhelmed the chicken a bit.
Dessert
The cheesecake was delectable! I ate mine and half of the Mrs' before reigning in my appetition for this one. Seriously…I could have had 3 or 4 pieces!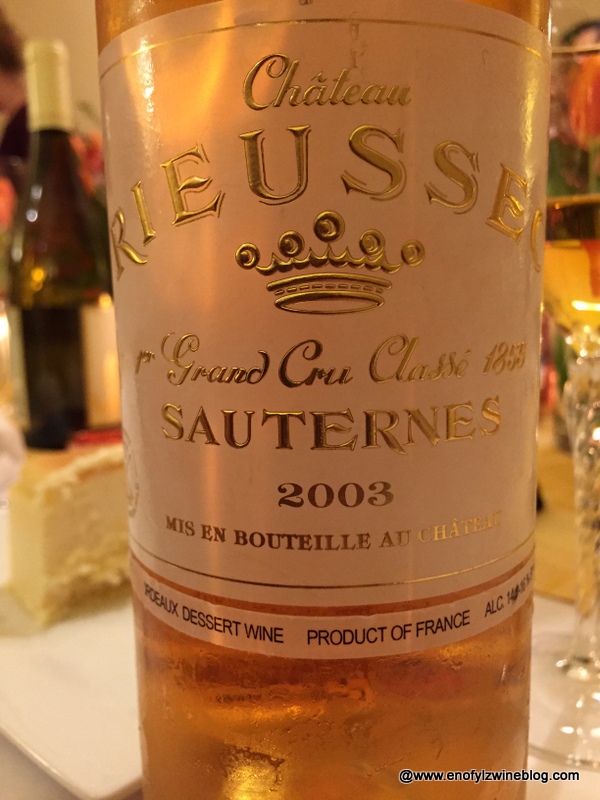 The Sauternes was a great pairing for the cheesecake.  It has an opulent, dense, orange marmalade, spice, vanilla, honeyed character with fantastic acidity. It's weight and acidity was the perfect match for the cheesecake.  This one was a baby, (I bet it could have aged another 10-15 years easy) but that's what Open That Bottle Night is all about!  #YOLO
OTBN17 was a rousing success – a languid six-hour affair with memorable wines, food, laughter and fellowship shared with great friends.  
It's true, the best wines are ones you share with friends! 
Check out what my fellow Wine Pairing Weekend lovers of food and wines have to share about their Open That Bottle Night  experiences:
If you're up early enough, please join our twitter chat at 8a Pacific as we share our OTBN experiences! Follow the #WinePW hashtag and join the conversation!
________________________________________________________________________
Follow me on Twitter, Facebook, Instagram, Vivino and Delectable, for all things wine.  As a wino with latent foodie tendencies, you'll also find food and wine pairings, and food related stuff! Become a fan and join ENOFYLZ Wine Blog on Facebook. Cheers!
Copyright Notice: This entire site is Copyrighted 2010-2017. All Rights Reserved. No unauthorized copying of any section of this site is permitted. If you wish to use any part of this site, contact me. For information on Copyright Law, see the official U.S. Copyright Office home page.