This month, the Italian Food, Wine, and Travel Group (#ItalianFWT)  is  making a virtual return visit to Italy's southernmost wine region, and the largest island in the Mediterranean Sea – Sicily!
I decided to focus on  Nerello Mascalese (pronounced "nair-rello mask-ah-lay-zay" ), an autochthonous (a.k.a. indigenous; but I love the way it looks and sounds) grape variety most commonly grown on the volcanic slopes of Mount Etna in Sicily.
I found two wines crafted from Nerello Mascalese – an Etna Rosso, and a  seldom seen Sicilian Spumante.
The Spumante is a wine I'm revisiting.  I last tried it when I was doing a weekly "TGIF Sparkling Wines" series that featured a different sparkling wine every Friday a few years back.  Back then I didn't realize it was from Sicily.
About Nerello Mascalese
Nerello Mascalese is a highly regarded, dark-skinned grape variety most commonly found growing on the slopes of Mt. Etna in Sicily.
Here's what WineSearcher.com has to say about the grape:
Its wines, which have had a rapid upsurge in popularity in the last decade, have a tendency to reflect their surroundings, giving taut, fresh red wines with fruity, herbaceous flavors, excellent minerality and an earthy nuance. Nerello Mascalese wines often have a perfume reminiscent of those of the noble wines of Barolo and Burgundy.
The variety takes its name from the Mascali plain between Mount Etna and the coast where it is thought to have originated – a small portion of older vines predate the phylloxera epidemic of the 1880s. The prefix Nerello refers to the black color of the grapes, and is shared by Nerello Cappuccio, Nerello Mascalese's most common blending partner. Both grapes are found in Etna DOC wines, with Nerello Mascalese making up the bulk of the blend and easily surpassing plantings of Nerello Cappuccio
The hugely variable volcanic soils of Etna combined with elevations of up to 1000m above sea level – some of the highest vineyards in Europe – help produce wines with immense character and complexity, and without the excessive weight that often characterizes Sicilian red wines from lower altitudes. Nerello Mascalese is a late-ripening variety, and most vines are trained in the traditional bush-vine method, which works well in the terroir. 
No grape more than Nerello Mascalese illustrates the profound changes that have transformed the world of wine in the last 25 years. – Eric Asimov
A generation ago, the grape, much like most Sicilian wine was considered "so-so" at best.  Today Nerello Mascalese has  both Pinot Noir and Nebbiolo ( Both my hand are  raised!) lovers excited about its aromatic, vibrant and structured character that's able to convey its Mt. Etna terroir.
2012 Murgo Brut Rosé Metodo Classico
The Scammacca del Murgo family has cultivated vines, fruit tree and olives on Mt. Etna for more than 150 years.
Their estate sits on the southeast slopes of Mount Etna at an altitude of over 500 meters above sea level.  Quite naturally, the soils in this area high in volcanic material, lending aromatic complexity and unique personality to the wines.
Although the estate has been in the family for many years, they only began bottling their wines for sale locally.  in 1980.   In 1981 Baron Emmanuele Scammacca del Murgo decided the time was ripe to move away from bulk production to focus on Etna's exceptional volcanic terroir and its native grape, Nerello Mascalese. The family produced its first Etna Rosso in 1982 and then in 1990, they bottled their first estate sparkling dry wine from the grape.
Today, his sons Michele, Pietro, and Matteo work together in both the vineyards and the cellar in pursuit of that goal.
The Wine
The Murgo Brut Rosé is made of 100% Nerello Mascalese grapes harvested from their high altitude vineyards on Mt Etna.  After harvesting, this wine underwent twenty-four hours of skin contact to achieve its beautiful salmon color.  It was crafted using the Metodo Classico, whereby the wine undergoes a secondary fermentation it bottle It was aged on lees for a minimum of two years.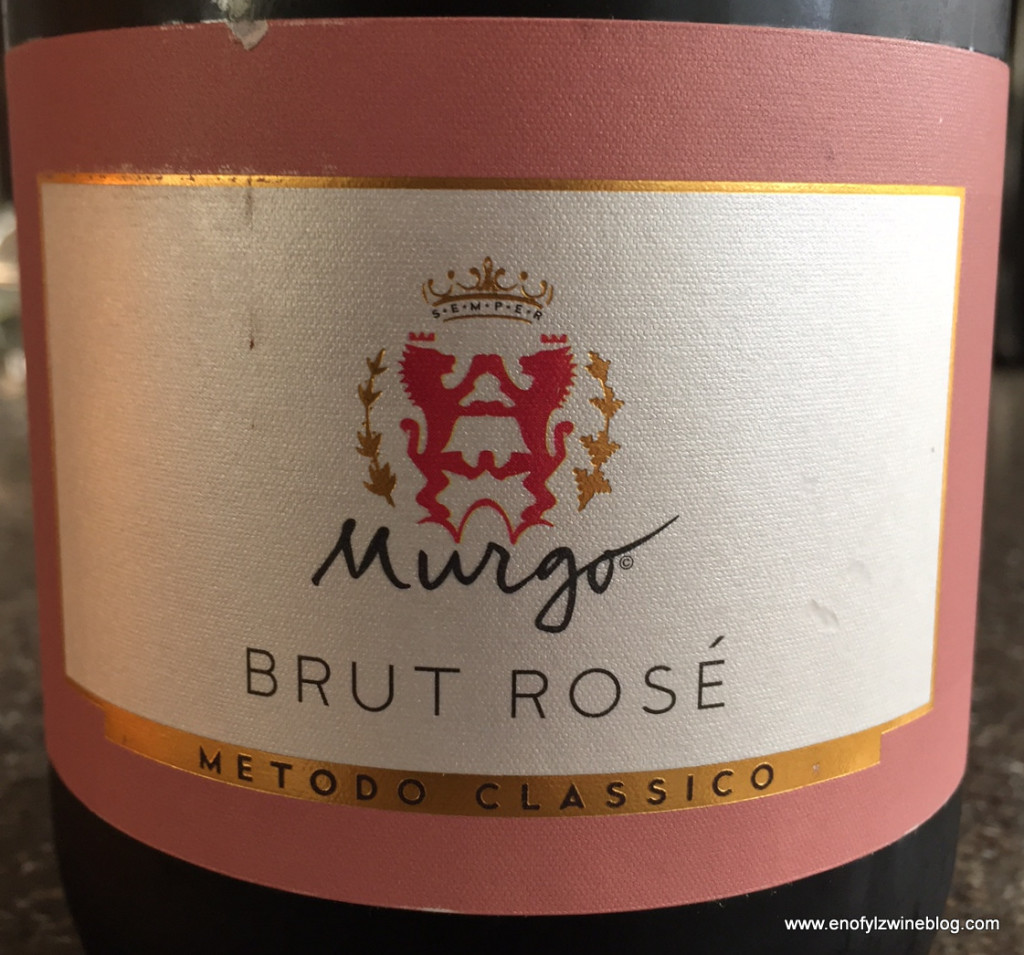 My tasting notes follow:
Bright copper tinged salmon color with cherry, blood orange, marzipan, and wet stone, and a hint of dried floral aromas. On the palate it's medium-bodied, harmonious, layered and very fresh with a fine mousse and rainier cherry, wild strawberry, peach, blood orange flavors complicated with a very appealing minerality that lends a savory character. Long finish. (Outstanding; 90pts) SRP – $25 12.5% alcohol
2014 Benanti Etna Rosso
Stop me, if you've heard this before.  An Italian family has been wine growing, and  perhaps winemaking for a long time.  They start out selling wine to locals before deciding to scale the operation.  Things are progressing along nicely until, for one reason or another, the winery "hibernates" for a period of time before being revived and seeming ascends to greater heights than ever before.
In this case, the Benanti's has ancestors that have been making wine since the 1734 on land donated by King Victor Amedeos II in return for being loyal subjects.   In 1850 Giuseppe Benanti, grandfather of Dr. Giuseppe Benanti, began the production of wines on one of his father's old farms on the slopes of Mount Etna, at Viagrande (Catania).  Guiseppe's son Antonio picked up where is father left off until 1958 when the lure of big bucks in pharmaceuticals was too much to resist.  The estate subsequently went into hibernation, not producing wine with any serious aspirations of quality.
In 1988, Antonio's son Giuseppe Jr. decided to revitalize the property and, to use his own words, make up for his father's chronic lack of interest in the special terroir of Mount Etna.
Consulting an assortment of oenologists and consultants,  he investigated particular clones of indigenous vines and new oenological techniques to reproduce ancient fragrances using the most modern practices of vinification.  Shortly thereafter, he produced his first white wine an Etna Bianco Superiore. That was followed by  his inaugural red, Rovittello, in 1990.
Today, the family owns 14 hectares (35 acres) on Mount Etna and manages an additional 10ha spread across the volcano's lower slopes. They continue to focus on  native Etna grape varieties not found anywhere else such as  Nerello Mascalese, Nerello Cappuccio, Carricante, Catarratto and Minnella respectively.
The Wine
The wine is a blend of 85% Nerello Mascalese and 15%  of its cousin Nerello Cappucci.  The grapes were de-stemmed.  Fermentation occurred, using patented selected indigenous yeasts, in temperature controlled stainless steel vats, with a 20-21 days long maceration.  About 80% of the wine  was then raised in stainless steel tanks, with the balanced being raised in French oak barriques for 8-10 months.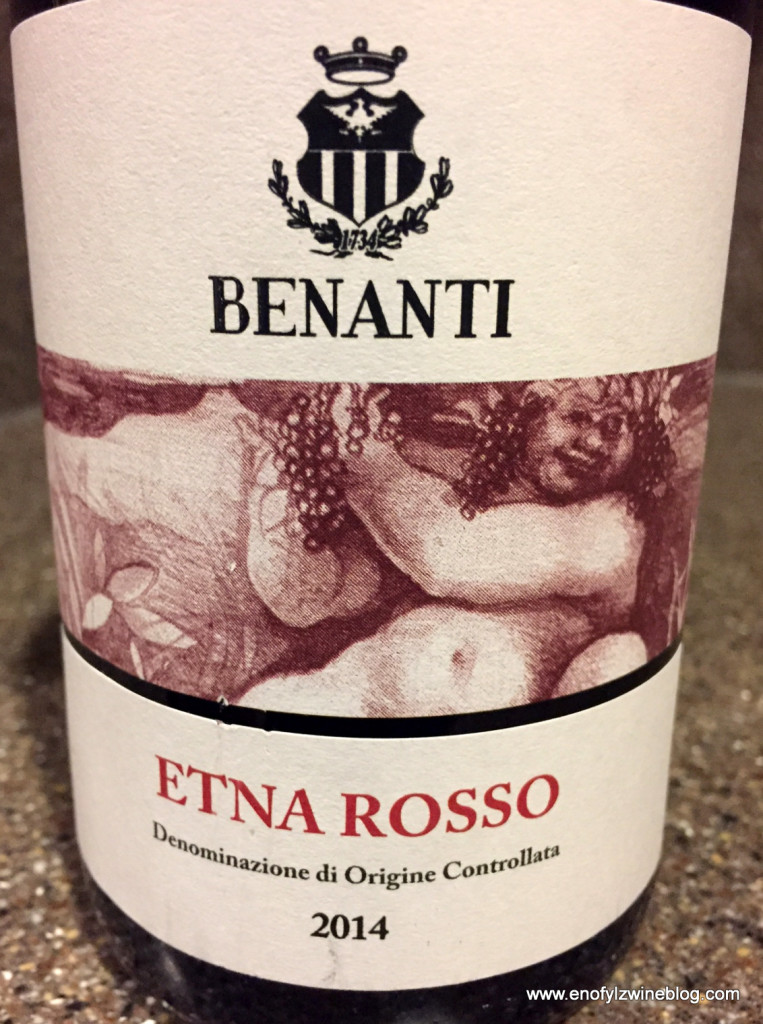 My tasting notes follow:
Medium ruby color with promising dark fruit, dried rose, white pepper, gentle spice and graphite aromas. On the palate it feels light on its feet, but approached medium-bodied. It's elegant, dry, and balanced with vibrant acidity, and mixed black and red cherry, red plum and spice flavors with a very appealing minerality and a lengthy finish. Like most Italian wines, it seems made for the table. At under $20 wonderful QPR. Will buy more! (Outstanding; 90pts)  SRP – $19 13.5% alcohol
Both of these distinctive wines have a sense of place, and are great examples of fine wines crafted from Sicily's native grape Nerello Mascalese. Additionally, both drink well above their price points offering wonderful value!
I hope you'll look for wines crafted from this grape.  I know I'll be buying more of these wines! Cin cin!
Check out what my fellow #ItalianFWT pals have discovered about the food and wine of Sicily:
If you're up early enough, we'll be chatting about Sicilian food, wine and travel on Twitter on Saturday, March 4th 8-9am PST/11-12 EST.   Join us using the #ItalianFWT  hashtag!
________________________________________________________________________
Follow me onTwitter, Facebook, Instagram, Vivino and Delectable, for all things wine.  As a wino with latent foodie tendencies, you'll also find food and wine pairings, and food related stuff! Become a fan and join ENOFYLZ Wine Blog on Facebook. Cheers!
Copyright Notice: This entire site is Copyrighted 2010-2017. All Rights Reserved. No unauthorized copying of any section of this site is permitted. If you wish to use any part of this site, contact me. For information on Copyright Law, see the official U.S. Copyright Office home page.