Join the Italian Food, Wine, and Travel Group (#ItalianFWT)  on March 4th as we virtually return to Italy's southernmost wine region, and the largest island in the Mediterranean Sea – Sicily!  We'll be posting and chatting about our discoveries on Saturday March 4th, 2017.
Italian Food Wine and Travel is a bloggers group that focuses monthly on a particular region of Italy showcasing our experiences with the food, wine or travel from that region.
We last visited Sicily a couple of years ago.
Ah, but virtual travel can be just like the real thing – sometimes you want to go back to discover something new you weren't able try that first go round.  Perhaps there was a dish you didn't get too (e.g…I never got around to trying Lampredotto while in Florence last fall!), a food and wine pairing you've been wanting to try, or maybe a wine, or a different style of wine from island.
You get the picture!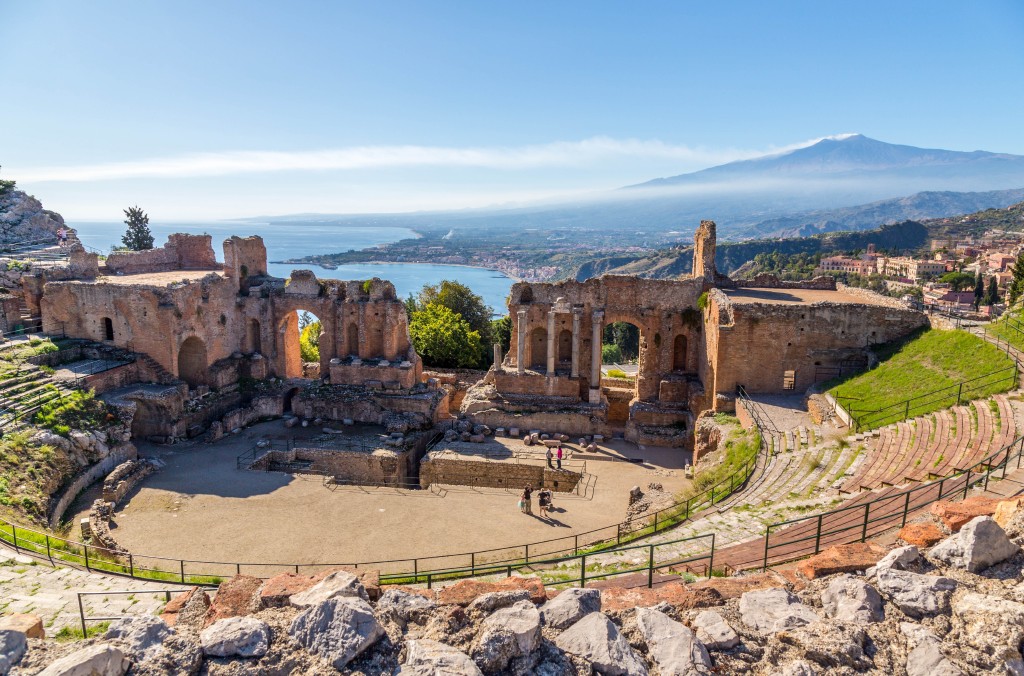 Sicily – An Overview:
Sicily has a rich viticultural heritage.  Sicilians have been making wine since before Greeks conquered the island in 750 B.C.  In fact, Sicily has more vineyards than any other region in Italy; it also grows more grapes.
Much of its recent wine history has been defined by two things: fortified Marsala (a boom-and-bust cycle whose heyday was arguably the 1800s) and cheap blending wine sold to various regions of Italy and elsewhere in Europe. (Source)
But in the last 30 years the wine industry in Sicily has gone through a transformation – from producing bulk wines mostly through cooperatives in the 60's,  to now being considered one of the most exciting wine regions in Europe!
A focus on quality over quantity, native grapes and a variety of microclimates is reinvigorating this rugged island at the center of Italian winemaking. – Wine Enthusiast
Gastronomically speaking,  Sicily manifest diverse culinary influences, but at its core, Sicily's ancient cuisine relies on a few key home-grown ingredients: shellfish and citrus, tuna and swordfish, pistachios, almonds and ricotta.
For more information, check out this introduction to Sicily provided by Lonely Planet.
Blog and Chat With Us!
The posts below will go live on Saturday, March 4th, 2017.  Our group will get together for a live chat on Twitter 8-9am PST/11-12 EST that day to discuss the Sicilian food, wine and travel.  Join us using the #ItalianFWT  hashtag on Saturday morning!
Cam of Culinary Adventures With Camilla with be sharing Gnocchi Con Salsa di Pistacchi + Donnafugata Sherazade Rose 2014
Jill of L'Occasion  offers a Winemaker Rendezvous: Lucio Matricardi of Stemmari
Susannah of Avvinare will be Discovering Tasca d'Almerita, A Sicilian Icon
Jennifer of Vino Travels will be serving Sicilian Steak with Eggplant Caponata & Nero d'Avola
David Crowley of Cooking Chat Food will be offering Pairings That Work With Sicilian Wine
Jeff  of FoodWineClick with be having Sicilian Fun with Frappato, Grillo, Swordfish and Artichokes
Lauren of the Swirling Dervish – A Week-Night Dinner in Sicily
Gwendolyn of the Wine Predator will be serving up Sicilian Wine and Food by Candlelight
I'll be sharing Two Tastes of Sicily's Autochthonous Grape – Nerello Mascalese!
We hope to "see" you online Saturday, March 4th!
________________________________________________________________________
Follow me onTwitter, Facebook, Instagram, Vivino and Delectable, for all things wine.  As a wino with latent foodie tendencies, you'll also find food and wine pairings, and food related stuff! Become a fan and join ENOFYLZ Wine Blog on Facebook. Cheers!
Copyright Notice: This entire site is Copyrighted 2010-2017. All Rights Reserved. No unauthorized copying of any section of this site is permitted. If you wish to use any part of this site, contact me. For information on Copyright Law, see the official U.S. Copyright Office home page.