I don't know about you, but I always look forward to turning the page on a new year!  It feels like a "fresh start" for me on many levels.  Not only is it a time for me to recommit to various goals, it's also a time for me to look ahead and do some planning, especially when comes to various wine events.  After missing the event last year, this year, I'm looking forward to attending the 2017 Zinfandel Experience.  This year's event is being held February 23-25th in San Francisco.
I have a soft spot in my heart for Zinfandel.  Not only was a Zinfandel was my "epiphany" wine, it's the wine I have more bottles of in my cellar than any other grape variety.  It's also the quintessential California grape variety.
My palate has evolved since that epiphany wine oh so many years ago, but I feel like Zinfandel has also evolved.  It's been interesting to experience the evolution of Zinfandel, and attending this event the last several years, with its diverse selection of wines and styles from renowned and emerging producers alike, has made me appreciate the evolution all the more.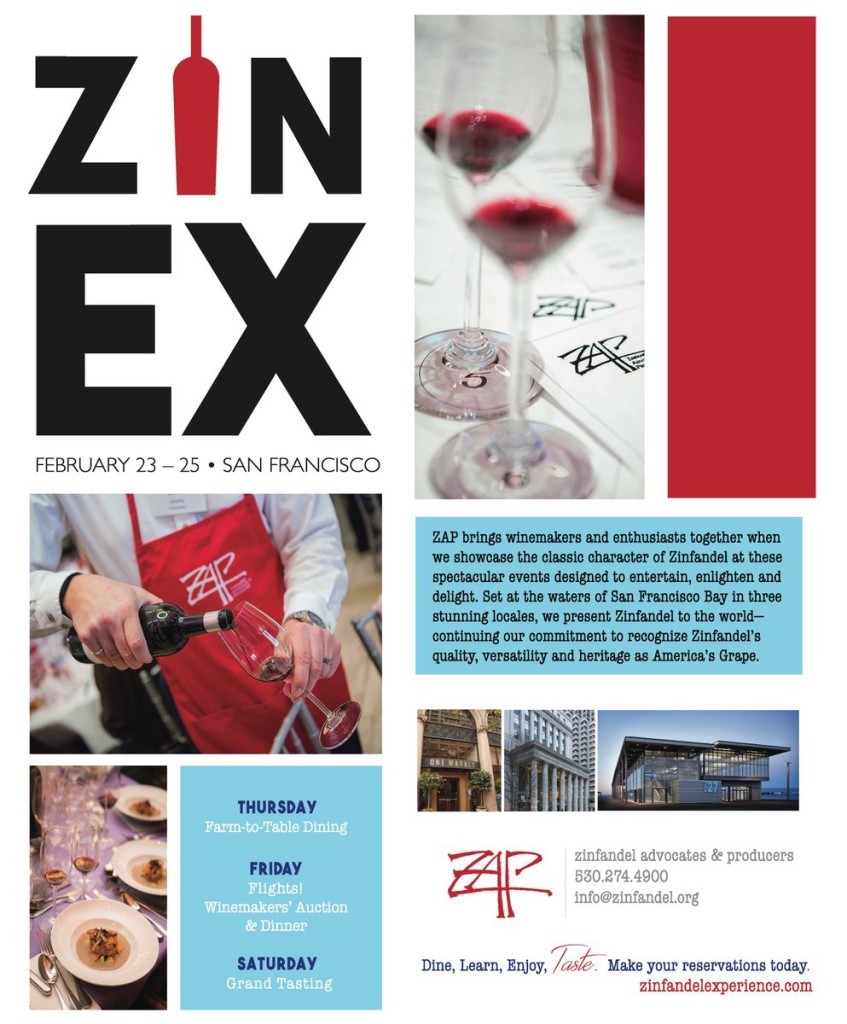 Attracting Zinfandel lovers from around the world, the Zinfandel Advocates and Producers ("ZAP"), Zinfandel Experience is celebrating its 26th anniversary.  It's the world's largest single grape variety tasting, bringing together top winemakers and wine enthusiasts to celebrate America's grape.
Set at 
Welcome Reception & Farm-to-Table Dining – Thursday, February 23rd from 6pm to 9pm at One Market; San Francisco
New this year is a Welcome Reception (6:00 pm – 7:00 pm). Dinner (7:00 pm – 9:00 pm) includes a sophisticated destination dining experience that presents award-winning farm-to-table food from Chef Mark Dommen of One Market Restaurant. Dommen, who exquisitely follows in the footsteps of One Market's celebrated founding chef and principal, Bradley Ogden, will present a customized menu incorporating locally sourced products. The evening will begin with a reception where 20 winemakers will share a selection of wines not poured at other events. Dinner includes long tables set with family-style dining service, where attendees and winemakers dine together.
Dinner available to Heritage Club + members only.
Flights! Forums of Flavor — Friday, February 24th from 10:30am to 1pm at the Bently Reserve in SF
Aimed at the true wine aficionado with a keen curiosity, this seated seminar-style tasting allows attendees to experience the true character of Zinfandel through the eyes of experts. This is a rare opportunity to sample wines from iconic vineyards that consistently produced some of the best Zinfandel and blends on the planet. Winemaker Joel Peterson will lead the discussion.
Winemakers' Dinner, Reception and Auction — Friday, February 24th from 5:30pm to 10pm at the Bently Reserve
With a nod to American style, this event includes a glamorous reception, dinner and auction. The reception includes over 20 winemakers who "pour it big" with magnums, cult collectibles and vintage offerings. Each dinner table is hosted by a winemaker and features a tailored menu created with meticulous care. Live and silent auctions showcase one-of-a-kind lots, rare big bottles, winery experiences, and much more. All proceeds benefit ZAP's programming, education and Heritage projects.
The Grand Tasting — Saturday, February 25th from 11am to 4:30pm at Pier 27 – James R. Herman Cruise Terminal, The Embarcadero
The centerpiece of the 2017 Zinfandel Experience is the Grand Tasting.  Discover and taste some of the 500 different wines poured by 130 of the best Zinfandel producers in the world. As you sample epicurean bites from estate chefs, you can enjoy relaxed conversations with celebrity winemakers about their wine and Zinfandel's food pairing virtues.  The adventure begins when the doors open at 11 AM and wineries welcome you with private reserve, barrel samples, and wines with limited availability. Specially curated food purveyors will present their selections throughout the day and surprise you with some new offerings starting at 1 PM.  Around the same time, you can be one of the first to make your reservation for a Meet the Maker Roundtables session – a popular ZinEX activity that gives winemakers and guests a chance to sit down together for an intimate meet-and-greet tasting.  So go ahead and grab your All Day Grand Tasting tickets and experience the infinite possibilities Zinfandel has to offer.
For tickets and/or more information, check out the Zinfandel Experience website.
Remember, in order to maximize your enjoyment and learning at public tastings:
Wear dark, comfortable clothes
Hydrate
Spit
Skip the perfume and cologne
Hope to see you there!
________________________________________________________________________
Follow me onTwitter, Facebook, Instagram, Vivino and Delectable, for all things wine.  As a wino with latent foodie tendencies, you'll also find food and wine pairings, and food related stuff! Become a fan and join ENOFYLZ Wine Blog on Facebook. Cheers!
Copyright Notice: This entire site is Copyrighted 2010-2017. All Rights Reserved. No unauthorized copying of any section of this site is permitted. If you wish to use any part of this site, contact me. For information on Copyright Law, see the official U.S. Copyright Office home page.