Equavinity Wines is a collaboration between two Sonoma icons — zinfandel impresario Bruce Patch and Russian River Vineyards, one of West County's most recognizable wineries.
I've previously featured Bruce Patch Wines on this blog (see "Additional Reading" below).  I was impressed with the wines.  So when Bruce Patch asked me if I was interested in receiving sample of this new project, I jumped at the opportunity.
I received two wines – 2013 Equavinity 'Landy Vineyard' Zinfandel Russian River Valley, and 2014 Equavinity Pinot Noir Sonoma Coast.   These wine are the first release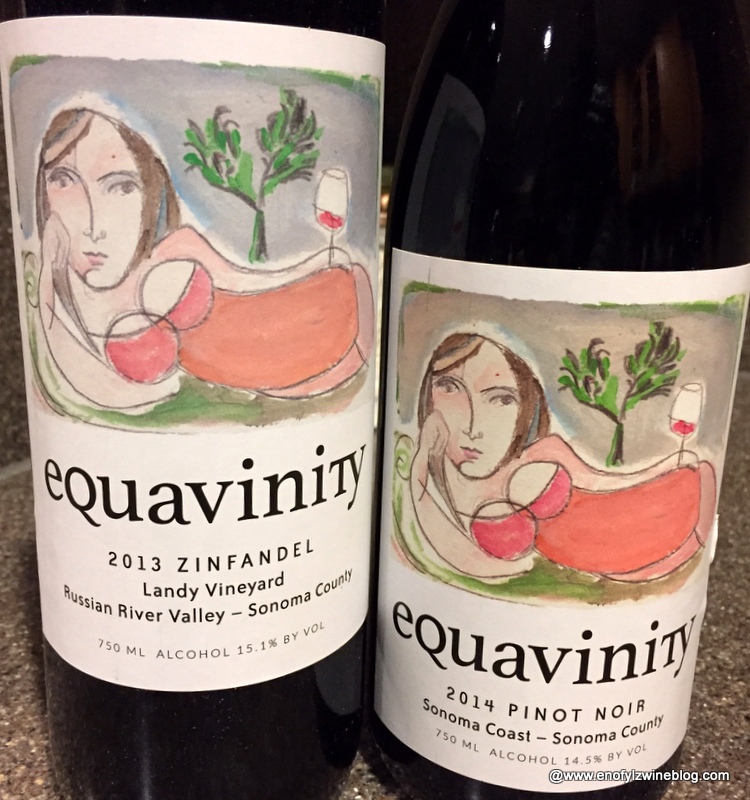 2013 Equavinity 'Landy Vineyard' Zinfandel Russian River Valley
The 23-acre Landy Vineyard lies in the fertile Russian River Valley, with diverse terrain ranging from rocky hillsides to richly soiled slopes. It is the warmer orientations of the vineyard that produce the zinfandel grapes used to craft this wine.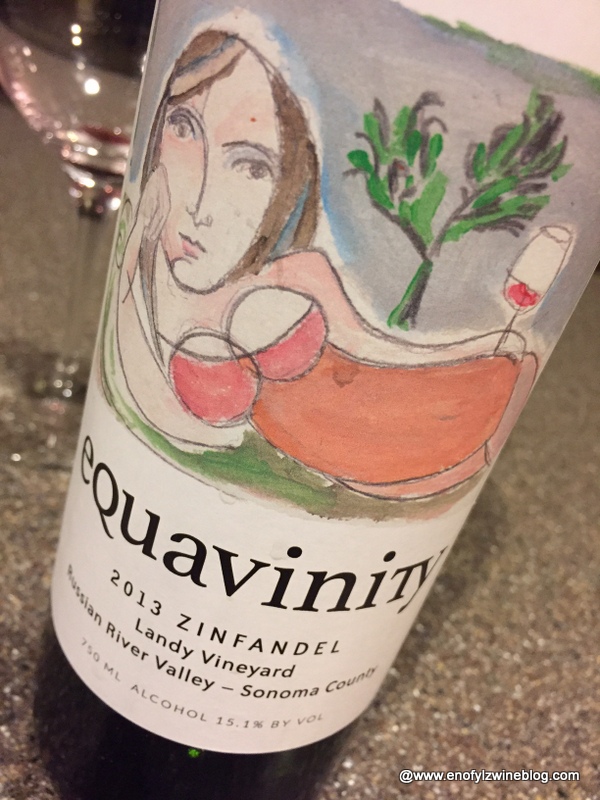 Nearly opaque crimson color with lifted and appealing black cherry, plum, cola, dried violets, white pepper and a bit of loam aromas. On the palate, it's medium-bodied and harmonious with velvety well-integrated tannins and vibrant acidity with juicy and delicious black cherry liqueur, boysenberry, plum, and spice flavors and long finish. Drink now or hold for 3-5 years. Good value at $30! (Outstanding; 91pts)
15.1 %abv | 200 cases |$30 (sample)
Pair with: Cioppino, Spaghetti with Italian sausage or Barbecue Ribs
2014 Equavinity Pinot Noir Sonoma Coast
Sonoma Coast AVA is known for it cool nights and warm to hot days, this is expressed in the wines bright acidity, elegant silky and soft style of pinot noir. 100% Dijon Clones pinot noir 114, 115, 667, 828.  The grapes were harvested in the early morning in a cold state and crushed quickly to maintain the unique nuances of pinot noir.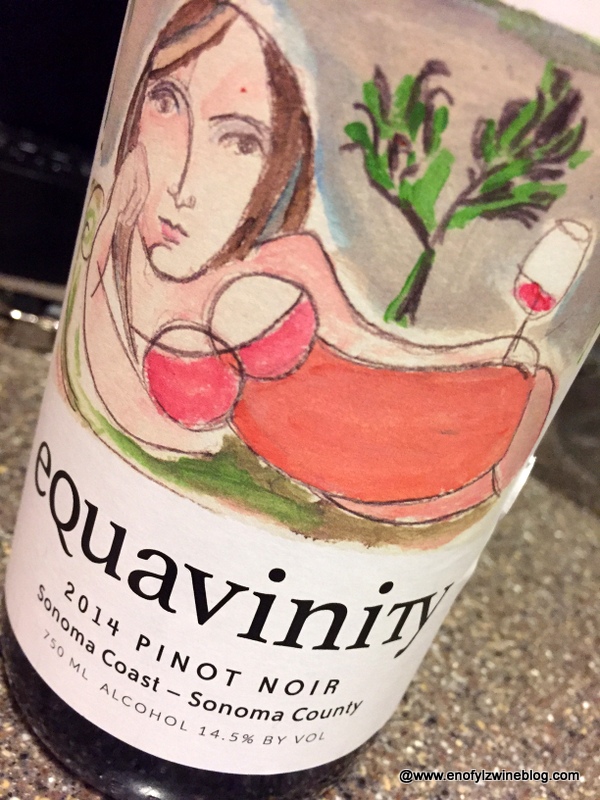 Light ruby color with enticing raspberry, cherry a bit of wild strawberry, rose hips, dried tea leaf, and a kiss of spice aromas. On the palate it's between medium and full-bodied, and fresh with a inviting supple mouth feel and silky tannins with generous cherry, pomegranate, spice flavors complicated by a bit of earthiness and a satisfying, lengthy finish. Aged 14 months in French oak.  Drink now or hold for 3-5 years. (Outstanding; 91pts)
14.5%abv |100 cases produced| $48 (sample)
Pair with: Harvarti, Gruyere, or Époisses cheese; Grilled Salmon, Mushroom Risotto, or Cassoulet with Duck confit
About Bruce Patch
Winemaker Bruce Patch made a name for himself in the Los Angeles music business by establishing small labels focused  on classic R&B, Doo Wop, and contemporary South Pacific music.  He and his partner, artist Andrea Cleall made their way north to Sonoma's Russian River Valley in the late 1990's.
He parlayed  his sales and marketing background in music into a successful distribution business representing small independent wineries in Sonoma County.  This would lead to a passion for and knowledge of winemaking that would inspire the creation of his own wine — Wine Guerrilla.  Over the course of a decade he built the brand and won accolades for his line-up of stellar single vineyard zinfandels.
Introducing big, lush and drinkable wines spotlighting the acclaimed grapes, vineyards and appellations of Sonoma County – Bruce Patch Wines
Today, Bruce brings this history and experience to his most promising venture yet. Bruce Patch Wines sources the best grapes from throughout Sonoma County, including many vineyards like Clopton, Harris-Kratka and Carreras Ranch with whom Bruce has long relationships and a history of producing acclaimed wines. In addition to his trademark lush, full zinfandels, Bruce is also producing red blends and exquisite expressions of unique grapes like primitivo and malbec.
Oh….and about those beautiful labels.  It's the artwork of Sean Colgin, the son of Bruce's  longtime partner Andrea Cleall.
About Russian River Vineyards
The softly undulating hills of the famed Russian River Valley, caressed by cool blankets of fog and anchored by volcanic soils, are home to some of the world's finest vineyards, which consistently produce outstanding, distinctive and highly praised wines.
In the heart of this renowned wine growing region is the picturesque and historic Russian River Vineyards, one of the valley's oldest wineries.
From its original planting in 1963, Russian River Vineyards has established itself as one of the premier organic and sustainably farmed grape-growing properties in California. Since the fall of 2008, the historic estate has been owned by Chris O'Neill, Barbara Sattler, Giovanni Balistreri and Anthony Austin. With backgrounds in real estate development, environmental health, fine dining, winemaking, and catering, this group has created a dynamic team of individuals dedicated to building a state-of-the-art winery and crafting world-class wines, all while diligently serving as thoughtful stewards of the hallowed grounds. – Russian River Vineyards
Russian River Vineyards was not a winery with which I was familiar.  After tasting these wines and finding out a little about their background, I'm definitely going to have to visit!
Both of these wines are worth seeking out!
Additional Reading:
________________________________________________________________________
Follow me on Twitter,Facebook,Instagram, Vivino and Delectable, for all things wine. As a wino with latent foodie tendencies, you'll also find food and wine pairings, and food related stuff! Become a fan and join ENOFYLZ Wine Blog on Facebook. Cheers!
Copyright Notice: This entire site is Copyrighted 2010-2017. All Rights Reserved. No unauthorized copying of any section of this site is permitted. If you wish to use any part of this site, contact me. For information on Copyright Law, see the official U.S. Copyright Office home page.