"On the palate it's medium-bodied, elegant, fresh and focused with a harmonious cool climate Zinfandel character."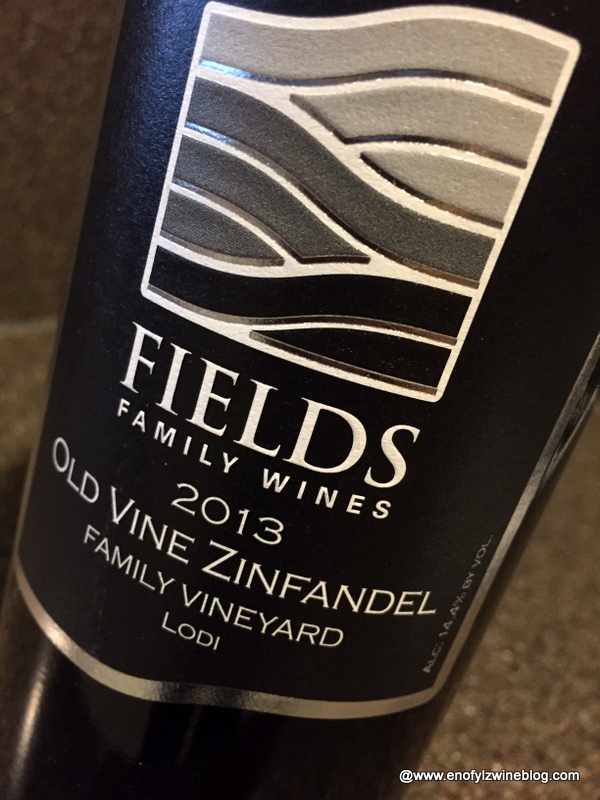 Dark ruby color with exuberant kirsch, black raspberry, bramble and spice aromas.  On the palate it's medium-bodied, elegant, fresh and focused with a harmonious cool climate Zinfandel character.   It shows ample kirsch, pomegranate, and peppery spice flavors wrapped around velvety well-integrated tannins and a very satisfying finish. Outstanding (90pts)
14.4%abv | 10 barrels produced| $28 (sample)
Pair with: Pollo Pibil, Steak Tartare, or Ahi Tuna Burgers
About Fields Family Wines
Fields Family winery is a small family owned and operated winery.  It is owned by Russ Fields (an Attorney by day) and his wife Melinda.  Winemaker Ryan Sherman (a Realtor by day) and his wife Jaylynn are partners in the winery.  The  Fields and Sherman met in 2004, when Fields was looking to purchase a vineyard, and Sherman helped him with his search.
Fields purchased a certified organic vineyard planted to Syrah in 2005 and immediately got to work on the restoration of the property,  and construction of the Winery, the Main House and second residence.  Today, the Fields Family Estate vineyard is planted to Syrah, Mourvèdre, Tempranillo, Grenache Blanc, and Vermentino.
Fields Family Wines'  first release  of 350 cases was the 2008 vintage (released in 2010).  Over the years they have gradually increased production. They produced 1,600 cased in 2013.  According to Sherman..that's just about max of what we can do while keeping our day jobs and not getting divorce papers in the process….
Their plan for now is to continue to focus on small lots ( 125 to 200 case production) mostly from local vineyards the east side of the Mokelumne River AVA.  Working in small lots enables Sherman do most of the work himself and maintain high quality.
Our goal is to craft wines that showcase the vineyards from where they come and employ a minimalistic approach to winemaking. Grape growing and winemaking should go hand in hand – as winegrowers we seek to enhance this relationship. 
Sherman is self-taught and self-trained as a winemaker,  but having grown up in Lodi he was in a position to seek the advice and guidance of some of the area's best growers and winemakers.
Sherman is a quick study.  I've tasted a number of Fields Family Wine over a number of years, and they just get better year after year.
________________________________________________________________________
Follow me on Twitter, Facebook,Instagram, Vivino and Delectable, for all things wine. As a wino with latent foodie tendencies, you'll also find food and wine pairings, and food related stuff! Become a fan and join ENOFYLZ Wine Blog on Facebook. Cheers!
Copyright Notice: This entire site is Copyrighted 2010-2017. All Rights Reserved. No unauthorized copying of any section of this site is permitted. If you wish to use any part of this site, contact me. For information on Copyright Law, see the official U.S. Copyright Office home page.