This month the French Winophiles make a virtual visit to the Savoie ("Sav-rah") region of France.  I chose a wine from the region made from a new to me grape variety – Mondeuse Noire.
About Savoie
The Savoie region is located in central France along its eastern edge, nestled beneath the Swiss Alps and along the borders of Italy and Switzerland.  The region is a popular destination for skiers in the winter and nature enthusiasts in the summer thanks to its wildflower-covered hills and pristine lakes.
This alpine region, lying just north of the 45th parallel enjoys a unique microclimate featuring a combination of both a continental climate, and an oceanic influence.
I found it interesting that according to GuildSomm Oddly, wine books, websites, wine lists and wine classes often lump Savoie and Jura together, a union that makes little sense as, besides being a couple of hours apart, the two have about as much in common as Burgundy and Alsace, or Southwestern France and the Languedoc.  The soils, climate and grape varieties overlap rarely and, apart from both being in eastern France, Savoie and Jura share little else"
I've found this to be confusing myself…
Savoie has three appellations, two of which account for 96% of the region's wine.  The largest of these is the AOP Savoie , which gained its appellation status in 1973.  It is broken into 17 crus whose names may appear on the label. About 130,000 hl of wine is produced annually in Savoie, which represents just over a half a percent of that from all wine appellations in France. 
Most (approximately 75%) of the region's wines are white – primarily because most red varieties would struggle to ripen properly in Savoie's cooler climate.  The primary white wine grape varieties are Jacquere, Altesse, Roussanne and Chasselas.
The primary red wine grape variety, Mondeuse Noir is native to the region.  It's best expression may be in found in the Arbin cru, where it thrives on the steep south-facing slopes which allows them to take advantage of the prevailing sunlight, which facilitates phenolic ripeness.
The soils surrounding the village of Arbin are made up of clay and limestone overlaid with dark scree. These poor, loose, free-draining soils engender intense wines with an excellent concentration of flavor.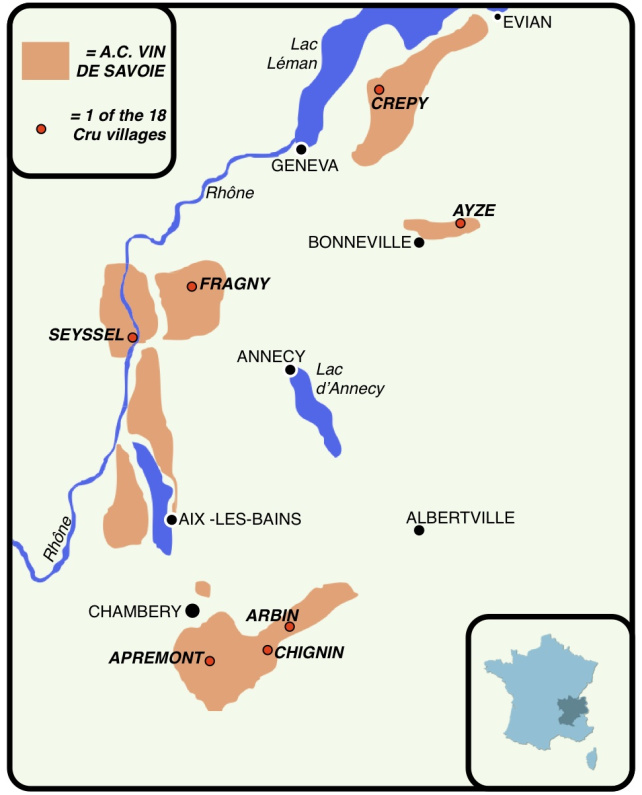 About Mondeuse
This dark red has all of the flavor of "big" red without the thickness, excessive alcohol or tannin….Mondeuse [mohn-deuhz]
Is a native to Savoie and has been cultivated by the Gallic tribe of Ancient Gaul (the Allobroges) prior to the Roman invasion. Columella, the famous roman writer who wrote about farming and agriculture, referred to mondeuse as "the grape variety that ripens amidst the snow". Mondeuse strives on scree slopes, marl and limestone soils. Its best expression can be found in the commune of Arbin. Wines made from mondeuse have a deep purple color, a well-structured acidity and well-integrated tannins. Flavors range from red fruits (strawberry, redcurrant, raspberry, sour plum) and flowers (violet) to gamey overtones and spice (white pepper, cinnamon, cloves). Mondeuse wines show great ageing potential (10 years +). When young, they should be drank at least 12 months after bottling. – Winefolly
The best Mondeuse manages to give the flesh of cru Beaujolais, the spice and acidity of Northern Rhône Syrah, and the savory herbal component of Cabernet Franc from the Loire. – Charles Neal; GuildSomm.com
In My Glass
The 2014 Trosset Fabien Vin de Savoie Arbin Avalanche was crafted by fifth generation winegrowers Louis Trosset and his brother Joseph, who took over after their father's death in 2000.  They farm just over four hectares of old vines planted on very steep (35-40% grades) slopes.  Mondeuse is the only grape the Trossets grown.  Their vineyards are located about as close to St. Joseph as one gets outside the Northern Rhone.
Each vintage, a number of cuvées are assembled, and released under the names Avalanche, Tradition, Prestige des Arpents, Confidentiel, Harmonie and Privilege.  All aged in tank but with various levels of aging potential.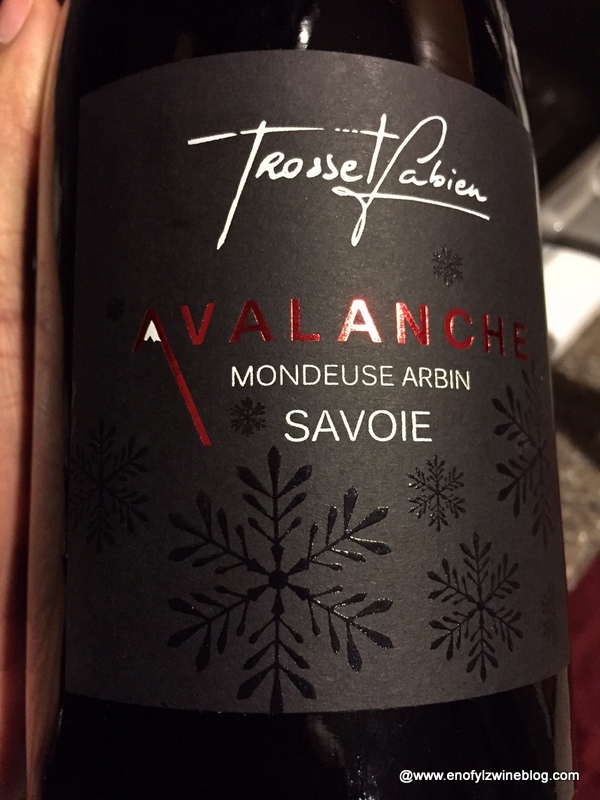 My tasting notes follow:
Translucent purple violet color with very appealing violet, rose, black fruit, bell pepper, white and a bit of wet stone aromas. On the palate it's light-bodied plus and fresh with supple well-integrated tannins. It shows ample juicy blackberry, black currant, a bit of blueberry, black cherry and spice flavors and a hint of cacao and a lingering clean refreshing finish with a hint of savoriness.  Approachable (I recommend aerating) now, but would love to revisit in a year or two, if I can muster the patience! At SRP of $19.99 offers wonderful value! 12% abv.
Pair with: My wife and I received a raclette for Christmas.  On New Years Day we had some friends by and, in essence, used the raclette for apps.  That day we paired with a sparkling rosé and pinot noir.  I'm looking forward to enjoying this wine at our next raclette party.  Likewise, this a wine I'd love to try with fondue, or perhaps the most famous Savoie dish, tartiflette, a casserole made with sliced potatoes, reblochon cheese, lardons, onions and cream.  I'd also consider pairing with
Check out what my fellow French Winophiles have to say about Savoie:
Join us on Saturday January 21st at 8:00 am Pacifi time on Twitter.  Follow the hashtag #Winophiles. We'll be chatting about all things related to the Alpine region of Savoie in France…Wine, climate, food, travel, history and resources are all welcome topics.
________________________________________________________________________
Follow me on Twitter, Facebook,Instagram, Vivino and Delectable, for all things wine. As a wino with latent foodie tendencies, you'll also find food and wine pairings, and food related stuff! Become a fan and join ENOFYLZ Wine Blog on Facebook. Cheers!
Copyright Notice: This entire site is Copyrighted 2010-2017. All Rights Reserved. No unauthorized copying of any section of this site is permitted. If you wish to use any part of this site, contact me. For information on Copyright Law, see the official U.S. Copyright Office home page.