The December theme for the French Winophiles is "French Fizz".   Our group of writers and bloggers are  exploring sparkling wine from all over France.  When I saw the theme, I knew I wanted to try a new to me sparkling wine from France.  But what to try?  I'm a shameless Champagne whore.  And I've had bubbly from most (if not all) of the seven designated Crémant AOC regions in France.  That doesn't leave a whole lot. Fortunately, I uncovered a new to me region, Bugey Cerdon (more on that later) while looking for French fizz at my favorite wine shop.  It's the Patrick Bottex "La Cueille" Sparkling Rosé.
But, before I get to my wine and food pairing choices,  and a bit more about Bugey Cerdon, I thought it would be good to provide an…
Overview of French Fizz
Sparkling wine production in France (see map below) may be classified into three broad categories:
Champagne — The big dog of French sparkling wine.  Reserved for sparkling wines produced using the méthode champenoise within the delimited area of the Champagne wine region.
Crémant — sparkling wine made using outside of the boundaries of Champagne using the méthode traditionelle (which is the same as the méthode champenoise).  There are 8 such delimited areas in France including   Crémant de Loire, Crémant d'Alsace,  Crémant de Bourgogne, Crémant de Bordeaux, Crémant de Die,  

Crémant de Limoux

 ,Crémant du Jura and

Crémant de Savoie

.  The grape varieties used to produce Crémant beyond the typical Chardonnay/Pinot Noir/Pinot Meunier used to make Champagne, and they are as diverse as the regions themselves.  But all must adhere to rigorous quality standards including hand harvesting,  yields, minimum time on lees, and submission to a QC tasting panel for approval.
Méthode Ancestrale — An inexpensive but risky and difficult-to-control method of producing sparkling wine in which the primary fermentation is stopped before completion, and a secondary fermentation occurs in the bottle, ending when the yeast cells deplete the supply of residual sugar. There is no dosage, or sugar addition, to kick-start the secondary fermentation, and the wine is not disgorged to remove any sediment or lees remaining afterward.  Wines produced using this method are also referred to as pétillant-naturel (a.k.a. "Pet-Nat")
In My Glass
The Patrick Bottex "La Cueille" Sparkling Rosé is crafted by  Patrick and Catherine Bottex.  They have been farming the five hectares of limestone slopes above the Ain River since 1991.  The eponymous"La Cueille" cuvee is sourced from one of seven high-altitude hamlets surrounding the historic medieval town of Ponsin.  The couple produce only a small quantity of this beautiful, intriguing sparkling wine.  The wine is a blend composed of mostly  (80-90%) Gamay Noir, with the balance being the native Poulsard.
This simple method [méthode ancestrale] creates a snapshot of the fruit and terroir, which is unfiltered by winemaking manipulations."  – Source
They bottle this low-alcohol wine using the méthode ancestrale. a rare technique that experts believe predates the méthode champenoise used in Champagne. The wine first goes through a primary fermentation in cuvée (literally "tank" in French), but is then bottled before all of the residual sugar has converted to alcohol. After going through a secondary fermentation in the bottle for at least two months, the wine is ready—Champagne's dosage is not permitted! The resulting wine is delightfully refreshing with bright fruit, a beautiful rose hue, and a touch of sweetness.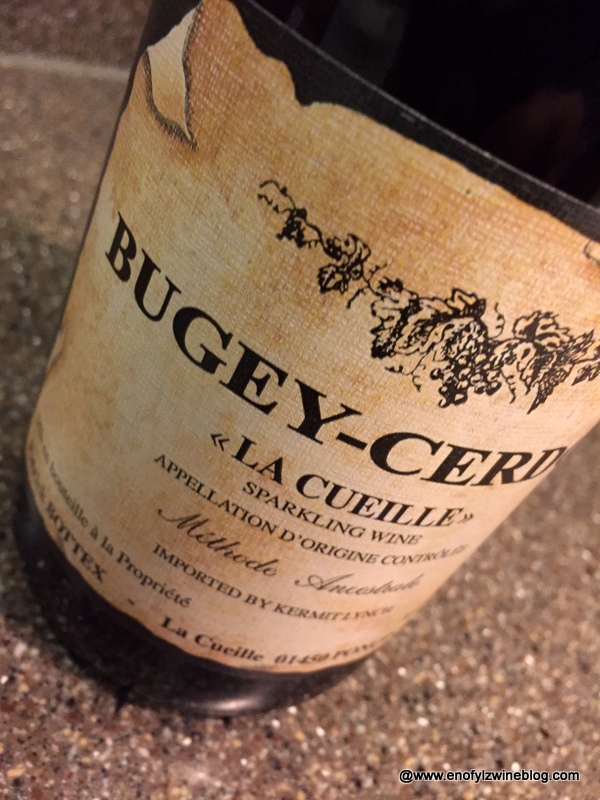 My tasting notes follow:
The wine is beautiful rose color with appealing wild strawberry, black cherry, nuanced floral and wet stone aromas. On the palate, it's off-dry with a very frothy, delicate mousse and tangy acidity, with wild strawberry, black cherry and a hint of citrus flavors complicated by an enticing minerality and a very giving finish. $20; 8% abv (88-89 pts)
Damn this wine was delicious!
It went down easy.  Too easy!  Before we knew it the bottle was gone.  It's a good thing it's only 8% alcohol!
I most definitely see more of this wine in my future!
On My Plate
I was looking to pair the wine with something other than the oft recommend desserts and fruit (though I have no doubt it would pair well with both).  Since sparkling wine likes cheese, salt and crisp/crunch foods, I paired the wine with a Mozzarella Grilled Cheese sandwich and a side of potato chips(how's that for a quick weeknight meal!)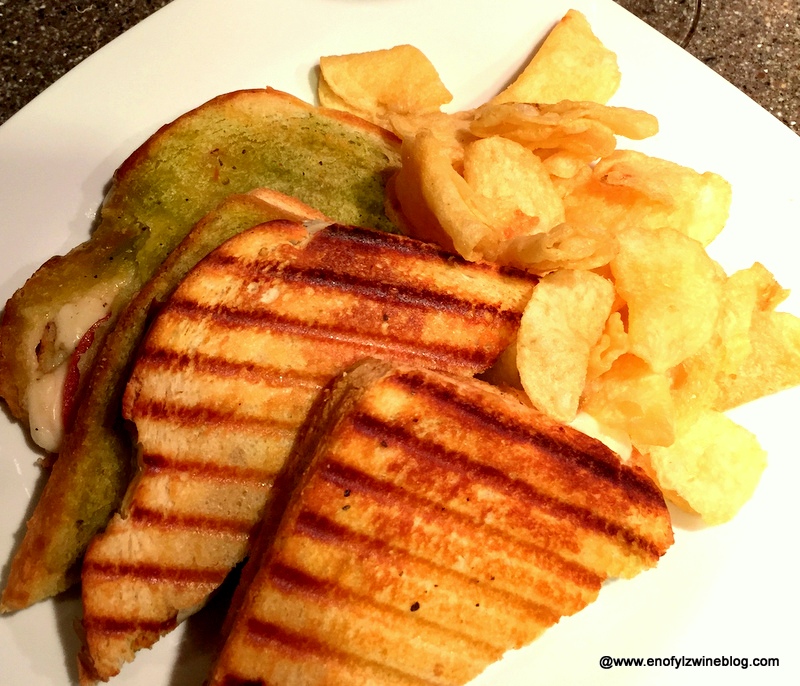 The pairing turned out very well.  Like all sparkling wines, the effervescence and acidity make the wine very food friendly. When I took a bit of the sandwich, followed by the sip of the wine, the wine seemed less sweet – in this case a good thing in my book.
Quite naturally, I can see this wine pairing well with chocolate, or fruit based desserts (strawberry cheesecake or shortcake anyone?). But I can also see it with spicy Asian, or Mexican food (Chile Relleno comes to mind).
About Bugey Cerdon
From Eater...Bugey, an Alpine hamlet in eastern France, might possibly be the wine world's best kept secret. Halfway between Lyon and Geneva, Switzerland, Bugey is so small that it even eludes most French oenophiles' radars. Often lumped in with neighboring Savoie because of its size—which itself is relatively obscure and often grouped with the larger Jura region—Bugey produces an eclectic array of elegant, aromatic, and high-acid, low-alcohol wines that tend to travel no farther than local dinner tables. But, there's good news for treasure hunters. Since earning its AOC status in 2009, these off-beat and affordable wines are slowly making their way to the U.S.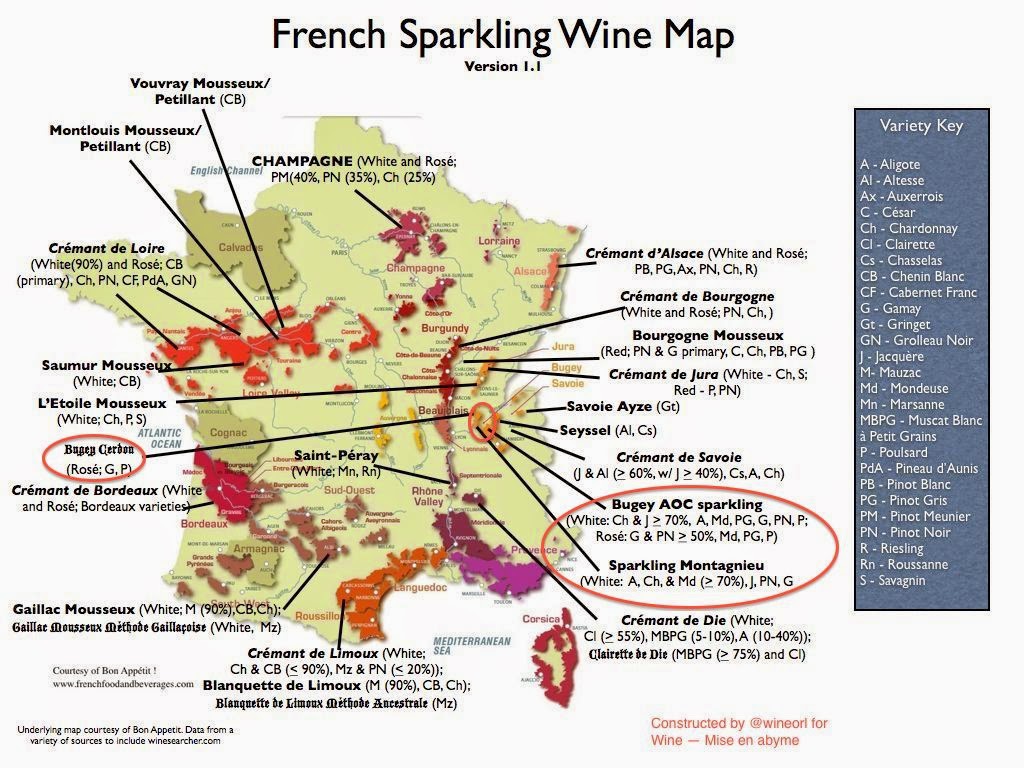 Amid a patchwork of forests and farms, Bugey's vineyards thrive in the crisp mountain air and clay-limestone soils of the Jura foothills. Steep roads wind through Bugey's 63 provinces and 500 hectares of vines. The region is largely rural, though it is home to a network of rivers and railways that have brought winemaking know-how from its neighbors. Truly at a crossroads, Bugey is bordered by Beaujolais to the west, Savoie to the east, Jura andBurgundy to the north, and Rhône to the south. It borrows grapes and influence from each, but makes wines that are all its own, including its most famous, Bugey-Cerdon, which wine writer Jon Bonné has referred to as "the happiest wine on earth."
Wine from Cerdon, one of Bugey's three crus—in addition to Belley and Montagnieu—is always sparkling, pink, and a touch sweet. Made from a blend of Beaujolais' Gamay grape and Jura's Poulsard grape, it's a fizzy ambrosia redolent of wild berries. According to French law, this sparkler must be made by the méthode ancestrale, an old process for producing bubbly wine that predates that of the Champenoise. With low alcohol (around 8 percent), a hint of sweetness, and fresh minerality, this festive drink goes down incredibly (dangerously?) easy. There is no better wine with breakfast (think pastries!), and it makes a refreshing accompaniment to dessert. Even better—it won't break the bank. Most bottles retail around $20.
Check out the other French Fizz my fellow writers and  bloggers have in store for you:
Join us on Saturday December 17th at 8:00 am Pacific time on twitter. We'll be there under the hashtag #Winophiles. There we will chat about all things related to French Fizz…from all over the country, made from any method, made with any grape.
Next year we'll be rolling out something new, a scope of creative and curious proportions. Be ready to travel and explore with The French Winophiles in fresh ways with fresh perspectives.
_________________________________________________________________________
Follow me on Twitter, Facebook, Instagram, Vivino and Delectable, for all things wine. As a wino with latent foodie tendencies, you'll also find food and wine pairings, and food related stuff! Become a fan and join ENOFYLZ Wine Blog on Facebook. Cheers!
Copyright Notice: This entire site is Copyrighted 2010-2016. All Rights Reserved. No unauthorized copying of any section of this site is permitted. If you wish to use any part of this site, contact me. For information on Copyright Law, see the official U.S. Copyright Office home page.