2015 Peter Zemmer "Rollhütt" Pinot Noir  – If you're looking for an Old World Pinot Noir for under $20 …look no further!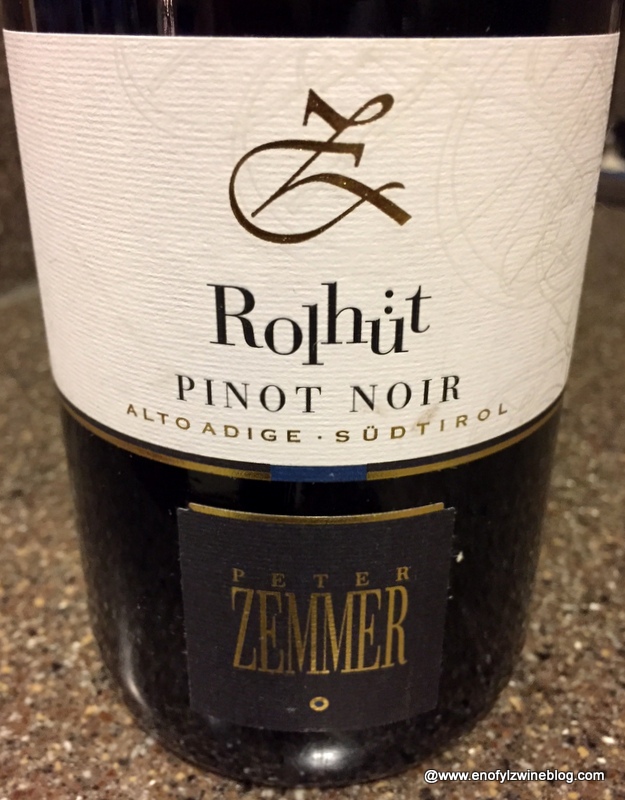 This wine hails from the Suditrol sub-region of the Alto Adige DOC, which borders Austria and Switzerland in northern Italy.  Grapes for this wine were sourced from vineyards in the immediate vicinity of the winery at an elevation of 450 m. (1,400 ft.). Soils in these hilly vineyards are composed of loam, chalk, and porphyry, idea for growing Pinot Noir.  70% of  the wine was aged over 12 months in large French oak barrels. The remained was aged in small casks of French oak, which are 2-3 years old.  After bottling, the wine was aged another six months before release.
Ruby color with appealing cherry, raspberry, black currant tea leaf, cacao,  and dried rose aromas. On the palate, the wine has a distinctly Old World character. It approaches medium-bodied and is fresh, with soft tannins and shows primary cherry, strawberry, raspberry flavors with hints of black currant and an earthy minerality. Medium finish.  Wonderful QPR for this surprisingly elegant, harmonious and moderately complex wine. If you're looking for an Old World under $20 Pinot Noir…look no further! (88pts.)
13% abv | $18 (sample)
Pair with:  We paired this with Paella Mixta (seafood and chorizo) with great success!  This wine is very versatile at the table.  Also consider pairing with red meats, lamb, fowl, and game.
About Peter Zemmer
Weingut Peter Zemmer is one of Alto Adige's most respected winegrower/winemakers.  This eponymous winery was founded in 1928 by his grandfather in the tiny (600 person) village of Cortina.  The winery and vineyards are located in the middle of a high altitude (average altitude of 1,600 feet), narrow valley floor.  Vineyards are sustainably farmed with only organic fertilizer used.  Additionally, the winery is powered by a state-of-the-art solar system.  They produce a variety of sparkling, white and red wines, including two from indigenous grape varieties (Schiava and Lagrein for red wine).
_________________________________________________________________________
Follow me on Twitter, Facebook, Instagram, Vivino and Delectable, for all things wine. As a wino with latent foodie tendencies, you'll also find food and wine pairings, and food related stuff! Become a fan and join ENOFYLZ Wine Blog on Facebook. Cheers!
Copyright Notice: This entire site is Copyrighted 2010-2016. All Rights Reserved. No unauthorized copying of any section of this site is permitted. If you wish to use any part of this site, contact me. For information on Copyright Law, see the official U.S. Copyright Office home page.