Celebrating #CabFrancDay with a caboodle of Cabernet Franc from California, Oregon and New York
Last weekend I participated in the 2nd Annual #CabFrancDay.  #CabFrancDay is a celebration of the Cabernet Franc grape variety.  It was established by Lori Hoyt Budd of Dracaena Wines last year.
"The era of Cabernet Franc is nearly upon us."  – Wine Spectator
My Cab Franc Journey
My Cabernet Franc journey began in France's Loire Valley with the 2006 Domaine de la Noblaie Les Chiens-Chiens from Chinon.  At that point in my wine journey, I didn't appreciate the cool climate, more savory examples of Cabernet Franc such as those from Franc.  Nonetheless, there was something captivating about Cab Franc that inspired me to seek out single-varietal bottles of this underrated grape variety.
Thereafter, I sought out local single-varietal bottles of Cab Franc, mostly in the Napa Valley.
At that point in my journey, I found the riper, more full-bodied warm climate examples of Cab Franc more to my liking.
Today, I've come full circle.  I appreciate both cool and warm climate Cab Franc.  The style I prefer is driven the food and my mood.
What do I love about the single-varietal bottles of Cab Franc?
I love the floral aromatics and slightly herbaceousness, bell pepper character of Cab Franc along with its mouth-watering acidity, silky texture,  and typically soft tannins.  Combine those qualities along with its versatility at the table, (Cab Franc often has a savory quality that I adore) and you've got a winner in my book!
About Cabernet Franc
Cabernet Franc ("Cab-err-nay fronk") is medium-bodied red wine whose origins seem to lie in the Basque country of France. It is a grape variety that is popular as a blending grape, where it lend aromatics and acidity to mostly Bordeaux blends.  But I'm finding more and more, one can find single-varietal Cabernet Franc wines.
The most renown region for the elaboration of Cabernet Franc as single-varietal wine is the Loire Valley in France. There are four appellations in the Loire Valley that specialize in Cabernet Franc. Look for wines with Saumur-Champigny , Chinon, Bourgueil,  and Saint Nicolas de Bourgueil on the label.  It is also grown in the Bordeaux region of France where it is used as a blending grape.
In addition to France, it is also grown in Italy, New Zealand, Australia, South Africa and North and South America.
Online #CabFrancDay Events
There were two Twitter events held on December 4th. The first was a general discussion of Cab Franc. The second was a virtual tasting chat among the nine participating wineries and nine bloggers discussing their love for the grape variety.    I participated in both chats.
Tasting Cab Franc
During the week or so that preceded the online chats I tasted a diverse selection of domestic Cabernet Franc – two each from , California (Napa Valley), Oregon, and New York State.   The wines represented a variety of styles both cool climate, and warm climate, and light-bodied to full-bodied.   In other words, there was a wine to suit a variety of palates.
I also made a conscious effort to pair a few of the wine samples.  In fact,  I will be featuring the 2015 Leah Jorgensen Cellars Blanc de Cabernet Franc  for the December Wine Pairing Weekend event. Look for my post on Saturday, December 10.
My tasting notes follow: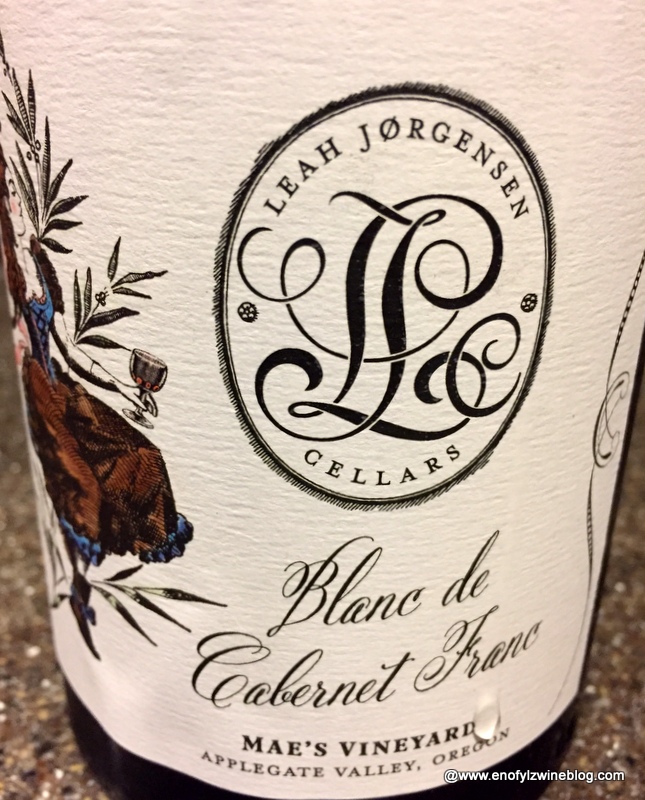 2015 Leah Jorgensen Cellars Blanc de Cabernet Franc Mae's Vineyard – USA, Oregon, Southern Oregon, Applegate Valley
Pale gold color with complex, but at times elusive aromas of apricot, almond skin, jasmine, roasted sage, and light baking spice. On the palate it's medium-bodied and very fresh with just a hint of tannins. It shows mouth filling primary flavors of apricot, lemon, and blood orange complicated by spice, honey, and a nuanced nuttiness and very appealing salinity which combined to give it a bit of savoriness. Very giving finish.  It was excellent paired with sushi! Outstanding; 90 pts.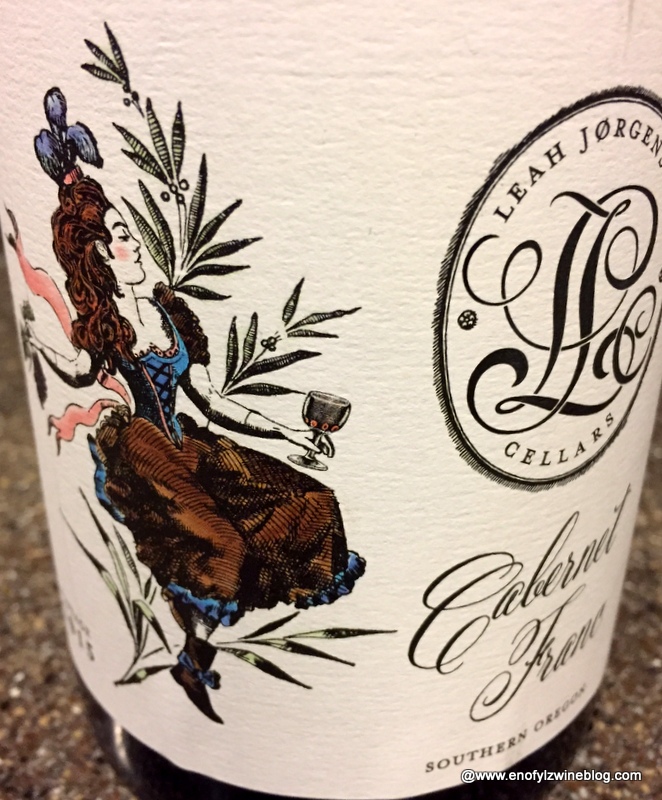 2015 Leah Jorgensen Cellars Cabernet Franc Mae's Vineyard – USA, Oregon, Southern Oregon, Applegate Valley
Medium ruby color with red berry, red plum, tomato leaf, and floral aromas. On the palate it's medium-bodied fresh and well-balanced with well-integrated firm tannins with an Old World" character. It show flavors of raspberry compote, sour cherry, black tea, a bit of red pepper and spice with a lingering spicy finish. Outstanding;90 pts.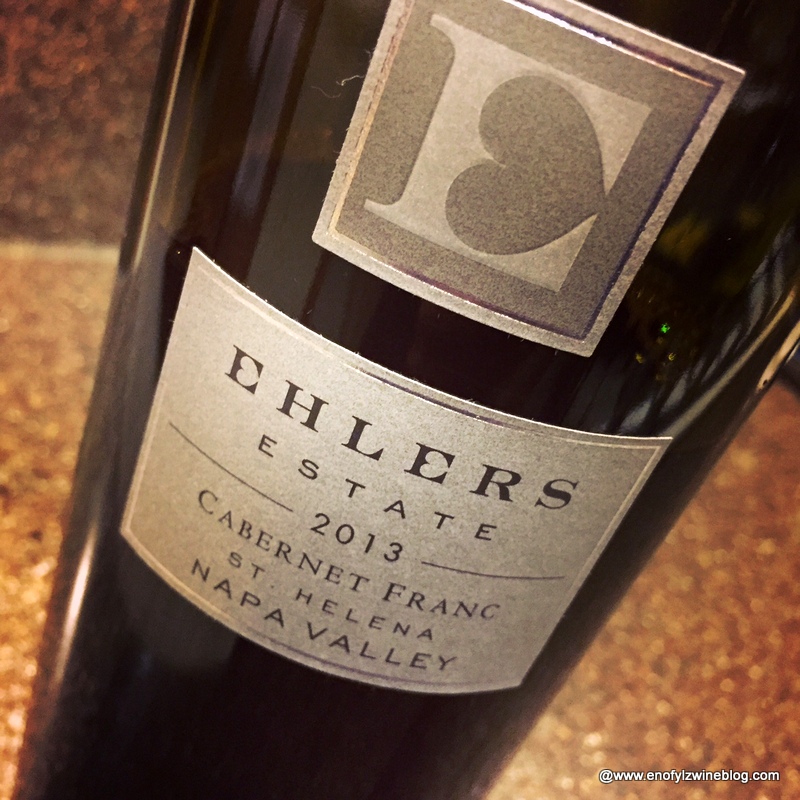 2013 Ehlers Estate Cabernet Franc – USA, California, Napa Valley, St. Helena
Nearly opaque violet color. Initially it shows appealing and effusive baking spice aromas, which give way to black cherry, plum, vanilla aromas complicated by hints of cassis and red pepper and sandalwood. On the palate it's medium-bodied, and harmonious with a juicy acidity and a supple texture featuring well-integrated velvety tannins with black cherry, plum, a bit of red currant, spice, and vanilla with just the right about of herbaceousness typical of Cabernet Franc. Long finish. 14.2% abv. Excellent paired with Mediterranean pizza with mozzarella, feta, spinach and Kalamata olives! Outstanding; 91-92 pts.
2012 St. Supéry Cabernet Franc – USA, California, Napa Valley
The wine is an opaque violet color with appealing black fruit, violet, cacao powder, sandalwood, and bell pepper aromas that blossomed after some time in the glass. On the palate the wine is medium-bodied, and concentrated with juicy acidity, and well integrated velvety tannins with ample macerated blackberry,cassis, plus, very dark chocolate, and vanilla flavors with a long finish. The wine tastes and feel of Rutherford dust, a term used to describe the terroir of the Rutherford AVA.  I popped and poured, but I would recommend aerating for best results. Outstanding; 90 pts.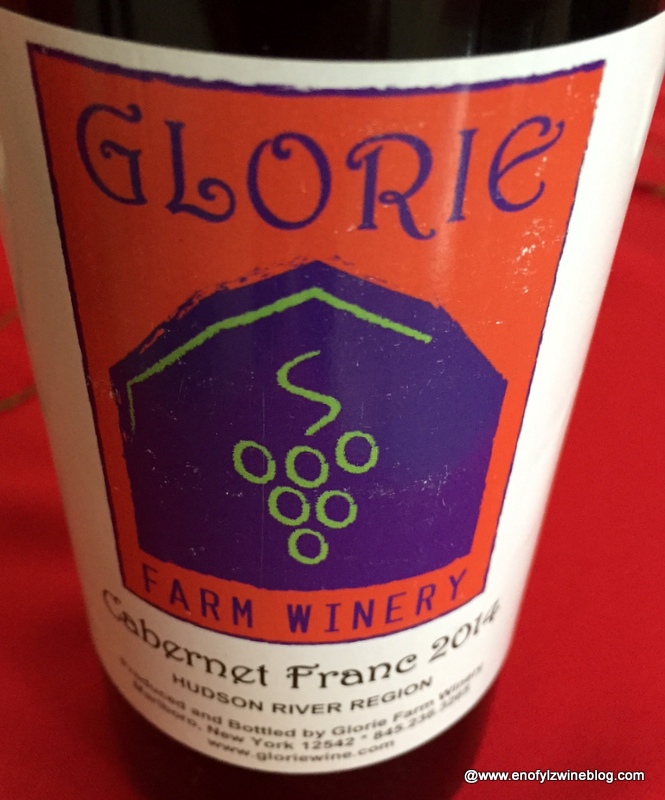 2014 Glorie Farm Winery Cabernet Franc – USA, New York, Hudson River
Ruby color with raspberry, red plum, bittersweet chocolate, violet and red pepper aromas. On the palate it's medium-bodied, and fresh with a plush texture and raspberry, red plum and spice flavors with a lingering spicy red fruit finish and a pleasing kiss of minerality. Very good to outstanding; 89-90 pts.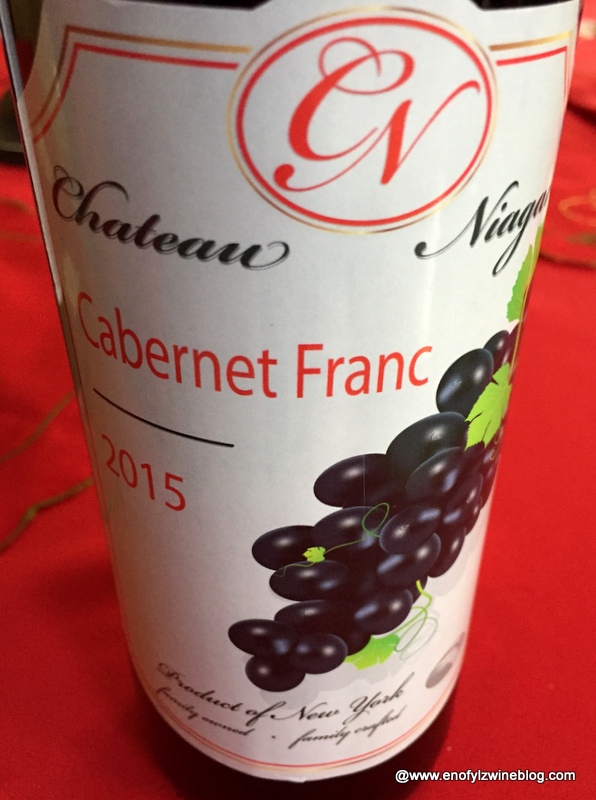 2015 Château Niagara Cabernet Franc – USA, New York, Niagara County
Ruby color with low-key red fruit, crushed rock, and a hint of tarragon aromas On the palate it's an easy drinking, fruit forward wine with black cherry, spice and vanilla flavors that dominate, with a bit of red currant and bell pepper lurking in the background.  Very good; 87 -88pts.
It was an awesome caboodle of Cabernet Franc.  I considered all the wine to be very good to outstanding.  I must add that throughout the course of the week I paired the wines with a variety of dishes including sushi, vegetarian chili, spaghetti with Italian sausage and Mediterranean pizza.  I'd love to tell you I put a lot of thought into the pairings.  But really, other than the Cab Franc, Blanc, I didn't.  Whatever made it onto my plate got paired with whichever of the wines was open.
How's that for food pairing versatility?   It was as if Cab Franc was showing off…
If you haven't tried Cab Franc as a 100% varietal wine, I highly recommend rectifying that situation!  Any of the aforementioned wines would be a great place to start!
*Disclaimer: Samples were provided by the wineries.  Opinions are my own. 
Related posts you might enjoy:
_________________________________________________________________________
Follow me on Twitter, Facebook, Instagram, Vivino and Delectable, for all things wine. As a wino with latent foodie tendencies, you'll also find food and wine pairings, and food related stuff! Become a fan and join ENOFYLZ Wine Blog on Facebook. Cheers!
Copyright Notice: This entire site is Copyrighted 2010-2016. All Rights Reserved. No unauthorized copying of any section of this site is permitted. If you wish to use any part of this site, contact me. For information on Copyright Law, see the official U.S. Copyright Office home page.