Bruno Paillard "Première Cuvée" Brut Champagne – "refined, ebullient, and impeccably balanced…"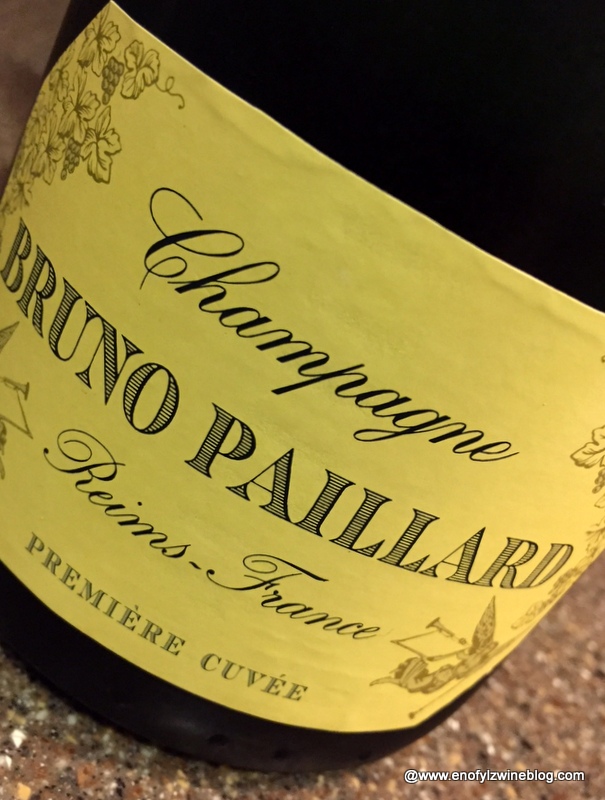 This wine is a multi-vintage blend of more than 30 crus, each vinified separately.  It is composed of Pinot Noir (45%), Chardonnay (33%) and Pinot Meunier (22%); part of which (20%) was in barrel for the first fermentation.   It includes between 20-50% reserve wines (a blend of 25 vintages, since 1985).   It was disgorged in December 2015.
Golden straw color with pastry dough, lemon, grapefruit, red apple, pear, and a hint of white flower aromas. The palate approaches full-bodied, and is refined, ebullient, and impeccably balanced with a delicate mousse with offering initial flavors of gala apple and pear, then giving way to raspberry, cherry, toasted almond, lemon, ginger and a bit of honey flavors with a long citrus and chalk driven finish.
12% abv | $50 (sample)
Pair with:  We paired this with appetizers of Saint Angel triple creme cheese, and  raw oysters.  And for our main course,  Seafood Risotto.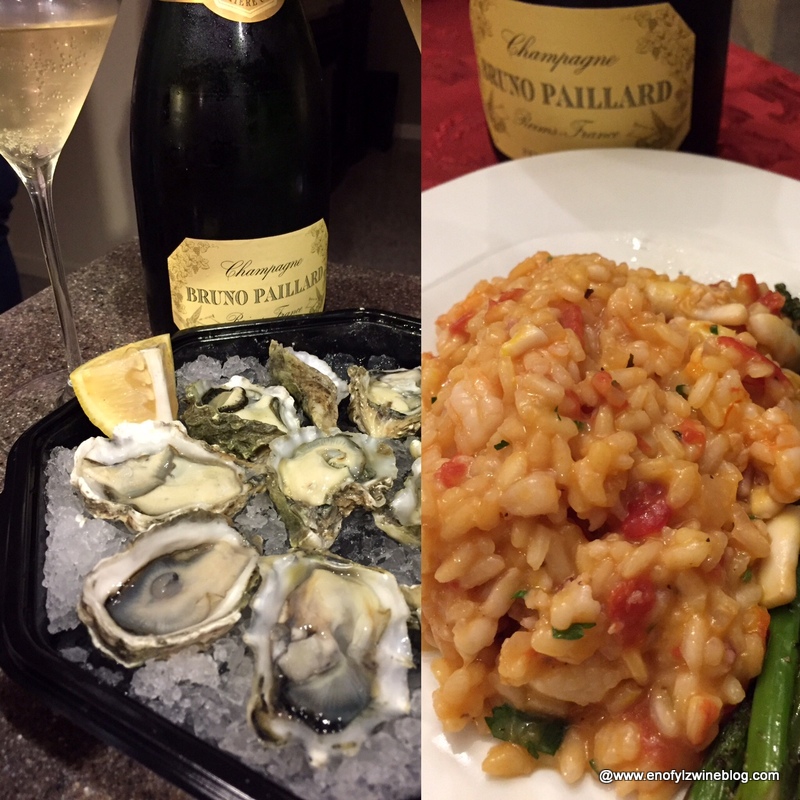 The wine is a great example of Champagne being so versatile at the table.  It was divine paired with both the appetizers and the main course.  I especially appreciated bit of "weight" of this cuvée, which contributed to its pairing so well the seafood risotto.
About Champagne Bruno Paillard
Bruno Paillard's family lineage of brokers and growers in the two Grand Cru villages of Bouzy and Verzenay dates back to 1704.  Following in their footsteps, Bruno began as a broker in 1975.  He acquired a deep and extensive knowledge of the region and its wines.  In 1981, at the age of 27, he started his own Champagne house – the first new maison in nearly a century.  After renting a cellar for three years and purchasing carefully selected grapes from independent growers, Bruno released his first champagnes.  He then built his own cellar, allowing him total control over temperature, lighting and humidity. In 1990 Bruno built his current winery,  and in 1994 began purchasing vineyards.
Champagne Bruno Paillard's  vineyard cover 32 hectares (79.5 acres) of land over the best Crus of Champagne:  Le Mesnil sur Oger, Oger, Cumières or Verzenay,  for example. Les Riceys is the exception; situated in the south of Champagne, it is the undisputed flagship of the Aube.   Altogether, their estate vineyard represent 100 plots, each with a different terroir.
Twelve hectares of the vineyards are classified as "Grand Cru" which is remarkable given that grands crus represent only 17 of the 320 villages of Champagne.
The fruit from these vineyards cover 50%-60% of his production needs.  They  are farmed organically and sustainably – a rigorous and delicate job given that his holdings are subdivided into 70 different parcels.
Bruno sources the remaining fruit through long-term contracts with high-quality, independent growers. Each wine is vinified separately in stainless steel (75%) and oak (25%).  Although they are labeled as Brut, all of Paillard's Champagnes are technically Extra Brut as their dosage is 6 grams or less per liter.  Annual production is 450,000 – 500,000 bottles.
I had the pleasure of visiting Champagne Bruno Paillard on a media trip put together by the U.S. Champagne Bureau with the in 2014.   And our visit to Bruno Paillard was among the most memorable, enjoyable and educational of my week in Champagne!
Related post: Champagne Chronicles: Day 4
_________________________________________________________________________
Follow me on Twitter, Facebook, Instagram, Vivino and Delectable, for all things wine. As a wino with latent foodie tendencies, you'll also find food and wine pairings, and food related stuff! Become a fan and join ENOFYLZ Wine Blog on Facebook. Cheers!
Copyright Notice: This entire site is Copyrighted 2010-2016. All Rights Reserved. No unauthorized copying of any section of this site is permitted. If you wish to use any part of this site, contact me. For information on Copyright Law, see the official U.S. Copyright Office home page.