This month the French #Winophiles take a virtual trip to Beaujolais.  Between Beaujolais Nouveau and Thanksgiving, Beaujolais seems to mostly be a seasonal wine.  But it can be more than in a seasonal (holiday) wine.  I explore its possibilities as an "everyday" red wine.
My inspiration to explore Beaujolais as an everyday red wine came from a dinner I attended last year.   The dinner was hosted by  Discover Beaujolais.  It  was held at Pabu San Francisco, a Japanese restaurant that  presents a modern take on traditional Izakaya-style dining (think seasonal small plates, composed entrees, and grilled skewers along with sushi, sashimi, fresh tofu and tempura).   We tasted through wines from seven of the twelve appellations (including 5 crus) paired with  6 courses!  The meal and pairings were a revelation for the immense potential of Beaujolais at the table. You may read my entire post here.
With that memorable gastronomic experience in mind, I picked up a couple of bottles of Cru Beaujolais and paired them with whatever weeknight meals we were able to cobble together this past week.
Both wines were in the $15-$20 sweet spot for "everyday" wines.
I chose to go with Cru Beaujolais wines because I  believe they typically deliver more value relative price than Beaujolais, or Beaujolais Villages.
Of course, there is the ample fruit that makes Beaujolais so appealing,  but Cru Beaujolais offers more depth and structure,  with mouth filling layers of intensity, and aromas and flavors that are complicated with floral, mineral, earthy, and spice notes.  Cru Beaujolais is also age-worthy.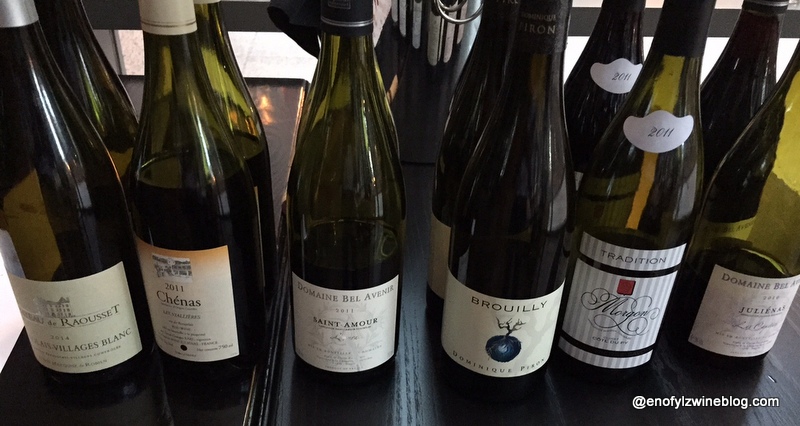 About Beaujolais
Located north of Lyon in eastern France, Beaujolais overlaps Burgundy (of which it is sometimes considered to be a part) in the north and Rhône in the south. The picturesque Beaujolais vineyards run along the Saône River. Winemakers have crafted deliciously supple and fruity wines in the region since the days of Ancient Rome.
The Gamay Noir grape, a cross between Pinot Noir and Gouais, is used to make  ninety-nine percent with Beaujolais wines. The exception is Beaujolais Blanc, which is made of Chardonnay  and Aligote grapes.
The traditional "Beaujolais" style of winemaking is unique and original.  Grapes are hand-picked then subjected to semi-carbonic maceration.   There are other methods of vinification, including thermovinification (a quick fix, where the grapes and must are heated to near boiling prior to fermentation) or traditional Burgundian winemaking methods. There are 2600 winegrowers producing red, white and rosé  wines.  There are 12 appellations including 10 designated vineyard areas – or "crus", which are considered to produce the best Beaujolais wines.
Check out the fun and informative Discover Beaujolais website, including the Top 3 reasons to try Beaujolais, for more information.
Everyday Cru Beaujolais in the glass and at the table
I chose two wines, one from Brouilly, the other from Chiroubles, both from the excellent 2014 vintage.
About Brouilly
From the  Discover Beaujolais website…Brouilly covers 20 percent of the Beaujolais Cru area. Its wines are made in six communes: Cercié, Saint-Lager, Charentay, Odenas, Saint-Etienne-la-Varenne and Quincié. The pink granite around Saint-Etienne-la-Varenne, Odenas and Quincié contains less acidity, while the limestone-marl around Charentay contains alluvial deposits with traces of crystal and clay from rock erosion. More than 8 million bottles of Brouilly are produced each year.  As far back as 1769, the communes of Brouilly were involved in winemaking and were among the 16 Beaujolais parishes authorized to sell wines to Paris.
2014 Les Freres Perroud Brouilly Améthyste – $17
Amethyst is located on the southern slope of the Saburins hill in the village of Quincie, one of the 6 villages of the Brouilly Appellation. There is a layer of amethyst crystal underground giving to the wine each year a unique tipicity.  The wine was aged for one year in neutral oak barrels from Burgundy.  Click on the images below to enlarge
Tasting note: A beautiful brilliant magenta color with exuberant plum, raspberry, black cherry, and pretty floral aromas with a bit of smokiness. The palate is silky, medium-bodied, fresh, and balanced with just enough tannins to add structure with alluring raspberry, red plum, and hints of strawberry and spice with a very giving finish. Ready to drink now, but should age well over the next 2-5 years. 12.5% abv
Paired with: We paired this wine with leftover Spaghetti with Italian Sausage, take-out Vietnamese ( Bo Luc Loc – Shaking Beef, Grilled Chicken, and Combination Fried Rice), and a tofu ground chicken scramble. The wine paired well with all the dishes, but it paired especially well with the Shaking Beef and Grilled Chicken.   For more pairing suggestions click the icon—>
About Chiroubles
From the Discover Beaujolais website…Around the village of Chiroubles, a type of sand called gore provides the grapes near-perfect growing conditions. The result is texture so delicate, Chiroubles is referred to as the "most Beaujolais" of all the Crus. Temperatures in Chiroubles are lower than in other parts of Beaujolais, which means that the vines are five to 10 days behind the normal growing cycle. Chiroubles is also the Cru grown at the highest altitude, cultivated between 820 and 1,475 feet above sea level. A little more than one square mile accommodates the area's 60 growers, who produce an average of 2.3 million bottles a year.
2014 Chateau de Javernand "Vieilles Vignes" Chiroubles
A classically style Beaujolais sourced from the 40 -70 year-old vines from the winery's best plots. It is vinified using the traditional Beaujolais whole cluster semi-carbonic maceration for 10-14 days.  It was the aged in tank for  6-8 months.  Click on the images below to enlarge
Tasting note: Ruby color with black cherry, raspberry, spice, and delicate violet aromas. On the palate it's light-bodied, fresh, persistent and elegantly structured with vibrant acidity and enough tannins to make it age-worthy for a few years. There ample black cherry, raspberry and a hints of strawberry and spice flavors with lingering mineral driven finish.
Paired with:  We paired with Grilled Filipino style chicken, and a Poke bowl with ahi tuna, whitefish, salmon, and octopus on a bed of  brown rice and greens with seaweed, ginger scallions, pickled radish and sriracha sauce.   Again the wine paired well (surprisingly so in the case of the Poke bowl) with both dishes.  But it paired especially well with the Grilled Filipino style chicken.
For more pairing suggestions click the icon—>
I thought both wines were outstanding, though I slightly preferred the Brouilly.  Both wines offer great QPR and paired well across a diverse range of foods.  They represent everything I look for in an everyday red wine,  They drink above their price point, are are so food friendly that you don't have to think too much about food and wine pairings.
My other takeaways from my exploration of Cru Beaujolais as an every day are:
Cru Beaujolais is a great alternative to under $20 Pinot Noir
If you're considering an unconventional pairing of a particular cuisine, go with wine that's a flexible at the table  The experience reminded me  that Beaujolais should be in the Top 5 most food friendly wines along with  Sparkling Wine, Riesling, Pinot Noir and Rosé in my book.
Beaujolais make for great chillable summer red
Grab a few bottles of Cru Beaujolais, and remember to save a bottle of two for summer picnics.
THE FRENCH WINOPHILES BEAUJOLAIS TEAM
Join us on November 19th at 8:00 am Pacific time on twitter. We'll be there under the hashtag #Winophiles. There we will chat about wine, food and travel in the gorgeous setting of Beaujolais. Please consider saying hello and asking (or answering) questions. It would be our pleasure to hear from other Beaujolais lovers!
_________________________________________________________________________
Follow me on Twitter, Facebook, Instagram, Vivino and Delectable, for all things wine. As a wino with latent foodie tendencies, you'll also find food and wine pairings, and food related stuff! Become a fan and join ENOFYLZ Wine Blog on Facebook. Cheers!
Copyright Notice: This entire site is Copyrighted 2010-2016. All Rights Reserved. No unauthorized copying of any section of this site is permitted. If you wish to use any part of this site, contact me. For information on Copyright Law, see the official U.S. Copyright Office home page.