During a trip to Italy last month, I wanted to try as many "new to me" wines as possible.  The most memorable of the many white wines I tried was from the Lugana DOC.
The theme for this month's Italian Food Wine and Travel (#ItalianFWT) is unique towns of Italy. Well if you know anything about this blog, you know I'm all about the wine.  So I'm writing about the wines of the Lugana DOC, which I "discovered" while in Bolzano, Italy.
Bolzano itself is worthy of your attention as a unique town in Italy for at least a couple of reasons.  First, it's a perennial contender for the best place to live in Italy.  Secondly, it's home of Ötzi the Iceman – a 5,300 year old mummified corpse who remains rest in the South Tyrol Museum of Archaeology.  
My wife and I were in Bolzano to see Ötzi.
After viewing the mind Ötzi blowing exhibit, my wife and I decided to grab a glass of wine and a quick bite at a local wine bar, Est! Est!! Est!!!  Since I'd never enjoyed a glass of Lugana, that's what I ordered.
Wow! Mind blown twice in one day!
About Lugana
The Lugana DOC (established in 1967) is located at the southern end of Lake Garda.  Geographically, the the region is "two-faced" according to journalist Zeffiro Bocci in the sense that  it straddles the regional border between Lombardy in the west and Veneto in the east. Likewise, it also part of both the Brescia and Verona provinces.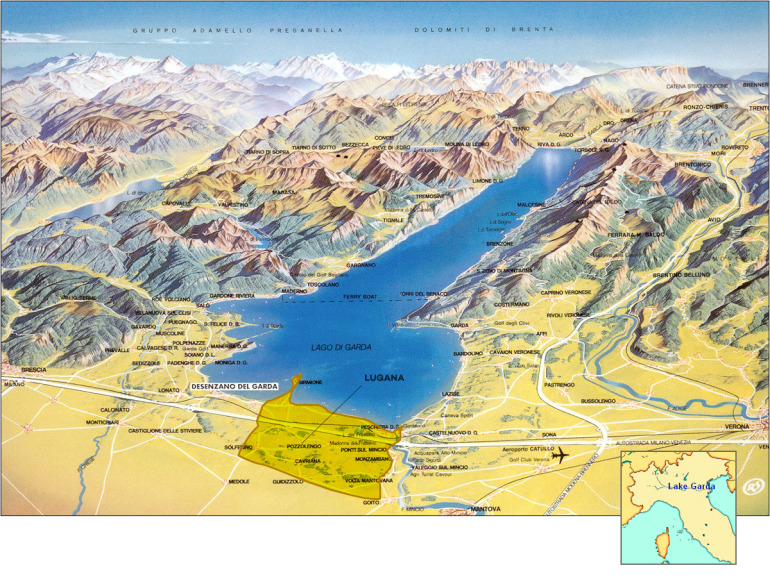 It is a relatively small DOC that specializes in white wine.  The predominant grape variety is Trebbiano di Lugana, known locally as Turbiana.  The origins of the grape itself are unclear.  According to one source, "recent DNA testing  of the grape by  Milan University has revealed that it is not genetically related neither to Trebbiano di Soave, nor to Verdicchio" as many believe.  But according to another source, essentially, Turbiana is Trebbiano di Lugana which is the same as Trebbiano di Soave… which are the same as Verdicchio.
What makes the region's terroir unique are the combination of its climate and soils.
According to the Corsorzio Tutela Lugana, the region's climate is "positively influenced by the temperate breezes of Lake Garda, is mild and fairly constant, with few temperature fluctuations between day and night. A "climate cradle" perfect for highlighting the features of"  the Turbiana grape variety.
Its soils are predominantly very dense clay and limestone rich in mineral salts.
At least 90 percent of  Lugana DOC wine be composed of Trebbiano di Lugana (Turbiana).  A small percentage of Garganega, the main grape variety of Soave, and other permitted varieties may make up the other 10 percent. But many Lugana wines are 100 percent  Turbiana.
"Many of the wines I tasted that day were bright and citrusy, bone dry and filled with mouth-watering acidity. Others were mineral-driven, with notes that ranged from talc to flint, and finished with smoky, savory notes while still offering crisp, refreshing acidity. The majority of the wines showed delightful complexity. With low alcohol levels and prices ranging from $15 to $25, many of these labels have to be among the best values on the white wine market these days. – Tom Riley, The Grape Belt
There are five types of Lugana wines:
'Basic' Lugana – fresh, fruity, dry,  intended for early consumption
Superiore – classification established in 1998, requires 1 year maturation (not necessarily in oak); with lower yields
Reserve – aged for min. 24 months, 6 months in bottle; oak maturation is not compulsory
Vendemmia Tardiva (late harvest) – contains approx. 12 g/l residual sugar (very limited production)
Spumante (sparkling) – very limited production of both Charmat and Metodo Classico Lugana grape varieties
The wine I tried was fantastic, but it can be a challenge to find Lugana wines in the U.S. because the region is having a hard time finding importers and distributors in the United States that will carry and promote their wines.  I learned about the region from a couple of wine pals who've attended the Consorzio TuteloLugana D.O.C. (the Lugana Tutelage Consortium) tastings being held across the States the last few months.
In My Glass
The wine I tried was the 2014 Cà dei Frati Lugana I Frati.  Here's some information about the producer from Enoteca Sileno:
The cellars at Cà dei Frati date back to 1782. Domenico dal Cero and his son Felice acquired the cellar in 1939, and re-established the vines in the commune of Sirmione, in the province of Brescia in Lombardy, on the southwestern shoreline of Lake Garda. 
Four generations of the family have managed the winery, including Domenico's grandson Pietro and his wife Santina, and their children Igino, Gianfranco and Anna-Maria. The family tends around 61 hectares of vines on their 70-hectare estate. These vines provide all the grapes used in production.
The family believes in making wine true to the local terroir and history which genuinely express the natural characteristics of the Trebbiano grape, rather than producing wines dictated by market trends.
Cà dei Frati produces several styles of Lugana, from sparkling wines to fresh and fruity wine and late harvests. The red varietals are equally charming and capable of longevity. Grapes from different parcels of land are vinified separately, and winemaking corrections are kept at a minimum, in order to guarantee the best representation of the vintage.  Source: Enoteca Sileno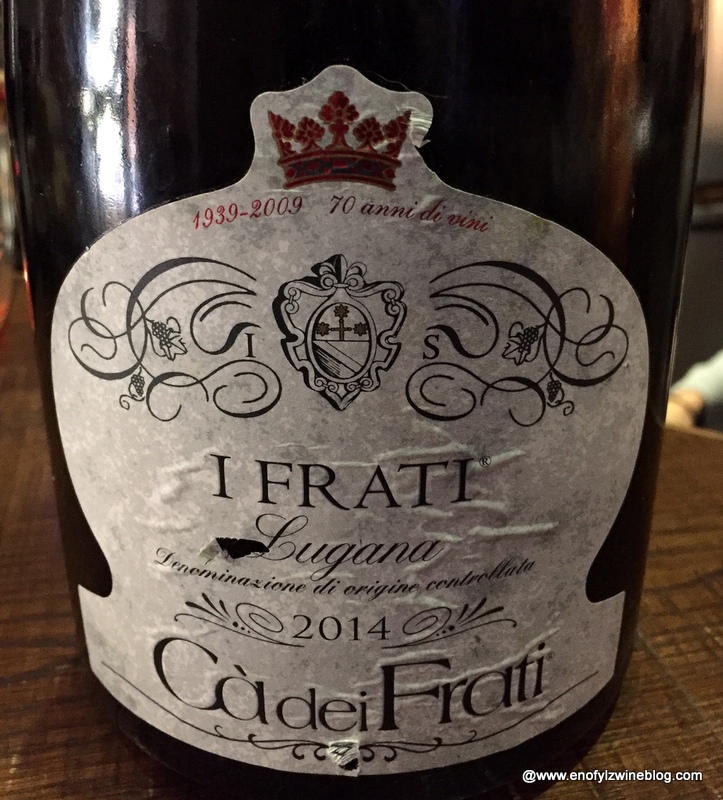 My tasting notes follow:
The pours a very pale straw color with green highlights with aromatic apple, apricot, almond and a hint of floral aromas. The lean, but broad palate is very fresh and balanced with green apple, lime, and almond flavors with very appealing minerality on a medium finish.
Pair with:  
The wine is ideal as an aperitif,  first courses, medium seasoned cheeses, white meat, mild fresh-water fish (
Trout Amandine
come to mind), shellfish  and light pastas such as Clam linguine,  and 
Linguine Al Frutti di Mare
.
Check out the other unique places my fellow #ItalianFWT bloggers have in store for you:
If you're reading this early enough, please join our Twitter chat Saturday, November 5th at 8am PT/11am ET using the #ItalianFWT hashtag to chat about the unique, smaller, less traveled towns of Italy. 
Next month on Saturday December 3rd, Jennifer of Vino Travels will host ItalianFWT with our topic being Christmas in Italy including holiday wines, culinary traditions or festivals. If you'd like to join us, email Jen direct at vinotravels at hotmail.com. Ciao Ciao!
_________________________________________________________________________
Follow me on Twitter, Facebook, Instagram, Vivino and Delectable, for all things wine. As a wino with latent foodie tendencies, you'll also find food and wine pairings, and food related stuff! Become a fan and join ENOFYLZ Wine Blog on Facebook. Cheers! This article is original to ENOFYLZ Wine Blog.com. Copyright 2016 ENOFYLZ Wine Blog. All rights reserved.