This week the French Winophiles continues its virtual exploration of the Bordeaux Region with a visit to Saint-Émilion, which is located on the right bank of the Gironde estuary.  Merlot is the dominant grape in this prominent wine region, which also a UNESCO World Heritage site. 
To truly understand wine, you must understand that ultimately, it is about much more than what is your glass.  It's about connecting with people.  At least that's what it has been for me.  I've had innumerable experiences where wine played an indispensable role in creating a connection.
Sharon Kazan Harris understands the role wine plays in connections.   It's what drives her to craft elegant, feminine wines.   She sees wine as a way to connect with people and bring community together.
Who is Sharon Kazan Harris?
She is the bi-continental owner and director of winemaking operations for Rarecat Wines.  She is also the only American vintner producing wines in Napa Valley, Sonoma and Saint-Émilion. 
"Making really beautiful wine matters because it changes the nature of how people appreciate a moment in time. When they know something is beautiful and they know it's a unique or rare thing, then they appreciate that moment in time". – Sharon Kazan Harris
And if that weren't enough, she recently partnered with eponymous Champagne Michel Gonet, to produce Rarecat Champagne, a vintage brut blanc de blancs champagne crafted and bottled specifically for Rarecat.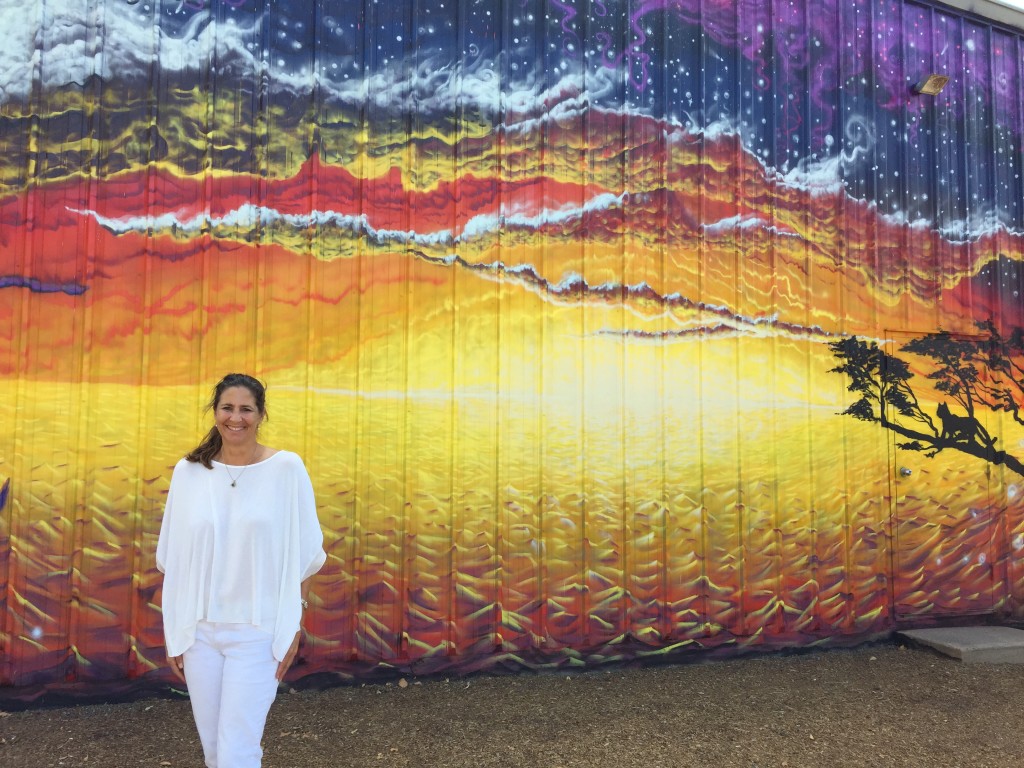 I first met Sharon last year after tasting her Rarecat Cabernet Sauvignon at the 2nd annual WINEAPAWLOOZA, a fundraiser for Jameson Animal Rescue Ranch ("JARR").  The event featured an amazing lineup of 60 or so of Napa Valley finest boutique wineries.  There were more than a few "cult" Cabs at the tasting, but our favorite was Sharon's 2010 Rarecat Cabernet Sauvignon Old Toll Hillside Vineyard.
Since then, we've had a couple of conversations.  Hers is a fascinating story!
While majoring in Economics at UCLA, she spent her junior year in France at the Université de Bordeaux.
Sent went to France, ostensibly to study French.   She hoped to go to Paris or Grenoble, but as fate would have it, she landed in Bordeaux because she was an Econ major.  While in Bordeaux she befriended  the wife of the University's president, who took her under her wing.  That connection lead her, at age 20, being taken on a personal tour of  the renowned Chateau Haut Brion – a producer of one of the world's greatest wines.
The tour was led by the legendary Monsieur Delmas (Senior) himself, who kindly let her taste the renowned 1982 vintage out of the barrel, followed by the 1966. That moment changed her life, and sealed her interest in wine and the Bordeaux region itself.
After graduating from UCLA she bought a one-way ticket to France.  Upon her arrival she took a job at a two star restaurant.  As an intern.   You want to talk about starting at the bottom? Her boss was a 16 year-old kid!
After running out of money, she returned to California.  She looked for a job in the wine industry, but there was none to be found.  Under the burden of student debt and little cash, her focus shifted to finding steady employment.
After a very successful career in technology and publishing, she decided to pursue her dream of making wine.  She helped to launch a small winery in 1992 that became commercially viable in 1996.  She purchased a significant share of that winery.   Thereafter, she purchased a winemaking facility and a vineyard in the late 90's.
Sharon applied and was accepted to the famous DUAD program (the Diplome Universitaire d'Aptitude a la Degustation des Vins) offered through the Universitié de Bordeaux's Oenology department.
In 2004,  with her family in tow, Sharon returned Bordeaux.   She completed the DUAD program and graduated with honors.  
She returned to California,  and moved to St. Helena in the Napa Valley.  She embarked upon her Rarecat journey in 2008.
Bordeaux is very provincial, but thanks to connection to some extraordinary people who opened doors for her, she was given access to  half of a vineyard in Saint-Emilion.  Working with a consulting winemaker there, she began importing wine under the Rarecat label ( from the 2010, 2011, and 2012 vintages) earlier this year.  She is looking forward to being more hands on with subsequent vintages.
The Wine
From Rarecat Wines…"RARECAT Wine is producing a limited amount of RARECAT St Emilion from a vineyard in the "Villemaurine secteur" of St Emilion.  RARECAT, through a long-time friendship, has special access to a world-class vineyard in St Emilion which is located on the prestigous "Plateau de Calcaire".  The vineyard has been owned and farmed by the same family for over 3 generations.  Access to this amazing vineyard is the result of friendships dating back several decades.  Our vinification philosophy is to showcase terroir, vintage and history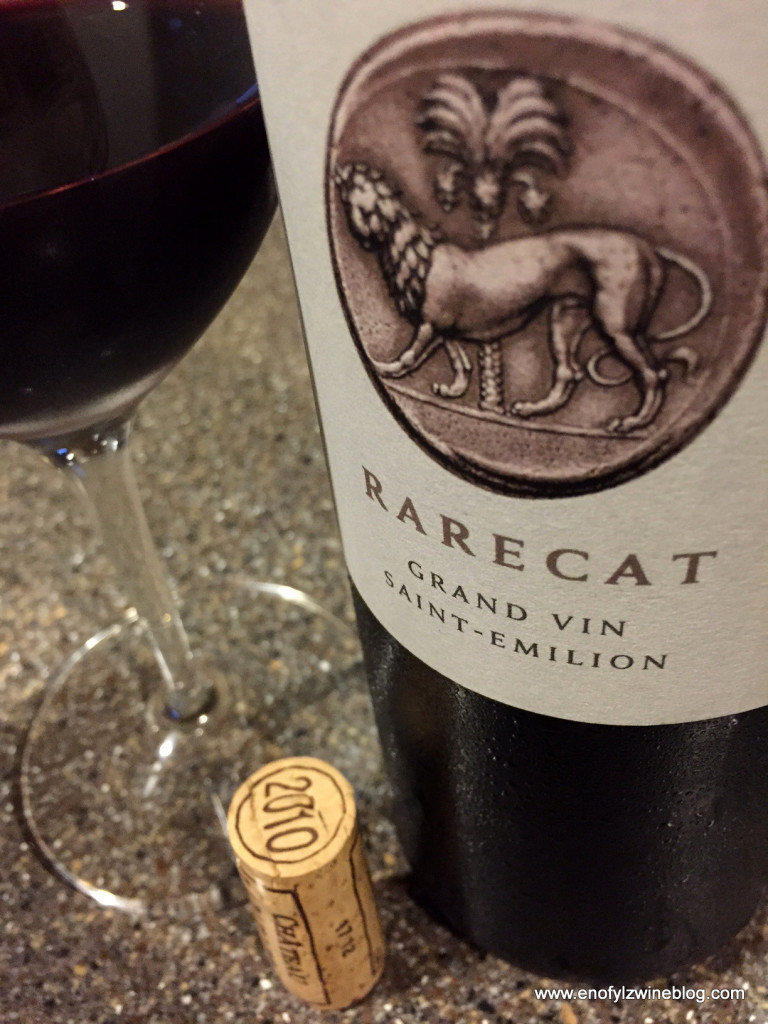 My tasting notes follow:
The wine pours and opaque violet color with promising black fruits, anise, and cacao powder aromas.  On the palate it's medium-bodied, elegant, and very fresh with firm well-integrated tannins and boysenberry, black currant and a bit of plum flavors complemented by an appealing minerality and a lengthy finish.   This is a compelling wine that invites sip after sip.  
It's a blend of predominately Merlot with a dollop of Cabernet Franc. 50% new French Oak| $65 SRP| 14% abv | Sample purchased for review.
Pair with: Beef Wellington, Roast Duck, A grilled steak with red sauce, or grilled veal, lamb or pork chops especially with herbs such as thyme, rosemary and oregano
Be sure to check out how my French #Winophiles friends connected with Saint-Émilion:
If you're up early enough join us Saturday, August 20th at 8 am PST/11 EST for a live twitter chat using #Winophiles and share your favorite food, wine and travel experiences featuring St. Emilion.  And please consider joining us for our upcoming virtual tours of:
September 17th – Graves and Entre-Deux-Mers
October 15th – Jura
November 19th –  Cahor and Beaujolis
_________________________________________________________________________
Follow me on Twitter,Facebook,Instagram, Vivino and Delectable, for all things wine. As a wino with latent foodie tendencies, you'll also find food and wine pairings, and food related stuff! Become a fan and join ENOFYLZ Wine Blog on Facebook. Cheers! This article is original to ENOFYLZ Wine Blog.com. Copyright 2016 ENOFYLZ Wine Blog. All rights reserved.