This month's Wine Pairing Weekend is about Sherry, one of the world's most complex, labor intensive, yet misunderstood and under appreciated wines!  I taste and pair the six types of sherry – five dry and a sweet "PX"!
I have been a Sherry lover for many years.  My appreciation of sherry was inspired by two books; The first edition of Karen MacNeil's, The Wine Bible, and Francois Chartier's, Taste Buds And Molecules – The Art And Science Of Food With Wine.   
From the Wine Bible I learned about the  unique way that sherry is crafted – the thin layer of indigenous yeast cells known as "flor" that can only grow naturally in the microclimate of  the sun-baked southwest of Spain; that it has unique flavors unlike any other wine in the world,  its diversity of styles from bone-dry to super-sweet, and  its conviviality with a multitude of foods – from the delicate to spicy fare.
…if there were justice in the wine cosmos, which there is not, Sherry would be one of the world's best-loved and oft-sipped wines – Karen MacNeil
In the book Taste Buds And Molecules, Sommelier Francois Chartier, who spent the better part of two decades collaborating with top scientists and chefs to map out the aromatic molecules that give foods and wines their flavor, identified why certain food and wines work well together at the molecular level.
Although it is indeed a rare pearl, the king of food pairings really exists, and its fino sherry – Francois Chartier
Chartier posits that the versatility of sherry at the table is because of its tremendous amount of aromatic molecules (over 300); and given its aromatic complexity…there is a good chance that sherry will find its alter ego in a wide variety of ingredients and foods.
His work makes sense to me.   Not only did it reinforce prevalent opinion that sherry is one of the most food friendly wines, it also jibes with my  own experience.
About Sherry
Sherry is a fortified wine that has been produced from white wine grape varieties in the sun-baked Andalucia region in the southwest corner of Spain.
It is one of the oldest wine growing regions in Spain.  In fact, in 1933 Jerez-Xérès-Sherry was the first DO to be officially recognized in Spain.   But for centuries before then, the wines of Jerez (pronounced: he-reth)  had been popular not only in Spain but also in France (as Xérès) and England (as Sherry).  Which is why the DO title "Jerez-Xérès-Sherry" appears in all three languages on each bottle.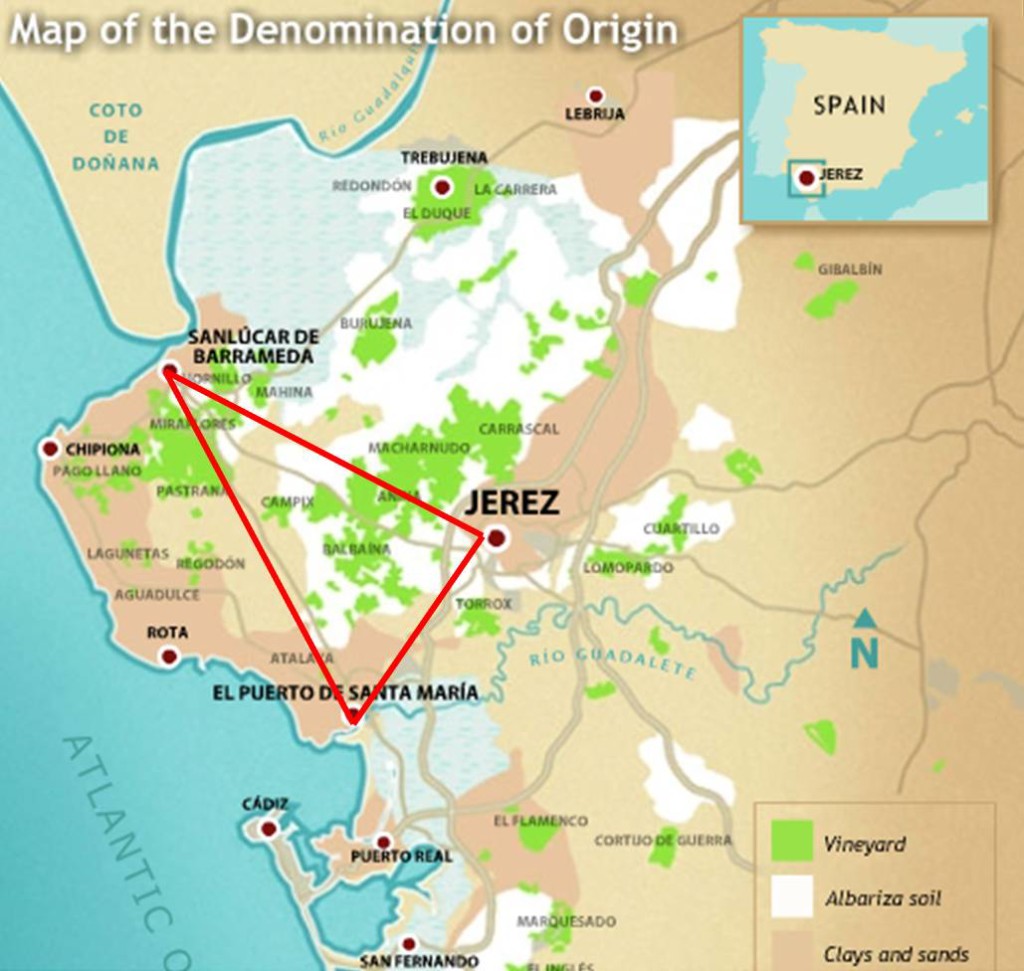 The epicenter of the region is town of Jerez de Frontera.  Jerez de la Frontera, Sanlúcar de Barrameda and El Puerto de Santa María mark the three corners of the famous "Sherry triangle".
What makes the terroir is Sherry unique is the combination of the three soil types, albariza, barro, and arena, and the weather; extreme heat where summer temperatures regularly exceed 100 ºF ( 40 ºC ) is tempered by cooling breezes from the Atlantic.   Albariza is the most important of the three.  It's a blinding white color in bright sunlight, and is a combination of chalk, limestone, clay and sand.  It is valued for it's high moisture retaining power, and for its ability to reflect sunlight back up to the vine.  Approximately 90% of the vineyards in the region are planted on albariza.
There are three grape varieties permitted for the elaboration of Sherry: Palomino, Muscat of Alexandria (also known as Moscatel) and Pedro Ximénez.
Palomino is the dominant grape (the other two are primarily used as sweeteners).   It is a high-yielding grape with relatively low acidity and aromas. The resulting base wines are crisp with a neutral character.  Not so good for table wine, but perfect as raw material for the elaboration process that transforms these into the compelling, diverse wines for which Sherry is known.
Flor, the  thin layer of indigenous yeast cells that forms on top of the wines, and is only naturally occurring in the Sherry region,  is essential to the production of sherry.  It not only protects the developing wine from oxidation, it contributes a distinctive flavor to the wine through the metabolization of alcohol to the nutty, green apple character associated with the compound acetaldehyde.
As you can see from the graphic below, it is flor that basically divides all wines from the D.O. Jerez-Xérès-Sherry into two main categories: biologically aged sherry (which matures entirely under this layer of flor – Manzanilla and Fino) and oxidative sherry (which matures partially or entirely without flor – Amontillado, Palo Cortado, Oloroso or Pedro Ximénez).
Once the wines are classified they are aged in a system known as a solera (see below)   A solera is a complex system of casks (a.k.a. "butts") grouped in tiers that allows for fractional blending.  Each tier has wines of the same age.  Wine travels from one tier to another in a precise order during its maturation.  Essentially older butts are refreshed with slightly younger wine each year, then the oldest blended barrel is bottled.  The  lowest level of butts is also, confusingly,  known the solera.  Therefore, wine going through a solera system will be composed of multiple vintages.
The final stage in the maturation process is when the wine reaches the bottom tier.  This is when the wine ready to be bottled leave the system.  Up to one-third of the wine may be withdrawn each year from these barrels, but typically the amount taken will be 10–15%.  Maturation in the solera further elaborates the wine, adding more flavor and complexity.  
Something new: Sherry "en rama"
Sherry  "En Rama" is a relatively new style of Sherry.  "En rama" literally translates into "raw"   Essentially it is a Sherry wine that undergoes minimum clarification and filtration.
Serving Sherry
Finos, and Manzanillas should be served chilled as you would a white wine.  I enjoyed, Amontillados, Palo Cortados, and Oloroso at cellar temperature as you would a red wine.
In terms of glassware, a copita is the traditional vessel of choice.  But I used multipurpose wine glasses, and that worked out just fine!
My Exploration in the Glass and at the Table
Contrary to popular belief, there are more types of dry sherry than sweet.  And just like any wine, sherry pairs great (and often better) with food.
I explored the diversity of the five types of dry Sherry: Fino, Manzanilla, Amontillado, Palo Cortado, and Oloroso, plus a  dessert wine made from the Pedro Ximenez grape.  Each  wine was paired with a dish that highlights the unique characteristics of each type of wine.
Fino: The freshest, lightest, and driest sherry, aged under the protection of flor
Finos usually contain 15–16% alcohol, are best served well chilled, and are dynamite when paired with salty snacks like peanuts, potato chips, cured olives and fried seafood.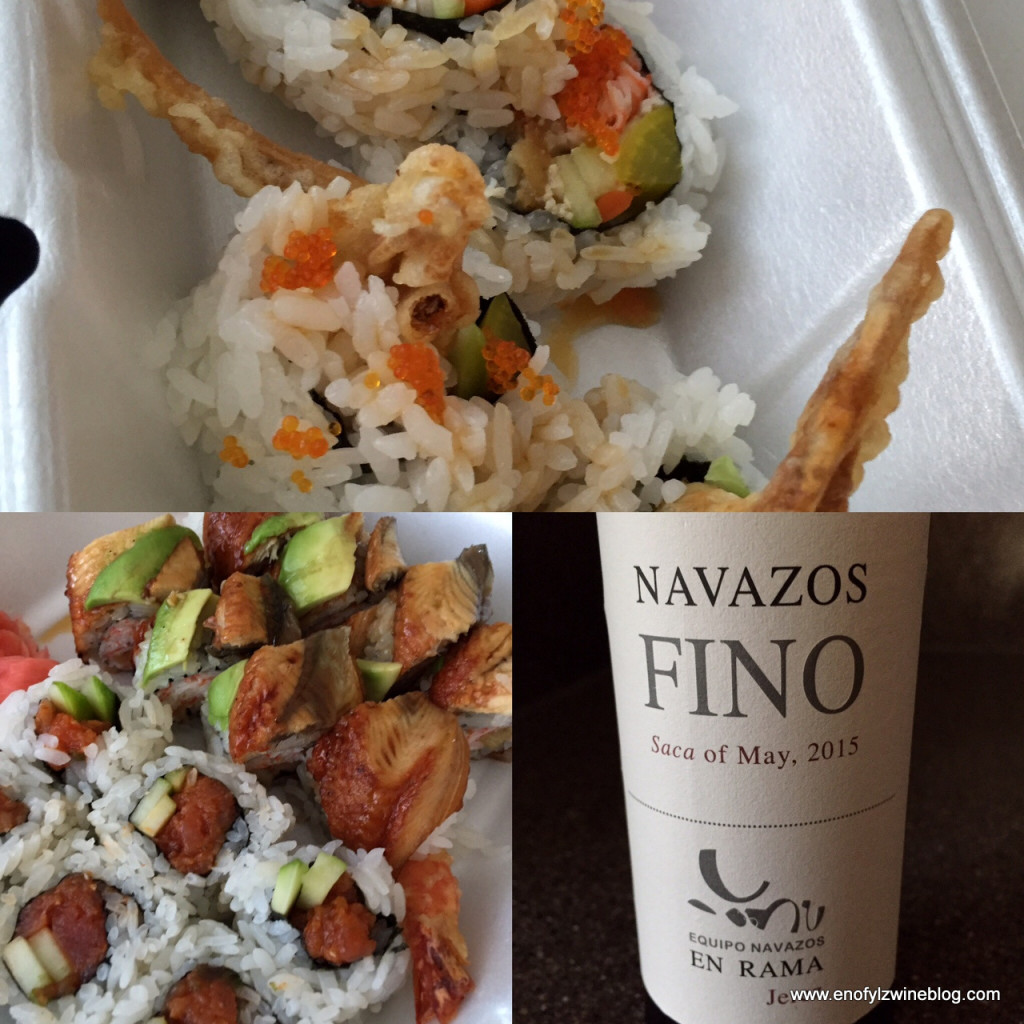 Equipo Navazos Jerez-Xérès-Sherry Fino En Rama Saca of May, 2015 (375 ml)
Pale yellow gold color with complex aromas of iodine bread crust, bruised apple,  Marcona almond with nuanced floral and citrus aromas. On the palate it heftier than most Finos I've enjoyed. It's tangy, intense and round with a supple texture and slightly oxidized orchard fruit, almond, and subtle mandarin orange, and saline flavors. Elegant with a long finish
Paired with: Sushi that included Dragon Roll(shrimp tempura inside, unagi & avocado on top), Spicy tuna roll,  and a Spider (soft shell crab) roll.  Pairing a fino with sushi and/or sashimi has become a favorite of mine.  Fino pairs very well with not only the sushi, but with the wasabi and ginger too!   I wished I ordered some sashimi as well.  I think Fino is even better with sashimi than sushi!
Manzanilla: Fino made in Sanlúcar de Barrameda, the riverside town whose flor is thought to impart a saline quality to the wine. A partially aged version is called manzanilla pasada.
Like Finos, Manzanilla usually contain 15–16% alcohol,  and are best served well chilled.  They tend to be a bit more flinty and saline than finos.  They pair exceptionally well with raw seafood.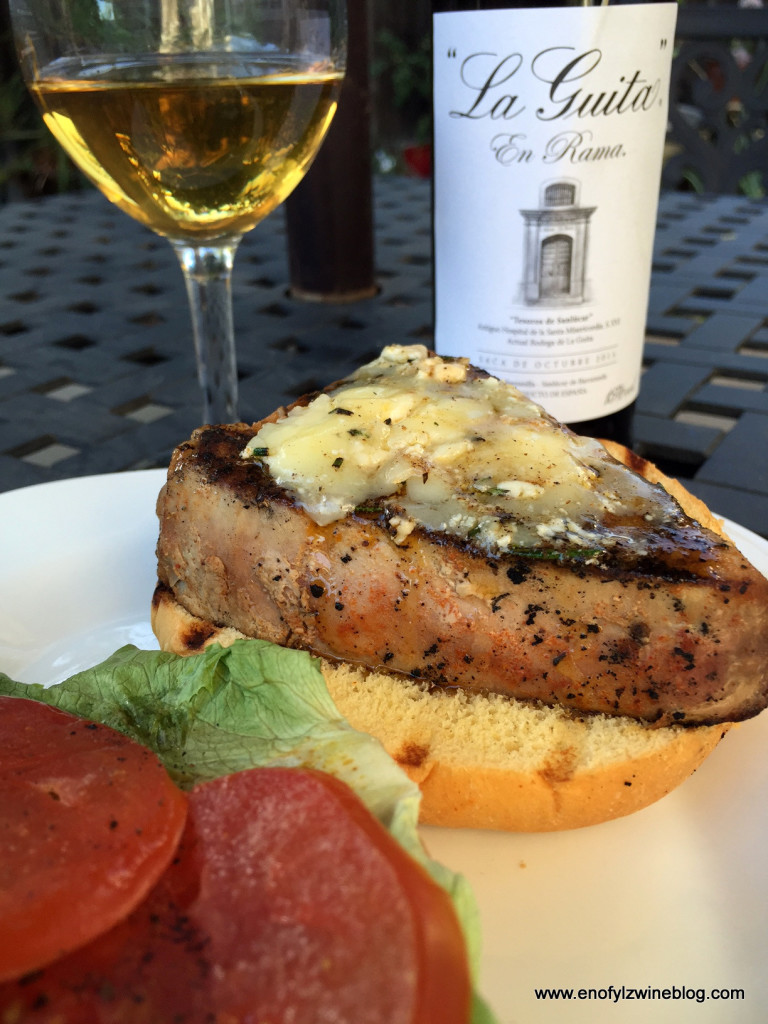 La Guita Manzanilla en Rama Sanlucar de Barrameda Saca of October 2015 (375ml)
The wine is a pale tawny gold color with complex and appealing bruised apple, chamomile, hazelnut, ocean spray, and nuanced roast meat aromas. On the palate it's between light and medium-bodied, dry, fresh and intense with a supple texture and bruised apple, citrus, saline flavors with nuanced mineral and iodine notes. Long finish 15% abv
Paired with: Medium-rare Tuna Burger topped with rosemary marinated Cana de Cabra Goat cheese.  It was a fantastic pairing.  I think the "en rama" style which offers a bit more aroma, bodies and flavors stood up well to the weight of the Tuna Burger.  Next time I'll try Manzanilla with sushi/sashimi!
Amontillado: A richer style with more depth and nut-like flavors. True amontillado is an aged fino whose flor dies off, exposing the wine to air during aging.
Amontillados take on a brown hue, due to extended contact with air inside the solera barrels. And rather than the crisp, saline flavors of finos and manzanillas, amontillados deliver oxidized notes of nuttiness, sautéed mushrooms and a richness best described as umami. Usually about 18% abv, perfect pairings include medium-bodied soups or flavorfully sauced white meats like pork, pheasant or rabbit. (Source)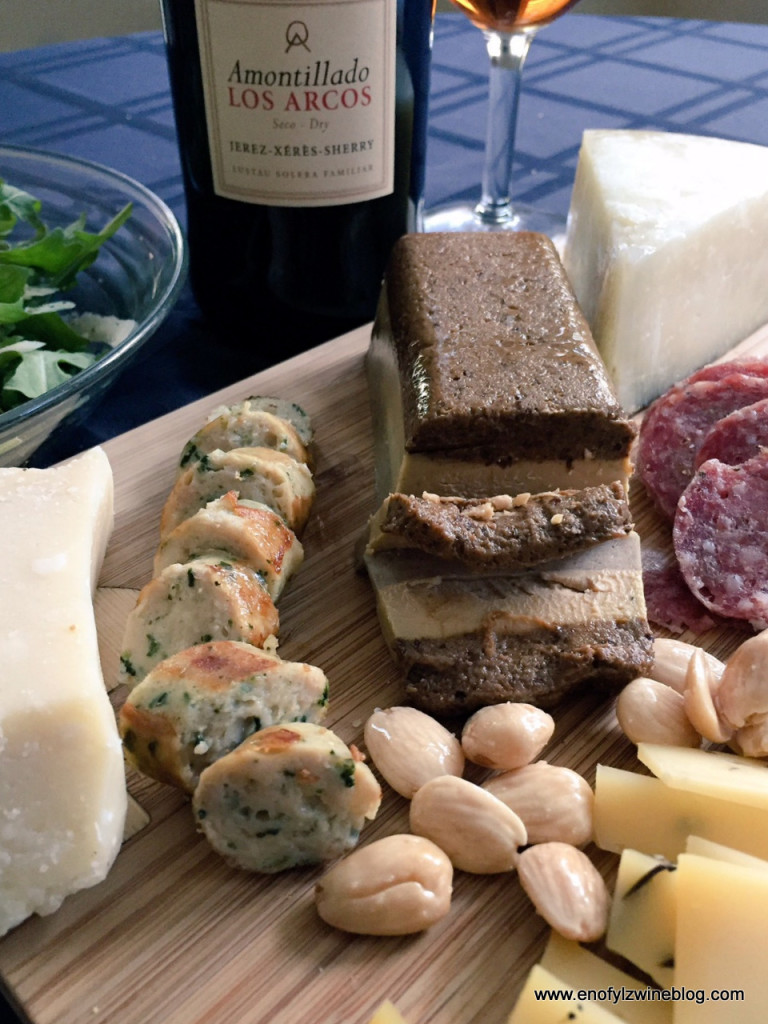 Lustau Dry Amontillado "Los Arcos" Solera Reserva
Amber color with roasted nuts, spiced orange peel, toffee,dates, and honey aromas. On the palate it's between medium and full-bodied, dry and rich with wonderful fruit and tangy acidity. It shows molasses, dates, spiced orange peel, roasted hazelnut flavors with a bit of salinity and a lingering off-dry finish.  18.5% abv.  This wine offers wonderful value! 
Paired with: A charcuterie cheese plate featuring Les Trois Petite Conchon Terrine des Trois Rois(Armagnac Marinated Prunes Layered with Chicken & Duck Foie Gras!), Saucisson Sec Aux Herbes de Provence, Marcona Almonds, Parmegiano Reggiano, and Truffle Gouda Cheese with an Arugula Parmesan Salad.  I must tell you the Terrine was awesome and the Amontillado paired very well with all everything on the plate!
Oloroso: Rich, dark and complex, it is the result of exposure to oxygen through an often long aging, which protects the wine and adds the classic sherry bite.
Whereas amontillado is a Sherry in which the flor breaks up naturally, an oloroso sees the cellar master intentionally destroy the flor to promote oxidation. Olorosos can be sweet or dry in style, depending on whether the wine includes Moscatel (sweet), or is made strictly from Palomino grapes (dry). Like with amontillado, where the abv is usually around 18–19%, olorosos can withstand decades in barrel, which creates extra richness and complexity. (Source)
Lustau Almacenista Oloroso "Pata de Gallina" (500ml)
Deep amber color with beguiling and complex aromas of roasted walnuts, toffee, molasses, coffee flavors with hints of of orange zest and baking spice aromas. On the palate it's medium-bodied with very good acidity, and an appealing oily mouth feel with dried dates, raspberry juice, sweet coffee, seawater, lemon zest, and iodine flavors with a long finish. 20% abv. 
Paired with: A  small plate "Surf n Turf" with Spanish-Style Garlic Shrimp (Gambas al Ajillo),  Les Trois Petit Conchons Wild Boar Pate, and Mousse Truffée (both samples), Smoked Gouda Cheese, and antipasto.  The wine worked well with everything on the plate, though I thought it worked especially well with the Wild Boar Pate, Mousse Truffée, and smoked Gouda.  The wine overwhelmed the shrimp a bit.  I had some Amontillado left, and I thought it paired better with the shrimp.
Palo cortado: A rarity in that only 1 in 1,000 butts of sherry becomes a Palo Cortado.  
The wildcard of Sherry, palo cortado begins its existence under flor, then loses that cover while tracking toward amontillado. Along the way, however, something mysterious happens, and the wine grows richer and more regal, like oloroso. The name, palo cortado,is derived from a cross traditionally drawn on the barrel's exterior to note that it's doing its own thing and isn't amontillado or oloroso, per sé. (Source)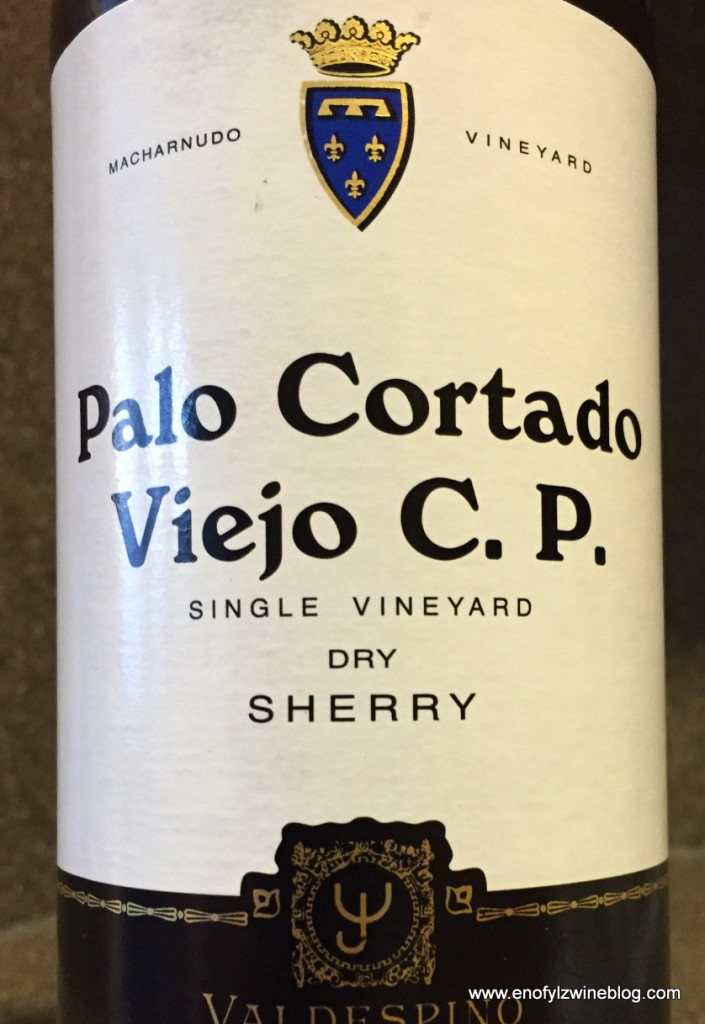 Valdespino Jerez-Xérès-Sherry Palo Cortado Viejo C.P.
Tawny brown color with expansive dried fruit (dates,  and raisins), caramel, toffee, and walnut aromas with hints of iodine and spice.  On the palate it's full-bodied, with very good acidity and intense date, raisin, toffee, roast walnut, and spiced orange flavors. It's complex with well-integrated alcohol (19.5%) and a very long finish. 
Paired with:  We took this wine to a Sherry tasting that featured all five style of dry sherry, plus a cream sherry from one of California oldest wineries Buena Vista.   We brought aged truffle gouda cheese and duck mousse, but there was a wide variety of charcuterie including Iberico Ham, various cured meats, other cheese, and a roasted garlic artichoke.  The wine was exceptional paired with the duck mousse and the truffle gouda cheese, but it also paired well with the meats and (surprisingly) the roasted garlic artichoke! What other wine does that?!  It was a Palo Cortado that transformed me into a Sherry Lover.  It's definitely a favorite type of Sherry for me.  Note: My wife was converted into a Sherry lover at this tasting.  I no longer have to drink Sherry alone!
Sweet Sherry – Cream/PX:
Sweet Sherries come in a multitude of forms and quality levels, from your basic Cream Sherry, more or less an oloroso with sweet grapes like Pedro Ximénez or Moscatel blended in, to complex varietal PX and Moscatel-based Sherries, in which freshly picked grapes are sun-dried to concentrate sugars and flavors. These can be dark, unctuous wines with viscosity akin to motor oil. (Source)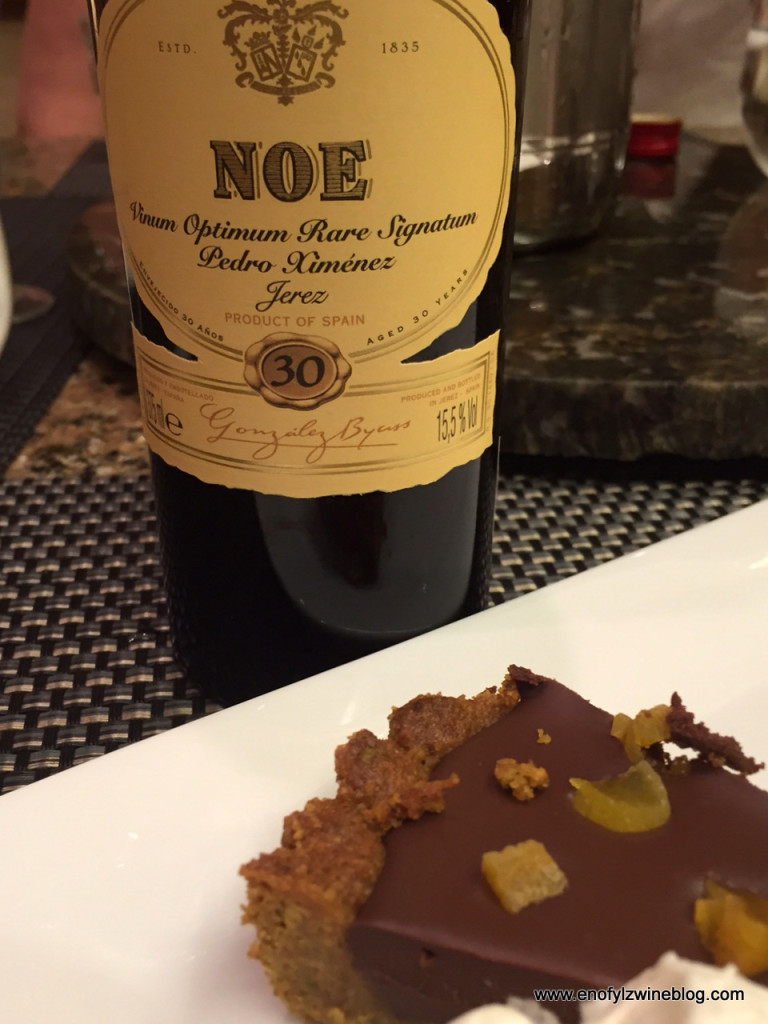 Gonzalez-Byass Pedro Ximénez  VORS Viejo Noé (30 Years/Años) (375ml)
Mahogany color with molasses, caramel, espresso, bittersweet chocolate and subtle baking spice aromas. On the palate it's full bodied, viscous, and very persistent with a supple mouth feel that's beautifully balanced with a penetrating acidity that keep it from being cloying and persistent with very good acidity that keeps it from being cloying and provides balance. It shows very sweet flavors of molasses, honey-dipped figs, dates, caramel, and baking spice nuanced citrus note with a kiss of oxidation that adds to its allure and complexity. Long finish
Paired with: Chocolate-Pistachio FudgeTart!  My wife and I had aPaella dinner with friends and she made the dessert.  As good fortune would have it she suggested we pair the PX with the dessert.  How could I refuse?  This PX and the dessert we simply awesome together!  Note:  Take a cue from how PX is served in Spain  and pour PX over a high-quality vanilla ice cream.  It's a dessert made it heaven and one of my all time favorites!
Here's are my take-aways from my exploration of Sherry:
I will be buying more Sherry "En Rama" !  To my palate they have more depth of flavor and a bit more complexity that I truly enjoy
Oloroso seemed to be the most challenging of the wines to pair, at least during the summer.  It feels more like a fall/winter wine to me because it will pair well with stews and more substantial fare.  I was fortunate to have the Les Petite Conchon Wild Boar Pate and  Mousse Truffée samples, both which were absolutely delicious and paired very well with the Oloroso.
Conversely, Amontillado, a medium weight wine seemed the most versatile of the wines for pairing
This was my first time trying Manzanilla (I've previously enjoyed all the other types of Sherry).  I will be buying more!
Most Sherry offers fantastic quality-price ratio!
Whew!  I think I got a bit carried away on this one. What can I tell you?  I'm a Sherry lover!
Check out what my fellow #WinePW bloggers have discovered during their exploration of Sherry in the glass and at the table:
If you're up Saturday morning, July 9th at 8am PST/11am EST, join us for a live Twitter chatter using #WinePW hashtag.   Anyone interested in food and wine pairing is welcome to join the chat.  For a list of past and upcoming #winePW events, visit the Wine Pairing Weekend calendar here.  Join us again next month for South African Wines!  We'd love to have you online with us!
_________________________________________________________________________
Follow me on Twitter, Facebook, Instagram, Vivino and Delectable, for all things wine. As a wino with latent foodie tendencies, you'll also find food and wine pairings, and food related stuff! Become a fan and join ENOFYLZ Wine Blog on Facebook. Cheers! This article is original to ENOFYLZ Wine Blog.com. Copyright 2016 ENOFYLZ Wine Blog. All rights reserved.