The French Winophiles(#Winophiles) are doing a deep-dive into the Loire Valley region.  The Loire Valley is divided in to five distinct regions which are from West to East –  Pay Nantais , Anjou/Saumur, Touraine, and Centre- Loire.  We've previously explored Pay Nantais , Anjou/Saumur, and Touraine.  This month, we're exploring the Centre (Upper)- Loire region.  I chose a Rose from the Sancerre AOP in the Centre – Loire.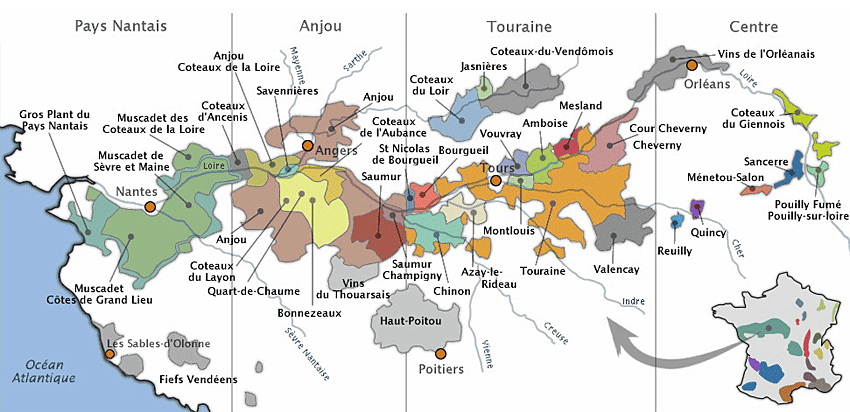 Upper (or Central/Centre-Loire)
The Upper Loire is the smallest region of the five sub-regions of the Loire Valley.   But it is also home to its two most well-known appellations –Sancerre and Pouilly-Fumé, which craft dry, crisp Sauvignon Blanc revered around the world.
The wines and terroirs of the Upper Loire are tangibly different from those further downstream in Touraine, Anjou and particularly the Pays Nantais. The moderate, moist, maritime climate of the Muscadet vineyards stands in clear contrast to the drier, near-continental conditions found in Sancerre, a full 200 miles (325km) to the east. This is mirrored in the wines, and explains (in part) the difference between the featherweight elegance of Muscadet and the aromatic power of Sancerre.
Limestone is a key soil type in Upper Loire vineyards, particularly Sancerre, Pouilly, Menetou-Salon. This is a result of their location at the southern edge of the Paris Basin. A significant geological zone of northern France, the Paris Basin is a shallow bowl of sedimentary rock which includes the prized calcareous soils which the Loire shares with Champagne and northern Burgundy – most obviously Chablis, just 35 miles from Sancerre. What the Upper Loire has that these other regions do not is silex (flint).
Flint is very efficient at accumulating heat and reflecting light, which helps the grapes towards full ripeness, creating fuller-bodied wines. It is also given credit for the smoky character of the local Sauvignon Blanc, which explains the variety's local nickname –Blanc Fumé – which means literally 'smoky white'. (Source; Winesearcher.com)
Sancerre AOP
Sancerre has two claims to fame, the aforementioned wine of Sauvignon Blanc, and its high quality goat cheeses (the two together represent the quintessential – "What grows together, goes together" food and wine pairing in my book!)
The vineyards of Sancerre surround the eponymous town, which sits atop a bean-shaped hill overlooking the Loire River.   The vineyards are planted 80% to Sauvignon Blanc, and 20% Pinot Noir.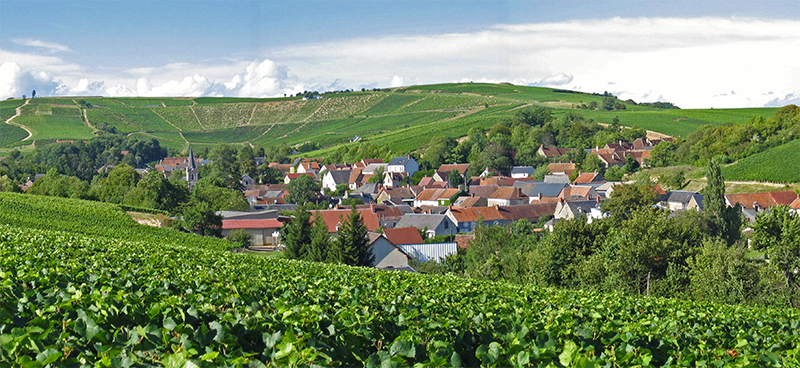 Sancerre is located at the very eastern edge of Loire Valley's main vineyard area, hundreds of miles from the region's westernmost vineyards. It is in fact closer to the Cote d'Or in Burgundy than to the Loire's other key wine districts, Anjou and Touraine. Just 50 miles away lies Burgundy's northernmost district, Chablis, whose famous Kimmeridgian soils are also a feature of the terroir here in Sancerre.
Soil types are a point of pride for Sancerre's winegrowers. They are divided clearly into three main types: chalk, limestone-gravel and silex (flint). The latter is often given credit for the distinctive, smoky pierre à fusil (gunflint) aroma found in some Sauvignon from this part of the Loire Valley. The aroma is clear in some Sancerre wines – most obviously those from the eastern vineyards closer to the Loire. It is the reason behind Sauvignon's traditional pseudonym Blanc Fumé – which survives in the name of Sancerre's neighbor and rival, Pouilly-Fume. (Source: Winesearcher.com)
The Wine
I chose the 2015 Franck Millet Sancerre Rosé for two reasons.  First, I'm a rosé fiend.  And while I like Sauvignon Blanc, I adore rosé!   Since, I've never enjoyed one from Sancerre, this was the perfect opportunity to rectify this dreadful oversight.
Secondly, while I generally prefer rosé that is a blend of grape varieties, Pinot Noir is an exception.   One of my perennial favorite Pinot Noir rosé  is the Copain Wines "Tous Ensemble" Anderson Valley Rosé, and this was also an opportunity to taste the wines back to back.
Domaine Franck Millet  is located in Bué, one of the top villages of Sancerre.  They farm 22 hectares of vineyards.   They elaborate wines of White Sancerre, red Sancerre, and Pinkish Sancerre, as well as red Menetou-Salon.  50% of their wines are sold in France, and 50% sold overseas.
Fruit for this wine is sourced from vineyards planted on limestone and clay soil.  It is a blend of pressed and bled juice.  The grapes pressed at harvest produce the pressed juice and the bled juice is the product of skin maceration.  The must is then settled and low temperature fermentation begins.  No malolactic fermentation. Light filtration and stainless steel tank aging.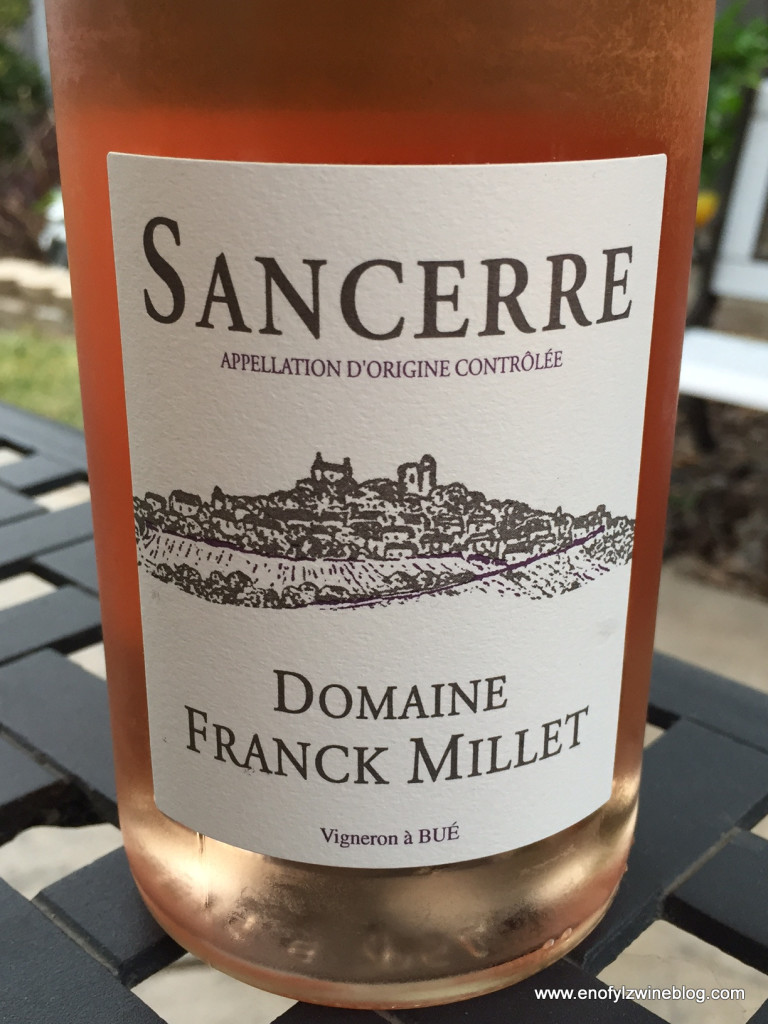 My tasting notes follow:
The wine is a pale pink color with a salmon hue.  It's aromatic with red fruit, fresh-cut grass, and  flinty aromas. On the palate it's light-bodied with well-balanced tangy acidity and cherry, and under-ripe melon flavors with a lingering mineral driven finish.  The thing that stood out for me about this wine was its harmonious character, and prominent minerality.   Pair with highly seasoned and grilled meats, cold cuts and sausages.  It was wonderful with Bahn Mi!  Wonderful QPR at $17!  Would buy again!
12.5.% abv | SRP -16.99 | Sample purchased for review
Be sure to check out what my fellow #Winophiles are bringing to the table, and in their glass:
If you're up early enough please join in our live Twitter Chat on Saturday, June 18th using hashtag #Winophiles at 8 am PST/11 am EST.
Up next a deep dive into Bordeaux!  Here's a list of upcoming events:
July 16th – Medoc, Haute Medoc
August 20th – St. Emilion/St. Emilion Satelites
September 17th – Graves and Entre-Deux-Mers
Join us for our upcoming events by emailing your post title to Christy at culinarydiva@icloud.com or Jill at jillbarth@msn.com.  We hope you'll join the fun!
_________________________________________________________________________
Follow me on Twitter, Facebook, Instagram, Vivino and Delectable, for all things wine. As a wino with latent foodie tendencies, you'll also find food and wine pairings, and food related stuff! Become a fan and join ENOFYLZ Wine Blog on Facebook. Cheers! This article is original to ENOFYLZ Wine Blog.com. Copyright 2016 ENOFYLZ Wine Blog. All rights reserved.