It's National Rosé Day, and this month's Wine Pairing Weekend theme is all about pairing foods with Rosé!
Wine Pairing Weekend is a monthly collaborative event for wine/food bloggers started by David Crowley of Cooking Chat.  It's a great way to find food and wine pairings that work (or learn from the ones that don't); along with tips on how to create your own food and wine pairing magic. Nancy Brazil of  Pull That Cork is hosting this month's Rosé  Pairing theme.  
In My Glass
Are you familiar with the term "unicorn" wine?   It's a term bandied about among sommeliers and winemakers.   And what, exactly is a "unicorn" wine?  Well there are a few criteria, but essentially it's a  rare, hard to find, special bottle of wine. 
And when I saw this month's theme, I knew I had one.  It's the 2000 R. López de Heredia  Rosado Gran Reserva Viña Tondonia.
That's right…a 16-year-old bottle of Rosé!
The wine is "elaborated" (as they say in Spain) by one of Rioja's most famous wineries – Bodegas R. Lopez de Heredia ("LdH"), founded by Don Rafael López de Heredia Landeta in 1877!
LdH, one of the oldest family owned oldest wineries in La Rioja has a reputation for outrageously long aging of their wines, in the barrel and in the bottle.   For example, this wine was aged 4 years in old American oak barrels produced from their own cooperage, then aged another 6 years in the bottle!  Aging any wine for 10 years is rare.  And aging a Rosé for 10 years is simply unheard of!
The source of grapes for this wine is Viña Tondonia,  planted between 1913-14, it is widely regarded as one of Spain's "Grand Cru" vineyards.   As befits a wine designated Gran Reserva, it's not made every year.  The most recent preceding vintages were '93, '95, '97, and '98.  And LdH hasn't been made a Gran Reserva Rosado since 2000.
The next rumored release is from the 2005 vintage, scheduled to be released in 2017.
"Perhaps no winery in the world guards its traditions as proudly and steadfastly as López de Heredia does, especially in a region like Rioja, which has been swept by profound changes in the last 25 years. And yet, as fusty and as backward-looking as López de Heredia may seem, it is paradoxically a winery in the vanguard, its viticulture and winemaking a shining, visionary example for young, forward-thinking producers all over the world." -Eric Asimov, The New York Times
The result?  An exquisitely unique, interesting, aged Rosé with great complexity.  So much so that when I purchased it (along with a few other Rosés), I was actually "warned" that it was not a typical Rosé.
I understand why.  It's a bit of a cult wine, familiar mostly to wine geeks, wine "experts", sommeliers, and aficionados of slow food movement (including Alice Waters, V.P. of Slow Food Int'l, and proprietor of Chez Panisse where an LdH Rosé has been on the wine list for 40 years).
The wine is a blend of 60% Grenache, 20% Tempranillo, and 20% Viura.  According to Maria Jose de Heredia, the Viura gives the wine freshness, while the Tempranillo gives the capability of aging.  What I love about this wine is that is built for spicy hot foods such as Patatas Con Chorizo Riojano, Indian, and Chinese dishes.  And unlike many other fine Rosés I've enjoyed, this one can handle full-bodied foods just fine.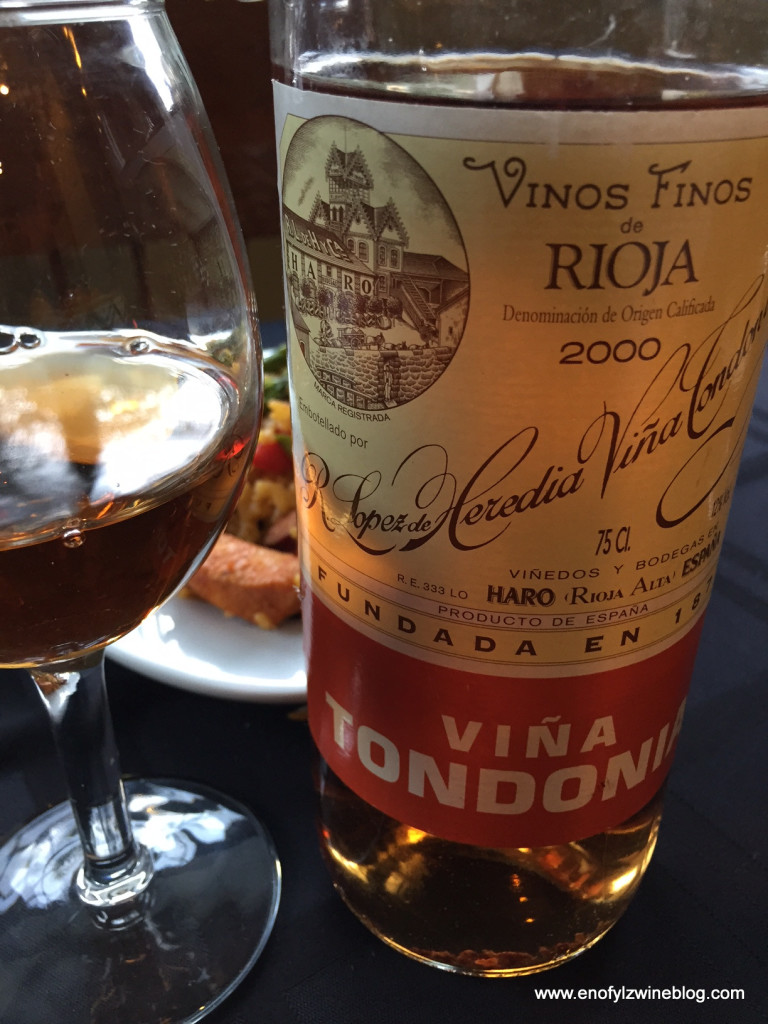 My tasting notes follow:
Burnished copper orange color.  It's aromatically intriguing with dried orchard fruit, chamomile, orange peel, almond, wet clay and spice with an oxidized note.  On the palate it's bone dry, with an alluring  texture that compels you to take another sip.  It's unusually complex, superbly balanced,  long and utterly refreshing. It's very dry with tart red berry, blood orange, and touch of vanillin flavors that linger long after you swallow.  It a wine demands thought, unlike the vast majority Rosés, which are for quenching thirst.  And this is  wine made for the table. 12.5% abv | 25,000 bottles| $25 
It's the most complex, captivating, and utterly enjoyable Rosé I have ever had!
While not for everyone, I highly recommend you try it at least once.
If you do decide to give it a try, be mindful about it serving it too cold.  (Although, if you let it get too warm,  it's one of those wines that if  you were blindfolded, You'd very likely have a hard time picking it as a Rosé. It has the feel of a chilled Gamay or Pinot Noir).
Note: Out of curiosity, I decided to check the availability of the wine.  It's sold out in the here in the U.S. and has been for years.   When I checked winesearcher.com , my search turned up two merchants.  One in Spain and one in Tokyo.  A couple clicks later I discovered the merchant in Spain was "Sold Out" and the Merchant in Tokyo had a "Contact Store" notation.  I think it's safe to say it's would be next to impossible to find.
Yep…a unicorn wine!
On My Plate
When pairing food and wine, do you pair humble with humble, great with great , or do prefer to have either the food, or the wine take center stage?   It depends for me, though more often than not, I prefer to have either the food or the wine take center stage.
And that's exactly what I did in this situation.
My wife and I adore Paella.  We make it often.  In fact, we make it so often, it's gone from a weekend meal to a weeknight meal.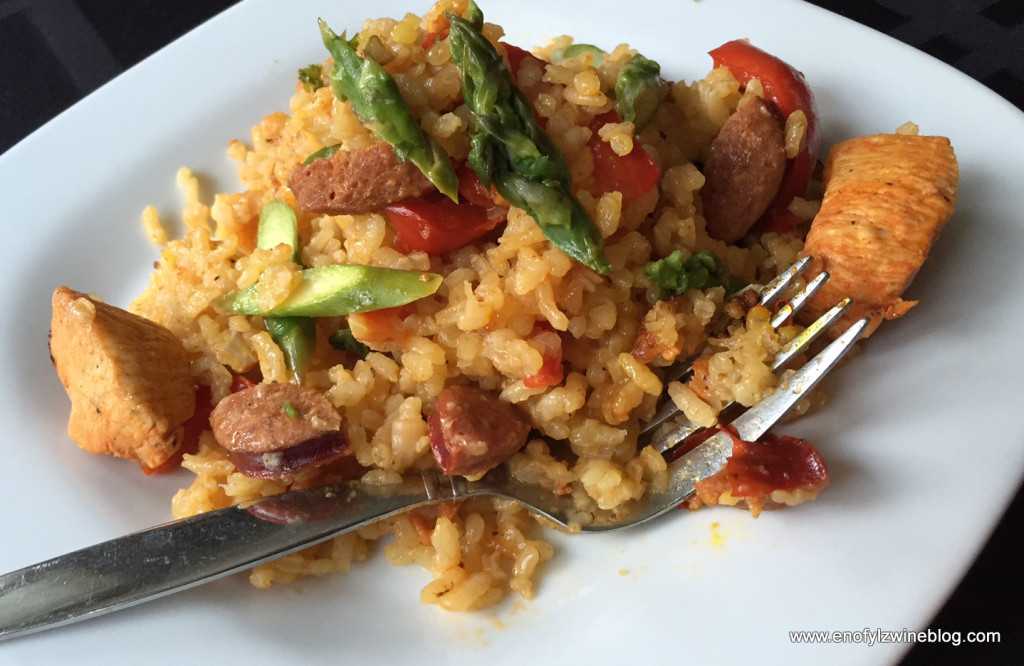 After arriving home from a long day of work, I was delighted to learn my wife prepared Chicken and Sausage Paella.
I've been waiting for a special meal to serve the LdH Rosé because….we'll because it's 16 years old and I wasn't sure if was still in a sweet spot, or declining.
I decided to go for it, and pair it with the Paella.
I'm glad I did!  The wine took center stage, and it elevated a pretty good weeknight meal into an overall great food and wine experience.   The the LdH Rosé was an excellent pairing with the Paella! 
For more great Rose and food pairing ideas, check out what my fellow #winePW bloggers have in store for you!
If you're up Saturday morning, June 11th at 11 am EST/8 PST, join us for a live Twitter chatter using #WinePW hashtag.   Anyone interested in food and wine pairing is welcome to join the chat.  For a list of past and upcoming #winePW events, visit the Wine Pairing Weekend calendar here. We'd love to have you online with us!
Our July event will be hosted by Jeff at foodwineclick, who has chosen Pairings with Sherry as the theme.
_________________________________________________________________________
Follow me on Twitter, Facebook, Instagram, Vivino and Delectable, for all things wine. As a wino with latent foodie tendencies, you'll also find food and wine pairings, and food related stuff! Become a fan and join ENOFYLZ Wine Blog on Facebook. Cheers! This article is original to ENOFYLZ Wine Blog.com. Copyright 2016 ENOFYLZ Wine Blog. All rights reserved.