The French Winophiles(#Winophiles) are doing a deep-dive into the Loire Valley region.  The Loire Valley is divided in to five distinct regions – Pay Nantais , Anjou/Saumur, Touraine, and Centre- Loire.  We've previously explored Pay Nantais , Anjou/Saumur.  This month we're exploring the Touraine region. I chose a wine from the Montlouis sub-region of Touraine.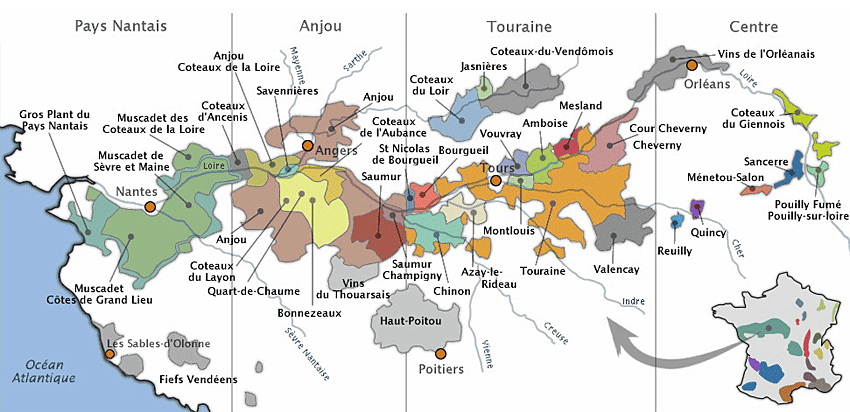 Touraine is a wine district at the very heart of France's Loire Valley wine region. Its main commercial center, the city of Tours, sits precisely half-way between Sancerre and Nantes (the home of Muscadet). The district follows the Loire river for roughly 60 miles (100km), from Blois in the east to Chinon and Bourgueil in the west. Beyond this the river continues into the adjacent Anjou district.
Touraine has its own generic regional appellation (simply called Touraine) which covers the entire district, as well as several titles that are more specific in terms of both location and wine style. These range from the dry, fruity reds of Saint-Nicolas de Bourgueil to the diverse whites of Vouvray and Montlouis. 
Wines made under the Touraine regional appellation may be red, white or rosé, and each color also comes in sparkling variants. The red wines are made principally from Gamay, Cabernet Franc and Malbec (known here as Côt), with smaller proportions of Cabernet Sauvignon and Pinot Noir. Their white counterparts are almost always based on Sauvignon Blanc, with the occasional addition of Sauvignon Gris. Touraine rosés, which account for about 10% of production, are created from the same varieties as the reds with the addition of the Loire's less-favored Grolleau Noir and Pineau d'Aunis, and even Pinot Meunier. (Source: winesearcher.com)
Montlouis is an appellation just east of the city of Tours, where white wines are made from the primary grape of the region, Chenin Blanc.  The wines are crafted in a multitude of styles — from bone dry to unctuously sweet; from still to two traditional types of sparkling wine, méthode traditionelle, made like Champagne, and Pétillant, which, with half the bubbles of Champagne, is creamier and less vigorously fizzy.
And there is a third style of sparkling wine Pétillant Originel (essentially a regulated pétillant naturel, or "Pet'Nat") which won legal status from the Institut National des Appellations d'Origine in 2007.  It is different from traditional Pétillant for two reasons. First, it only goes through one fermentation, rather than two.  And secondly and most significantly, Pétillant Originel must be absolutely natural – a product of the grapes harvested and no more. The designation also demands hand-picking, whole-bunch pressing and a minimum of nine months sur lattes before release.  And It is illegal to add either sugar or yeast at any stage of the wine's production (unlike sparkling wines produced using the first two methods such as Champagne).
As I was searching for a wine from Touraine, I came across the 2013 Domaine Le Rocher des Violettes Pétillant at my favorite wine shop. It caught my attention because I'm a fan of the ""Pet'Nat"" style of sparkling wine.
I dig the "natural" aspect of this style of sparkling wine and the soft creamy texture.
This one is made from old-vine (pre-WWII) Chenin Blanc.  1/3 of grapes were fermented in conical wooden vats, and 2/3 of the wine fermented in stainless steel tanks.  It aged on its lees for 24 months before the first disgorgement. Normally thereafter a portion of the stock is disgorged every month until 36 months, thus a given vintage sees 12 disgorgements.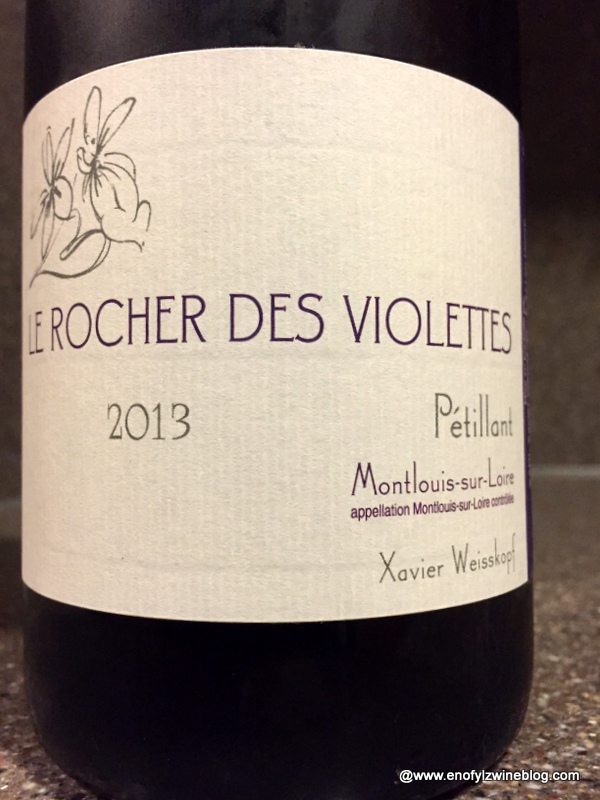 With such stringent requirements it should come as no surprise that there is only a handful of winemakers crafting pétillant originel in Montlouis.  Le Rocher des Violettes owner and winemaker Xavier Weisskopf was involved in developing the regulations. 
You will note the label indicates the wine as Pétillant, not Pétillant Originel.  That's because for the 2013 vintage,  the alcohol level was not in compliance with the requirements of the Pétillant Originel designation.
My tasting notes follow:
Pale yellow gold color with gentle stream of bubbles and chalk, yeast, under ripe white peach, lemon peel and orange blossom aromas. On the palate it's fresh, and dry with a soft creamy mousse and bruised apple, chalk and lemon peel flavors. A lovely Pet-Nat. 12% alcohol| SRP – $22
This was an intriguing and moreish wine, I would buy again.  It was lovely paired with take-out Thai of Pad Thai, Pineapple Fried Rice, and Garlic Fish.
Be sure to check out what my fellow #Winophiles are bringing to the table, and in their glass:
If you're up early enough please join in our live Twitter Chat on Saturday, May 21st using hashtag #Winophiles at 8 am PST/11 am EST.
Here's a list of upcoming Events:
June 18th – Upper Loire – Cheverny, Sancerre, Pouilly-Fume/Pouilly-Sur-Loire
July 16th – Medoc, Haute Medoc
August 20th – St. Emilion/St. Emilion Satelites
September 17th – Graves and Entre-Deux-Mers
We hope you'll join the fun!
_________________________________________________________________________
Follow me on Twitter, Facebook, Instagram, Vivino and Delectable, for all things wine. As a wino with latent foodie tendencies, you'll also find food and wine pairings, and food related stuff! Become a fan and join ENOFYLZ Wine Blog on Facebook. Cheers! This article is original to ENOFYLZ Wine Blog.com. Copyright 2016 ENOFYLZ Wine Blog. All rights reserved.