I love minerally, acid-driven white wines. They are refreshing and delicious on their own, and a great companion for a wide variety of foods at the table.
So, I was thrilled when I received four sample bottles of Chablis from Pure Chablis a couple of months back.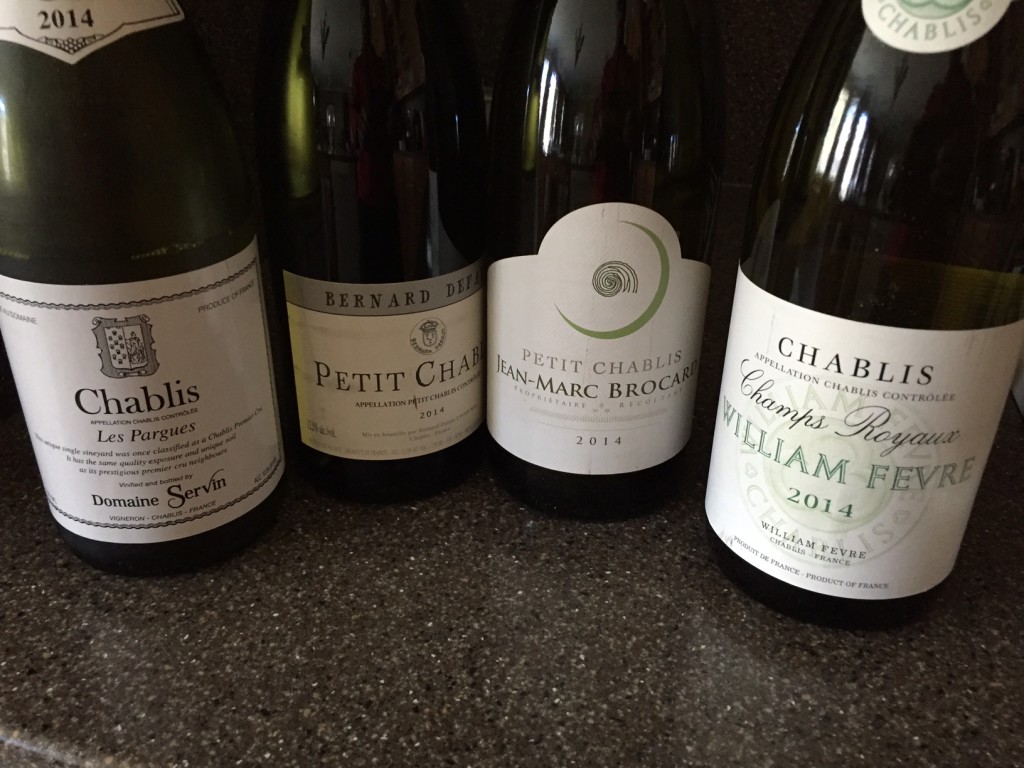 About Chablis
Pure Chablis is a trade organization that promotes and strengthens the image of Chablis wine in the US. Their motto is "Pure Chablis, one grape, one region, one of a kind. Pure Chablis, only from France"
The groups advocacy for Chablis is necessary because here in the US, there are cheap jug wines labeled as either "Chablis" or "White Burgundy"  that are misleading consumers and giving the Chablis "brand" a bad name.
So what, exactly is Chablis? Here's an overview of the region…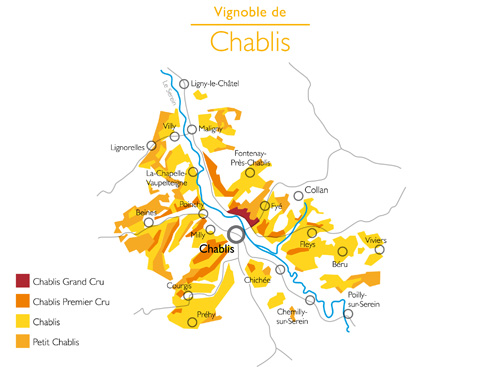 Wine has been made in Chablis for centuries.  The founding of the village of Chablis dates back to Roman times, as do Chablis' wines.
It's the northernmost subregion of Burgundy.  It located in the Yonne department between Paris and Beaune, a short hop from the Champagne region.
Chardonnay is the only grape variety permitted in Chablis
Granted AOC (appellation) status in 1938
What gives the region its unique "terroir" is a combination of its climate (harsh, cold and wet), and its clay soil referred to as Kimmeridge clay, that is composed of limestone, clay and fossilized oyster shells.
Chablis has four appellations (in ascending order of quality, power and depth)
Petit Chablis – Represents an entry-level Chablis.  Intended to be consumed young. Vineyards are located on flat ground.
Chablis – The grapes for this level are grown on north and east-facing hills.  These wines tend to show a bit more minerality, due to the high limestone content in the soil of the region.
Chablis Premier Cru – The grapes for this level are grown on south and west-facing hills.  As the name suggests, this level of quality takes it up a notch and produces wine with better aging potential.
Chablis Grand Cru – This is the upper echelon of Chablis, with only about 230 acres situated on one hill, on the north bank of the Serein River.  There are only seven vineyards from which to source the Grand Cru Chablis grapes. This level has the greatest potential for aging.
And in my mind, nowhere in the world does the spirit of Chardonnay manifest itself better than Chablis.  That's because of its unique terroir and because the wines rarely reveal any oak.   Instead Chablis is strongly influenced by its Kimmeridge soil that was a seabed some 150 million years ago. The result is wines that show a distinct sense of place and a minerality that I love.  I also think most of the wines end to be wonderfully undervalued.  There are plenty of very good to outstanding bottles to be had for under $20, and even the more expense Premier and Grand Cru bottles excellent relative value.
Chablis is Chardonnay, but not every Chardonnay is Chablis" – Rosemary George,MW
Chablis In The Glass And At The Table
In the past I've mostly enjoyed Chablis as an aperitif, or with a typical food pairing for such as oysters, snails, light seafood dishes, and poultry.  But with its high acidity, I wanted to try it with some other food.
So, over the course of a couple of months, I paired it with a variety of foods/cuisines.  My tasting notes and the results of the pairings follow:
2014 Domaine Servin Chablis Les Pargues – France, Burgundy, Chablis
Very pale yellow-green color with beautiful hay, white flower, green apple, citrus and wet stone aromas. On the palate, it's taut, and focused with mouth-watering acidity, and wonderful minerality with green apple, lemon and a hint of peach flavors. Long finish. (90 pts.)  Great QPR at $20 SRP!
The wine paired well with a homemade Salmon Burger.  Pairing the wine with a Chablis rather than a lighter bodied  Petit Chablis was a good choice.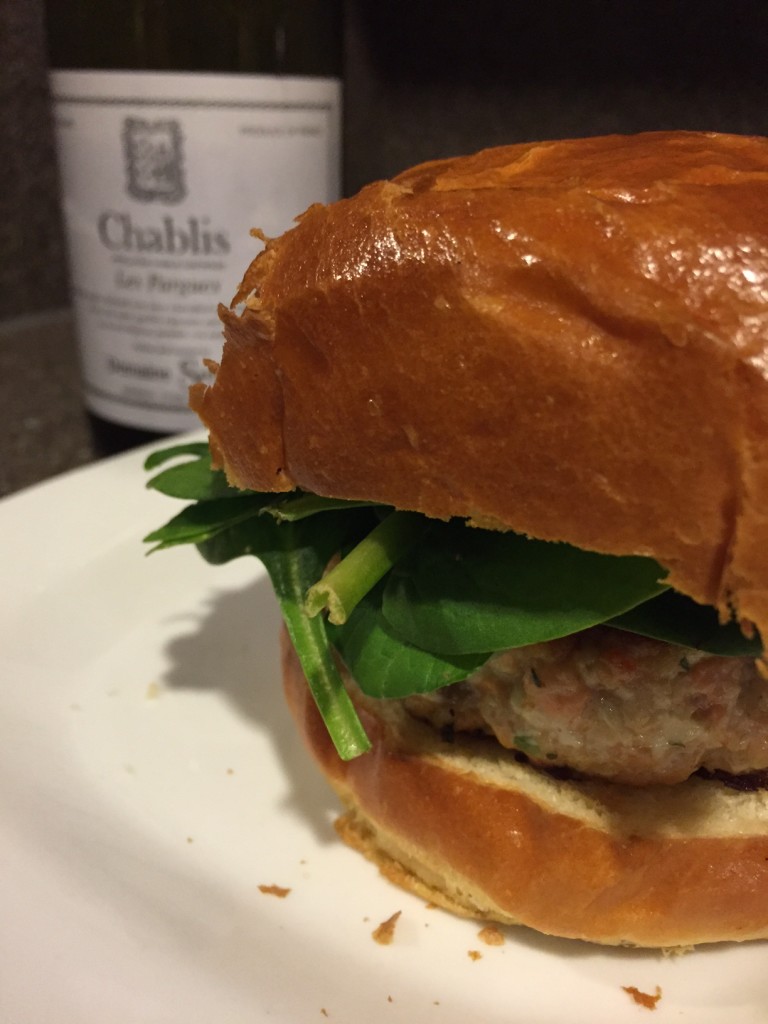 2014 Jean-Marc Brocard Petit Chablis – France, Burgundy, Chablis, Petit Chablis
Very pale yello-green color with restrained apple, citrus and slate aromas. On the palate it's light-bodied and fresh with apple, lime, a hint of grapefruit and under ripe white peach flavors and a solid satisfying finish. (87 pts.)
The wine was a very good paired with a few sushi rolls from our local favorite Japanese restaurant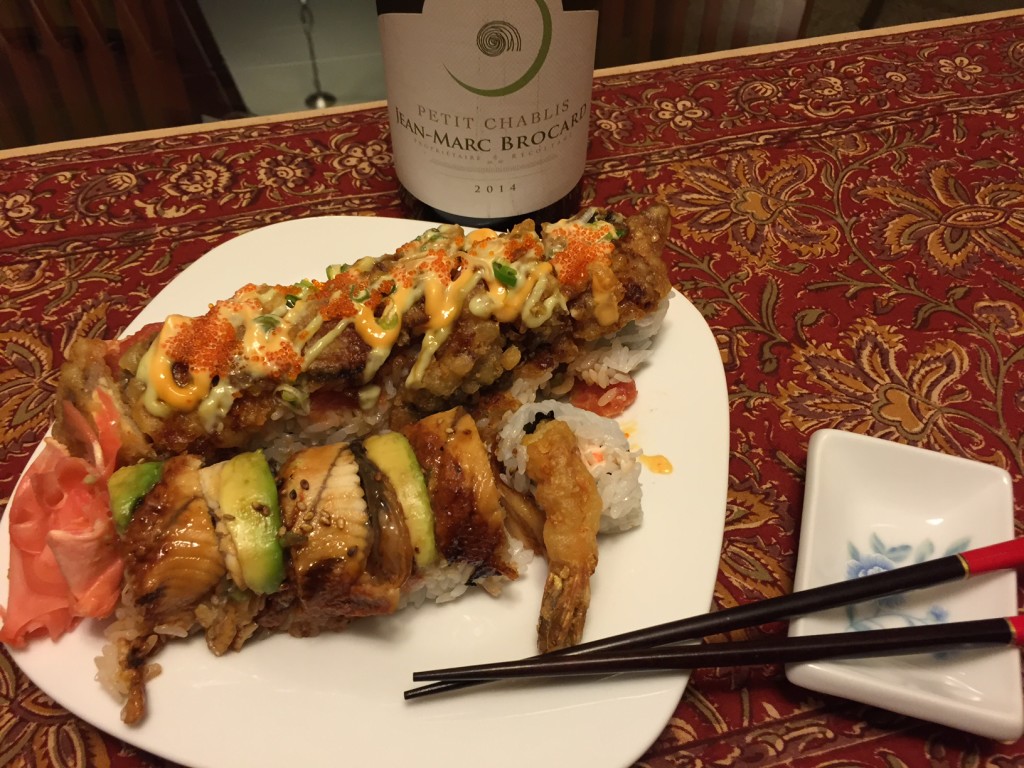 2014 Domaine Bernard Defaix Petit Chablis – France, Burgundy, Chablis, Petit Chablis
Very pale green color with wet clay, bruised apple, chalk and lime aromas. On the palate it's very fresh with an appealing minerality, and green apple, lime and a hint of white peach peeking through. (88 pts.)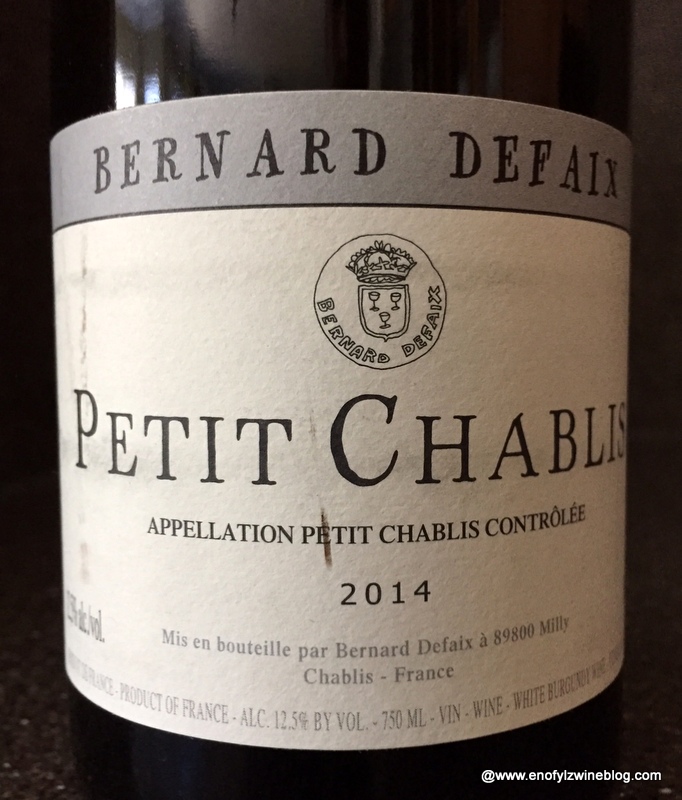 We paired this wine with take out Thai food. It paired especially well with pad Thai and crab fried rice.  And it found what I call "peaceful coexistence" with yellow curry and lemon fish.  This was a bit of an eye-opener. In the past I've typically paired Thai food with Riesling, Gewürztraminer or perhaps a Viognier. Chablis is now on my list too!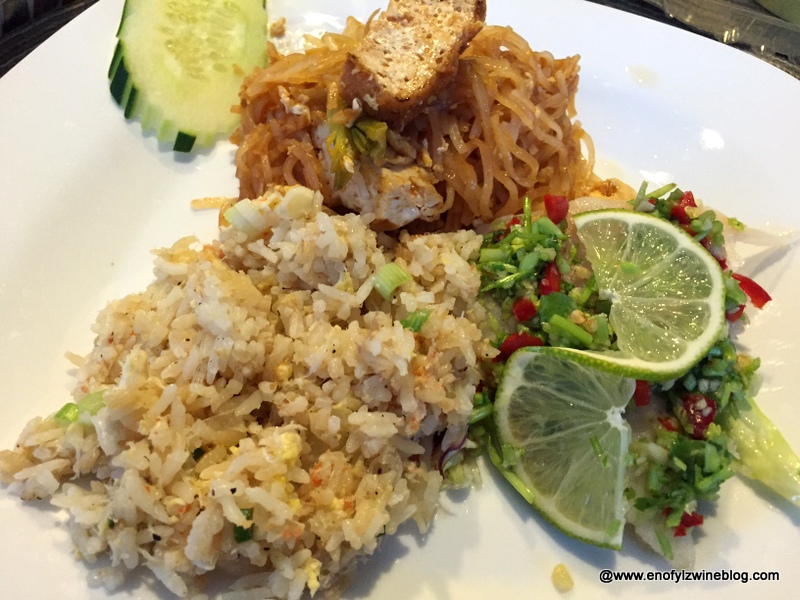 2014 Domaine William Fèvre Chablis – France, Burgundy, Chablis
Very pale green color with buttered toast, green apple, lemon, lime and wet stone aromas. On the palate it's approaches medium-bodied and is very fresh with green apple, mixed citrus and a hint of white peach flavors and an appealing minerality with a lingering finish. (90 pts.) Great QPR at $20!
We paired this with take out savory crepes from a local creperie.  It was an excellent match for both a Greek crepe of grilled eggplant, asparagus and tomatoes with feta cheese in pesto sauce, and a Florentine crepe of spinach and mushroom with mozzarella in pesto sauce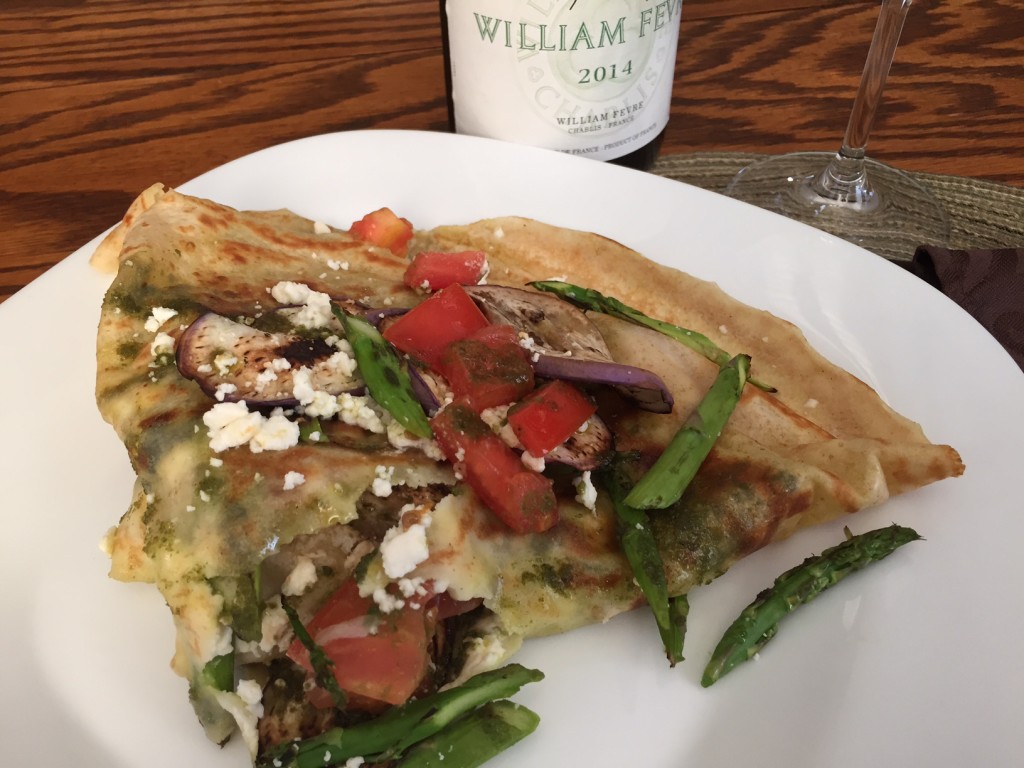 My takeaway?  While Chablis has a well deserved reputation for being a great aperitif and an excellent match with fish, shellfish and light poultry dishes, it's a more than capable partner at the table for a wide variety of dishes.  
For some great tips on matching food and Chablis click here
Check out the video below for more information about Chablis!
Wines provided as a samples for review.  Many thanks to Pure Chablis, the Chablis Commission and the BIVB!
_________________________________________________________________________
Follow me on Twitter, Facebook, Instagram, Vivino and Delectable, for all things wine. As a wino with latent foodie tendencies, you'll also find food and wine pairings, and food related stuff! Become a fan and join ENOFYLZ Wine Blog on Facebook. Cheers! This article is original to ENOFYLZ Wine Blog.com. Copyright 2016 ENOFYLZ Wine Blog. All rights reserved.