We're pairing fresh, seasonal spring foods with wines from the diverse and fascinating Southern Rhône region of France.
Wine Pairing Weekend is a monthly collaborative event for wine/food bloggers started by David Crowley of Cooking Chat.  It's a great way to find food and wine pairings that work (or learn from the ones that don't); along with tips on how to create your own food and wine pairing magic. Jill Barth of from L'occasion is hosting this month's Spring Meal Pairings for Southern Rhône Wines theme.  
On my plate
It was a sunny warm day in the Bay Area last weekend. And I was in the mood for smoked meat!  When I'm in such mood, I usually smoke pork ribs in my Weber.  But I was looking for a healthier option and I wanted to try something new.
I decided to smoke some chicken (which I've always barbecued).
The wine was no brainer for me.  I adore rosé, which I drink year-round, so that was my choice for my Spring BBQ plate of Smoked chicken, Potato Salad, and Kettle Cooked Wasabi Ginger Chips.
In my glass
Provence was top of mind, but when I think of rose from Provence I think of light-bodied rose with a character that is closer to a white wine than a red wine.  With the smoked chicken, I wanted a more substantial rose that was closer in character to a red wine.
My thoughts then shifted to Bandol and Tavel. Then I learned (I'd not really thought about it before given the the fact that Provence and the Southern Rhone share geographic proximity) that Provence isn't considered to be part of the Rhone.  And since Bandol is in Provence…Tavel was the last man standing so to speak.  And that was just fine with me! I'm a big fan of Tavel.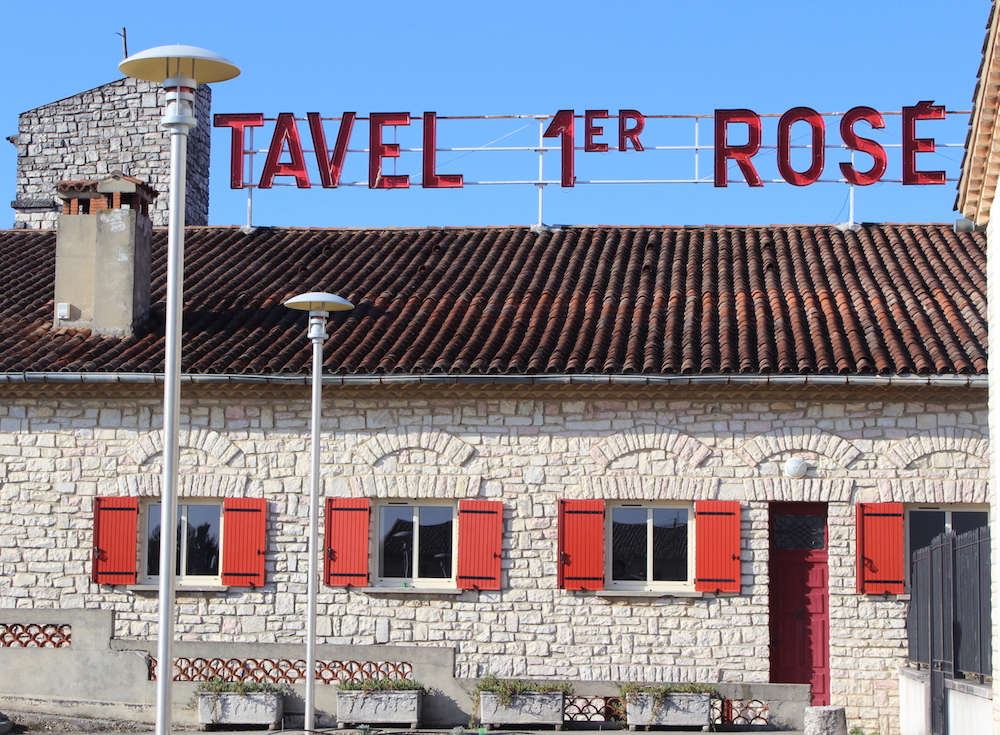 About Tavel
Tavel is a tiny, sleepy town of less than 2,000 sandwiched between the Languedoc and Provence in the southern Rhône Valley across the Rhône River from Châteauneuf-du-Pape, and just north of Avignon.
Tavel's vineyards date back to the Greek era and the 5th Century BC.  During the middle ages, wines from the region were a staple of the ancient papal court in nearby Avignon and a favorite of Louis XIV and Philippe le Bel  – so much so that they decreed that nothing else should be produced. To this day, Tavel is synonymous with rosé.  In fact, this AOC created in 1936, has dubbed themselves "Le Roi des Rosés" – " The King of Roses".
Gorgeous Tavel dresses in a thousand shades of pink to seduce and captivate the senses. Luminous like no other wine, it inspires the chef, the eater and the eaten. – Christophe Tassan; Sommelier and Rhone Ambassador
It is one of the 18 crus (meaning it truly express their individual 'terroir') of Rhone, putting in on par with the likes of the more renown crus such as Châteauneuf-du-Pape, and Côte-Rôtie. It  is the only communal appellation in France exclusively for rosé wines.
Grenache reigns as the primary varietal for the Tavel blends. Cinsault, Mourvedre, Syrah & a few other Rhone varieties are often used in smaller amounts.  The wines contain a maximum 60% Grenache, and have a maximum alcohol content of 13.5%. The best examples of Tavel – always bone dry – combine freshness with complexity of fruit and intensity.  And most, when cellared correctly, will improve for several years in bottle.
My tasting notes:
2014 Cave de Tavel Lauzeraies – France, Rhône, Southern Rhône, Tavel 
Deep pink-red color with strawberry, cherry, and a hint of rose aromas. On the palate it's medium-bodied, and fresh with strawberry, cherry, white pepper, spice and a hint of citrus flavors.  Blend of  50% Grenache, 20% Syrah, 20% Cinsault, 10% Mourvedre.  A steal for $10 (no doubt because it's from the 2014 vintage)  Very Good ; 88-89 pts.  Will buy more!
The food and wine pairing
In a word pairing of my Spring BBQ plate of smoked chicken, potato salad, and potato chips was "Scrumdiddlyumptious! It was a great pairing. I love a robust rose with some weight for BBQ. And this Tavel is was great example of the weight of the wine being a match for the weight of the food.  It is truly un vin gastronomique!
Check out the other food and wine pairing put together by the other Wine Pairing Weekend bloggers for this month's Spring Meal Pairings for Southern Rhône Wines theme.
If you're up early join us Saturday, April 9th at 11 am EST/8 PST for a live Twitter chatter using #WinePW.  Anyone interested in food and wine pairing is welcome to join the chat.  For a list of past and upcoming #winePW events, visit the Wine Pairing Weekend calendar here. We'd love to have you online with us!
_________________________________________________________________________
Follow me on Twitter, Facebook, Instagram, Vivino and Delectable, for all things wine. As a wino with latent foodie tendencies, you'll also find food and wine pairings, and food related stuff! Become a fan and join ENOFYLZ Wine Blog on Facebook. Cheers! This article is original to ENOFYLZ Wine Blog.com. Copyright 2016 ENOFYLZ Wine Blog. All rights reserved.