Trousseau.  It's an obscure grape variety one doesn't hear much about.  Last week I had the pleasure of enjoying three harmonious, outstanding, and moreish wines crafted from the two varieties of Trousseau; Trousseau Noir and Trousseau Gris. 
I was introduced to Trousseau when I attended a Seven % Solution Tasting in 2014. According to the organizers of the tasting – "Roughly 93% of Northern California Vineyard acreage is planted to eight grape varietals. The remaining 7% of acreage is home to an impressive aggregation of lesser known varietals".
There were a few Trousseau that were among my favorites of the tasting. Inspired by the my Seven % Solution experience, last year I purchased bottles of Trousseau from Rootdown, Sandlands, and Two Shepherds.
About Trousseau
According to Winesearcher.com, Trousseau Noir is a dark-skinned wine grape originally from …northeastern France, but which has made its way over the centuries to vineyards in northwestern Spain and various parts of Portugal. As one might expect of a well-traveled variety with a long history, it goes by various names, the most notable of which are Bastardo (Portugal),Merenzao and Verdejo Negro (Spain). The Jura region, in the mountains of eastern France, can call Trousseau its own. The variety is one of Jura's two indigenous grapes (the other is Poulsard). 
Trousseau Gris  is a light-skinned mutation of the dark Trousseau grape variety, originating in eastern France. Though the mutation is believed to have occurred in Europe, Trousseau Gris is better known as a Californian variety under its synonym, Gray Riesling. Traditionally, it has been used to give body and aromatics to white and red blended wines, but it is coming into its own as a varietal wine. that were new to me. The variety has long been planted in California, although it lost ground there throughout the course of the 20th century. Now, it is mostly planted among other vines in "field blend" vineyards along the west coast, where it is combined with all manner of other varieties. That said, there is a dedicated Trousseau Gris vineyard in Sonoma's Russian River region, making some high-quality wines. That vineyard is the Fanucchi-Wood Road Vineyard.  It's the only planting of Trousseau Gris in California.  It's only 10 acres and was planted 40 years ago.   
The Wines
The three wines I enjoyed included a white from Trousseau Gris, plus two wines from Trousseau Noir, a rosé and a red.
Here's my recap of the wines (in order tasted):
2014 Rootdown Trousseau Gris Upper Mokelumne Watershed
Rootdown Wine Cellars is owned by Mike Lucia, whose day job is assistant wine maker for Copain.  The wine was sourced from Amador County from a vineyard planted in 1970 for making port style wines.  The grapes were food stomped and soaked for 15 hours on skins to for weight and texture.  Retail – $21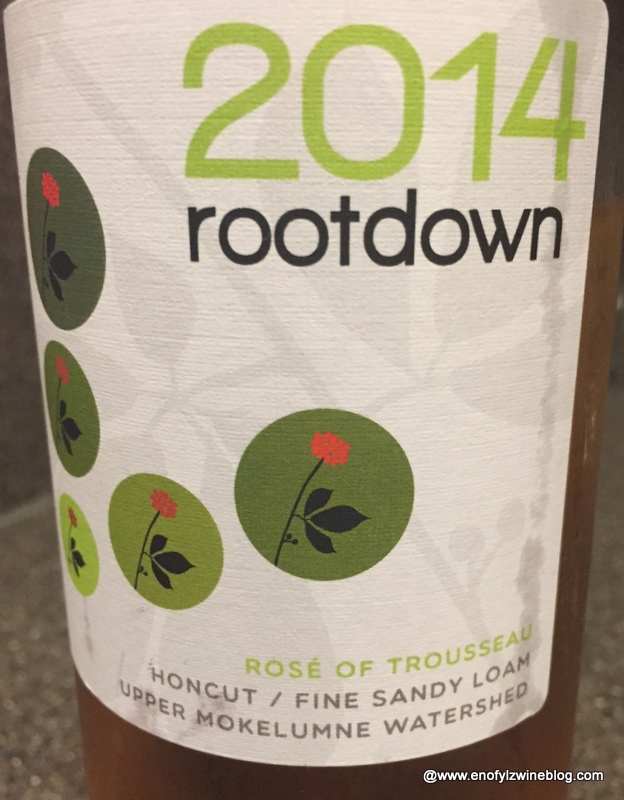 My tasting note:
A delicious, refreshing and harmonious rosé of Trousseau Noir.  Pale salmon color with wet stone, citrus, bit of spice and earth aromas. On the palate it's dry and very fresh with tangy acidity and passion fruit, peach, spice, mineral flavors. A hint of tannins add to this well structured wine. Outstanding; 90-91 pts
Where to buy: I purchased from Vintage Berkeley. You might also check with winemaker Mike Lucia (mike@rootdownwinecellars.com) directly.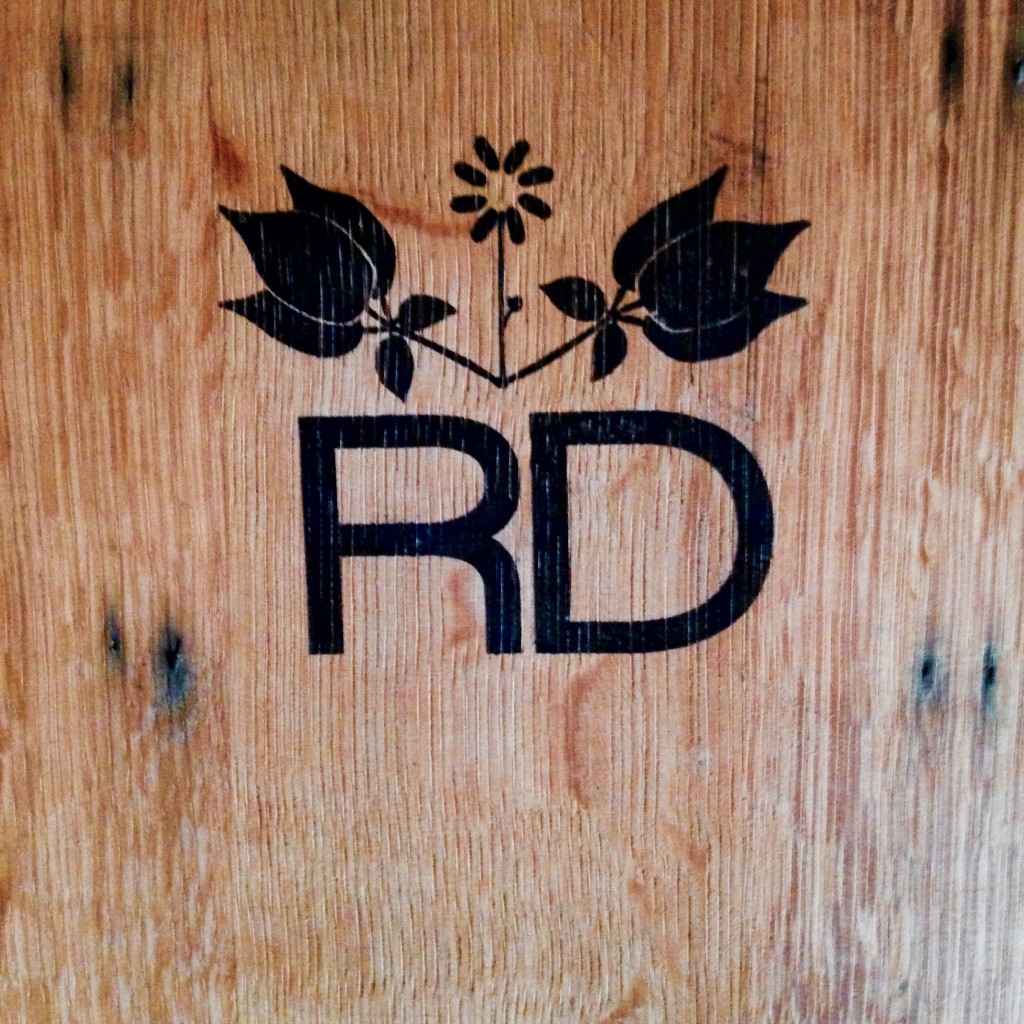 About Rootdown  Wine Cellars
Rootdown Wine Cellars is an individually owned wine brand based in Healdsburg, California. Winemaker Mike Lucia focuses on producing wines from subsoil and watershed influenced vineyards.
2013 Sandlands Trousseau
This wine is sourced from the Bohan Vineyard located on the Sonoma Coast in the remote town of Cazadero.  Planted at 1400 feet 3 miles from the Pacific Ocean, the Sandlands, section of the Bohan Vineyard (about an acre) sits in gravelly loam soils derived from sandstone and shale  It used to be planted to Merlot,  but was grafted over to Trousseau from the Luchsinger Vineyard by Sandlands owner Tegan Passalaqua.  2012 was the first vintage of this wine.
For 2013 5 barrels were produced  Retail – $28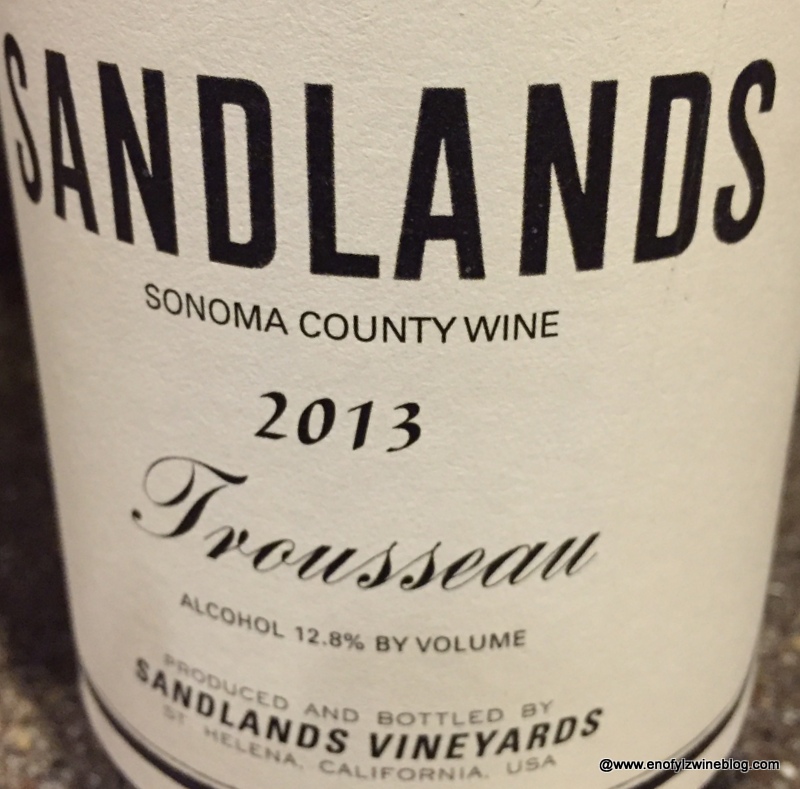 My tasting note:
Bing cherry color with appealing and lifted pomegranate, cherry aromas and floral aromas complemented by hints of clay, and mint. On the palate it's light-bodied, refreshing and well structured with an elegant, savory, and alluring character. It shows pomegranate, plum, cherry, and baking spice flavors with a very giving finish. Outstanding; 91-92 pts
Where to buy; Sandlands wine are allocated to members of their mailing list.

About Sandlands
From the winery…Sandlands is the personal project of Tegan and Olivia Passalacqua. The line-up encompasses the forgotten classic California varieties, primarily grown in decomposed granite (sand), from regions and vineyards that have been farmed for many generations but have remained the outliers of California viticulture.  Primarily head-trained, dry-farmed and own rooted, the vineyards we work with harken back to California's roots of exploration, wonder, and hard work.
2013 Two Shepherds Trousseau Gris
From the Fanucchi-Wood Road Vineyard located across the street from proprietor/winemaker William Allen's farm. 2013 was the only vintage made as a white wine (2012, and 2014 are both skin-fermented white or orange wines)  Picked early for fresh acidity, fermented with native yeast, then aged in neutral French Oak for 7 months. Unfiltered and unfined.  37 cases produced.  Retail – $28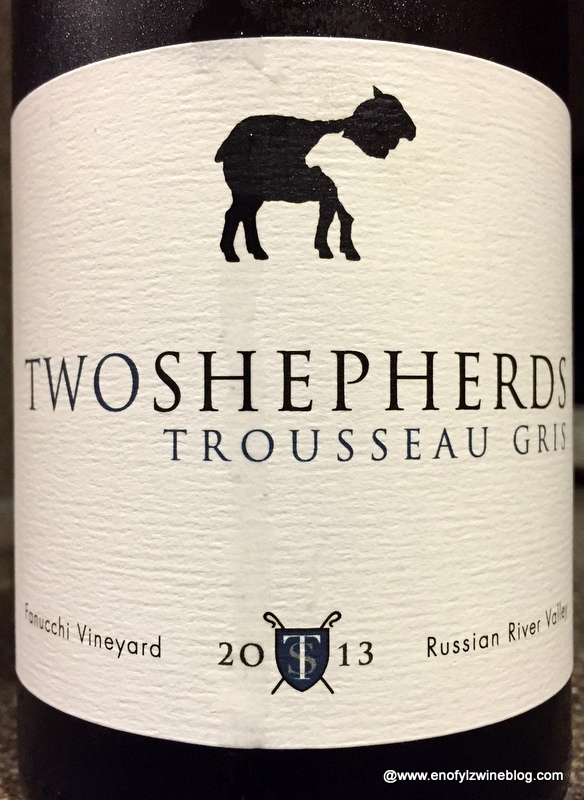 My tasting note:
Slightly hazy pale gold color with very appealing honeysuckle, peach, a hint of yellow melon and spice aromas. On the palate it's medium-bodied, fresh, and harmonious with a great texture. It shows pear, peach, and spice flavors complemented by an appealing minerality and a giving finish. Outstanding; 91-92 pts
Where to buy; Purchase from Two Shepherds (and consider checking out their 2014 skin fermented Trousseau Gris – I will!)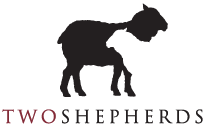 About Two Shepherds
From the winery…
Two Shepherds: Shepherd of the Palate, Shepherd of the Grape
Two Shepherds is the labor of passion by William Allen, well-known Rhône enthusiast and former wine writer, blogger.  William was a garagiste for years before moving into commercial production in 2010.
Two Shepherds represents "shepherd of the palate" as his palate and recommendations are still widely followed on social media, despite no longer writing, and "shepherd of the grape" incorporating his minimal intervention, winemaking philosophy, which requires careful oversight, from vineyard to bottle.
Two Shepherds is a one man micro winery, committed to making old world style wines that express vintage and place.  William often jokes there aren't two shepherds, but actually half shepherd, as in addition to making  a multitude of small lots, doing all production, sales, marketing work, he has a full-time "day job" that funds the winery and its growth.
Two Shepherds specializes in Rhone varieties (e.g. Grenache Blanc, Mourvèdre, Roussanne,) from cool climate vineyards and unique plantings, made with minimal intervention.  Use of native yeast, no additions other than minimal S02, neutral barrel and concrete fermentation and aging, whole cluster, and unfined, unfiltered production are core philosophies of Two Shepherds. Production has grown from 175 cases in 2010, to 1000 in 2013.
Ninety percent of the wines are sold direct to list, with a handful of selected restaurant and retail partners in California, and a tiny distribution in New York, Minnesota, and Washington DC.
My Takeaways
All three wines were outstanding with a harmonious, gorgeously textured, slightly spicy character.  They offer very good value (all were under $30), and were very food friendly.
If you're looking for a wine off the beaten path, you owe it to yourself to seek out Trousseau.  Especially these wines.
After finishing the Two Shepherds, I checked my cellar for more Trousseau.
Sadly, there were none…I'm going to have to rectify that situation!
Cheers!
_________________________________________________________________________
Follow me on Twitter, Facebook, Instagram, Vivino and Delectable, for all things wine. As a wino with latent foodie tendencies, you'll also find food and wine pairings, and food related stuff! Become a fan and join ENOFYLZ Wine Blog on Facebook. Cheers! This article is original to ENOFYLZ Wine Blog.com. Copyright 2016 ENOFYLZ Wine Blog. All rights reserved.