"Long dismissed as an innocuous companion to oysters, Muscadet is stepping out as a white wine serious enough to nip at the heels of white Burgundy" – Jon Bonné
This month the French #Winophiles continues its virtual tour of Frances with a visit to Pay Nantais. When I first saw Pay Nantais was our region, I wasn't familiar with the name. Then I realized it was the region I've always known as simply "Muscadet".
Ah, the beauty of wine…it's a life-long journey of learning!
About Pay Nantais
Pay Nantais is sub-region of the larger Loire Valley. It is located on the Atlantic coast of Brittany, near the city of Nantes. Wine has been produced in the region since the Roman era.  The region is renowned for Muscadet, a crisp white wine from the Melon de Bourgogne grape.
Muscadet wines are produced under several different appellations, of which the most famous (and most prolific) is Muscadet Sevre-et-Maine.
I was introduced to Muscadet years ago when I was searching for a wine that would pair well with raw oysters. Since I adore raw oysters, I've enjoyed quite a few very good bottles of Muscadet over the years.
But Muscadet has a bit of a reputation.  And it's (mostly) not been good. That's because the Melon de Bourgogne grape is widely considered to produce bland and uninteresting wines.  As a result, after peaking in the 80s, Muscadet lost its way and fell on hard times.
More recently though, thanks to innovative and passionate producers committed to elevating the quality and standing of Muscadet, the regions has proven that Melon de Bourgogne can make outstanding wines with a minerally, intense  character that offer great value.  And whose food pairing potential extends well beyond raw oysters.
In my glass
Over the years, I've had some good Muscadet (the Michel Delhommeau "Harmonie" Muscadet Sèvre et Maine Sur Lie has been my go-to for years), but the 2009 Chéreau-Carré Muscadet de Sèvre-et-Maine Le Clos du Chateau l'Oiseliniere is unlike any Muscadet I've ever had.  It was made from 80 year-old vines.  And  this wine spent an amazing 31 months on the lees in cement vats. Muscadet are often compared to Chablis, but this one brings to mind White Burgundy (at a fraction of the price).
Though it turned out the be the best Muscadet I've had thus far, initially I almost didn't purchase it because it was from the 2009 vintage.  I'd never purchased a Muscadet  that more than a year or two old before thinking all such wines were best enjoyed while young and still "fresh".
Well, the truth  of the matter is that the best Muscadet can age beautifully for decades.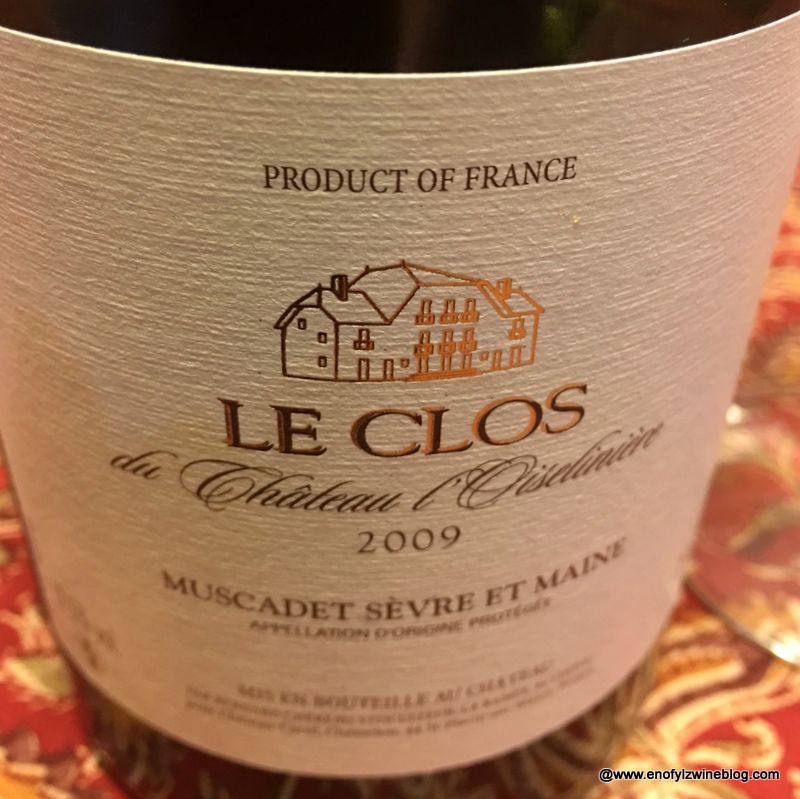 My tasting notes follow:
Pours very pale yellow tinged green color with enticing yellow apple, mixed citrus (lemon, grapefruit and a hint of lime) wet stone aromas with hints of white flower, honey and lees. On the palate its dense, focused and fresh with great texture. It shows apple, lemon, subtly spiced mandarin orange, and honey flavors with an appealing vein of minerality, and a long finish.  Outstanding; 90-91 pts.
From the winery: The House of Chéreau Carré occupies the most privileged position in the Loire-Atlantique department of France. This family-owned property dates back to the 15th century. The vines here are some of the most prized in the region of the Sèvre-et-Maine. The property is managed by Bernard Chéreau, whose family origins date back to the eleventh century. Bernard's passion for Melon de Bourgogone is evident in the quality of his wines. Château l'Oiselinière, meaning "owl's nest," comes from a very privileged site located on the northern bank of the Sèvre, near the confluence of the Sèvre and Maine rivers. It is 10 hectares of 40 to 80-year-old vines facing Southeast, enclosed by the two rivers and surrounded by forests. The soils here are schist and orthogneiss. Two wines are sourced from this vineyard site and both are fermented with indigenous yeasts and aged on the lees in cement tanks… the Le Clos de Château l'Oiselinière, sourced from a two hectare plot of the older vines within the vineyard, is aged for 31 months
On my plate
I prepared Cat Cora's (seared) Sea Scallops for dinner and planned to pair the wine with that dish.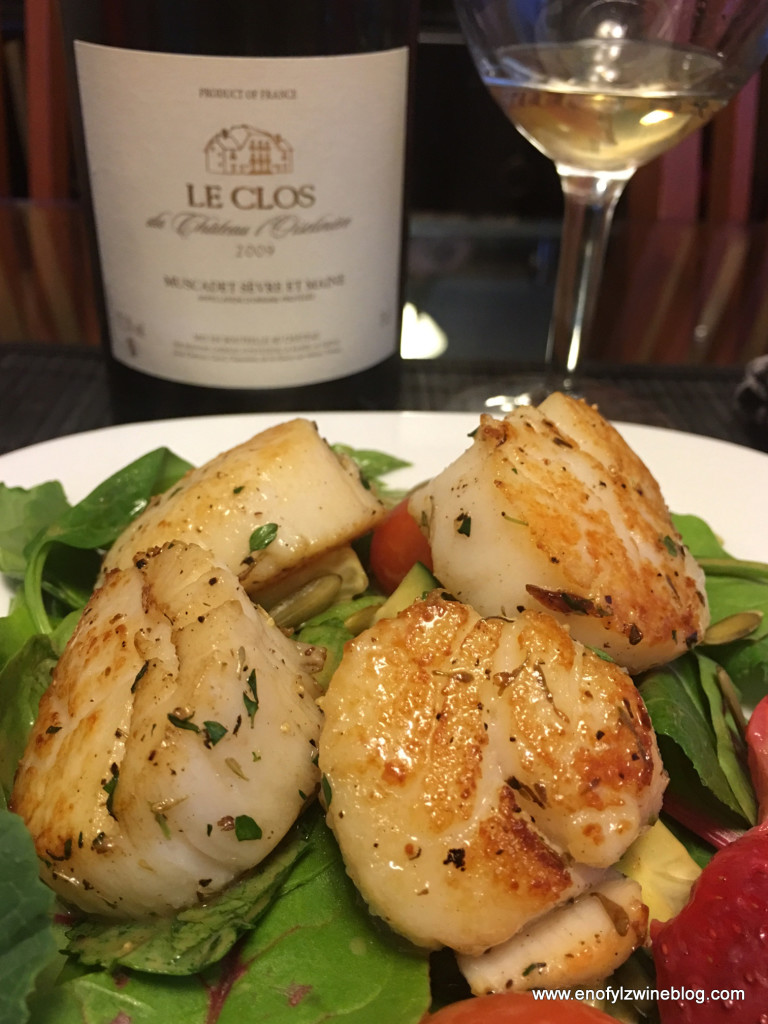 But my wife decided to whipped up a Yellow Salmon Curry for lunch, and after having shared a bit of the wine before lunch, I thought it would play well with the Salmon Curry.
I was spot on. The wine paired beautifully with both dishes!
Be sure to check out what my fellow #winophiles discovered on their plates, and in their glasses!
Join us on Saturday, March 19th for a live Twitter Chat at 8 am PST/11 am EST using hashtag #Winophiles to share your favorite wines, food, and travel experiences from Pays Nantais.
_________________________________________________________________________
Follow me on Twitter, Facebook, Instagram, Vivino and Delectable, for all things wine. As a wino with latent foodie tendencies, you'll also find food and wine pairings, and food related stuff! Become a fan and join ENOFYLZ Wine Blog on Facebook. Cheers! This article is original to ENOFYLZ Wine Blog.com. Copyright 2016 ENOFYLZ Wine Blog. All rights reserved.