Of all the wine "holidays" (Cabernet Day, Chardonnay Day, etc), Open That Bottle Night ("OTBN") is my favorite.  That's because it's a great opportunity for fellowship around food and wine, and making memories with the special people in our lives.
OTBN was created by former Wall Street Journal wine columnists Dorothy Gaiter and John Brecher.  It's the one night a year that we are all encouraged to get out that bottle of wine that is so special that no occasion seems special enough to actually open it.
My wife and I have been celebrating (and hosting) OTBN since 2010.  After one of our wine-loving friends hosted a magnificent OTBN last year, it was our turn this year.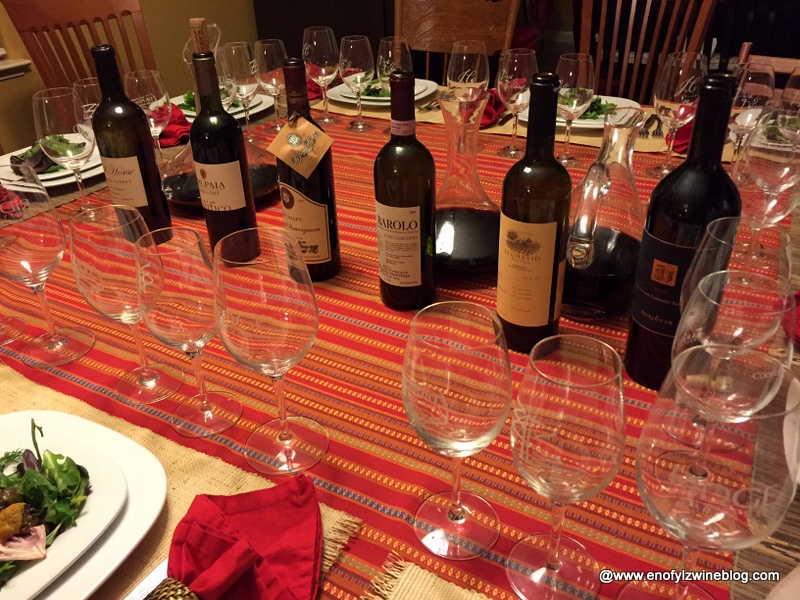 As is my wont, I picked the wine, then decided on the food.  A quick story behind my wine…We adore Barolo, but it's a treat for us, so we rarely drink it (which of course makes no sense) The  2001 Conterno Fantino Barolo Sorì Ginestra has been in our cellar for five years! Not so long for wine collectors, but I consider myself more of a wine drinker…so five years was plenty long!
Once I decided on the wine, I decided to prepare a favorite we hadn't had in years – Cook's Illustrated's Hearty Italian Meat Sauce (Sunday Gravy). It's their take on an Italian-American meat sauce recipe that didn't require a long list of ingredients and many hours to prepare. It includes Italian sausage, baby back ribs, and time-consuming braciole is replaced with standout meatballs.  And I do mean standout – the best meatballs I've ever eaten!
The evening by the numbers,  four and a half hours, eleven people, eleven wines, and 33 wine glasses!
Here are the wine and food menus — you will have to imagine the stories.
The Wine Menu (our contributions in bold italic)
Sparkling Wines:
Mitchell Katz
Christophe Mignon Champagne Extra Brut
2009 Louise Brison Champagne Millésimé Brut
Germano Ettore Langhe Nebbiolo Rosanna Rosé Brut
The Italian Wines
2010 Castello di Volpaia Balifico Toscana IGT
2001 Conterno Fantino Barolo Sorì Ginestra
2014 Saracco Moscato d'Asti 
The Cal-Ital, California and Washington Wines
2009 Seghesio Family Vineyards Quindici Toscana IGT
2010 Darioush Cabernet Sauvignon
2004 Mark Ryan Dead Horse Ciel du Cheval Vineyard
2010 V. Sattui Winery Cabernet Sauvignon 125th Anniversary
Click on the photos below to enlarge and see slide show