One of the things I love most about food and wine is their ability to transport one to a different place.  I think a place's people, culture, and customs are reflected in its food and wine.  In that sense, one can virtually travel the world through food and wine.  And that is exactly what we are doing through Italian Food Wine and Travel (#ItalianFWT).  We are taking a virtual tour of Italy by exploring its food and wines.  This month we're exploring Molise!
The thing I love about the "Old World" is its rich history.  Much of it unfolds before us like an epic drama rife with  epic battles for territories, assassinations, and self-proclaimed kingdoms.
For example, take Molise.  It's the ancestral home of the Samnites – fierce gladiators would regularly take on, and defeat Roman legions.  But after the fall of the Roman Empire, Goths and Lombards invaded the territory, which was part of Abruzzo. But it's also been part of Campania, and Puglia (Apulia) neighbors to the South.  It's as if no one wanted the place.  It was eventually absorbed with Abruzzo to create the overarching Abruzzi region. It remained part of this combined region until 1963.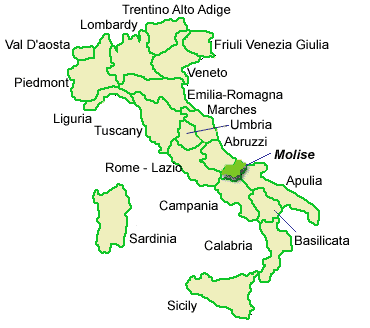 It's a mountainous and sparsely populated region sandwiched between the Apennine ridge to the west and the Adriatic Sea to the east. It's Italy's second smallest region after the Aosta Valley, and certainly not top of mind for visitors to Italy.
It's a remote land of immense natural beauty, history, art and age-old traditions that will take you on a journey off the beaten path to experience another kind of Italy – a largely undiscovered Italy.  Though its cities lack the luster of Italy's more renowned areas, they possess a humble authenticity and charm that provide a window into old-fashioned Italian life and culture.
Wine has been made in Molise as far back as 500 BC with influences coming from the Samnites, Etruscans and Romans.  In the 18th and 19th century Molise's boasted the most extensive vineyards in the Kingdom of Naples.  But the region extremely mountainous terrain discourage production of quality wine (I'm sure WWII didn't help either) Today there are approximately 7,700 hectares under vine, including a mix of native and international grapes. The most common red varieties are Montepulciano and Sangiovese, but Aglianico, Barbera, Merlot, and Cabernet Sauvignon grow too. White grapes include Trebbiano Abruzzese (and Bombino Bianco, with which it was long confused), Trebbiano Toscano, Malvasia Bianca Lunga, Malvasia Bianca di Candia, Falanghina, Greco, Chardonnay, and Pinot Bianco. About 10% of the region's total wine production is of DOC wines ( Biferno, Molise and Pentro di Isernia).  Of the three Biferno is the most well-known.
In my glass
From producer Di Majo Norante comes the 2011 Di Majo Norante Molise Biferno Ramitello.   It's a  wine made from a selection of the best Montepulciano (80%) and Aglianico (20%) grapes grown in the Ramitello vineyard. After fermentation in stainless steel, the wine was aged in a combination of stainless steel tank s and barriques for eighteen months.  It was ranked #74 Wine Spectator Top 100 of 2014.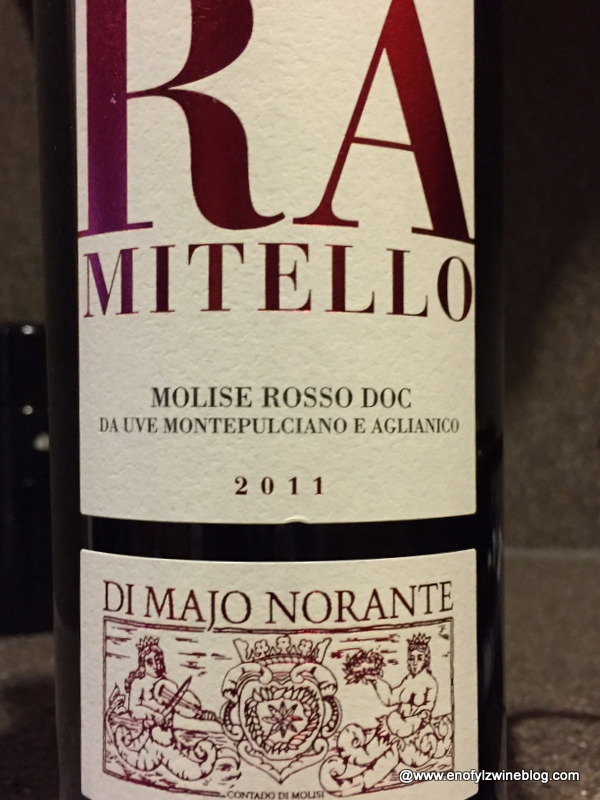 My tasting notes follow:
The wine is a deep black red color with appealing black fruit and floral aromas.  On the palate it medium-bodied, and fresh with a rustic edge, showing blackberry, plum, black cherry, black currant, spice and a hint of bittersweet chocolate flavors, and a lingering satisfying finish.
On my plate
As I was checking out the cuisine of Molise, quite naturally given its agricultural tradition, I keep coming across either pork or lamb dishes. Or seafood dishes.  I've been limiting my intake of meat since last year, so I wanted something vegetarian that would pair well with the red wine.  These days eating less (or no) meat is motivated by healthy lifestyle choices.  It hasn't always been that way.  Molise has historically tended to be less prosperous than Abruzzo.  As a result, the currency in Molise was not money, but livestock. Because of this, the livestock that was raised was more valuable to sell in Abruzzo than it was to eat. This is why many of the dishes typically served in Molise were vegetarian.  I don't know if it's still that way today, but certainly there was a time when la cucina povera ("cooking of the poor") was born of out of necessity rather choice.
With that in mind, I opted for Portobello Parmesan recipe by Giada De Laurentiis.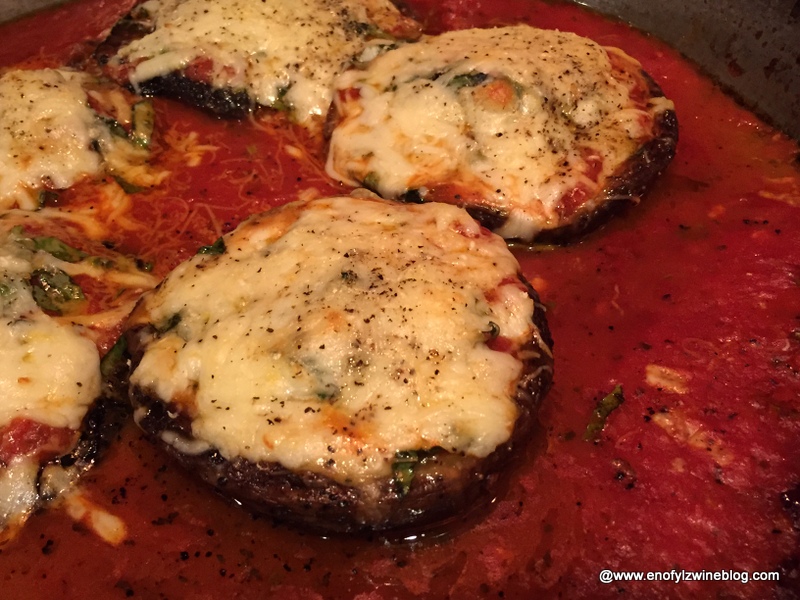 The dish was a perfect weeknight vegetarian meal.  It's definitely one I will make again. Portobello mushrooms have an inherently meaty quality.  The addition of Parmigiano Reggiano and Mozzarella cheese up the umami quotient which made for a wonderful pairing with the wine!
Check out more Molisan food and wine delight from my fellow bloggers:
If you're up early enough, join us live on Twitter Saturday March 5th at 8am PST @ #ItalianFWT to chat about Molise.  Next month we travel to Puglia on April 2nd!
_________________________________________________________________________
Follow me on Twitter, Facebook, Instagram, Vivino and Delectable, for all things wine. As a wino with latent foodie tendencies, you'll also find food and wine pairings, and food related stuff! Become a fan and join ENOFYLZ Wine Blog on Facebook. Cheers! This article is original to ENOFYLZ Wine Blog.com. Copyright 2016 ENOFYLZ Wine Blog. All rights reserved.