I can hardly believe it, but after giving it much thought, I came to realize that I've never had a still wine from Alsace!  I've always wanted to because when it comes to dry white wines made from Riesling, Gewürztraminer, Pinot Blanc, and Pinot Gris, Alsace has a reputation for being the preeminent wine region in the world!  And I'm a big fan of all the aforementioned grape varieties, especially Riesling and Pinot Gris! 
Which is why I'm excited the French Winophiles (#Winophiles) virtual tour of France takes us to Alsace this month.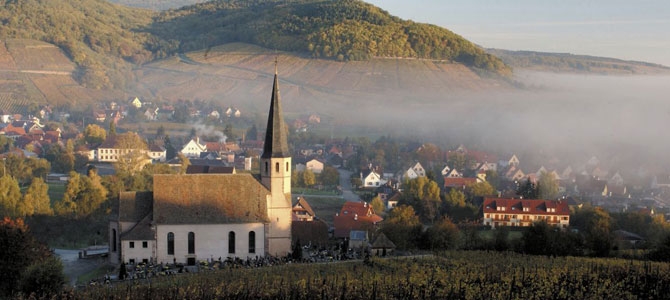 While I've not had any still Alsatian wines, I've had quite a few Cremant d'Alsace, which is the sparkling wine produced in the region using the same painstaking traditional method used in Champagne.  Indeed, my current favorite under $20 sparkling rosé is the  Allimant Laugner Cremant d'Alsace Rosé.  If you're looking for a sophisticated sparkling rose wine that won't break the bank, I highly recommend checking out a pink Cremant d'Alsace!
About the Alsace
Alsace is tucked into the northeast corner of France.  It lies between the Vosges mountains and the French border with Germany, marked by the Rhine river.  Because of its strategic location, the region has switched back and forth between French and German sovereignty in recent centuries.  As a result, Alsace is a mish-mash of both cultures, as evidenced by its architecture,  and language (though mostly French is spoken these days, German, and other Alsatian dialects may be heard)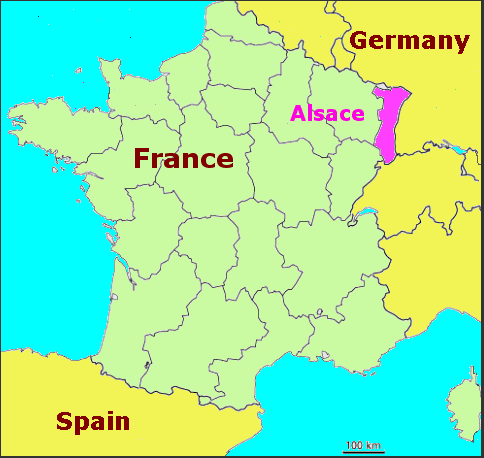 It shouldn't come as a surprise then that Alsace wines are dominated by German grape varieties, (Alsace is the only French wine region to grow significant quantities of Riesling and Gewürztraminer), but crafted in a distinctive style.
Think German grapes with a French soul!
The Alsace wine-growing region is long and narrow.  Its wines are produced under three AOCs (aka Appellation d'Origine Contrôlée): Alsace and Alsace Grand Cru for still white wines (both sweet and dry), and Cremant d'Alsace for sparkling.  White varietal wines make up 90% of production.  The Riesling is the dominant grape variety, but Pinot Blanc is a close second, followed by Gewürztraminer, Pinot Gris and Pinot Noir.
Alsace AOC wines make up 74% of the wines produced in the region followed by Cremant d'Alsace (22%) and Alsace Grand Cru (4%). All Alsace wines are bottled in a tall thin bottle known as a Flûte d'Alsace.
In my glass
Because Riesling is the signature grape of the region, and Trimbach arguably the region's most renown producer, I chose the 2012 Trimbach Riesling.  It was ranked  of Wine Spectators Top 100 Wines of 2014. And the The price was certainly right at $17!
Everything about Trimbach, from its charming estate to its sleek wines to the family that makes them, is elegant, understated, and classic. – Ed Comstock; The Terroirist
Trimbach is a family owned and operated winery that has been making wine since 1626!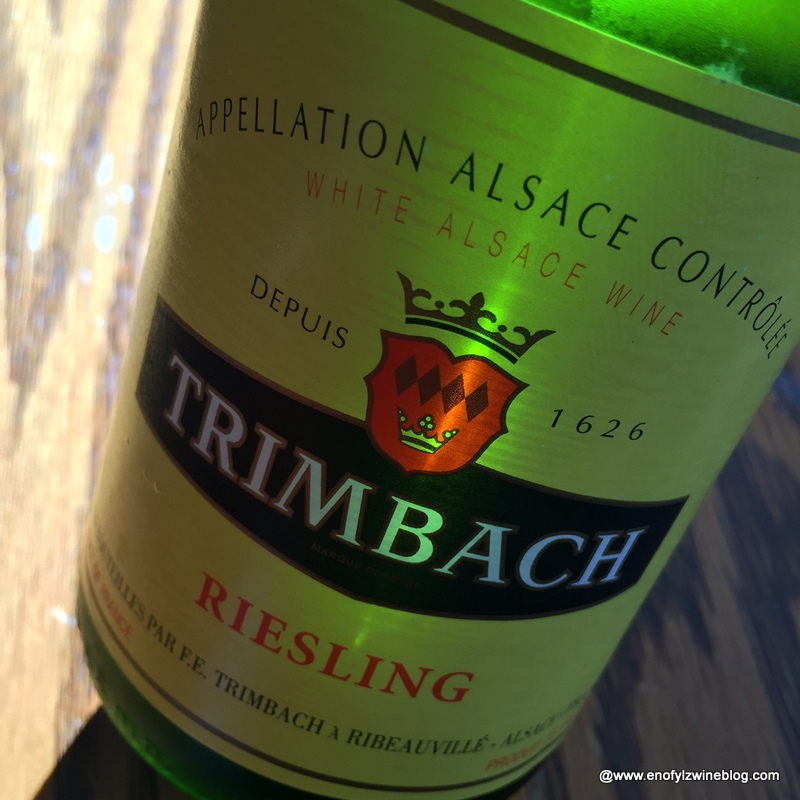 My tasting notes follow:
The wine pours a pale golden yellow color with promising petrol, ocean spray, citrus, peach and touch of honey aromas. On the palate it's between light and medium-bodied, and dry with mouthwatering acidity. It's sleek, understated and impeccably structured with a great texture. It shows white peach, honey, and citrus (sometimes lime, sometime lemon, even a whisper of mandarin orange) flavors with a long concentrated finish.
The Food Pairings
I was all set to prepare an Alsatian dish – Choucroute au poisson –Sauerkraut with Fish in Cream Sauce, when my wife announced she was planning to prepare Chicken Estofado.
Sauerkraut, or choucroute as it is known in Alsace, along with pork are major players in Alsatian cuisine.  I'm not a huge sauerkraut fan, but I like to keep an open mind to new culinary experiences.  But I wasn't bitterly disappointed when my wife told me of her plans.
Chicken Estofado is similar to Chicken Adobo, but the use of plantain and star anise gives the dish a distinctive flavor while adding a bit of spice and sweetness.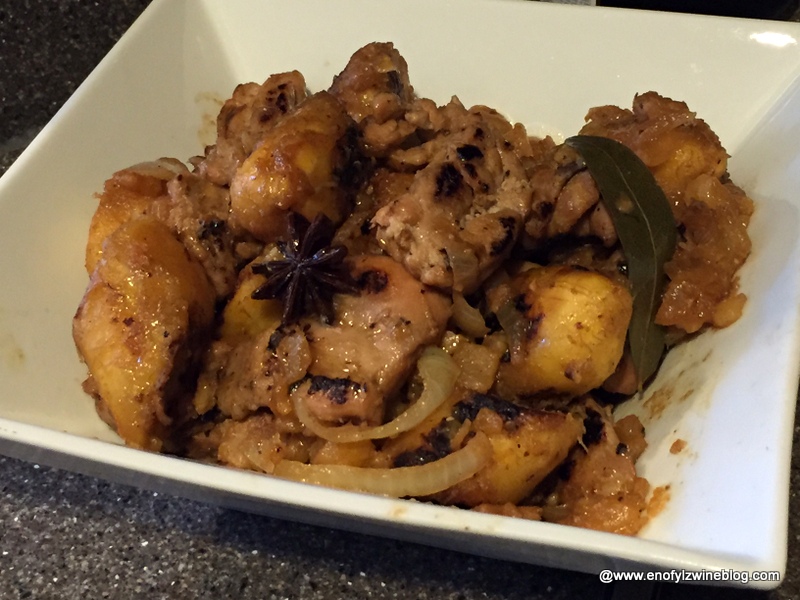 I had this dish for the first time when we visited the Philippines last month. It was my first visit. And this was one of the more memorable dishes for me.
My sister-in-law passed along the recipe (sort of a recipe really – more like an Ole Skool "here's the stuff the goes into it with no specific measurements) to my wife.

Chicken Estofado
Author:
Gigi Yulo Redmond
Prep time:
Cook time:
Total time:
A variation of Chicken Adobo that uses plantain and star anise to create a distinctive variation on the Filipino classic
Ingredients
2 cloves of garlic minced
½ chopped onion
½ c pineapple juice
2 Star anise pods
2TBSP Soy Sauce
1 TBSP vinegar
2 or 3 bay leaves
1lb boneless chicken thighs, cut into chunks
Salt
Fresh ground pepper
2 Plantain
3 TBSP Olive Oil
Instructions
Season chicken chunks with salt and pepper.
Pan fry in a non-stick pan in 1 or 2 TBSP of olive oil until browned. Set aside chicken pieces
In the same pan, garlic until fragrant and slightly brown. Add chopped onion and continue to cook another 5-10 minutes until soft.
Add chicken back to pan
Add soy sauce, vinegar, pineapple, bay leaves, and star anise pods.
Cover and simmer for 20-30 minutes.
While chicken simmering, in a separate pan , brown sliced plantain in 3 TBSP of olive oil for 5-7 minutes.
Add plantain to chicken and simmer for the last 10 min or so of the simmering chicken.
Serve over rice
The other dish we prepared was Seafood (Shrimp & Oyster), Chicken, and Andouille Sausage Gumbo(you'll find my "base" recipe
here
). We usually make the dish every New Year's day, but we were in the Philippines this year, so we didn't get around to it until now.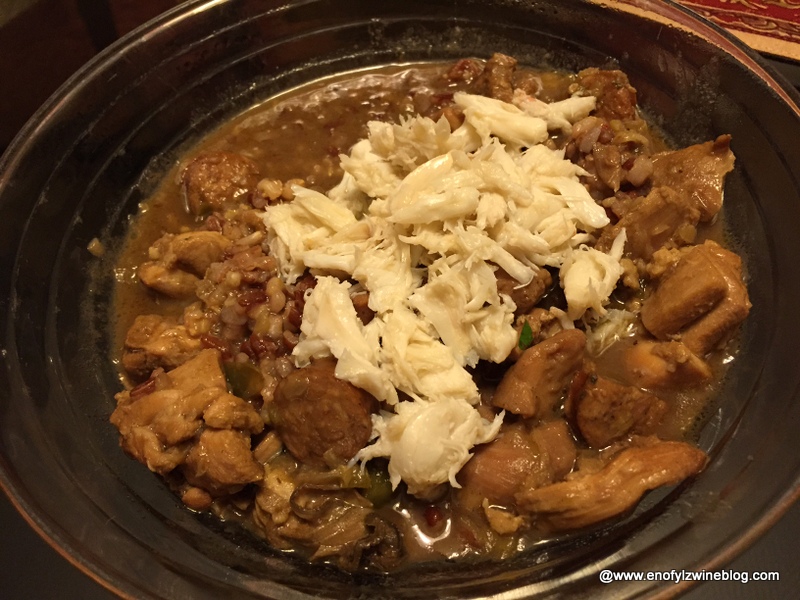 The wine paired wonderfully with both dishes.  The wine's crackling acidity provided cleansed the palate, and the weight and texture of the wine complimented both dishes.  If I While both pairings were very good, if I had to choose one over the other, I'd give the edge to wine with the Chicken Estofado.
Check out these other wonderful food and wine pairings my fellow French #Winophiles are featuring for this week's Alsace theme!
If you're reading this early enough, join us Saturday, February 18th for a live Twitter Chat at 10 am CST using #Winophiles.
Upcoming #Winophiles events: Loire Valley Tour
March 19th  – Pays/Nantes
April 16th – Anjou/Saumer
May 21st – Touraine/Vouvray
June 18th  – Upper Loire – Cheverny, Sancerre, Pouilly-Fume/Pouilly-Sur-Loire
_________________________________________________________________________
Follow me on Twitter, Facebook, Instagram, Vivino and Delectable, for all things wine. As a wino with latent foodie tendencies, you'll also find food and wine pairings, and food related stuff! Become a fan and join ENOFYLZ Wine Blog on Facebook. Cheers! This article is original to ENOFYLZ Wine Blog.com. Copyright 2016 ENOFYLZ Wine Blog. All rights reserved.