Wine Pairing Weekend Celebrates the Valentine's Day
The theme for this month's Wine Pairing Weekend (#WinePW) is Valentine's Day. Perhaps it's because I'm a romantic. Or perhaps because I'm a Leo, I like to "go big" for Valentine's Day. And for my wife and I that special occasion meal often calls for  "Surf and Turf"
On my plate
Normally, when I'm doing a food and wine pairing post, I do my cooking the weekend before.  No such luck last weekend.  We were rippin' and runnin' all weekend.
I still wanted to do Surf and Turf worth of a special occasion meal, but I needed something that I could pull together on a weeknight. After doing some research on the world-wide web, I found a recipe for Whole Wheat Penne with Lobster and Bacon by Giada De Laurentiis.
The list of ingredients included lobster, bacon and heavy cream.  I'd say that qualifies for a special occasion meal! Plus, it had a 5-star review from 50+ reviews and total time to prepare was under an hour! 
Done and done!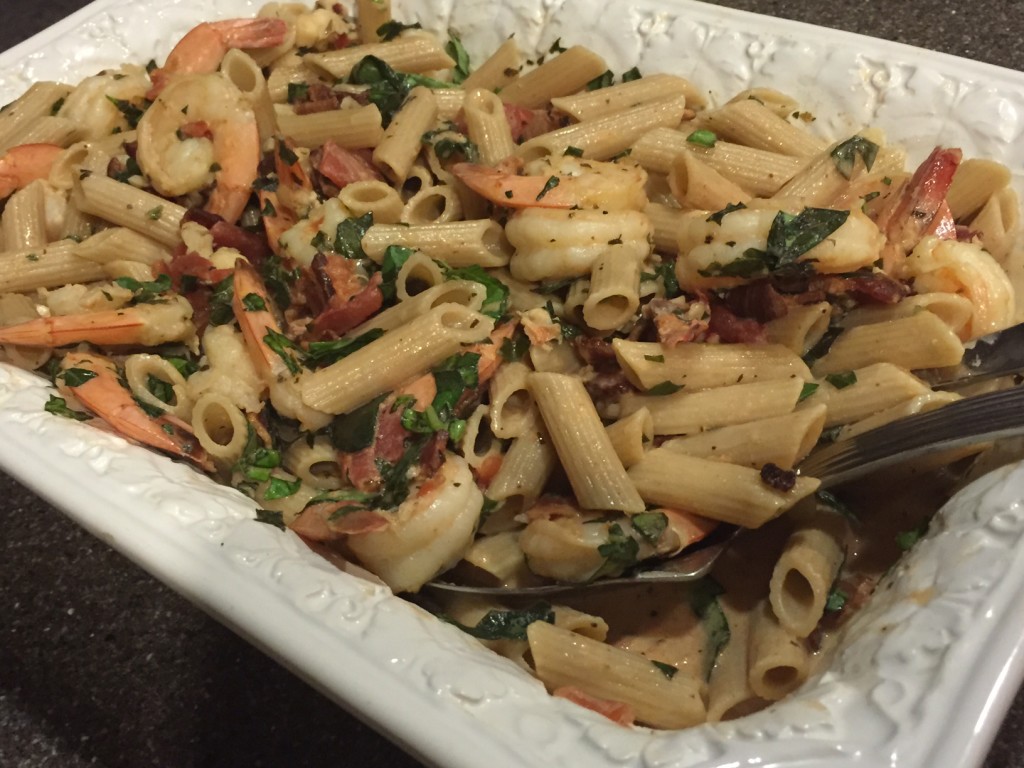 The recipe is relatively easy to prepare.  The only changes I made to the recipe were to use 3/4 lb of bacon and pasta (I did substitute gluten-free pasta because that's what was in the pantry) rather than a pound.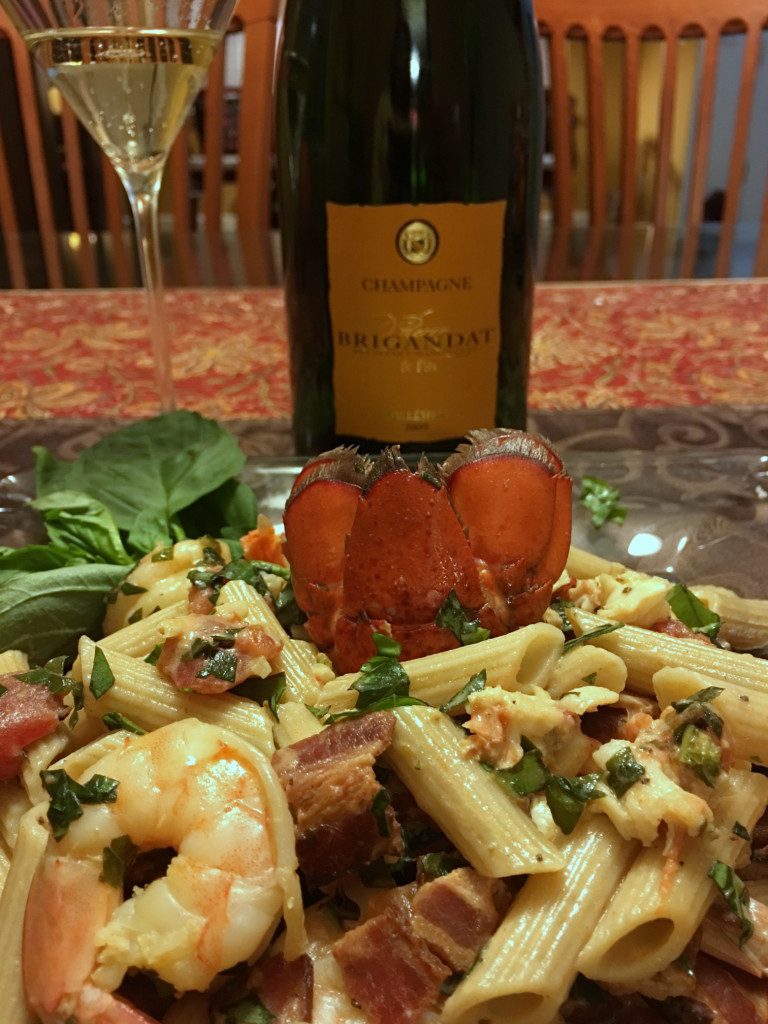 My wife and I both absolutely loved this dish!  It's a 5-star recipe in my book.  It's a nice twist on traditional surf and turf that delivers plenty of succulent seafood, immersed in a light, but creamy, smoky, bacon-y sauce.
Dim the lights.  Light the candles, play your favorite romantic music, and serve with a salad and your favorite Valentine's dessert and you'll be in for a gastro-romantic treat! 
We had seconds, and had to talk ourselves out of thirds.  And the dish was history the next day!
Oh yeah..it's a meal worthy of a special occasion!
In my glass
No wine engenders romance like champagne.  There are many famous quotes about love and romance. And quotes about champagne.  Surprisingly there are not a lot of quotes about them together.   My favorite is this…"The feeling of friendship is like that of being comfortably filled with roast beef; love is like being enlivened with Champagne." – Samuel Johnson.
Then there are the lyrics from this song sung by Billie Holiday – which are new to me…
You go to my head;And you linger like a haunting refrain
And I find you spinning 'round in my brain
Like the bubbles in a glass of champagne 
Yes, champagne, just like that special someone,  offers a je ne sais quoi." that may defy mere words. It must be experienced. Is it any wonder champagne is in my glass on this most romantic of holidays? I chose the 2009 Pierre Brigandat Champagne Brut.
From the winery: …this is 100% Pinot Noir. It is a very powerful and complex wine. Tasting notes include pear, strawberry, more oyster shell-type minerality, brioche, intense aromatics, medium-weight, fine bead. On CellarTracker this wine is rated 92 points.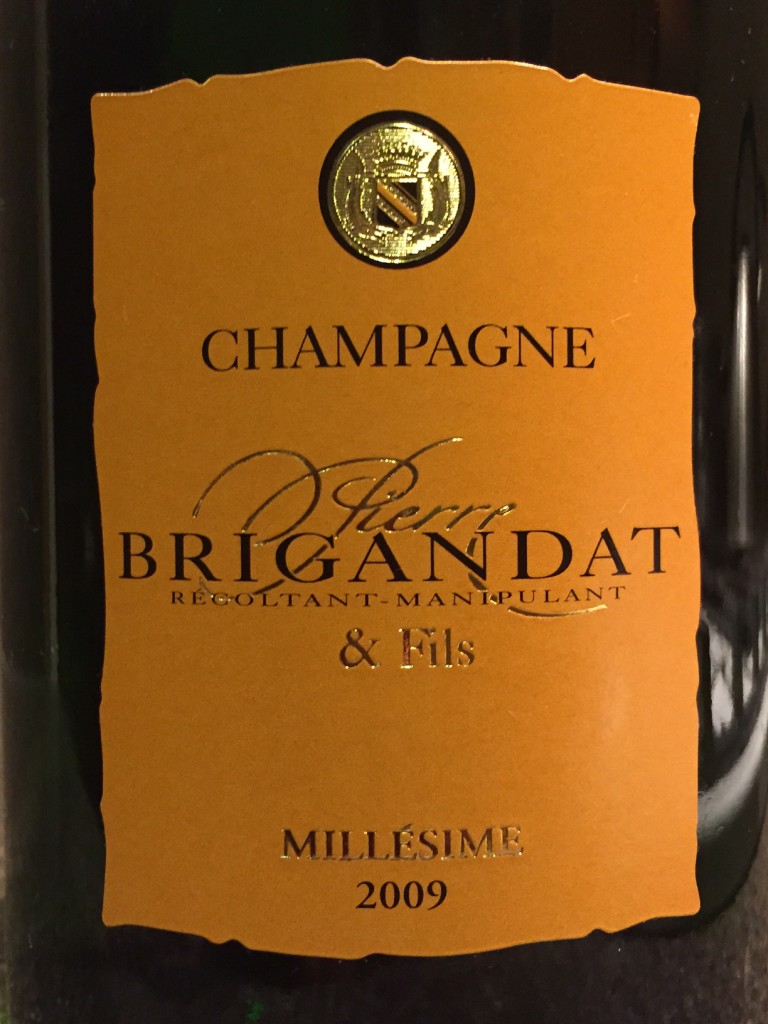 My tasting notes follow:
Very pale almost clear gold with a green tinge color and a tiny persistent bead, and pie crust, green apple, guava, and citrus zest aromas. On the palate it's full-bodied, nuanced and well-balanced with zesty acidity and green apple, lemon-lime zest, guava, and a bit of pear flavors with an appealing vein of minerality! Highly recommended!
The Food and Wine Pairing
This was a good pairing. The champagne and the Surf & Turf found (mostly) peaceful coexistence. The lively acidity of the Champagne cut the richness of the dish a bit and cleansed the palate for the next bite.  It also played very well with the seafood. The bacon overwhelmed the champagne a bit though.  In retrospect, I think a rosé champagne would have been a better choice. Note: I had a bottle of Pinot Noir open, so I tried it the the dish, but to my palate it overwhelmed the seafood.
This was a good example of the challenge with pairing wine with Surf & Turf.  The Surf and the Turf seem to demand two completely different wines. One may not be able to find an acceptable compromise with one wine (thought I'd place my bet on either rosé champagne, or still rosé).
Have you found a successful Surf & Turf (traditional or otherwise?) and wine pairing?
For more Valentine's Day inspiration, make sure to check out the rest of the wonderful food and wine pairings for served up during this week-long #WinePW celebration!
Jade from Tasting Pour:
Jeff from Food Wine Click – Perfect Wine for a Sparkling Valentine's Day Celebration
Nancy from Pull That Cork – Shepherd's Pie and Burgundy: A Cozy Valentine's Day Pairing
Kirsten of The Armchair Sommelier – My Squashy Valentine
Jennifer from Vino Travels – Sparkle Your Valentine's Day with Brachetto from the Roero with Demarie
David of Cooking Chat –
Michelle from Rockin Red Blog – Valentine's Day in the South of France with #WinePW
Sarah from Curious Cuisiniere – Gougeres (French Cheese Puffs) and Blanquette de Limoux
Cindy from Grape Experiences:
Lori from Draceana Wines – Need a Valentine's Wine? As You Wish.
Diana from Wine Pass shares – Valentine Risotto and Rich Chocolate Beet Cake with Brachetto d'Acqui
Valerie of Girls Gotta Drink – A Moscato Food Pairing: Moscato for Breakfast Anyone?
Wendy from A Day in the Life on A Farm – Asian Tuna and Noodles with Rodney Strong Pinot Noir
Camilla of Culinary Adventures with Camilla :
Christy from Confessions of a Culinary Diva:
And if you're up early join us Saturday, February 13th at 11 am EST/8 PST for a live Twitter chatter using #WinePW to share your favorite Valentine's Day Pairings.  And get ready for the March #winePW, where we will share our Open That Bottle Night experiences. Check out the upcoming and past Wine Pairing Weekend events on this page.
Billie Holiday – You Go To My Head – "You Go to My Head" is a 1938 popular song composed by J. Fred Coots with lyrics by Haven Gillespie.
_________________________________________________________________________
Follow me on Twitter, Facebook, Instagram, Vivino and Delectable, for all things wine. As a wino with latent foodie tendencies, you'll also find food and wine pairings, and food related stuff! Become a fan and join ENOFYLZ Wine Blog on Facebook. Cheers! This article is original to ENOFYLZ Wine Blog.com. Copyright 2016 ENOFYLZ Wine Blog. All rights reserved.