One of the things I love most about food and wine is their ability to transport one to a different place.  And a  place's people, culture, and customs are reflected in its food and wine.  In that sense, one can virtually travel the world through food and wine.  And that is exactly what we are doing through Italian Food Wine and Travel (#ItalianFWT).  We are taking a virtual tour of Italy by exploring its food and wines.  This month we're exploring Calabria!
About Calabria
In the Italy's deep south, in the 'toe' that kicks Sicily into the Tyrrhenian Sea, far away from the traffic filled highways and hordes of tourists is Calabria.  It was colonized by Greeks who name it Enotria; "land where the vine is cultivated high above the earth."  It is a place with whitewashed buildings perched upon steep cliffs over ultramarine seas.   It is a place with a diverse landscape where picturesque towns and villages are bracketed by mountains and the Tyrrhenian coastline.  It a land at once poor, yet rich in history. It is a place that is a throwback to the authentic la dolce vita!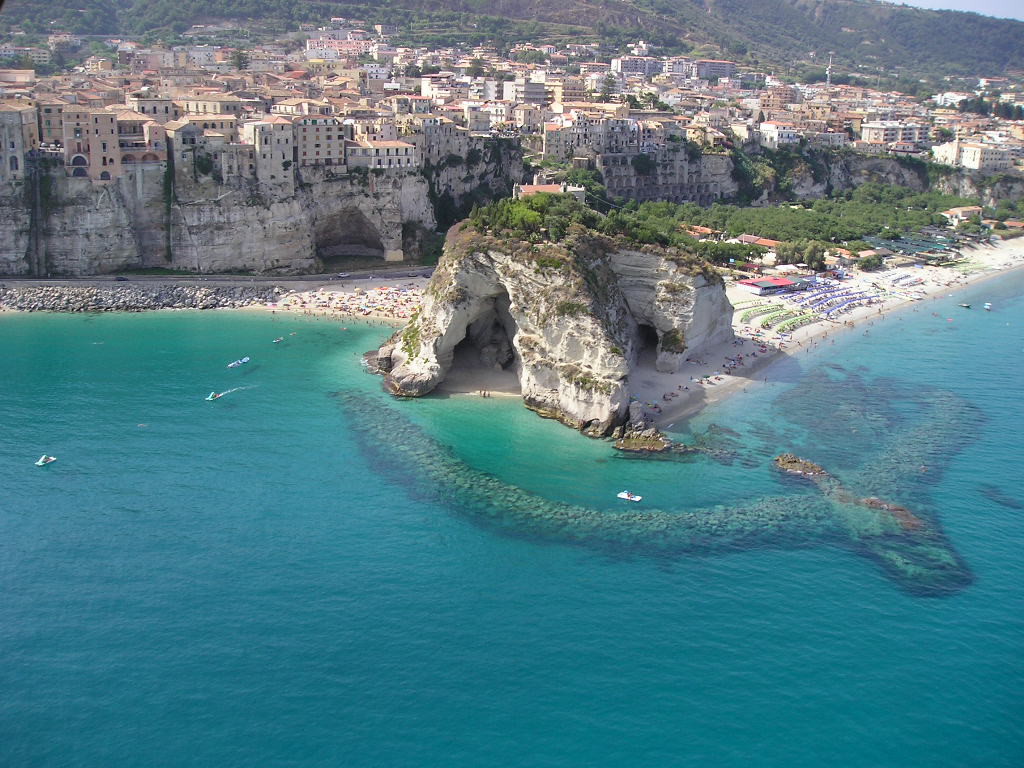 Ciro
Cirò (pronounced "CHIR-o") is Calabria's flagship wine.  With a winemaking history that stretches back thousands of years, it may be the oldest wine in the world still produced today.  And it is the only DOC from the Calabria to have retained prestige through to contemporary times.
The region produces mostly red wines from the key indigenous grape variety Gaglioppo, introduced by the Greeks centuries ago. All Ciro Rosso are made from 95% Gaglioppo, with the remaining 5% from the white varieties Greco Bianco and Trebbiano Toscano.  Limited amounts of Bianco (White), and Rosato (Rosè) are also produced.
Ciro Rosso Riserva wines are considered the best that Ciro, and indeed Calabria, has to offer.  They are matured for at least two years before release, of which six months must have been spent in oak barrels.
2010 Librandi Cirò Rosso Classico Superiore Duca Sanfelice Riserva ($15.99; Beltramos)
When it comes to Cirò there is one producer whose wines are the most renown.  That is Librandi. Duca Sanfelice is the name of a single vineyard owned by the Librandi family in the coastal area of Ciro in Calabria.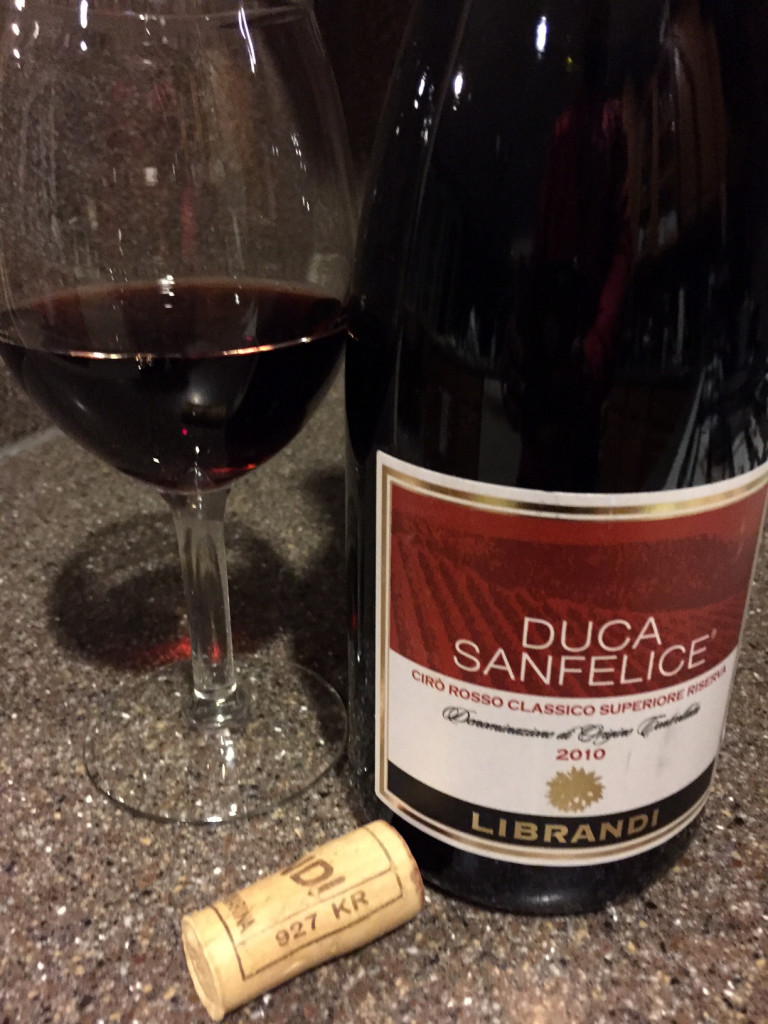 It is a crimson color with smoky, earthy, red fruit aromas and a hint of graphite. On the palate it's medium-bodied,  and fresh showing slightly astringent tannins in Day 1 that soften to appealing dusty tannins on Day 2. It shows focused, juicy black cherry, red currant flavors with a  bit of minerality and a delicious lingering finish. Very good QPR @$16! I would buy it again!
I paired the wine with Costolette d'Agnello Alla Calabrese (Lamb Chops Calabria Style with Tomatoes, Peppers and Olives)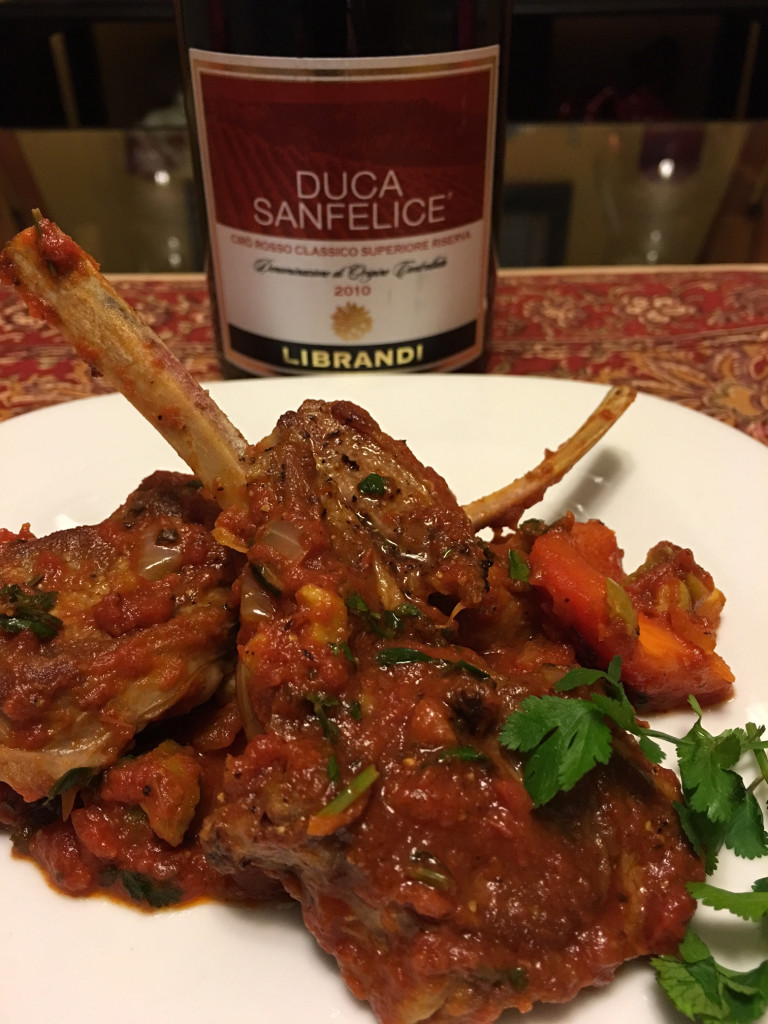 The Food and wine pairing
The wine, which is soft and juicy with vibrant acidity, was a great match for the dish!  Like seemingly all Italian wine is very versatile at the table.
Check out what my fellow #Italian bloggers are sharing about Calabria:

Join our conversation!  If you see this soon enough, please join our Twitter conversation on this Saturday, February 6th @ 8am PST.  We chat using #ItalianFWT!  We'd love to hear your experiences or just come to learn more about this southern region in Italy.
_________________________________________________________________________
Follow me on Twitter, Facebook, Instagram, Vivino and Delectable, for all things wine. As a wino with latent foodie tendencies, you'll also find food and wine pairings, and food related stuff! Become a fan and join ENOFYLZ Wine Blog on Facebook. Cheers! This article is original to ENOFYLZ Wine Blog.com. Copyright 2016 ENOFYLZ Wine Blog. All rights reserved.