From time to time, I receive wines samples, from wineries or their public relations agencies, for review.  This week, I'm featuring the the 2009 Clos De La Tech Pinot Noir Domaine Lois Louise.
About Clos De La Tech
Clos De La Tech ("CDLT") was founded in 1994 by semiconductor pioneer T.J. Rodgers and his wife Valeta Massey.  Rodgers is the founder, president, CEO and a director of Cypress Semiconductor Corporation.  The couple are self-taught winemakers, whose goal is to make the New World's Best Pinot Noir.  And to challenge the greatest Burgundies.
"Our winemaking method is a faithful replication of that of Ouvrard, the winemaker who brought prominence to Romanee-Conti in the 1830s — truly "méthode ancienne," including hand picking, foot crushing, native yeast fermentation and no filtering. The theory is to bring our fruit, which is special, to the bottle without manipulation. With these methods, one can easily taste the difference between the vineyards — that is their expression of terroir." TJ Rodgers
CDLT crafts small-lots of highly limited Pinot Noirs from their three separate estate vineyard planted in the  Santa Cruz Mountains – a prime location for growing Pinot Noir. Their three estate vineyards; Domaine Docteur Rodgers, Domaine Valeta, and Domaine Lois Louise each possess a distinct terroir that provide the backbone for our world-class wines.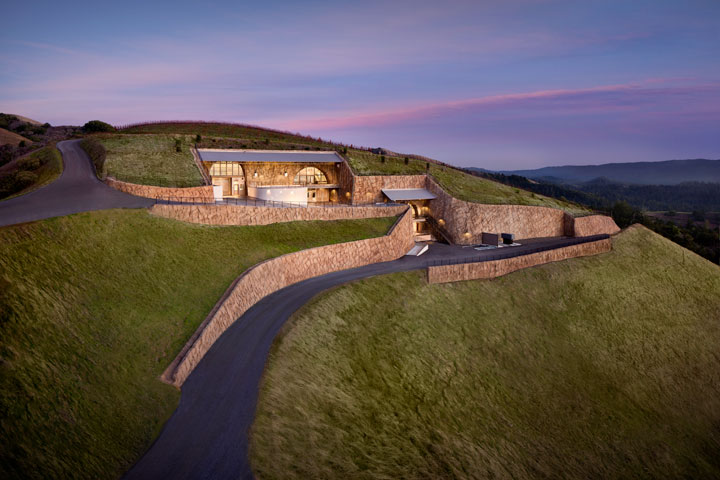 With gravity flow caves tunneling deep into a vine-covered ridge in the Santa Cruz Mountains,  the winery is a manifestation of technological prowess and innovation.  Rodgers has developed groundbreaking winemaking systems and equipment.  Steep vineyard sites (the vertical slope is as much as 66%!) are farmed with a one-of-a-kind tractor designed by owner/winemaker Rodgers. The tractor runs on cables and can be controlled with a joy stick.
Recognizing that Pinot Noir responds best when handled with a gentle touch, Rodgers was not satisfied with industrial press machines common in most wineries. So he designed and patented a one of a kind grape press that is very much like the French Melior coffee pot wherein the cap of the wine is pressed gently through the wine and squeezed against the bottom of the tank with 20 tons of pressure. He's also invented and patented an automated fermentation monitoring system (which he donated to UC Davis) that allows monitoring and control of temperature, cap temperature, measure brix, performs pumpovers as well as introduce oxygen in the just the right amount.
But innovative equipment is just part of the equation at CDLT.  Much of the processing of the grapes is decidedly Old World.  Grapes are hand harvested and food crushed.  And there are whole cluster fermentation. Wines are aged in 100% Francois Freres Oak and bottled unfiltered.
Think Old World style with New World Tech!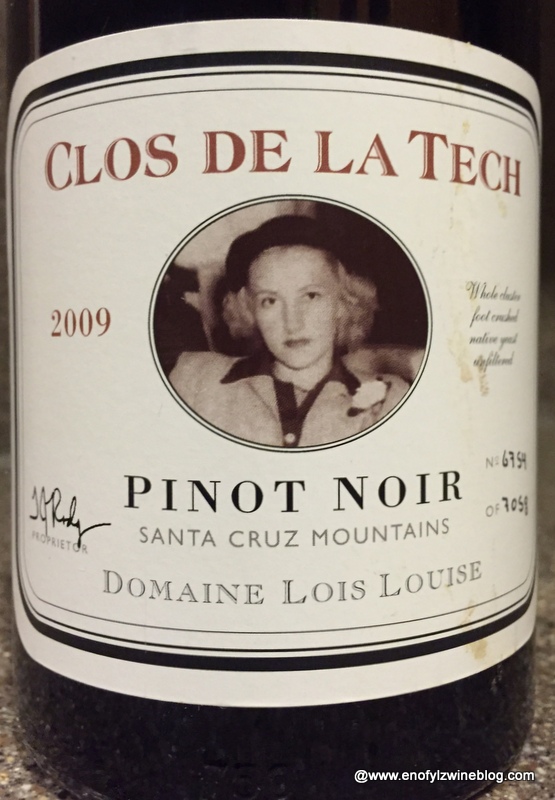 2009 Clos De La Tech Pinot Noir Domaine Lois Louise – Retail $42
The wine pours a very dark ruby color with perfumed floral, dark fruit, wet clay, clove, and a hint of tobacco aromas. I popped and poured. The wine was wound tight on Day 1, but opened up nicely on Day 2. On the palate it's medium-bodied, fresh and slightly tannic (especially on day 1) with focused cassis, plum, black cherry, and spice flavors with an appealing savory edge, and lengthy satisfying finish. Stylistically, I'd say Old World sensibilities with New World fruit. Aged 18 months in 75% new French oak and two-and-a-half years in bottle before release.  From the Domaine Lois Louise vineyard, the wine is approachable now, but will improve in the cellar.  If you choose to drink now, aerate the wine for an hour or two. It offers good value at $42. Outstanding; 90-91pts
I am impressed with the CDLT story and this wine!  I think you will be too!
Disclosure of Material Connection: I received the wine samples from Big Bang Wines on behalf of Clos De La Tech.  I was not required to write a positive review and the opinions I have expressed are entirely my own.
_________________________________________________________________________
Follow me on Twitter, Facebook, Instagram, Vivino and Delectable, for all things wine. As a wino with latent foodie tendencies, you'll also find food and wine pairings, and food related stuff! Become a fan and join ENOFYLZ Wine Blog on Facebook. Cheers! This article is original to ENOFYLZ Wine Blog.com. Copyright 2016 ENOFYLZ Wine Blog. All rights reserved.