Welcome to this month's French Winophiles!  We're group a food and wine bloggers pulled together by Christy of Adventures of a Culinary Diva.  We're taking a virtual tour of France region by region and learning about French cuisine, wine and travel.  This month we're exploring legendary Burgundy (a.k.a. Bourgogne)
 About Burgundy
Steeped in centuries of history, tradition, and mystique, Burgundy is an exemplar for world-class Chardonnay and Pinot Noir.  It is one of the world's most renown wine regions.
In spite of, or perhaps more accurately because of, its reputation (the wines can be prohibitively expensive and premox can an issue with white Burgundy), my only experience with Burgundy has been Chablis(love it), Beaujolais, and Crémant de Bourgogne.
I simply had to try at least a red Premier Cru Burgundy!
"You admire great Bordeaux but you fall in love with great Burgundy" – Neal Martin
For the uninitiated , white Burgundies are made from 100% Chardonnay. Red Burgundies are made from 100% Pinot Noir. You won't see the name of the grape variety on the labels.
Located in the east-central part of France, Burgundy has 5 principal wine growing areas (excluding Beaujolais and Châtillonnais):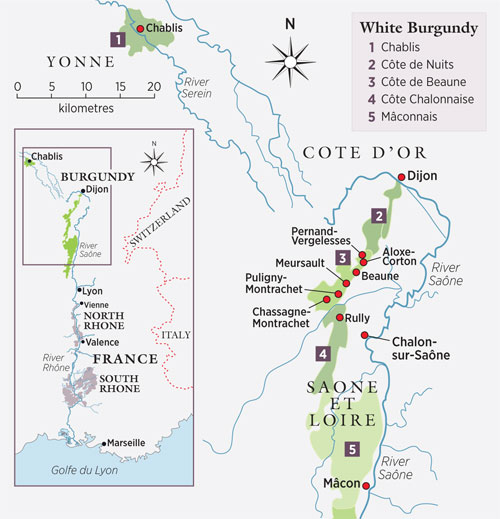 The most renown of the wine growing regions are Chablis and Côte d' Or – home to Côte de Nuits and Côte de Beaune. 
Burgundy is all about terroir.  And The Climats  and lieux-dits are the ultimate expression of the notion of terroir.  Climat is a traditional Bourgogne word for a precisely delimited plots of land that enjoy specific geographical and climatic conditions.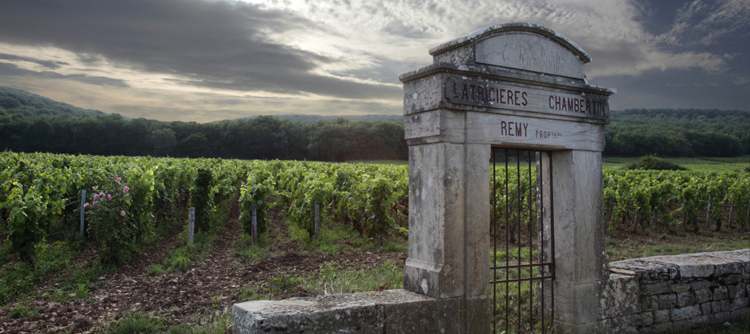 Last year Burgundy was awarded Unesco World Heritage Status for its viticultural heritage, its 1,247 Climats, or individual terroirs, of the Côte d'Or, and the historic centres of Beaune and Dijon .
Though the word may remind you of climate, it comes from the Greek "klima", and then the Latin "climatis", which means slope. Lieux-dit are also plots recognized for their own topographic or historical specificities.  But they are not registered by the INAO (Be sure to check out the excellent Bourgogne Wines website for more info)  One may find several lieux-dit within a Climat, or a Climat may only cover part of a lieux-dit.  One can see how that might be confusing.
I think I'll just stick to main levels of Burgundy classifications, in descending order of perceived quality, Grand crus, Premier crus, village appellations, and finally regional (Bourgogne) appellations
Ah, but Burgundy is not just about wine.  The region's famous vineyards are bookmarked by two  of France's food capitals – Dijon (the mustard capital of the world)   and Lyon.  Many classic French dishes originate from the region including Coq Au Vin, Escargot a la Bourguignonne,and Boeuf Bourguignon (did Julia Child just pop into any else's head?). Not to mention other gastronomic delights including cheese (Epoisses de Bourgogne) and bread ( pain d'epice)
Let Paris be France's head, Champagne her soul; Burgundy her stomach – The Concise World Atlas of Wine
On Plate and In My Glass
I received, as a sample, a book entitled Chablis; A Geographical Lexicon from  by Jean-Paul Droin.  The idea was to learn more about Chablis, then taste a wine from one of a Chablis Premier Cru.  In this case, it was the wine the 2012 Sebastien Dampt Chablis 1er Cru Vaillons.
The book was informative (e.g., I didn't know there Chablis winegrowing region covers 20 communes with the River Serein running through it.  And that the river divides it into two distinct parts left bank and right bank)   It's a must read if you have an interest in the etymology and history behind the names of Chablis Climats.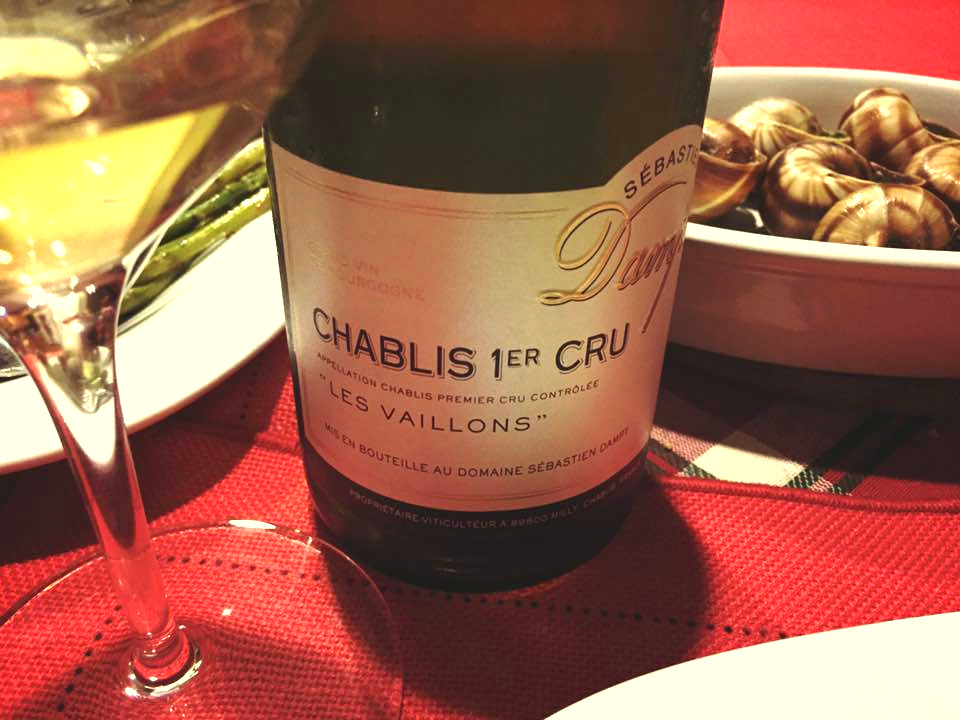 My tasting notes on the wine follow: 
Pale yellow-green color with green reflections. It's  aromatic with buttered bread, oyster shell, baked green apple, white flower and a hint of spice aromas. On the palate it medium bodied, fresh, focused,  and harmonious with green apple , pear, bit of Meyer lemon and spice flavors. Long finish. Highly recommended.
I paired the wine with a Chablisien classic – Escargots a la Bourguignonne (Snails in Garlic-Herb Butter), and sautéed garlic asparagus accompanied by a loaf of crusty french bread. We topped our the meal with a fabulous Saint Angel triple cream cheese from Fromagerie Guilloteau in the Cotes du Rhone region of France.
(Note: I've included a link to the escargot recipe, but I found an oven ready escargot in garlic-herb sauce at my local Whole Foods Market)
The wine was fantastic with the entrée. And I especially enjoyed crusty french bread dipped in the garlic herb sauce with a sip of the Chablis.  In a word – divine! The wine was a very good complement to the buttery notes and chalky texture of the cheese.  
I simply couldn't take a virtual tour of Burgundy with trying a red wine.  In keeping with the Premier Cru theme established with the Chablis, I chose the 2012 Domaine Bart "Hervelets" Fixin 1er Cru.  It my first Premier Cru Burgundy!
The Fixin appellation, which received official recognition in 1936, produces both appellations Village and Premier Cru. There are six Premier Cru Climats.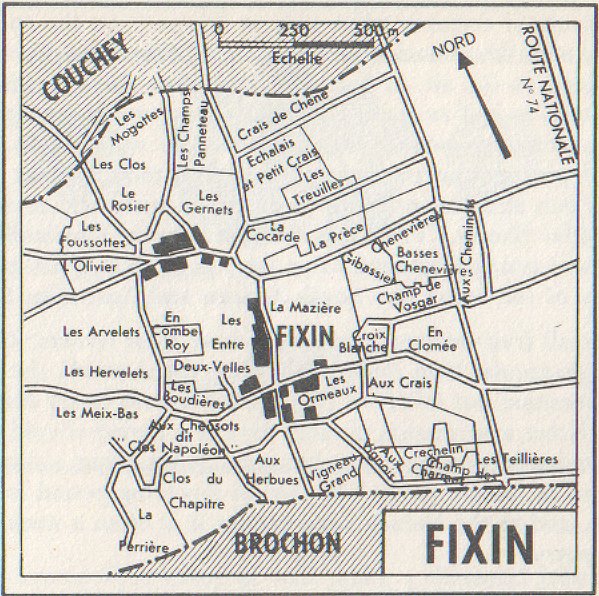 From the Bourgogne website – Fixin (pronounced "Fissin") is situated in the Côte de Nuits region between Dijon and Gevrey-Chambertin. In 1860 it merged with the neighbouring hamlet of Fixey. As well as wine-cellars, attractions for visitors include the 10th century church of Saint-Antoine, the manor of La Perrière where once the monks of Cîteaux came to enjoy the good air and the good wine, François Rude's famous statue in the Parc Noisot of Napoleon in the process of becoming immortal, a particularly handsome communal laundry and the slate-covered village breadoven. Here there are a thousand things to see, not to mention many welcoming wine cellars.
Here's where things may get confusing – the Premier Cru Climats of Les Meix Bas, and Les Arvelets may be labeled as Les Hervelets. But Les Hervelets cannot be sold as Les Arvelets or Les Meix Bas!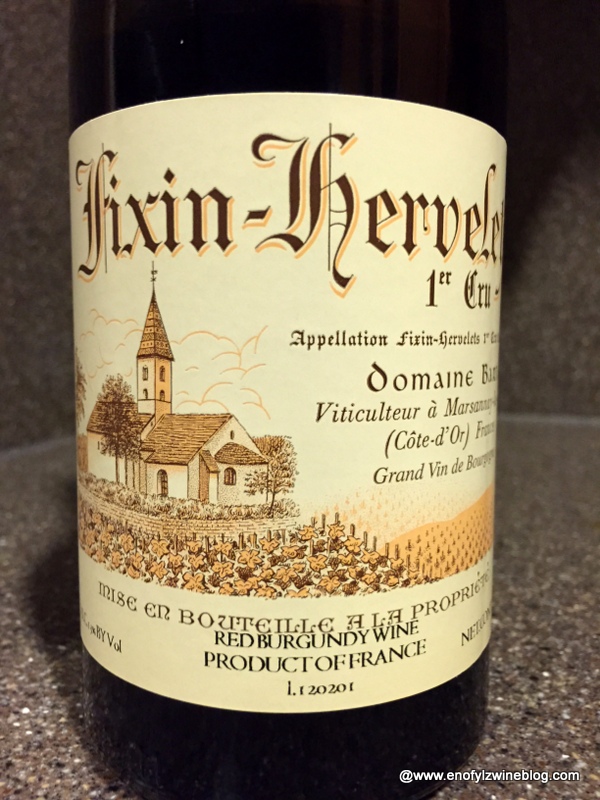 My tasting notes follow:
A subtle touch of pencil shavings sets off ripe and relatively elegant notes of black and red cherry, earth, warm spice with pretty floral notes. On the palate it's medium-bodied and layered with intense mixed red and black cherry, red currant flavors with ample minerality, and a subtle rustic character wrapped around dusty well-integrated tannins and bright acidity.Approachable now, but would benefit from further aging.  Highly recommended and a very good value at $40!
We paired the wine with a quick weeknight dinner of grilled salmon and sautéed spinach.  Again we capped off our meal with another double cream cheese from France. This one was the decadent Fromager d'Affinois with Truffles.   Pinot Noir is the most food friendly red wine in my book and it paired very well with our meal.  And it was other worldly with the cheese! 
Check out what my fellow French #winophiles are bringing to the table this month!
Don't forget to join the live Twitter Chat this Saturday (Jan. 16, 2016) at 8 am PST (1700 hours in Beaune, France!) Just search for the hashtag #winophiles. We love new participants, if you would like to join us, just let us know.  Stay tuned for our February visit to Alsace. Au revoir!
Disclosure of Material Connection:  I received the bottle of Chablis and book at no cost from Sopexa on behalf of the Chablis Commission.  I was not required to write a positive review and the opinions I have expressed are entirely my own.
_________________________________________________________________________
Follow me on Twitter, Facebook, Instagram, Vivino and Delectable, for all things wine. As a wino with latent foodie tendencies, you'll also find food and wine pairings, and food related stuff! Become a fan and join ENOFYLZ Wine Blog on Facebook. Cheers! This article is original to ENOFYLZ Wine Blog.com. Copyright 2016 ENOFYLZ Wine Blog. All rights reserved.