It's a day I'll always remember.  A day that forever changed my evolution as a wine lover. On June 30, 2014, I received an email whose subject line read: Invitation to Attend 2014 Champagne Harvest Media Trip.  I simply couldn't believe it.  But it turned out to be true.  And I was blessed with the opportunity to spend a week in Champagne.  The invitation read:
The trip to Champagne will be an opportunity for you to learn more about the production of Champagne and its unique qualities… The week-long trip is exclusively reserved for a small group of leading food and wine journalists from across the U.S., and will be scheduled for the first week of September…This trip will give you the opportunity to visit select Champagne producers – from large houses to cooperatives and small growers – and learn about the appellation as a whole. As a guest you will also experience firsthand the winemaking process, from picking and crushing grapes to exquisite Champagne pairing dinners.
There are simply too many awesome experiences I had during my week in Champagne to recount here.  Suffice it to say it's a trip I'll always remember (see below for my 5-part Champagne Chronicles recap).  But near the top of the list experiences for me would be the Champagne pairing dinners.
Before I went to Champagne, I'd never given a champagne paring dinner much thought. It's certainly not because I didn't know that champagne is arguably the most food friendly wine there is.  I know it is.  It's singular combination of effervescence, ample acidity and lower alcohol make for beautiful pairing from aperitif through to dessert.
Sipping champagne for lunch and dinner for a week changed me forever. Enjoying an awesome multi-course champagne pairing dinner is no longer a hypothetical for me. I experienced the magic first hand!
Upon my return, I promised  myself I would share the experience of champagne pairing dinners with my wife and our close wine loving friends.
I've been thinking about. And talking about it.  But I hadn't done it.
So when saw this month's French Winophiles theme is Champagne.  Well, I figured now is the time to recreate the magical experience of a Champagne Pairing dinner and offer some tips how you can host one too!  
In My Glass
My first decision was to select the Champagne. I decided I wanted to try one each of the primary types of Champagne – Blanc de Blanc (appetizer/salad), Blanc de Noirs (main) and Rosé (cheese course and dessert).  Since it was a Champagne Pairing Dinner for two, I also decided to get two half bottles of Champagne to a) keep the cost down, and b) drink (somewhat) responsibly.
I reached out to K&L Wine Merchants Champagne Buyer – Gary Westby (talk about a dream job!).  I knew Gary, who has been to more than his fair share of Champagne Pairing dinners, would be a great resource for both the wines and as a sounding board for my pairing ideas.  I shared my general Champagne and food pairing ideas, and asked for his Champagne recommendations.  He spoke. I listened and purchased.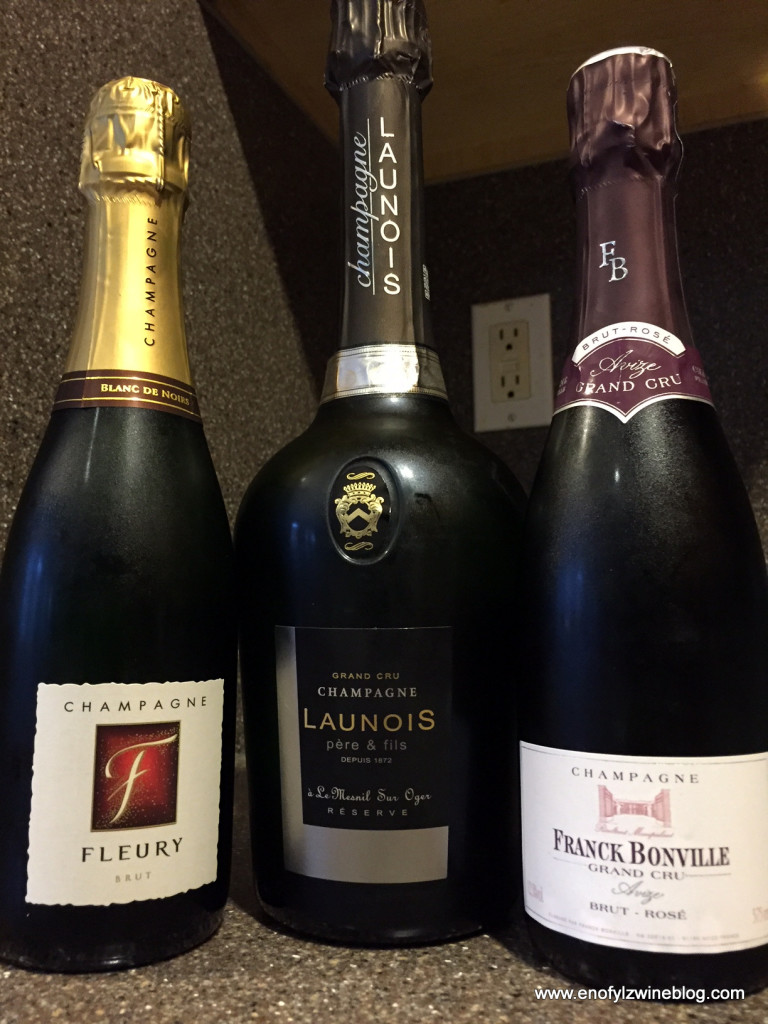 The Champagne Pairing Menu:
After deciding on the wines, I settled on this five course menu (Champagne pairing in red):
Appetizer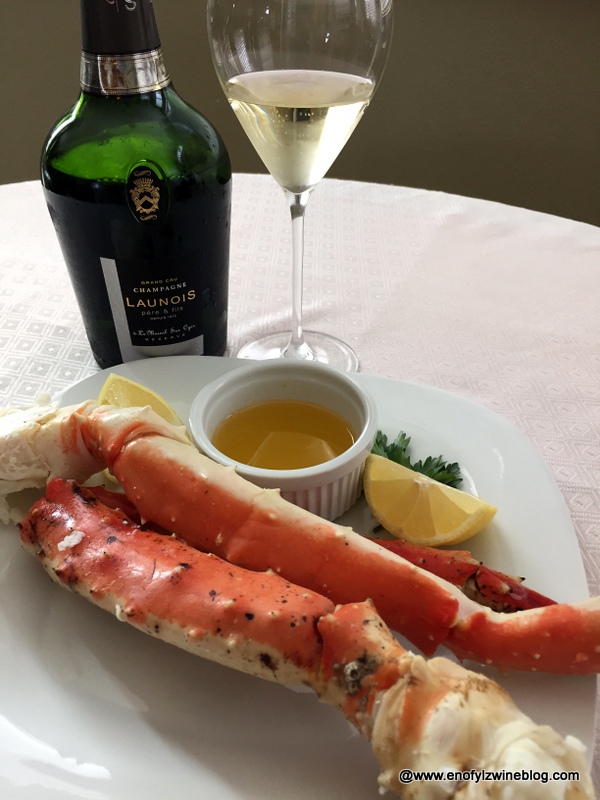 King Crab Legs with Clarified Butter
Salad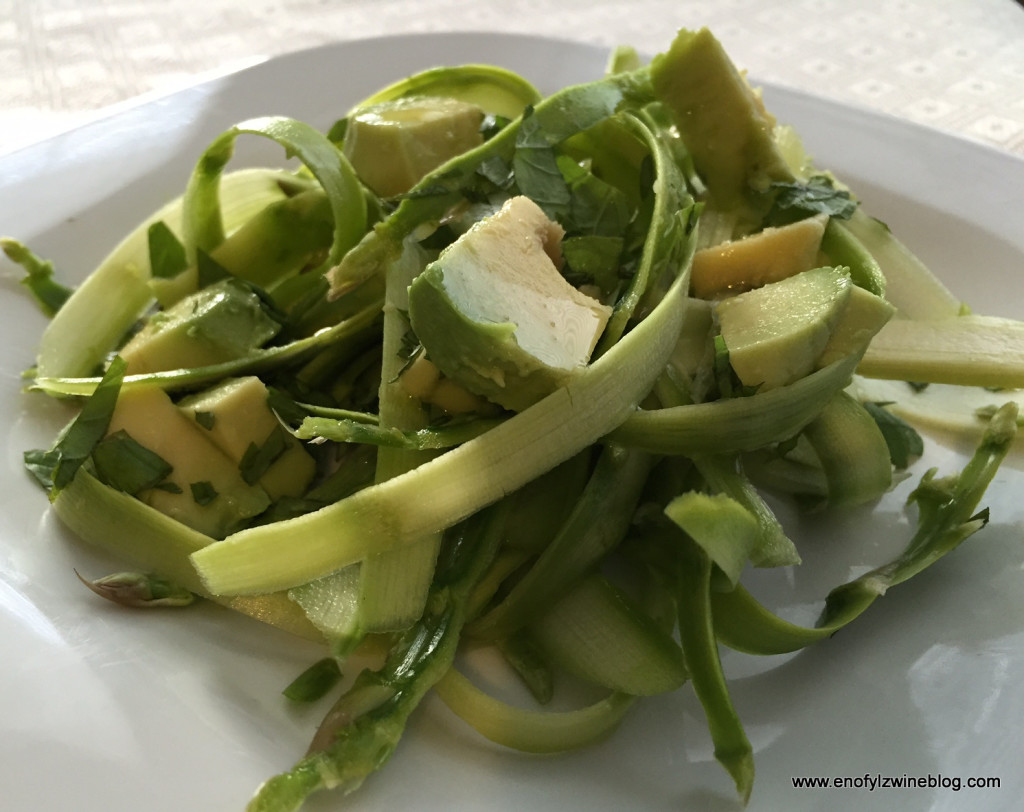 Launois Pere et Fils Champagne Grand Cru Cuvée Reserve Blanc de Blancs Brut
Main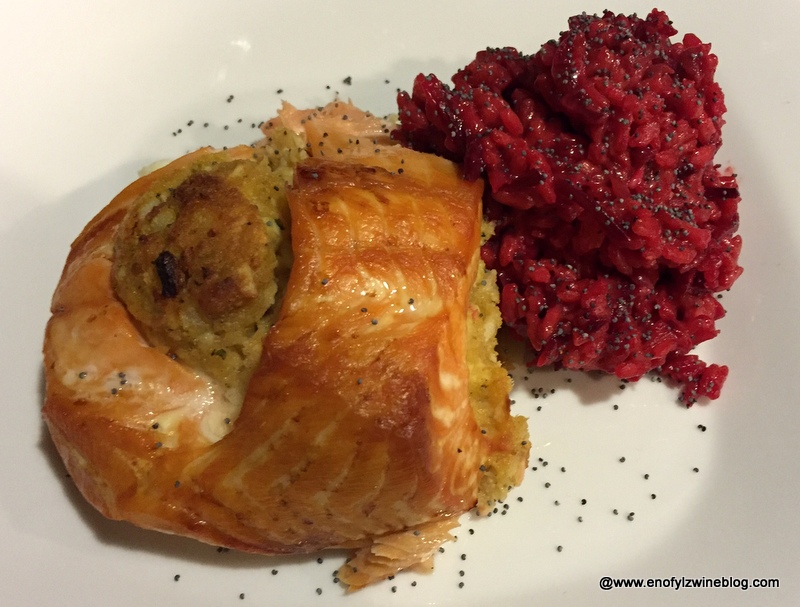 Stuffed Salmon with Beet Risotto
Fleury Pere & Fils Champagne Blanc de Noirs Brut
Cheese Course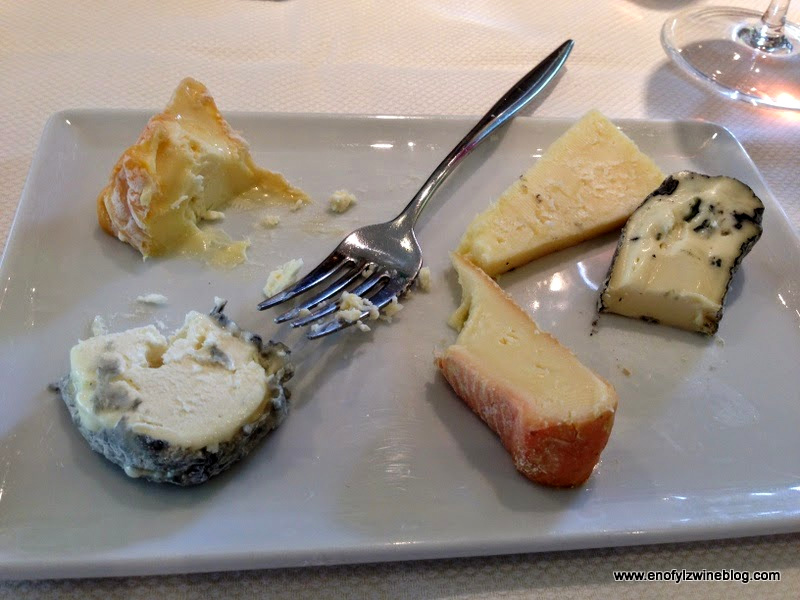 Dessert
Lemon Raspberry Tart and Red Velvet Cake
Franck Bonville Champagne Brut Rosé Grand Cru
How It Turned Out
Note:click on the links for my detailed tasting notes
The Launois Pere et Fils Champagne Grand Cru Cuvée Reserve Blanc de Blancs Brut was an awesome pairing with both the King Crab Leg appetizer, and the salad.  The wine is all Chardonnay and all Grand Cru from the villages of Mesnil, Oger, Cramant and Avize–a roll call of the finest crus for Chardonnay. While fantastic with light first courses such as seafood, salads and soups, it shows enough depth and complexity to pair well with richer foods too.
Likewise, the Fleury Pere & Fils Champagne Blanc de Noirs Brut, a rich full-bodied expression of Champagne was wonderful pairing with the main dish.  The pairing worked well on a few levels.  First, just as a still Pinot Noir would have been a fabulous pairing for my Stuffed Salmon and Beet Risotto main dish, a Blanc de Noirs of 100% Pinot worked even better in my book because of its palate cleansing higher acidity. Furthermore, its "weight" and texture we a great match for  filling character of the main dish.   And last, but not least the wine seemed to bring out accentuate the spiciness of the seafood stuffing in a very pleasing way. The champagne and food each made other taste better. I agree with Jancis Robinson assessment the Fleury is "a champagne for food".
I must admit I stepped out on faith when I decided to pair the Franck Bonville Champagne Brut Rosé Grand Cru with the my selected desserts (I knew it would be great with the cheese course – and it was). That's because I was concerned the desserts would be too sweet for this dry rosé . But when I was in Champagne, enjoyed rosé champagne with a wide variety of desserts several times.  But it turned out to be a delightful pairing with the desserts, especially the Lemon Raspberry Tart.  When I took a bite of desserts and then took a sip of wine, after a split second of sweetness of the dessert being a tad bitter, the wine stepped up to the challenge with its ample black cherry  fruit, and creamy texture. Again the wine made the desserts taste better and vice-versa.
In terms of the wines ; the Launois and the Bonville were especially compelling because they were awesome with or without food. On the other hand, the Fleury really distinguished itself with food.  I highly recommend all three!
How to make your own champagne pairing magic
A key to creating champagne pairing magic is to match wine and foods of equal "weight" Serve light first or second courses with a light-bodied Blanc de Blanc or brut. Such wines will not only be wonderful as an aperitif, they will also be well suited to light first courses including raw fish – sushi, sashimi, oysters, ceviche and some caviar, seafood, and salads.
From there move on to a medium-or full-bodied champagne for the main course.  Good choices here are Brut, Blanc de Noir or many Rosé champagne.  Consider pairing a champagne with anything you might pair with a Pinot Noir or Burgundy such as roast chicken, salmon, tuna, or pork dishes.
Consider a cheese course. When I visited Champagne last year, it was my first time having a cheese course after the main meal and before dessert.  I enjoyed that very much. The French way of serving cheese to nibble on whilst having a conversation your guests between the main dish and dessert makes a nice "break" and may aid your digestion. There are a few ways to go about it, none of them wrong. Consider "bringing home the barnyard"—that is, serving a cow's milk cheese, a sheep's milk cheese, and a goat's milk cheese. You can't go wrong with a tripe cream cheese such as St. Andre or Mt Tam. And cheese with a nutty character such as Comte, Parmesan or Gruyere are also great with champagne.
Champagne also loves dishes with a crunch texture such as fried chicken, tempura, of stuffed phyllo pastry.  
Finally consider the sweetness level of the champagne.  The dry "brut" style is the most flexible at the table. But you might consider an extra-dry (paradoxically sweeter than brut), or a demi-sec for dessert. Rosé is also a great option for dessert that aren't overly sweet.
And last but not least keep in mind that champagne is fantastic at the table.  They're so versatile at the table that I find them easier to pair with food than still wines.  
The little things:
I prefer a tulip shaped Champagne glass for sparkling wines to flutes.  If you have neither a regular wine glass is fine.
Ask friends to bring a bottle. This a great way to keep the cost down and bring some diverse selections to your champagne pairing dinner.  Give each give a type of wine like Blanc de Blanc, Rosé, Vintage and/or style like Brut, Brut Nature, Extra Brut, etc.
Keep a few ice buckets on hand to keep the champagne cool (not cold). Fill a bucket about halfway with ice, add a little water, and make sure you keep a towel handy for drips.
Remember have a few champagne stoppers on hand.  They'll help maintain the champagne's effervescence.
A champagne pairing dinner is one of life's great pleasures.  They're fun, festive, and fanciful. Give it a try!
Check out what my fellow #Winophiles are sharing about their exploration of the Champagne region of France:
Join our live Twitter chat on Saturday, December 19, from 8 a.m. to 9 a.m. , Pacific Time and use the hashtag #winophiles. This will be a great chance to ask your Champagne and food pairings questions and share what you already know!
Related Posts You Might Enjoy
_________________________________________________________________________
Follow me on Twitter, Facebook, Instagram, Vivino and Delectable, for all things wine. As a wino with latent foodie tendencies, you'll also find food and wine pairings, and food related stuff! Become a fan and join ENOFYLZ Wine Blog on Facebook. Cheers! This article is original to ENOFYLZ Wine Blog.com. Copyright 2015 ENOFYLZ Wine Blog. All rights reserved.