Last month I was invited to participate in an online 4 week program put on by Protocol Wine Studio.  The sessions featured the Italian sparkling wine producer Ferrari Trento. 
I was thrilled to receive the invitation for at least a couple of reasons:
First, I adore sparkling wines.  It's a deathbed wine for me.  And I've had a fair amount of Italian Sparkling wine – mostly Prosecco and a bit of Franciacorta.  But I wasn't at all familiar with Ferrari. Secondly, it was a great opportunity to perfect my palate for Ferrari sparkling wines!
Therefore, I wanted to do my homework before the first session.  I checked out my Slow Wine 2015: A Year in the Life of Italy's Vineyards and Wines. 
Slow Wine 2015 doesn't simply select and review Italy's finest bottles. With visits to 350 cellars, its 3000 wine reviews describe not only what's in the glass, but also what's behind it: namely the work, the aims, and the passion of producers; their bond with the land; and their choice of cultivation and cellar techniques―favoring the ones who implement ecologically sustainable winegrowing and winemaking practices
I was pleased to see Ferrari Trento (they were awarded a symbol representing "excellent average quality") in the book.
What is #WineStudio?
PROTOCOL wine studio presents online twitter-based educational programs where participant engage their brains and palates! It's part instruction and tasting, with discussions on producers, varieties, tourism, terroir, regional culture, food matching and what all this means to us as imbibers.

All the participants were provided with four bottles of Ferrari Trento sparkling wines. Each week was focused around a theme (see below), and featured a guest facilitator.
About Ferrari
Ferrari was founded in 1902 by Giulo Ferrari. After studying in France, Giulo returned to Trentino convinced that his native region's terroir was ideal for growing Chardonnay grapes suitable for the production of world-class sparkling wines. In fact , it was Giulio who first brought Chardonnay grapes to the region from France around 1900.
A pioneer in Italian viticulture, Ferrari was the first Italian winemaker and viticulturalist to dedicate his vineyards almost entirely to Chardonnay – and by 1906 the awards had begun to roll in.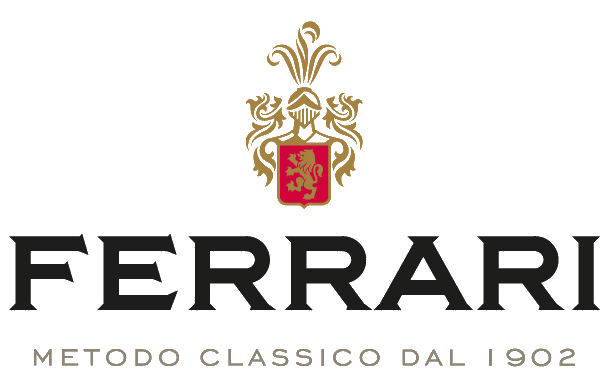 Alas, Giulio had no children.  He began to look for a successor.  He found  Bruno Lunelli, the owner of a wine shop in Trento.  Thanks to his passion and entrepreneurial talent, Bruno Lunelli succeeded in increasing production without ever compromising on quality.
Today, the third generation of the Lunelli family is keeping the Ferrari tradition alive and well.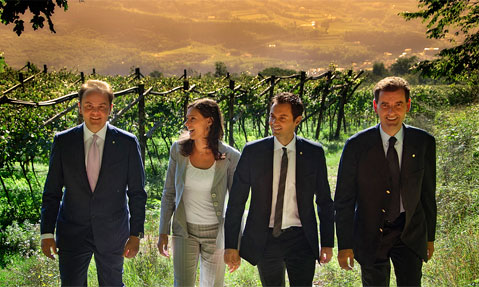 Marcello, Matteo, Camilla and Alessandro lead the company with the aim of combining innovation and tradition, taking Ferrari around the world as ambassadors of what they refer to as the  "Italian Art of Living".
Guided by the third generation of the Lunelli family, Ferrari embodies the very best of metodo classico sparkling winemaking and what the family describes as the Italian Art of Living. Founded in 1902, Ferrari dominates the Trento DOC with 40% of the total market share with about 375,000 cases. This is a region on the rise, and Ferrari's exquisite lineup of wines are a principal reason why"….Thanks to over a century of experience, Ferrari has helped put Italian sparklers on the world's radar. (…)No brand has reached the luxury status and prestige of Ferrari". – Wine Enthusiast
Ferrari is a perennial 22-time winner of the Tre Bicchieri award, Italy's highest wine accolade, often with Giulio Ferrari – with the most recent honor going to the 2005 Ferrari Perlé Nero bottling in 2012.
The Sessions
Week 1: November 3 – Ferrari TrentoDOC – Origins
This is a story of Giulio Ferrari's dream of producing quality sparkling wine in his native Italian Alps and how over 100 years of sustained history and passion has made Ferrari into the most beloved sparkling wine in Italy.
Three generations later, the Lunelli family epitomizes the very soul of Ferrari – tradition, respect and a fierce love of the remote, mountainous and picturesque region where the grapes are nurtured.
My takeaways:
Lead by Ferrari,  Trento DOC was the second wine region in world (Champagne was the first) to be recognized  for its outstanding sparkling wine production using the classic method; that region was Trento DOC
Ferrari has been on a roll of late:  Ferrari won the title of "Sparkling Wine Producer of the Year" at the international competition The Champagne and Sparkling Wine World Championships 2015, prevailing in the final round over two renowned Champagne producers: Charles Heidsieck and Louis Roederer. Additionally Ferrari has been named "European Winery of the Year" by Wine Enthusiast in the celebrated 2015 Wine Star Awards
The Ferrari Brut offers very good value at $25!
Tasted: Ferrari Brut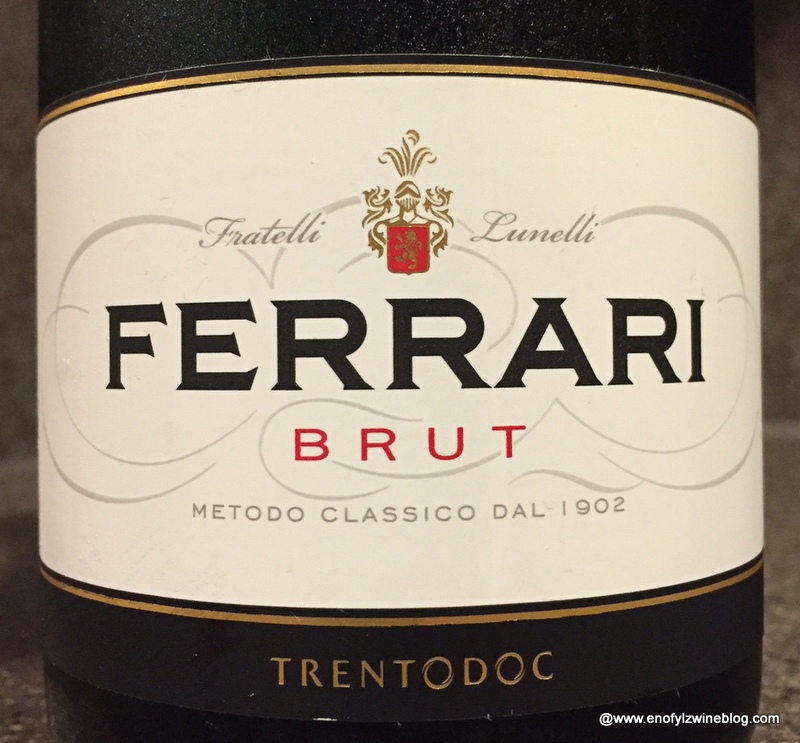 Pale yellow color with an abundant and persistent small bubbles with apple skin, Asian pear, brioche and white flower aromas. It's well balanced, crisp and full of energy with pear, apple, mandarin orange, and lemon flavors, and a lingering satisfying finish. Retail – $25; Very Good to Outstanding 89-90pts
Week 2: November 10 – Bottle Expectations – Palate Talk
With high altitude farming and pristine grapes, the result is a bottle of sparkling wine that has the ability to take you from aperitivo to dolci – all in one sitting! The Italians possess an innate sense of style, what's known as the Italian art of living. This ideal encompasses every aspect of Italian life, which we'll explore through wine, food and conversation.
My takeaways:
Quite of bit of the conversation centered around this wine's affinity for food, which is undeniable. It has a great gastronomic character that is part and parcel of the Ferrari house style – but especially so with this wine.
Another great value for a sparkling rosé at retail of $36!
Tasted: Ferrari Brut Rosé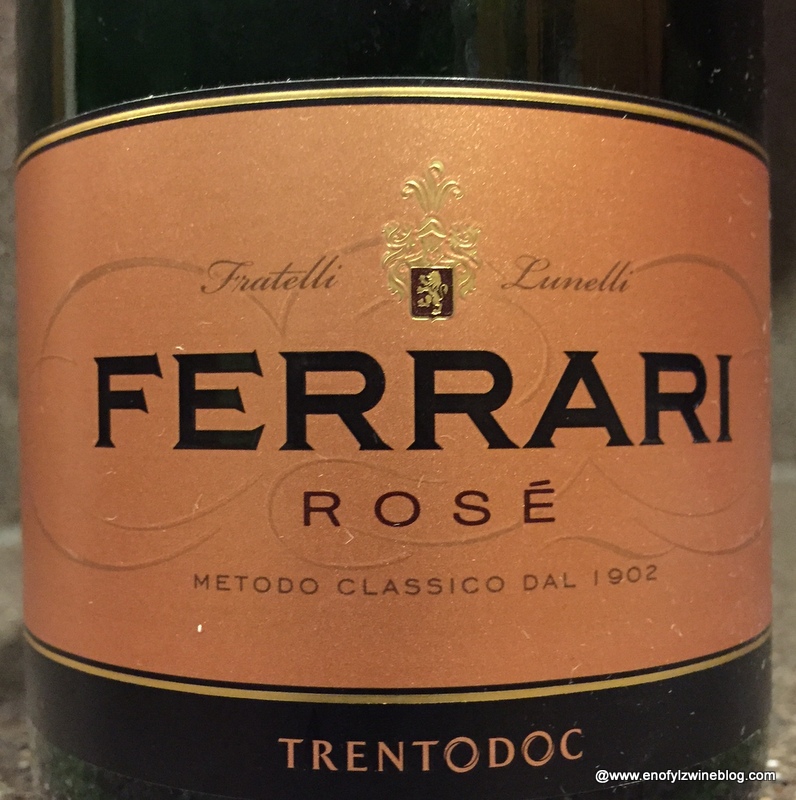 Salmon color with a stream of tiny persistent bubbles, and fresh bread dough, red currant, strawberry, almond skin, and dried rose aromas. On the palate it's dry, elegant with vibrant acidity, and a soft mousse. It shows a very good depth of red currant, and strawberry flavors with a hint of citrus peel on the back end that, along with subtle tannins enhances its broad gastronomic appeal. It has a very giving, and satisfying finish. Blend of 60% Pinot Noir; 40% Chardonnay.  Retail – $36; Outstanding 90-91pts
Week 3:  November 17 – Sustainability – Respectfully Cultivating what Nature Provides
We have a tendency to forget that wine is an agricultural product. Ferrari is all about mountain winemaking and sustainable agriculture, practiced in its estate vineyards and reinforced by long-standing grower relationships.
The Lunelli family is extremely conscious of the biodiversity of the region, implementing programs involving the health of bees in the vineyards and recently becoming Biodiversity Friend certified.  In this session we'll find out how Marcello Lunelli works with Ferrari's team of eight oenologists and six agronomists, collaborating with estate growers to produce palate and earth-friendly wines.
My takeaways:
I was very impressed by Ferrari's commitment to sustainability and biodiversity. They "get it".  They understand that not only do healthier vines makes for the best wine, but they also understand the favorable socio-economic impact of sustainability.
Again – there's great value here for a vintage sparkling wine that's spent five years on lees!
Tasted: 2007 Ferrari Perlé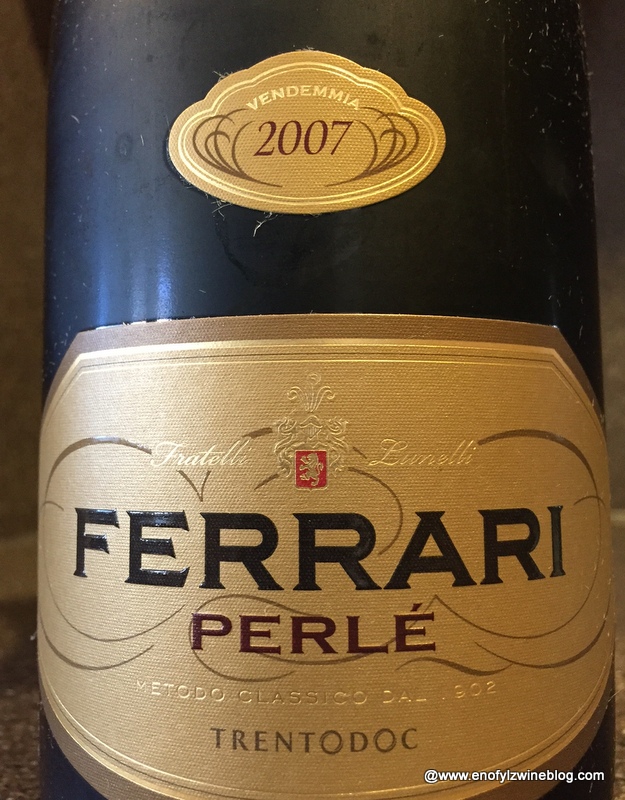 Golden yellow color with a fine bead. Shows baguette, stone fruit, apple, almond, and orange blossom aromas . On the palate it's fresh, and harmonious with a soft mousse. It boasts peach, yellow apple, white melon,lemon, and spicy mandarin orange flavors with a kiss of minerality. Produced from 100% their best Chardonnay grapes that are handpicked.  A minimum of 5 years on less. Retail – $38; Outstanding 90-91pts
Week 4: November 24 – A Talk of Dolomites –"Il vigneto Ferrari"
How exactly is that sustainability and biodiversity captured in the bottle. We'll take a walk through Ferrari's mountain vineyards, discuss DOC requirements and taste how Trento terroir is interpreted from grapes to glass.
My takeaways:
Made only in the best vintages, Ferrari's prestige cuvee is very impressive. It's easy to see how this wine has been consecrated by an uninterrupted succession of awards and accolades in Italy, where it has won nineteen times the "Tre bicchieri" (three glasses) of the "Guida ai vini d'Italia" (Italian wines guide) by Gambero Rosso
The Ferrari Giulio Ferrari Riserva del Fondatore is definitely a splurge worthy wine!
No one has patent on quality.  Ferrari doesn't compare itself to Champagne.  It has its own style that make it  unique, and they're very proud of that!
Tasted: 2001 Ferrari Giulio Ferrari Riserva del Fondatore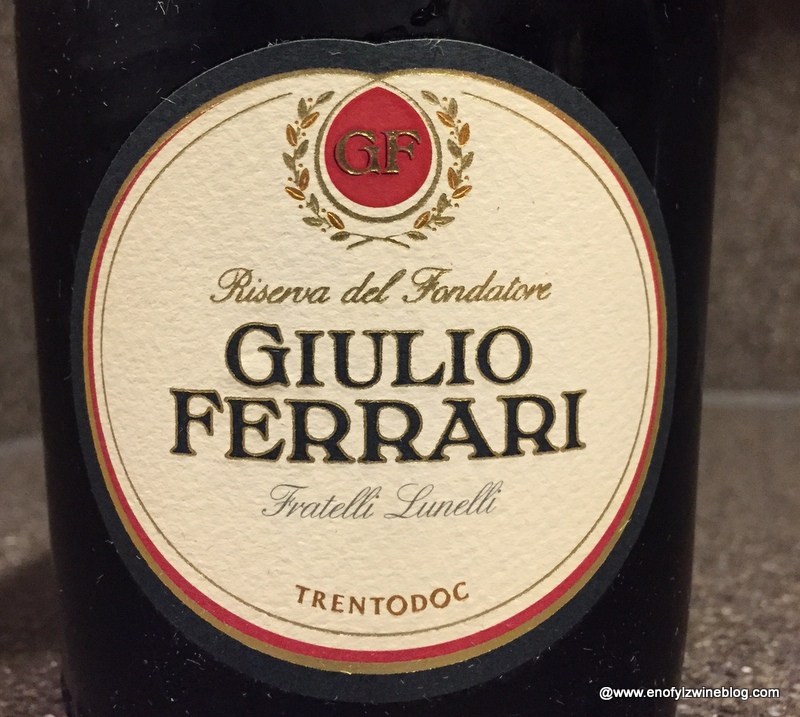 Beautiful shimmering golden color with a gorgeous perlage of tiny bubbles. It shows very pleasing leesy, toasty, roasted nut, white chocolate, stone fruit and citrus aromas. On the palate it elegant, and sophisticated with beguiling and delicious stone fruit, lemon, quince, and honey flavors, and a long very pleasing finish. 100 % Chardonnay grapes sourced from the expressive of Maso Pianizza vineyard, at over 500 meters altitude on the hills surrounding Trento, framed by an old growth forest.  Aged on lees 10 years Retail – $120; Outstanding 92-93pts
I must say I came away from the 4-week session very impressed with the sparkling wines of Ferrari-Trento.  They are definitely wines I will seek out.  3 of the 4 wines offer tremendous value, and the fourth the Giulio Ferrari is on par with many Champagne prestige cuvees (and in relative terms is a good value too!).  I highly recommend you seek out these wonderful Italian sparkling wine that embody the Italian Art of Living!
Disclosure of Material Connection:  I received wines at no cost from Ferrari Trento and Protocol Wine Studio. I was not required to write a positive review and the opinions I have expressed are entirely my own
_________________________________________________________________________
Follow me on Twitter, Facebook, Instagram, Vivino and Delectable, for all things wine. As a wino with latent foodie tendencies, you'll also find food and wine pairings, and food related stuff! Become a fan and join ENOFYLZ Wine Blog on Facebook. Cheers! This article is original to ENOFYLZ Wine Blog.com. Copyright 2015 ENOFYLZ Wine Blog. All rights reserved.