It's here.  Thanksgiving.  The perennial harbinger of the holiday season that seems to arrive all to quickly. For me that typically means going 100 miles per hour with my hair on fire!  It's already happening.  I had other plans for  this month's Wine Pairing Weekend "Creative Thanksgiving Pairing" theme.  Alas, things have been crazy busy for me.  I needed something quick, yet utterly delicious and company worthy.  Paula Deen's Pumpkin Gooey Butter Cake was top of mind for me.  And I've "kicked it up a notch" by topping it with Brown Sugar and Bourbon Cream (recipe below)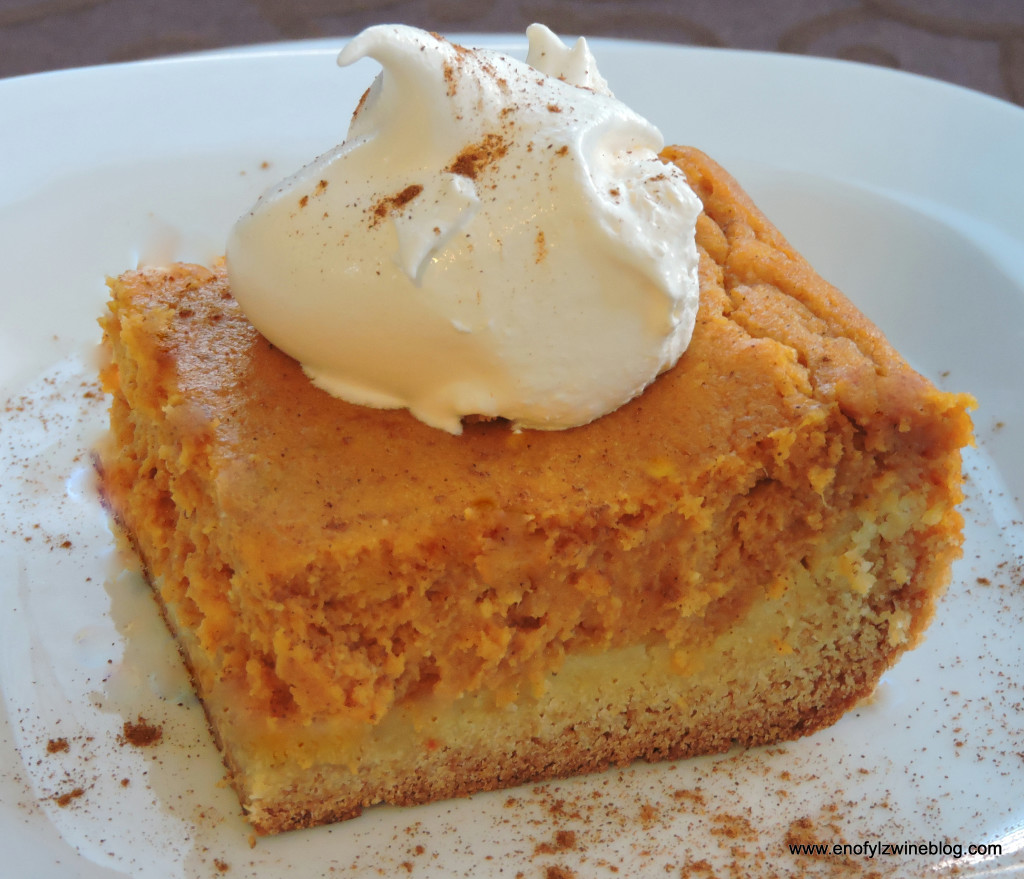 If you're not familiar with Paula Deen's version of a Gooey Butter Cake, it's a flat and dense cake/cheesecake hybrid. The crust is made with cake mix, and butter.  That is topped with a mixture of cream cheese,  more butter (it's not called "butter' cake for nothing), eggs, and spices. The pumpkin version very much reminds me of pumpkin cheese cake with a thick crust.
Except it's much easier to prepare. You cut it up like a brownie. In fact, there is a Double Chocolate Gooey Butter Cake I've made several times that, like this one, is always a crowd pleaser!

Brown Sugar and Bourbon Cream
Author:
Cook's Illustrated
Ingredients
1cup heavy cream
½cup sour cream
½cup packed light brown sugar
⅛teaspoon table salt
2teaspoons bourbon
Instructions
In bowl of standing mixer, whisk heavy cream, sour cream, brown sugar, and salt until combined. Cover with plastic wrap and refrigerate until ready to serve cheesecake, at least 4 hours or up to 24, stirring once or twice during chilling to ensure that sugar dissolves.
When ready to serve Pumpkin Gooey Butter Cake, add bourbon and beat mixture with whisk attachment at medium speed until small bubbles form around edges, about 40 seconds; increase speed to high and continue to beat until fluffy and doubled in volume, about 1 minute longer. Spoon cream on individual slices of the Pumpkin Butter Cake.
Notes
I added ¼ tsp of dried ginger to the topping to give this a bit more spice. Additionally, I prefer to not have my butter cake not so sweet. So rather than use the entire 1-lb of powdered sugar, I used ⅞ of the bag (I just eyeball it
In my glass
Although, I don't indulge myself often, I very much enjoy capping off a great meal with a dessert and dessert wine pairing!  Thanksgiving is one of those days I do indulge both cravings.  For a bunch of years now, my signature dessert has either been Sweet Potato Pecan Pie, or Spiced Pumpkin Cheesecake with Brown Sugar and Bourbon Cream (yes..the same whipped cream I used to top my Pumpkin Butter Cake). Both of those are time-consuming, and I simply didn't have the time.  But I'll make one or the other for Thanksgiving this year.  So I was looking for a dessert wine that would pair with either.
I found the R.L. Buller Premium Fine Muscat at K&L Wine Merchants.  They described the wine as follows:
Basically this decadent style of wine combines the floral notes and sweetness of a late harvest Muscat with the richness, nuttiness and rancio barrel-aged characters of tawny port or even sherry with a lovely spice and kick from the fortifying brandy
That sounded  good because I wanted something that would complement either the spiciness, if I go the Spiced Pumpkin Cheesecake route, or the nuttiness, if I go the Sweet Potato Pecan route.  I was confident it would be wonderful with the Butter Cake as well.
The term "stickies,"  is a nickname Aussies give to sweet wines. I've enjoyed a few "stickies" in the past, but I don't think they're top of mind when folks think of dessert wines. Certainly not like Port, Sauterne, Madeira, Ice wine, and others.
They should be.
This one is from the Rutherglen  a wine region within the North East Victoria zone of Australia. It is Australia's most important area in terms of fortified wine production. And its Muscats and Tokays are internationally recognized for their unique style and quality.
According to Winesearcher.com… The most noble Muscat variety, the dark-skinned Muscat Blanc a Petits Grains, is used to produce Rutherglen's world-famous fortified wines. This grape variety is so intrinsic to the region's profile that it is more commonly referred to as Rutherglen Brown Muscat. These fortified wines display a richness and depth which is almost unparalleled. The unique winemaking process involves a slow and oxidative barrel-ageing which imparts a complex array of flavors variously described as caramel, toffee, butterscotch, sweet spices, molasses, tea liquor and cassis liqueur.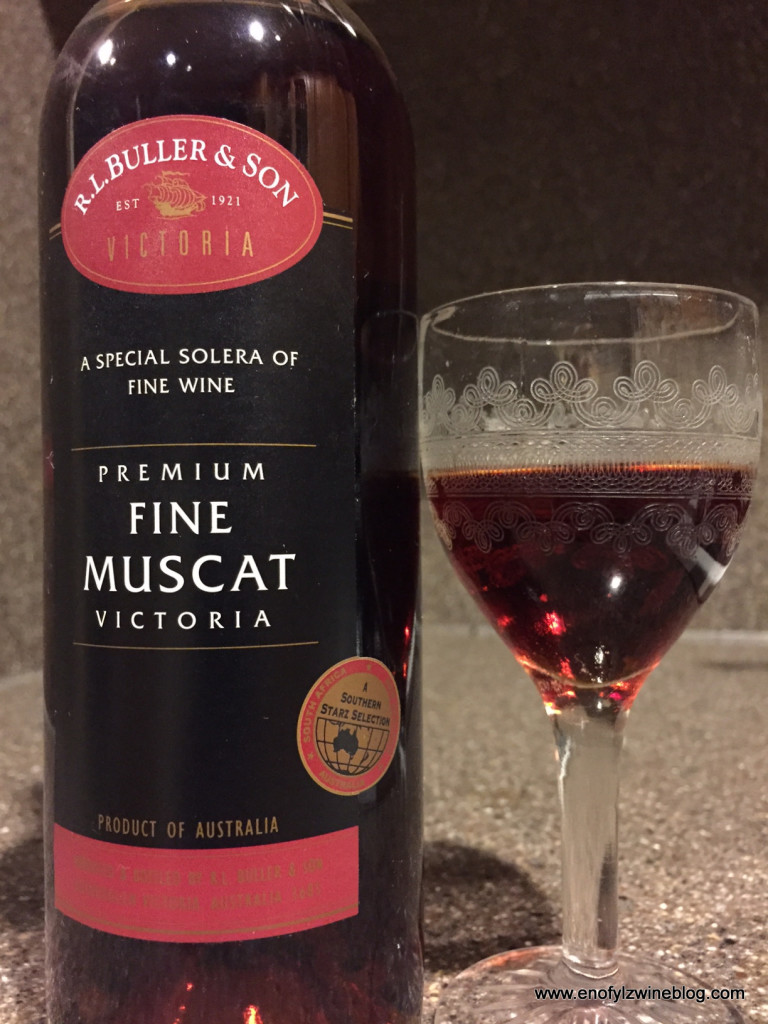 My tasting notes follow:
Dark amber color with lifted, complex, and appealing dried apricot, toffee, caramel, molasses, date, roast nut, and warm spice aromas. On the palate it's full-bodied, rich, and sweet, but not overly so thanks to vibrant acidity, and a rancio character with toffee, brown sugar, date, bitter orange peel, and warm spice flavors, with a long sweet, but not cloying finish. From 375ml 18% alcohol. (Outstanding 92-93pts)
The Pairing
It was fantastic! On a scale of 1-4 with 4 being perfect, I'd give it a 3.5 without the Brown Sugar and Bourbon Cream, and a 3.75 with the cream.  There was something about the kiss of bourbon in the whipped cream that just took the pairing to the next level for me.  
If Pumpkin, Sweet Potato, or Sweet Potato Pecan Pie are on you dessert menu for Thanksgiving, this is a great bottle to serve. And at $14 for a half-bottle it won't break the bank! Very highly recommend!
Check out what the rest of the #winePW family of food and wine bloggers are offering up for your Thanksgiving feast!
The #winePW Twitter Chat will this morning at 8 a.m. Pacific: Connect with us on twitter, using the hashtag #winePW. . We'll chat for an hour about creative food and wine pairings.  Also, consider joining #winePW on December 12. Our theme will be "Sparkling Wine & Festive Holiday Dishes", hosted by Cindy at Grape Experiences. You can get a full listing of past and upcoming Wine Pairing Weekend events here.
_________________________________________________________________________
Follow me on Twitter, Facebook, Instagram, Vivino and Delectable, for all things wine. As a wino with latent foodie tendencies, you'll also find food and wine pairings, and food related stuff! Become a fan and join ENOFYLZ Wine Blog on Facebook. Cheers! This article is original to ENOFYLZ Wine Blog.com. Copyright2015 ENOFYLZ Wine Blog. All rights reserved.