One of the things I love most about food and wine is their ability to transport one to a different place.  And a  place's people, culture, and customs are reflected in its food and wine.  In that sense, one can virtually travel the world through food and wine.  And that is exactly what we are doing through Italian Food Wine and Travel (#ItalianFWT).  We are taking a virtual tour of Italy by exploring its food and wines.  This month we're exploring Vallee d'Aosta (Aosta Valley)!
Valle d'Aosta is the smallest, and least populated  region in Italy. It's located in the mountainous northwest corner mountainous corner of Italy's where the nation's borders meet those of France and Switzerland.  As a result of a long-ago mingling of the French Provençal and northern Italian cultures Italian and French are the official languages. And the co-mingling of French and Italian culture is also evident in the local architecture and at the dining table. 
Val d'Aosta is overlooked by some of Europe's highest mountains, including Mont Blanc , the Matterhorn (Monte Cervino), Monte Rosa, and Gran Paradiso.  Not surprisingly the region offers some of the best skiing in Europe. And when the snow melts, spectacular hiking and other outdoor activities.
On my plate
After poking around on the web a bit, I found a recipe for Veal Ribs with Fontina, a meat dish with an intense flavor, typical of the Aosta Valley cuisine.  It's essentially veal chopped stuffed with Fontina Cheese.
Fontina is a classic Italian cheese that's been made in the Aosta Valley since the 12thcentury.
I had some cornmeal on hand so, I decided to whip up some polenta.  I found a recipe for Polenta with Fontina and Thyme.  And last, but not least, with the polenta firmly in mind, I decided to whip up Herb Butter too. (recipe below)
5 tablespoons unsalted butter, cut into pieces
2 tablespoons fresh flat-leaf parsley, finely chopped
1 teaspoon fresh sage, finely chopped
1/2 teaspoon fresh rosemary, finely chopped
1/2 teaspoon lemon zest, finely grated
I'm not exactly sure how it happened, but it has literally been decades since I've had eaten veal, and I've never actually prepared it before.  And my wife has never had it.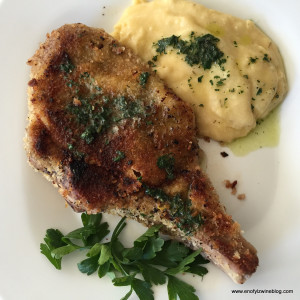 Fortunately, this was a pretty straight-forward preparation.  And it turned out beautifully!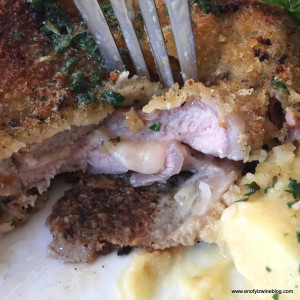 What I liked about this dish is that it
In my glass
Quite naturally, the vineyards in Valle d'Aosta are home to some of Europe's highest vineyards.  French grape varieties are just as common as Italian grape varieties.  And the region is home to  a diverse selection of indigenous grapes. Petit Rouge is arguably the most important of these (besides Picotendro, a local clone of Nebbiolo).
Here's what New York Times wine critic, Eric Asimov says of Aosta Valley wines…Of the many wrinkles in the Italian wine tapestry, one of the wrinkliest is about as far northwest as you can go in Italy. There, tucked away in the Alps beneath looming Mont Blanc, the tallest peak in the chain, is the smallest Italian viticultural region, brimming with little-known wines capable of offering great pleasure.
It was a challenge to find a Valle d'Aosta wine.  My usually reliable wine store didn't have any. Fortunately, I found the 2010 Maison Anselmet Torrette Supèrieur. 
Blend of 70% Petit Rouge the dominant red grape in the Aosta Valley; along with a 30% blend of lesser known red wine grapes – Fumin, Mayolet, Cornalin that are indigenous to the region. The wine was aged in French barriques.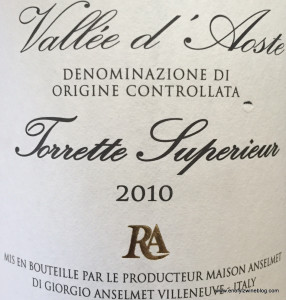 My tasting notes follow:
Ruby color with rose hips, mixed black and red fruit, and cinnamon aromas. On the palate it's medium-bodied, fresh and well balanced with a wonderful velvety texture and polished tannins with black cherry, plum, pomegranate and a bit of blackberry flavors with an appealing saline minerality and a long spicy finish. The wine reminded me of a Cru Beaujolais.
The wine was a wonderful partner for our dinner. It was very good with the Veal Ribs.  But it was even better with the Polenta with Fontina.  
And be sure to check out what my fellow #ItalianFWT have to share with you:
Join us Saturday November 7th where our blogging group shares our experiences on the food, wine and travel to this region.  A live chat will be held Saturday November 7th at 11am on Twitter at #ItalianFWT and we'd love to hear from you.
_________________________________________________________________________
Follow me on Twitter, Facebook, Instagram, Vivino and Delectable, for all things wine. As a wino with latent foodie tendencies, you'll also find food and wine pairings, and food related stuff! Become a fan and join ENOFYLZ Wine Blog on Facebook. Cheers! This article is original to ENOFYLZ Wine Blog.com. Copyright 2015 ENOFYLZ Wine Blog. All rights reserved.